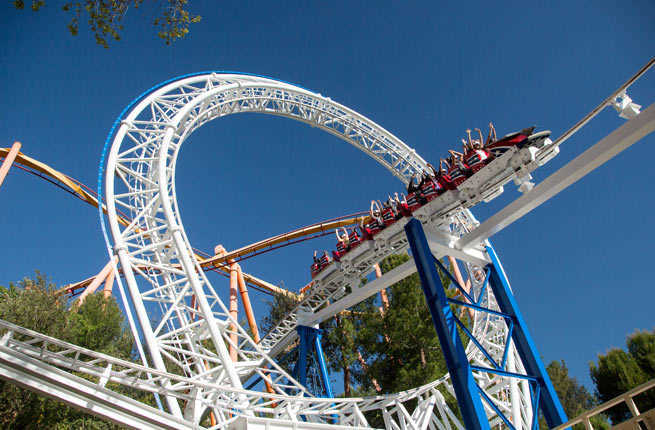 Courtesy of Six Flags Magic Mountain
An incredible crop of roller coasters and thrill attractions are set to debut this summer, reaffirming the ever-growing demand to push the boundaries of theme-park physics. With Harry Potter's move to Hollywood and the debut of the world's first-ever wooden launch coaster, 2016 is sure to be an incredible year for thrill seekers. As many parks make their final preparations for opening day, we've compiled the most exciting amusement parks of 2016—guaranteed to rocket your summer from zero to 60 mph faster than ever. —Zachary Laks
Courtesy of Universal Studios Hollywood; Photo by David Sprague
Universal Studios Hollywood
WHERE: Universal City, California
Main Attraction: The Wizarding World of Harry Potter
Boy wonder Harry Potter triumphantly arrives in Hollywood this spring by way of The Wizarding World of Harry Potter, a massive expansion of Universal Studios Hollywood that recreates many of the elements of Universal Orlando Resort's original The Wizarding World of Harry Potter. An Orlando park that has caused daily pandemonium since its opening in 2010, anticipation is running high for the new California outpost that envelopes guests in Hogsmeade village, where the iconic Hogwarts castle looms and butterbeer is on tap at The Three Broomsticks. As for the attractions, Harry Potter and the Forbidden Journey, a favorite in Orlando, receives some fine enhancements in its new iteration, featuring high-resolution 3D video projections.
PLAN YOUR TRIP: Visit Fodor's Los Angeles Guide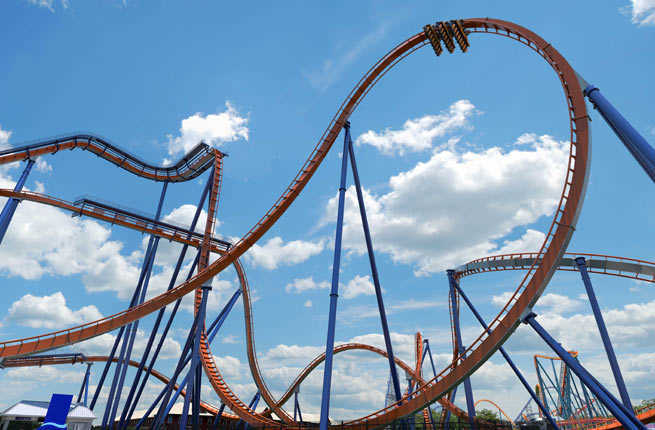 Courtesy of Cedar Point, Sandusky, Ohio
Cedar Point
WHERE: Sandusky, Ohio
Main Attraction: Valravn
Safeguarding its title as the roller coaster capital of the world, Cedar Point welcomes Valravn, its seventeenth coaster, this summer. Unique in design and in layout, Valravn features an ultra-wide train with eight seats across three rows. With a terrifying 90-degree, 214-foot drop, the coaster is the world's tallest and fastest of its kind, reaching speeds up to 75 mph as it clips through three inversions. No visit to Cedar Point is complete without testing your mettle on Millennium Force, the park's signature giga coaster. The coaster extends 310 feet into the clouds before a drop that accelerates up to an insane 93 mph.
PLAN YOUR TRIP: Visit Fodor's Cleveland Guide
Lake Compounce
WHERE: Bristol, Connecticut
Main Attraction: Phobia Phear Coaster
Joining the ranks of its top-rated wooden coaster, Boulder Dash, the small and charming Lake Compounce is ready for a banner summer with its new triple launch Phobia Phear Coaster. The first of its kind in the northeast, the unique hybrid coaster takes on a pretzel-like formation, rocketing riders in a pendulum at speeds that reach 65 mph before leveling out at 150 feet for a cobra roll inversion and intense vertical twist dive. It's an exciting year for the park, as it adds its second banner coaster, after Boulder Dash initially put the park on the map. The speedy coaster features an extended out-and-back track and is the first to be built into the side of a mountain, surprising riders with unexpected fast drops and turns that snake through the forest terrain.
PLAN YOUR TRIP: Visit Fodor's Connecticut Guide
Courtesy of Six Flags Great Adventure
Six Flags Great Adventure
WHERE: Jackson, New Jersey
Main Attraction: The Joker
The tri-state area's calling card for top thrills, Six Flags Great Adventure expands its impressive lineup of coasters this summer with a new 4D Free Spin coaster, The Joker. Featuring high-tech magnetic engineering, the coaster's five vehicles allow riders the stomach-churning sensation of weightlessness as free-fly flips make every ride on the coaster unique. No stranger to intense G forces, the park is home to the Kingda Ka, the world's tallest and second fastest roller coaster, and El Toro a wooden coaster featuring one of the steepest wooden drops in the world.
PLAN YOUR TRIP: Visit Fodor's New Jersey Guide
Courtesy of Knott's Berry Farm
Knott's Berry Farm
WHERE: Buena Park California
Main Attraction: GhostRider
A California classic, few parks honor tradition like Knott's Berry Farm, where their classic chicken dinners and boysenberry pie remain perennial favorites. With an impressive collection of hair-raising coasters and thrill rides, the park improves on one its standbys this summer, renovating its wooden coaster, GhostRider. Refurbished and revamped to celebrate the 75th anniversary of the park's Ghost Town, the new iteration of the coaster will feature new mine-car-themed Millennium Flyer trains as well as a new track. As for the top thrill in the park, Xcelerator remains a top draw with its powerful launch design that pummels riders through smooth inversions and steep drops.
PLAN YOUR TRIP: Visit Fodor's Los Angeles Guide
Courtesy of Dollywood
Dollywood
WHERE: Pigeon Forge, Tennessee
Main Attraction: Lightning Rod
Breaking barriers and world records, Dollywood continues to innovate with Lightning Rod, the world's first wooden launch coaster, which will also clock in as the world's fastest wooden coaster. Reaching new thresholds as limits are tested at 73 mph, the hot rod-themed coaster will feature a 73-degree, 200-foot drop, and 12 airtime hills. With Southern charm to spare, the Dolly Parton–centric park excels with its live entertainment, deep-fried delicacies, and a wide array of family attractions for thrill seekers of all ages.
PLAN YOUR TRIP: Visit Fodor's Tennessee Guide
Courtesy of Busch Gardens Tampa Bay 2016
Busch Gardens
WHERE: Tampa, Florida
Main Attraction: Cobra's Curse
It's all about the spin this summer at Busch Gardens Tampa, one of the country's largest zoological institutions with over 2,700 animals, as Cobra's Curse is unveiled as the park's fifth roller coaster. A spinning coaster for the whole family, the ride begins with an elevator ascent to 70 feet before an encounter with an 80-foot-tall serpent statue. Freely spinning on a steel track, every ride on the coaster is unique, as each four-seat train reaches 40 mph through sharp drops and heavily banked turns. For something even more thrilling, head over to Falcon's Fury, the country's tallest free-standing drop tower, completed in 2014. Once riders are at the top of the tower, your seat tilts forward, facing down. What follows is an exhilarating five-second free-fall back to earth at speeds reaching 60 mph.
PLAN YOUR TRIP: Visit Fodor's Tampa Bay Area Guide
Courtesy of Kentucky Kingdom
Kentucky Kingdom
WHERE: Louisville, Kentucky
Main Attraction: Storm Chaser
A park that has roared back to life since its reopening in 2014 under new ownership, Kentucky Kingdom adds a fifth coaster to its roster this year with Storm Chaser. Continuing a recent trend of converting aged wooden coasters into steel-track/wood hybrids, the park converted a portion of the dormant Twisted Twins dueling coaster into the new hybrid coaster. A feat of coaster engineering, expect stunning inversions on Storm Chaser, namely its first-in-the-country barrel roll drop from a 10-story lift hill. Among the park's other standout coasters, last year's retooled T3 remains a favorite along with its two other meteorological-themed coasters, Lightning Run (a 10-story steel coaster) and Thunder Run (the park's roaring classic wooden coaster).
PLAN YOUR TRIP: Visit Fodor's Kentucky Guide
Playland's Castaway Cove
WHERE: Ocean City, New Jersey
Main Attraction: GaleForce
Bringing the next level of thrills to the New Jersey shore, Playland's Castaway Cove is set to unveil one of the most advanced coasters ever seen on a boardwalk with GaleForce. The powerful triple-launch steel coaster rockets a single train at 64 mph up to 125 feet above the beachfront into a stomach-churning 100-degree beyond-vertical drop. What follows is an unrelenting, tightly wound track that features a corked roll, a raven dive, and a top-hat twist. You're going to want to make sure you save the classic seaside hotdog and fries until after the ride!
PLAN YOUR TRIP: Visit Fodor's New Jersey Shore Guide
Courtesy of Six Flags Magic Mountain
Six Flags Magic Mountain
WHERE: Valencia, California
Main Attraction: The New Revolution Virtual Reality Coaster
Revamping classics into new thrill wonders has become Six Flags Magic Mountain's stock-in-trade, with last year's Twisted Collusus rising from the structure of the park's classic Collusus. Hoping lightning will strike twice, the park unveils its newest roller coaster refurbishment, the New Revolution. Pioneering what is being dubbed a "virtual reality roller coaster," the New Revolution will be among the first coasters in the country to partner with Samsung Gear VR and Oculus. In a scene straight out of a science fiction movie, riders will don wireless headsets, entering into a virtual world of high-resolution, 360-view scenes that sync with the action of the coaster. In addition to the new headsets, the trains have been retooled with more comfortable, modern lap bars engineered for the coaster's 90-foot high giant loop.
PLAN YOUR TRIP: Visit Fodor's Los Angeles Travel Guide