Kobby Dagan / Shutterstock
With a penchant for the colorful and bold, LGBT pride festivals around the globe bring out the best in cities. Glitter, glitz, and never-ending music fill the streets as hundreds of thousands (or even millions) of LGBT people and their allies unite to celebrate their differences and raise a voice of concern for those who cannot. What's most important to note about modern-day LGBT pride festivals is their all-inclusive nature, welcoming attendees from all walks of life to join in the celebration. From the birth of the modern gay rights movement on the streets of New York City's West Village to a pride festival in Brazil that counts attendees by the millions, these are the world's biggest LGBT pride celebrations.—Zachary Laks
Stuart Monk / Shutterstock
NYC Pride
WHERE: New York City, New York
There's arguably no better place to celebrate LGBT pride than in the birthplace of the modern gay-rights movement in the U.S., New York City's West Village, during NYC Pride. The month-long celebration features multiple events in the city's five boroughs, but the main event takes place in Manhattan on the last Sunday in June. The Pride March draws a crowd of approximately two million attendees, as over 55 floats representing all aspects of LGBT culture kick off at 36th Street and Fifth Avenue and head south towards Greenwich and Christopher Streets to the iconic Stonewall Inn. Space along the parade route fills up quickly, especially as the streets narrow in the Village, so be sure to arrive early to grab a prime viewing spot.
PLAN YOUR TRIP: Visit Fodor's New York City Travel Guide
Kobby Dagan / Shutterstock
San Francisco Pride
WHERE: San Francisco, California
The annual San Francisco Pride festivities takes the city by storm, offering up the country's largest LGBT pride celebration, second in the world only to São Paulo, Brazil. More than 20 community-produced stages and venues pop-up throughout the Castro District during the celebration creating an immersive morning dance experience. The Pride Parade kicks off at 10:30 am on Sunday, June 26 and extends over a mile down Market Street with over 1.7 million spectators expected to attend.
PLAN YOUR TRIP: Visit Fodor's San Francisco Travel Guide
Golden Shrimp / Shutterstock
Pride Toronto
WHERE: Toronto, Canada
Every year, Pride Toronto brings out the best in the city's summertime as the ten-day festival colors the city. Hundreds of thousands of LGBT attendees and their allies fill the streets for the Pride Parade, extending from the corner of Church Street and Bloor Street down a mile on Yonge Street. Most events center around Yonge-Dundas Square, deemed Toronto's Times Square.
PLAN YOUR TRIP: Visit Fodor's Toronto Travel Guide
kavalenkau / Shutterstock
Amsterdam Gay Pride
WHERE: Amsterdam, Netherlands
Let your rainbow flag wave freely at Amsterdam Gay Pride, one of the Netherlands' largest public events, in a city known for its warm embrace of counter-culture. The Venice of the North uses its city-wide canals to great effect during the Canal Parade, a procession of themed boats overflowing with costumed revelers dancing to disco anthems and electronic beats. The four-mile canal route takes about three hours to complete, as more than seventy large boats inch along to the cheers of nearly 500,000 attendees.
PLAN YOUR TRIP: Visit Fodor's Amsterdam Travel Guide
Franckito | Dreamstime.com
Madrid Gay Pride
WHERE: Madrid, Spain
A magnet in Europe for LGBT pride celebrations, Orgullo Madrid Gay Pride is expected to welcome over two million partiers from around the world during its five-day extravaganza, the largest urban event in Europe. Many of the festivities center around Plaza de Chueca in downtown Madrid, with performances throughout the weekend that keep the party hopping, from world-renowned DJs and performance acts yet to be announced. The main attraction, the parade, takes over the city starting at 6 pm and marching on till 11 pm, finishing at Puerta de Alcalá, when partiers heads to Plaza Colón for an all-night celebration.
PLAN YOUR TRIP: Visit Fodor's Madrid Travel Guide
Spectral-design | Dreamstime.com
Sao Paolo Gay Pride Parade
WHERE: São Paulo, Brazil
The São Paulo Gay Pride Parade in early June attracts more than two million attendees, making it the largest gay pride celebration in the world. Featuring approximately 20 themed floats decorated with festive dancers and pulsing music, São Paulo's pride parade initially shot to fame in 2006 when attendance swelled to three million, a high bar that has yet to be matched. Take note that the parade route extends 2.5 miles throughout the city center, providing ample spots to take in the sights. The federal government funds the parade, and many politicians attend to provide an important display of support for the LGBT rights movement.
PLAN YOUR TRIP: Visit Fodor's São Paulo Travel Guide
Eldad Carin / Shutterstock
Tel Aviv Pride
WHERE: Tel Aviv, Israel
Tel Aviv, Israel's cosmopolitan hub, dedicates the second week of June to its Tel Aviv Pride festival, hosting upwards of 180,000 people. Tel Aviv's pride week comes alive at Hilton Beach on the Mediterranean Sea, a predominantly gay beach that hosts a rotating party of trailblazing DJs and performers for free. The party continues along the coast at Gordon Beach, Jerusalem Beach, and Alma Beach, where locals and travelers mix and mingle in the sun.
PLAN YOUR TRIP: Visit Fodor's Tel Aviv Travel Guide
Tvphotos | Dreamstime.com
Sydney Gay and Lesbian Mardi Gras
WHERE: Sydney, Australia
Measuring up as New South Wales's second-largest annual event when it comes to economic impact, partygoers come from far and wide to marvel in the scene of Sydney Gay and Lesbian Mardi Gras (usully held in February or March). Outrageous costumes, massive floats, and international pop stars elevate the party to the stratosphere, attracting crowds by the hundreds of thousands. Previous musical guests have included Dannii Minogue, Nick Jonas, and Rufus Wainwright at the rousing Saturday night party that begins at 10 pm and carries on through the night until past sunrise at 8 am.
PLAN YOUR TRIP: Visit Fodor's Sydney Travel Guide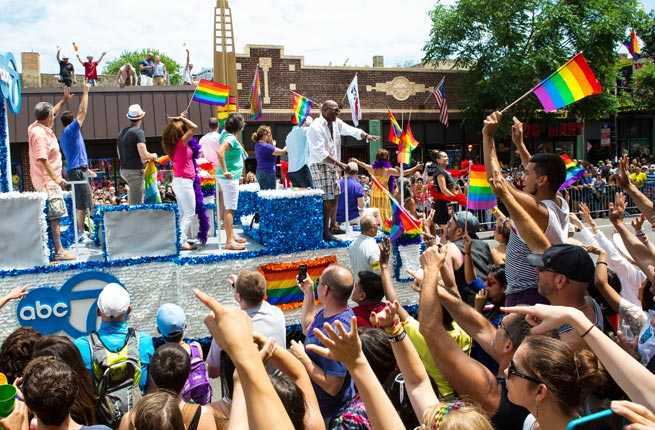 Courtesy of Choose Chicago / Adam Alexander Photography
Chicago Pride Parade & Pride Weekend
WHERE: Chicago, Illinois
Proudly centered in Chicago's Lakeview neighborhood (fondly referred to as "Boystown"), the 47th Annual Chicago Pride Parade & Pride Weekend is the highlight of the year for LGBT locals. More than 750,000 spectators are expected to turn out at this year's pride parade along the four-mile route. Expect to see larger-than-life drag queens soldiering on through the heat in one-of-a-kind gowns; local clubs and bars represented on floats featuring go-go dancers grinding to the street-shaking beats; and plenty of fun giveaways including beads, hats, and fans to keep cool. A word to the wise: Avoid bringing a car near the festivities and utilize Chicago's 'L' trains for the easiest transportation.
PLAN YOUR TRIP: Visit Fodor's Chicago Travel Guide
Icenando | Dreamstime.com
Pride in London
WHERE: London, United Kingdom
The only festival that shuts down bustling Oxford Street, Pride in London triumphantly arrives as the city's biggest one-day annual event. The fanfare comes in a tidal wave as more than 750,000 people take in the sights of the parade, which includes more than 30,000 participants marching and riding atop floats. After the parade, make your way to Trafalgar Square, where an impressive lineup of musical acts take the stage.
PLAN YOUR TRIP: Visit Fodor's London Travel Guide
Olgabesnard | Dreamstime.com
Marche des Fiertes LGBT
WHERE: Paris, France
"Gay Paree" takes on a contemporary meaning come late June when Marche des Fiertés LGBT attracts 650,000 spectators and participants to celebrate their pride. This year's parade theme is "Multiples and Indivisible," and it begins at Montparnasse and continues on towards Bastille. Parade-goers can expect free-wheeling, festive floats along with a good amount of politically minded groups marching. Afterward, revelers dance the night away at Paris's many gay clubs and pubs that offer round-the-clock events throughout the weekend, primarily in the Marais.
PLAN YOUR TRIP: Visit Fodor's Paris Travel Guide
Marekszandurski | Dreamstime.com
Christopher Street Day
WHERE: Berlin, Germany
Formed to commemorate and honor the Stonewall Riots on Christopher Street in 1969, Christopher Street Day (commonly referred to as "CSD" by locals) is the culmination of a week-long LGBT pride festival throughout the city of Berlin. Staged as part celebration, part protest for all forms of discrimination in society, upwards of 500,000 people attend the festivities. As it skews more political than other pride celebrations, expect more than just a party as CSD welcomes an array of charged lectures, avant-garde art, films, and concerts. Despite its heady nature, the festival always develops into a quintessential citywide party.
PLAN YOUR TRIP: Visit Fodor's Berlin Travel Guide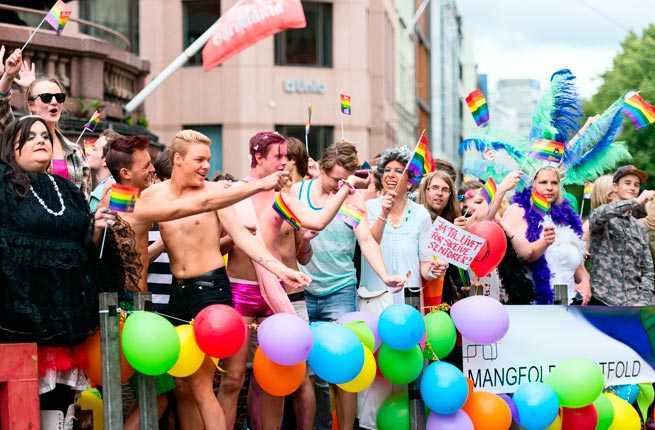 Nanisimova / Shutterstock
Oslo Pride
WHERE: Oslo, Norway
Party like a Norwegian in a city that thrives on its easy access to nature and high-end cosmopolitan ways at Oslo Pride, a summer highlight in the country's capital. The celebrations center around the pop-up Pride Park, constructed each year with the help of hundreds of volunteers. Event planners stress the importance of inclusion at all the festivities, welcoming around 50,000 people to the park where concerts, LGBT exhibitions, and parties continue on for four days. The main pride parade extends 1.8 miles throughout Oslo, with an awe-inspiring 80 floats and an estimated 20,000 participants expected to join in the march.
PLAN YOUR TRIP: Visit Fodor's Oslo Travel Guide
Meunierd | Dreamstime.com
Fierte Montreal Pride
WHERE: Montréal, Canada
Fierté Montréal Pride ignites the city with an outpouring of culture, festivities, and an emphasis on fun. The French-Canadians go big when it comes to showcasing their pride, ushering in a massive parade delivering sights and sounds that bring downtown Montréal to life. And for those in the know, once the parade finishes, carry on to Rue Berri & Rue Sainte-Catherine, where the MEGA T-DANCE sets the scene for a massive outdoor dance party.
PLAN YOUR TRIP: Visit Fodor's Montréal Travel Guide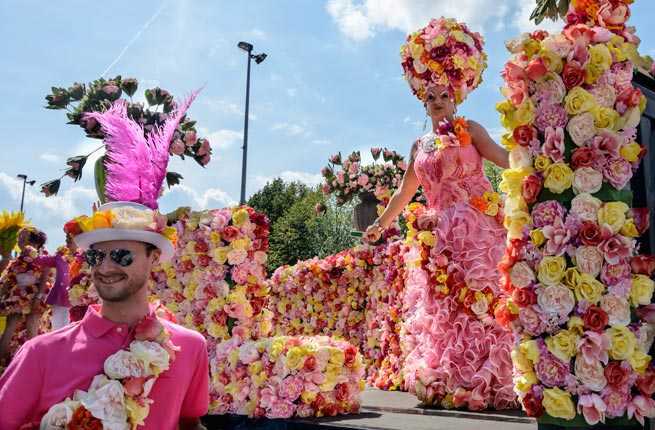 Patrizio Martorana / Shutterstock
Antwerp Pride
WHERE: Antwerp, Belgium
As the largest city in Belgium, with a population over 600,000, the port town of Antwerp has emerged as one of Europe's most gay-friendly destinations thanks to its well-rounded bar scene and laid-back, accepting culture. While the Antwerp Pride parade is the mainstay attraction of the week-long festivities, make sure not to miss Wave, an epic free open-air party that fills with 6,000 partiers at Steenplein, dancing the day away to exhilarating European beats. The celebrations continue on late into the night Saturday night.
PLAN YOUR TRIP: Visit Fodor's Antwerp Travel Guide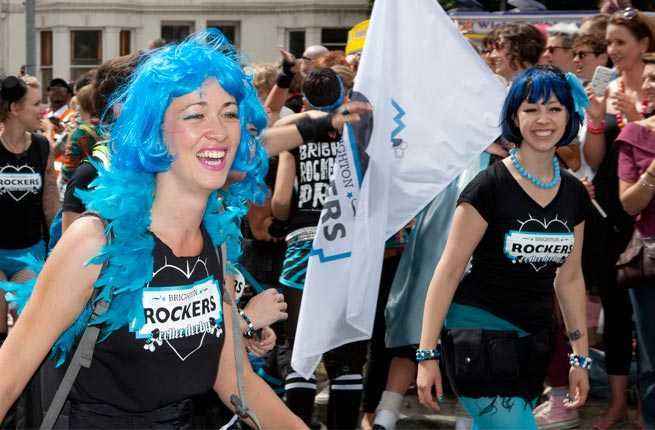 Lorna | Dreamstime.com
Brighton & Hove Pride
WHERE: Brighton, England
Worth the hour-long train ride from London, Brighton & Hove's beloved pride weekend attracts 160,000 people to these neighboring cities along the English Channel. Brighton & Hove Pride has grown to be the largest free pride event in the U.K., and it shows as the area becomes a hub of fun, attracting top-drawer talent including chart-topping musicians. Make way for the main event as the Brighton & Hove parade arrives in over-the-top style with glitter, feathers, and every color of the rainbow.
PLAN YOUR TRIP: Visit Fodor's Brighton & Hove Travel Guide