Courtesy of Greater St. Charles Convention and Visitors Bureau
You may not know it, but some of the country's best festivals are held in small towns scattered throughout the U.S. Featuring a wide range of unique themes, and ranging in size and scope, these celebrations often include parades, entertainment, food, and plenty of special events. Make an effort to time a vacation with one of these beloved fests, which are held at various points throughout the year. Music festivals, film festivals, flower festivals, food festivals, and more make the list of America's 15 best small-town events. —Annie Bruce
Courtesy of Elkhart Jazz Festival
WHERE: Elkhart, Indiana
Since launching in 1988, the Elkhart Jazz Festival has grown from 67 musicians and 3,000 attendees to more than 100 performers and more than 15,000 audience members. The annual festival takes place in June in northern Indiana and is run by more than 200 volunteers. Known as the Band Instrument Capital of the World, Elkhart is home to more than 2,000 people who build instruments, many of which are showcased in the festival.
PLAN YOUR TRIP: Visit Fodor's Indiana Travel Guide
Courtesy of Mackinac Island Tourism
WHERE: Mackinac Island, Michigan
This 10-day festival occurs each year during June to draw visitors to Mackinac Island when the lilacs are in full bloom. Dating back to 1949, the lilac-themed celebration has grown throughout the years, but key traditions, such as crowning a Lilac Queen, have remained the same. During the festival, visitors can also enjoy concerts in the park, the lilac walk and talk, dancing, tours, and the beautiful flowering trees—some more than 150 years old. Horse-drawn floats make up the festival's finale, the Grand Parade, which has been recognized by the Library of Congress as a "local legacy" event.
PLAN YOUR TRIP: Visit Fodor's Michigan Travel Guide
Ingrid Lundahl / Teulluride Film Festival
WHERE: Telluride, Colorado
Dating back to 1979, the Telluride Film Festival has always maintained the element of surprise. Unlike most other events around the country, at Telluride, nobody knows what movies are showing, which celebrities are attending, or who is being honored. This state of anticipation helps build excitement for the annual event, where Brokeback Mountain, Juno, and Up in the Air have all been shown in past years. The festival includes film screenings and premieres, Q&A sessions, Tribute awards, and plenty of special guests, ranging from Reese Witherspoon to Brad Pitt to Jon Stewart. More than 3,000 people attend the event, which is held during Labor Day weekend, each year.
PLAN YOUR TRIP: Visit Fodor's Telluride Travel Guide
Clayton Wallace
WHERE: Gulf Shores, Alabama
With more than 250 vendors, musical entertainment, an outdoor village, and plenty of shrimp, it's no surprise that more than 250,000 people attend this free beach festival held in October every year. The national celebration started in 1971 as a way to draw visitors to the beaches of Gulf Shores after Labor Day and has now established itself as an Alabama mainstay. And there's plenty of shrimp-themed fun to be had: chefs compete to win the annual restaurant challenge with their best shrimp dishes and more than 200 pounds of shrimp are prepared every day for samples.
PLAN YOUR TRIP: Visit Fodor's Gulf Shores Travel Guide
Courtesy of Greater St. Charles Convention and Visitors Bureau
WHERE: St. Charles, Illinois
For more than 25 years, St. Charles has hosted this beloved Scarecrow Fest. Each year, attendees choose from more than 150 entries to crown the winner of the Scarecrow Contest, which breaks down into six categories. Entering its 30th year this October, the weekend-long festival includes two stages of live entertainment, make-your-own scarecrow stations, a carnival, and the Autumn on the Fox Arts & Craft Show. Admission, parking, and trolleys are all free during the St. Charles festival, which is located just an hour west of Chicago along the Fox River.
PLAN YOUR TRIP: Visit Fodor's Illinois Travel Guide
Peter Checchia
WHERE: Marlboro, Vermont
A concert series held throughout July and August, the Marlboro Music Festival features performances by professional musicians and young professionals. Marlboro Music School performers attend three weeks of rehearsals prior to the five weekends of public concerts. Performances take place on select Friday and Saturday evenings or Sunday afternoons, and only one quarter of the more than 250 pieces played during the residence and rehearsal period are presented as part of the concert series. For more than 60 years, visitors from across the country have attended the festival to hear these talented performers make music.
PLAN YOUR TRIP: Visit Fodor's Vermont Travel Guide
The Dispatch/Donnie Roberts
WHERE: Lexington, North Carolina
Held on nine blocks of Uptown Lexington's Main Street, this annual Barbecue Festival drew an estimated 200,000 people in 2014. Since its start in 1984, the festival has celebrated Lexington, the Barbecue Capital of the world, and its famous slow-cooked and smoky pork shoulders, dipped in a vinegar mixture. The fest is made up of more than 400 exhibitors (selling crafts and food) and a number of special activities—in the past, visitors have enjoyed a bicycle stunt show, rock climbing wall, and an antique car show. The festival is typically held during one of the last two weekends of October.
PLAN YOUR TRIP: Visit Fodor's North Carolina Travel Guide
Kevin Bennett Photo
WHERE: Bangor, Maine
Held along the waterfront in Bangor, Maine, the American Folk Festival draws more than 90,000 visitors each year. The three-day festival incorporates music and dance performances from a variety of different regions, cultures, and heritages. Along with craft demonstrations, a children's area, food vendors, and a marketplace with hand-made creations, the festival also has workshops, where artists that share a similar instrument or tradition take the stage together to perform and discuss their music. After Bangor hosted a series of National Folk Festivals from 2002 through 2004, the American Folk Festival was created in 2005 to continue that tradition.
PLAN YOUR TRIP: Visit Fodor's Penobscot Bay Travel Guide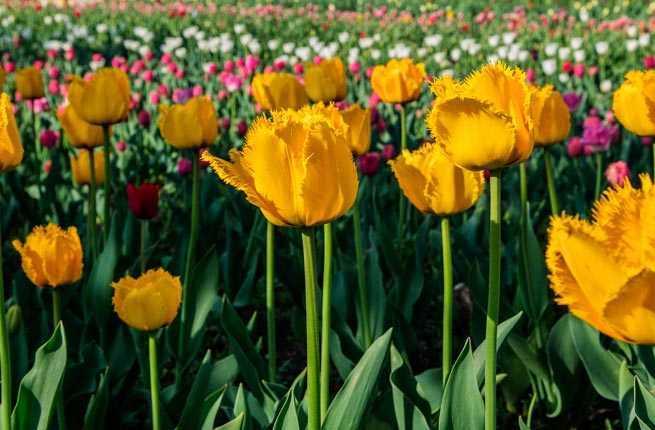 Heidi Quellet
WHERE: Holland, Michigan
Tulip Time festivities first kicked off in 1929 to celebrate the stunning flowers and Michigan's Dutch heritage and the event has continued off-and-on (due to World War II) over the years. Today, the celebration draws more than 500,000 people from 40 countries to Holland, Michigan, where they can admire four million tulips. The May festival also features three parades, including the Volksparade, with participants donning Dutch costumes, the Kinderparade, the largest parade of children in the state, and the Muziekparade, with bands, floats, and dancers. The weeklong series of events also includes an arts and craft show, quilt show, carnival rides, fireworks, and Dutch food.
PLAN YOUR TRIP: Visit Fodor's Michigan Travel Guide
Courtesy of Newport Winter Festival
WHERE: Newport, Rhode Island
Known as New England's Largest Winter Extravaganza, this celebration is held each year in Newport and Newport County. With more than 150 events, including a chili cook-off, musical entertainment, and a children's fair, this 10-day festival is held in February each year—this year marks the 28th annual celebration. Recently, the festival planners incorporated a Newport Winter Festival bracelet available for purchase, which gives reduced or free admission to all events and local business discounts.
PLAN YOUR TRIP: Visit Fodor's Newport County and East Bay Travel Guide
Courtesy of Niagara Wine Trail USA
WHERE: Lewiston, New York
Sip some wine and sample delicious bites from local vendors during the two-day Wine and Culinary Festival held during July in Lewiston, New York. The festival includes seminars that teach visitors about the region's grape growing patterns and a number of different wine-related topics. With Lewiston located just seven miles north of Niagara Falls, the festival's wine tastings are provided by the Niagara Wine Trail, a region known for its history of grape growing and winemaking.
PLAN YOUR TRIP: Visit Fodor's Niagara Falls and Western New York Travel Guide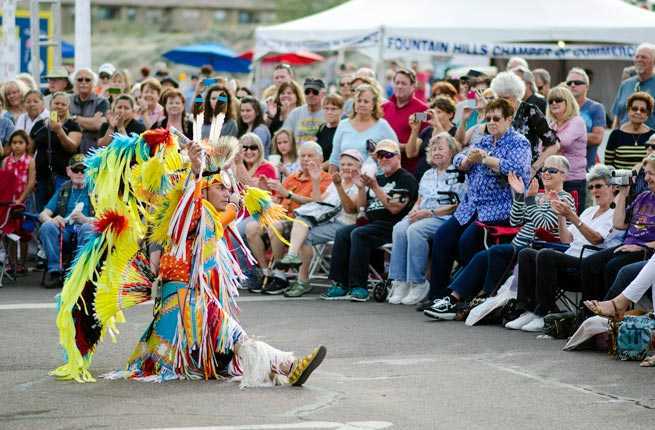 Courtesy of Fountain Hills Chamber of Commerce
Fountain Hills Great Fair
WHERE: Fountain Hills, Arizona
This February festival draws crowds of more than 200,000 to enjoy the three-day juried art fair, made up of more than 500 artists from across the world. Along with live music, a beer garden, and food booths, the Fountain Hills Great Fair gives visitors the chance to view one-of-a-kind pieces of art. The fair offers scooters to rent, and admission and parking are free.
PLAN YOUR TRIP: Visit Fodor's Phoenix, Scottsdale, and Tempe Travel Guide
Royce Rolstad
WHERE: Apalachicola, Florida
Dubbed Florida's oldest maritime event, the state's Seafood Festival draws tens of thousands of visitors every year. Held from Friday to Saturday during the first weekend of November, the festival includes highly competitive oyster eating and oyster shucking competitions, a carnival, a 5K run, fireworks, the blessing of the fleet, a parade, musical entertainment (Kellie Pickler and Craig Campbell have performed in past years), and plenty of delicious food. The festival takes place on the Apalachicola River at Battery Park
PLAN YOUR TRIP: Visit Fodor's The Panhandle Travel Guide
Burlington Steamboat Days
WHERE: Burlington, Iowa
This music festival meets carnival has seen plenty of action since it started in 1963. From performances by Louie Armstrong, the Monkees, Lady Antebellum, Blake Shelton, and more to a world-record-breaking conga line in 1986, this Iowa event regularly draws tens of thousands of people. In addition to its stellar music lineup, the six-day Burlington Steamboat Days also features carnival games and more than 25 rides, as well as a golf tournament. In one of the most memorable moments of years past, more than 11,142 people joined in a conga line during the Miami Sound Machine's 20-minute encore, featuring their song, "Conga."
PLAN YOUR TRIP: Visit Fodor's Iowa Travel Guide
Tim Burdick Photography
WHERE: Port Aransas, Texas
Located on the gorgeous Port Aransas beach, professional sculptors and amateurs flock to this annual festival to build the most creative sand sculptures they can imagine. SandFest, which began in 1997 and has now become a three-day event, draws more than 100,000 to the Port Aransas area, where visitors can also enjoy live music, entertainment, and take sand sculpting lessons. Dates for the event change every year depending on predicted tide charts, but SandFest typically takes place during April.
PLAN YOUR TRIP: Visit Fodor's Texas Travel Guide