Roy Guste
Halloween's emergence as a cultural mainstay is a testament to the fun, freewheeling spirit of the holiday. Across the country, cities celebrate the ghost and ghoul season with festivals where you'll find remarkable pageants of costumes, haunted tours, and spooky rituals. Summon spirits, raise a pint to the haunted shadows of the night, and seek delight as the nation plays dress up for the day.
By Zachary Laks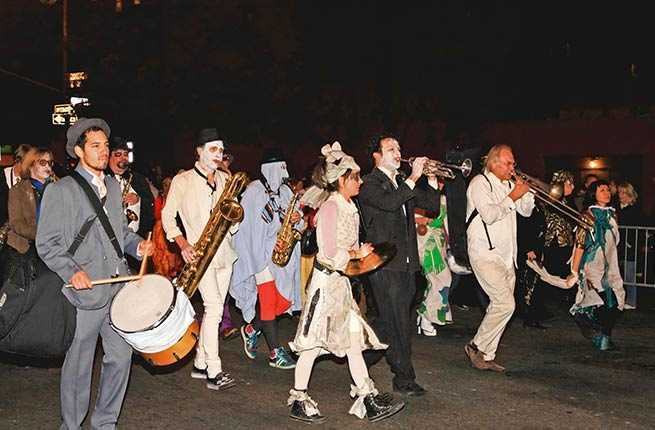 (c) Gary718 | Dreamstime.com
WHERE: New York City
New York City's Village Halloween Parade is a cultural phenomenon that shuts down lower Manhattan with an excess of urban revelry. The public is welcome to join in the march (costume required) alongside signature papier-mâché creations; the mile-long parade's pageant puppets have been custom made for the annual celebration ever since the parade was established in 1974. Arrive early to get a spot on 6th Avenue (between Houston and 16th Streets) and marvel at the incredible showmanship and craft of these one-of-a-kind creations.
PLAN YOUR TRIP: Visit Fodor's New York City Travel Guide
Tom Nycz Photography
WHERE: Sleepy Hollow, New York
October is really homecoming for Sleepy Hollow, the famed grounds of Washington Irving's timeless legend that introduced the world to the Headless Horseman. The month-long Sleepy Hollow Halloween takes over the town with haunted hayrides, live music, street fairs, and parades. Evening lantern tours guide spook-seekers through shadows of the haunted Sleepy Hollow Cemetery, the resting place of Irving, as well as the crypt of vampire Barnabas Collins. Stop by the Gothic Revival Lyndhurst Castle for Jay Ghoul's House of Curiosities, where castle dwellers lead guests on a family-friendly haunted tour of the estate. Famed spirits you'll meet along the way include Maleficent, Dracula, Henry VII, and the Wicked Witch of the West.
PLAN YOUR TRIP: Visit Fodor's Hudson Valley Travel Guide
Jonathan Moore
WHERE: Los Angeles
Approximately 500,000 people fill Santa Monica Boulevard each year for West Hollywood Carnaval, the world's largest Halloween street party. The neighborhood bursts with creativity as costumes compete for attention and accolades. The evening leads up to the popular "Queen of the Carnaval," when an A-list celebrity is anointed local royalty; past queens include Queen Latifah and Rihanna. Six stages with over 50 music acts provide background ambiance as attendees march and ogle along the boulevard. The trendy bars and clubs that line the street attract passersby with a variety of contests, live performances, and drink specials.
PLAN YOUR TRIP: Visit Fodor's Los Angeles Travel Guide
WHERE: Salem, Massachusetts
Salem, Massachusetts, ingrained in the minds of anyone who's ever touched an American history textbook, capitalizes on its witch-trial legacy each Halloween with its Festival of the Dead. Macabre activities rule for 31 days as Salem attracts an influx of almost 500,000 visitors each October. The Annual Psychic Fair and Witchcraft Expo runs daily each October and is the most opportune way to interact with psychics, mediums, crystal balls, and more. The festivities all culminate in the heralded Salem Witches' Halloween Ball at Hawthorne Hotel, where hundreds gather to "summon the spirits" of Halloween. Voodoo ceremonies, ritual drummers, and appearances from witch doctors make this event a one-of-a-kind experience.
PLAN YOUR TRIP: Visit Fodor's Salem Travel Guide
Robert Hoetink / Shutterstock
WHERE: Manitou Springs, Colorado
Just outside of Colorado Springs, Manitou Springs is a small town of 5,200 people and home to natural mineral springs. Those springs, once believed to have healing powers, attracted pianist Emma Crawford in 1889 in an attempt to cure her tuberculosis. Dying two years later in 1891, Crawford insisted on being buried at the summit of Red Mountain. Since 1995, the town has memorialized Emma Crawford with the annual Emma Crawford Festival the weekend prior to Halloween. The zany affair hosts coffin races, where impersonators of Crawford ride in wheeled caskets while being pushed by four "mourners." If you're looking for new ways to exercise this fall, casket pushing might be your new favorite workout.
PLAN YOUR TRIP: Visit Fodor's Colorado Travel Guide
Courtesy of Little Five Points Halloween Festival
Little Five Points Halloween Festival
WHERE: Atlanta
As a hub of local arts and culinary culture, the Little Five Points district hosts the annual food-focused Little Five Points Halloween Festival and Parade. Local artisan kitchens and food trucks set up stalls selling tacos, smothered barbeque brisket, and wood-fired pizza. The festival includes a parade, two stages of local musicians, and a bustling artist market. The parade can last up to two hours, so be sure to arrive early to get the best curbside spot for costume inspiration.
PLAN YOUR TRIP: Visit Fodor's Atlanta Travel Guide
Roy Guste
WHERE: New Orleans
The Big Easy goes all out for its Halloween celebrations, hosting Halloween festivities second only to Mardi Gras. Known as "the most haunted city in America," New Orleans is laden with guided haunted tours that bring brave souls on encounters with other dimensions. The main party is centralized in the Faubourg Marigny neighborhood, within walking distance from the French Quarter's more risqué holiday showcase. New Orleans' open container laws heighten the party atmosphere, as booze flows freely from the many stations and stalls. The opportunity to join the bacchanal alongside the outlandishly-fashioned partygoers makes for a most memorable Halloween.
PLAN YOUR TRIP: Visit Fodor's New Orleans Travel Guide
Kobby Dagan / Shutterstock
WHERE: Las Vegas
Las Vegas has never managed to do anything small, and its Halloween festivities are no different. Along the Strip, the mega-hotel complexes vie for top thrills as hundreds of thousands descend on the city for Halloween weekend. Despite the world-class list of nightclubs, restaurants, and bars, the best way to enjoy a Vegas Halloween is free, as a stroll down the Strip brings you face-to-face with a sampling of the world's most inventive and elaborate costumes. For an immersive Las Vegas fright experience, head to Circus Circus, where the Adventuredome theme park transforms into Fright Dome, with six haunted houses, including Insanitarium, a shuttered insane asylum where the surgeon of slaughter will pursue you to terrifying ends.
PLAN YOUR TRIP: Visit Fodor's Las Vegas Travel Guide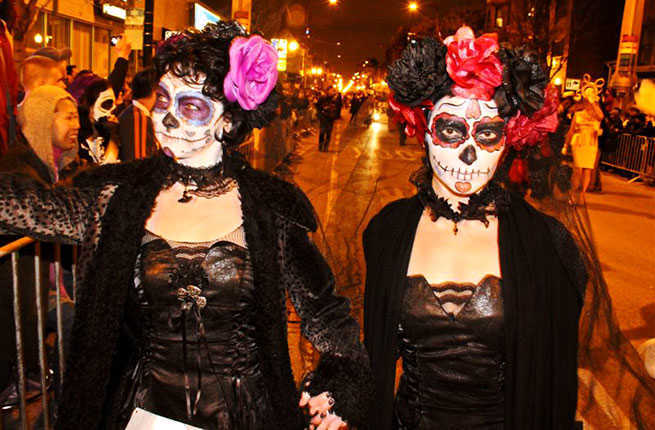 Northalsted Business Alliance
WHERE: Chicago
Chicago's Northalsted neighborhood is celebrates the festivities at Halloween on Halsted. All are welcome to participate in the annual parade that floods the streets, though all must register to walk. A costume competition divides participants into five categories: pet costume, drag, scariest, most original, and best group. Fire twirlers, stilt walkers, marching bands, and Dorothy from The Wizard of Oz are staples of the homegrown parade. The .7-mile stretch of city blocks covers a predominantly LGBT-friendly area of restaurants, bars, and clubs that all pick up when the parade ends with door-busting specials.
PLAN YOUR TRIP: Visit Fodor's Chicago Travel Guide
The Louisville Zoo Halloween Party
WHERE: Louisville
Deemed the "World's Largest Halloween Party," Kentucky's Louisville Zoo takes great pride in its annual Halloween party. Transformed into a Halloween hub, the Zoo welcomes families for activities that are more sweet than scary. Take a journey through themed walkways where favorite characters from Frozen, Pirates of the Caribbean, and The Wizard of Oz are on hand for photos and fun. Trick-or-treat alongside zebras, bears, and giraffes as you make your way on a train that slices through the park. And be on the lookout for the Headless Horseman, who makes an annual appearance at the event in a most unexpected way.
PLAN YOUR TRIP: Visit Fodor's Louisville Travel Guide