Jorge Casais / Shutterstock
Looking for a little romance on a shoestring? Look no further. The underpaid editors at Fodor's know a thing or two about economic travel! Here are 8 of our favorite spots for amour at a bargain.
Lucagal | Dreamstime.com
Mérida is an affordable and romantic destination for a long weekend. You can find flights from the U.S. to Mérida for under $500, and gorgeous boutique hotels like Casa Lecanda and Rosas & Xocolate are under $250 per night. You'll even have enough money left over to splurge on the tasting menu at Kuuk, a modern Mayan restaurant specializing in molecular gastronomy. Three days is the perfect amount of time.—Teddy Minford
PLAN YOUR TRIP: Fodor's Mérida Guide
Grigor Atanasov | Dreamstime.com
Chicago, with its stunning architecture, world-class museums, and dramatic lakefront, is the pearl of the Midwest and an affordable destination this Valentine's Day. Last-minute airfare is gently priced during off-season February and dozens of hotels are offering stays for less than $100 a night, like the Acme Hotel Company, Whitehall Hotel, and the Millennium Knickerbocker, all located on the glittering Magnificent Mile. Theater tickets that would be impossible to get in New York can be had in Chicago for less than $200, and an intimate dinner with wine at one of the city's award-winning restaurants can average as little as $150. Plus many of the city's best restaurants are offering Valentine's Day specials.—Margaret Kelly
PLAN YOUR TRIP: Fodor's Chicago Guide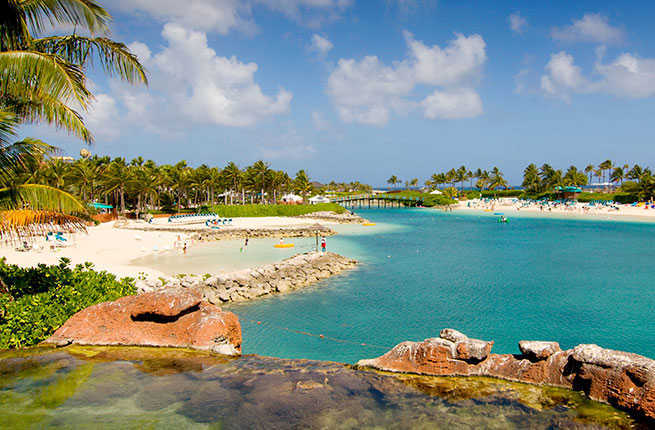 Npgal77 | Dreamstime.com
If you want to escape to a warmer climate in the Caribbean, packages are available to travel to Nassau-Paradise Island. Stay for four nights at the Comfort Suites for a bit more than $1,000, which will leave enough money for some romantic meals at the Atlantis restaurants next door (where you also get to visit Aquaventure for free every day). For just $100 per person more, you can stay at the brand-new, adults-only all-inclusive Warwick Paradise Island overlooking the marina, which is also within easy walking distance of Atlantis.—Doug Stallings
PLAN YOUR TRIP: Fodor's Bahamas Guide
Sepavo | Dreamstime.com
Charleston, South Carolina
For some Southern romance and hospitality, head to Charleston to enjoy its gorgeous architecture, amazing restaurants, and booming nightlife scene. Flight prices tend to be low in February (you can find fares for less than $200), making it one of the more affordable options for a warm-weather destination. Hotels range from the luxurious to the quaint, all with plenty of deals this time of year. Take a romantic stroll through streets filled with historical mansions, then enjoy classic Carolina cuisine at some of the country's most up-and-coming culinary hot spots. Afterward, there are plenty of quiet and cozy bars to enjoy a cocktail.—Amanda Sadlowski
PLAN YOUR TRIP: Fodor's Charleston Guide
In Green / Shutterstock
With flights for under $600 from several U.S. cities, Valencia, Spain, is a romantic and affordable Valentine's Day destination. Its Gothic, Baroque, and Romanesque architecture can be seen during rides on horse-drawn carriages through the Plaza de la Reina square in the old town. Escape to unmarred and quiet beaches and forego fancy meals for delicious tapas or paella. Many hotels range from $50 to $150 per night, like the Melia Valencia, which offers views of the Mediterranean.—Rachael Roth
PLAN YOUR TRIP: Fodor's Valencia Guide
TTstudio / Shutterstock
What could be more romantic than gazing at the Northern Lights with the one you love? ThroughMarch 26, Icelandair is offering package deals to Iceland for less than $1,000 a person. What do you get? Nonstop flights on Icelandair, a three-night stay in Reykjavik with breakfast, a trip to the Blue Lagoon to soak in the famous volcanic hot springs, and a northern lights sightseeing cruise.—Alexis Kelly
PLAN YOUR TRIP: Fodor's Reykjavik Guide
Jorge Casais / Shutterstock
Set on seven hills, Lisbon's winding, cobblestone streets, romantic vistas, and intimate cafés and restaurants inspire romance. And it's one of the most affordable European cities to visit—some of the best sights in Lisbon are free (or only the price of a cup of coffee). Days can be spent wandering its winding streets and stepped alleys, drinking in the spectacular views from the miradouros(vantage points), or admiring the blue-and-white azulejos (painted and glazed ceramic tiles) that decorate the buildings. Outstanding glasses of wine cost far less than a Starbucks venti and platters of the freshest grilled seafood for two is around $30. Last-minute flights from New York during low season are under $700, and hotels deals and apartment rentals can be had for a song.—Margaret Kelly
PLAN YOUR TRIP: Fodor's Lisbon Guide
Redtbird02 | Dreamstime.com
If you're really on a shoestring budget, there's one option that can't be beat: This McDonald's in Canandaigua, New York is taking reservations for Valentine's Day. You can have a sit-down dinner for two—with waitress service, an appetizer, an entrée, and dessert—for just $20 per couple.
PLAN YOUR TRIP: Fodor's Finger Lakes Guide