© G Adventures Inc.
There's good reason that the river cruise boom is moving full steam ahead into 2016: quite simply, unceasing market demand. Why are travelers so crazy about river cruising? For one, it sits at that coveted crossroads where travelers can cover maximum ground with minimum hassle. And, as opposed to traditional ocean cruises, which take you to a country's coastline, river cruises take you through a country's heartland, allowing for more destination-intensive immersion. Plus, long gone are the days where European rivers were pretty much the industry's sole domain: today, offerings on the rivers of Asia, South and North America, and beyond give travelers a spectrum of choices. For the new year, nearly all of the major river cruise lines are expanding with new riverboats and/or innovative itineraries—accordingly, here are our picks for the 10 most noteworthy ways to get rollin' on the river in 2016.
—Elissa Garay
Adventures by Disney
Adventures by Disney
What's New: In 2016, Disney is entering the European river cruise market for the first time, in partnership with AmaWaterways. The new Adventures by Disney river cruises are designed with families in mind, a departure from the traditional "adults-only" river cruise realm. Sail aboard the custom-built, 170-passenger AmaViola by AmaWaterways, offering family and connecting staterooms (a rarity on riverboats), and public spaces highlighting family-friendly activities (with a heated swimming pool, magic shows, and karaoke nights). The 7-night Danube River itineraries run between Vilshofen, Germany, and Budapest, Hungary, with stops in Germany (Passau), Austria (Linz, Melk, and Vienna), and Slovakia (Bratislava). Family-oriented excursions include a falconry show at Austria's Hohenwerfen Castle, a treetop walk at an outdoor adventure center in Germany, and more.
Set Sail: In 2016, five sailings embark in July and August (with two additional holiday-themed sailings in December). Rates from $4,669/adults (from $4,429 for kids), including guided excursions, gratuities, wine and beer with meals, dining at select in-port restaurants, and onboard Wi-Fi.
Book It: Visit Adventures by Disney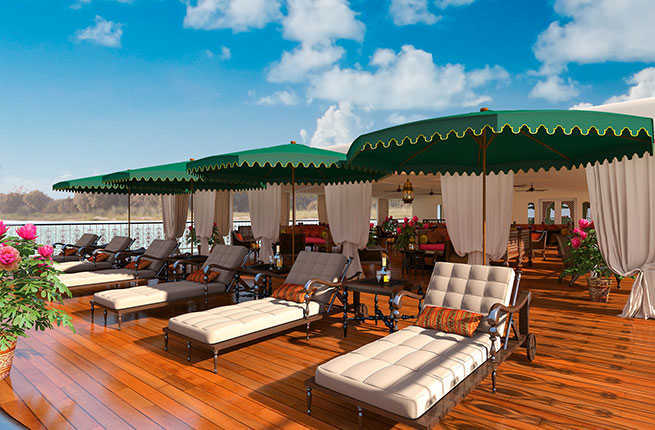 Uniworld Boutique River Cruise Collection
Uniworld Boutique River Cruise Collection
What's New: Sail the Ganges on the luxurious new 56-passenger Ganges Voyager II, which embarks in January on 12-night escorted cruise-and-tour itineraries of the Ganges and Golden Triangle cities. On board the fully-chartered ship (from American tour operator Haimark), look for fine touches like hand-painted murals and all-suite accommodations with high ceilings, French balconies, and rain showers. The "India's Golden Triangle & the Sacred Ganges" offering, running between New Delhi and Kolkata (formerly Calcutta), includes a 7-night voyage on the Ganges (round-trip from Kolkata), with stops in Mayapur, Kalna, and more. Passengers can add five nights of land-based stays at plush Oberoi Hotels & Resorts properties in New Delhi, Agra, and Jaipur, with tours of the Taj Mahal, royal palaces, colorful bazaars, and more.
Set Sail: Itineraries are available from January through March, and from September through December 2016; rates from $7,599/person include all guided excursions, select alcoholic beverages, gratuities for local guides/drivers, hotel accommodations, all meals, and ground transportation.
Book It: Visit Uniworld
Courtesy of Crystal Cruises, Crystal Mozart
Crystal Cruises
What's New: The first of five planned "river yachts" from Crystal River Cruises—a spin-off of the luxe Crystal Cruises brand—debuts this July. Sail the Danube aboard the luxurious, yacht-like 160-passenger Crystal Mozart (a completely refitted ship, previously run with upscale German tour operators like Dertour and the now-defunct Peter Deilmann Cruises), which measures in as the largest passenger riverboat in Europe, at double the width of the average industry vessel. With more space, expect more amenities, including multiple dining rooms, an indoor pool, wraparound promenade, spa, fitness center, all-suite accommodations (with king-size beds and walk-in closets), and more. A series of 10- to 13-night itineraries run round-trip from Vienna (where it moors twice overnight), with stops along the way in Austria, Germany, Slovakia, and Hungary. The line gives special attention to overnight calls, with evening excursions planned ashore to fine restaurants (including Michelin-starred eateries), cultural events, and more.
Set Sail: Sailings are scheduled between July and December 2016; all-inclusive rates from $3,435/person include airport transfers, alcoholic beverages, gratuities, choice of shore excursion in each port, and butler service.
Book It: Visit Crystal River Cruises
Innocent | Dreamstime.com
CroisiEurope
What's New: Come spring, French cruise operator CroisiEurope will be the first and only river cruise company to operate a Berlin-to-Prague itinerary completely by riverboat, thanks to the debut of the innovative 80-passenger Elbe Princesse. The intimate riverboat's paddle wheel technology allows it to navigate aroute along the Elbe and Vltava rivers, where it can operate in as little as three feet of water (other river cruise programs previously offered between the two cities have had to incorporate ground transfers by coach for a segment of the trip). Eight-night itineraries include several stops in Germany and the Czech Republic, with highlights like visits to the Elbe Sandstone Mountains, the gardens at the Sanssouci Palace in Potsdam, and more.
Set Sail: Itineraries run from April to October 2016; rates from $3,087/person include alcoholic drinks and Wi-Fi.
Book It: Visit CroisiEurope
Nickthegreek82 | Dreamstime.com
Scenic Luxury Cruises
What's New: The Scenic Azure, sleeping just 96 guests, sets sail in April, courtesy of Scenic. With the river cruise line building all of its own docks and infrastructure along the Douro River, this will mark the first time that a major luxury river cruise company has ownedand operated an independently built ship in the region (Douro Azul, a Portugal-based company, owns much of the region's infrastructure and operates/charters nearly all ships there, except for Scenic's and CroisiEurope's). Itineraries, operating between Porto and Pinhão in Portugal, will run from 8 to 11 nights in length, with several stops in Portugal and Spain en route. Look out for highlights like a fado musical performance in a wine cave, a tour of Guimarães (the seat of the first King of Portugal), wine tastings, and more. The small vessel will house a whopping half-dozen dining options, butler service for all guests, a pool, and a wellness/fitness center. Bonus: Most cabins come with a walkout balcony that can convert into an enclosed "sun lounge" at the push of a button.
Set Sail: Itineraries run from April to October in 2016; rates from $3,845/person include guided excursions, ground transfers, alcoholic beverages (including minibar), butler services, gratuities, Wi-Fi, and use of electric-assist bikes.
Book It: Visit Scenic
American Cruise Lines
American Cruise Lines
What's New: Scheduled to begin sailing the Mississippi River in early 2016, the 185-passenger America is being billed as the finest Mississippi paddle wheeler ever built. Look out for American Cruise Lines upgrades like more spacious staterooms (most come with private balconies); a one-seating dining room; and advanced ship engineering, technology, soundproofing, accessibility, and eco-friendly enhancements. Choose from a series of diverse 7-, 14-, or 21-night itineraries on the lower and upper segments of the river, sailing between ports like New Orleans; St. Louis, Missouri; St. Paul, Minnesota; and Memphis, Tennessee.
Set Sail: Itineraries in 2016 run from May through December; rates from $4,540/person.
Book It: Visit American Cruise Lines
Avalon Waterways
Avalon Waterways
What's New: For 2016, Avalon Waterways is rolling out a unique Belgium-immersive itinerary that includes visits to Antwerp, Namur, and Ghent, with additional excursions to the WWI museum and battlefields in Ypres and Eastern Flanders, along with a stop in Dordrecht (and Maastricht, on northbound runs) in the Netherlands. Eight-night "Enchanting Belgium" sailings between Amsterdam and Brussels embark on either the 138-passenger Avalon Luminary or the 128-passenger Avalon Artistry II. We suggest booking the Artistry II, one of Avalon's signature all-suite ships, with spacious 200-square-foot guestrooms fronted by expansive open-air balconies.
Set Sail: Itineraries embark on select dates in April 2016. Rates from $2,799/person include guided excursions, wine and beer with dinner, and Wi-Fi.
Book It: Visit Avalon Waterways
© G Adventures Inc.
G Adventures
What's New: Small-group adventure tour operator G Adventures is reimagining the river cruise experience in 2016 by launching a program of nine river cruises, each placing an emphasis on visiting local communities and sampling locally sourced cuisine—and all geared toward a younger demographic of the under-50 set. Itineraries vary from 8 to 15 nights and explore rivers in Cambodia/Vietnam, India, France, and Peru. Try their excursion into the Peruvian Amazon, which includes 6 nights aboard the well-appointed 30-passenger Amatista (fully chartered by G Adventures from Peruvian-owned Jungle Experiences). Sailing round-trip from Iquitos, Peru, enjoy the services of a duo of naturalist guides on board and daily stops to explore Pacaya Samiria National Reserve, the Amazonian Manatee Rescue Centre, a visit with a local shaman, and more. The entire 8-night itinerary (it first launched outside of the new river cruise program in 2015) also includes an additional two nights on land, in Lima, pre- and post-cruise.
Set Sail: Rates from $2,499/person, including guided excursions, transfers, and Lima hotel stay.
Book It: Visit G Adventures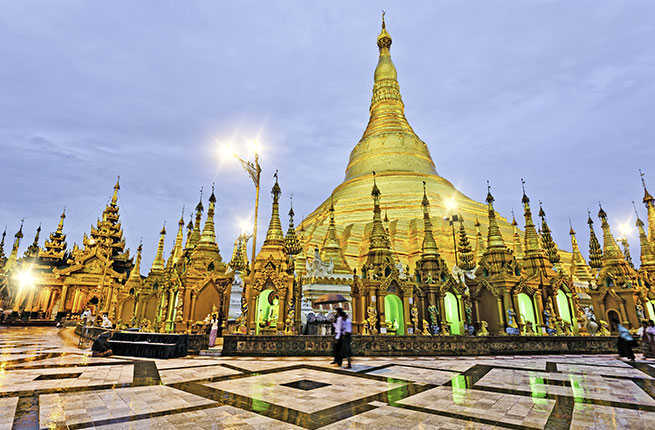 Ko.Yo / Shutterstock
The Strand Cruise
What's New: The luxurious 54-passenger Strand Cruise—from the same team behind the historic Strand Hotel in Yangon—is launching on Myanmar's Irrawaddy River in December 2015. The riverboat will sail a series of 3- and 4-night itineraries between Bagan and Mandalay, with stops en route to ancient, temple-specked royal cities like Mingun, Sagaing, and Ava, as well as to the picturesque U Bein Bridge. On board, expect plush colonial-inspired interiors, with guestrooms trimmed with teakwood floors, Burmese-crafted furnishings, regional art, and floor-to-ceiling windows with balconies. Bonus modern ship amenities include an onboard swimming pool and wine cellar.
Set Sail: Rates from $1,782/person, including guided excursions, wine and beer with meals, 24-hour butler service, and Wi-Fi.
Book It: Visit the Strand Cruise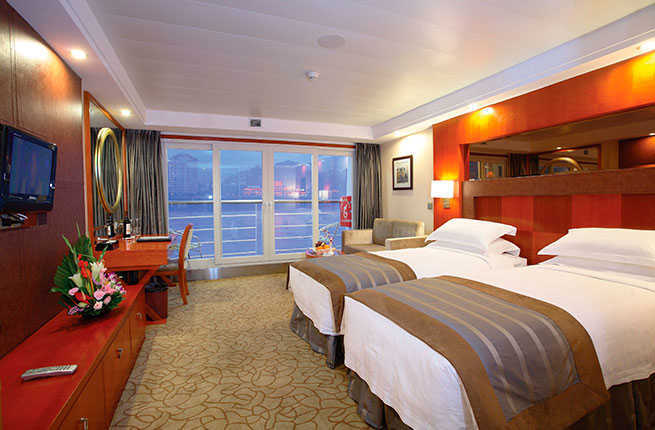 Viking Cruises
Viking Cruises
What's New: Viking River Cruises, a leader in the Chinese river cruise market, is expanding its regional offerings in 2016 to include an intriguing new "Undiscovered China" product. This land-and-water "cruisetour" itinerary goes beyond the usual Chinese tourism circuit (Shanghai, Beijing, Xian, and a Yangtze River cruise) to incorporate off-the-path sites like atmospheric Lijiang—site of China's most authentic Old Town—and Chongqing, gateway to visiting endangered pandas and the nearby Dazu stone carvings. In all, guests get to take in six UNESCO World Heritage Sites, including the Great Wall of China. The entire 17-night itinerary between Shanghai and Beijing includes a 5-night sailing on the comfortable 256-guest Viking Emerald and 12 nights at upscale hotels in Shanghai, Beijing, Xian, Chengdu, Chongqing, and Lijiang.
Set Sail: Itineraries run on select dates from March through October in 2016. Rates from $5,542/person include intra-China flights, hotel stays, guided excursions, all meals (wine and beer with meals on the sailing), and onboard Wi-Fi.
Book It: Visit Viking River Cruises