The-Stills LifeStyle Agency MUSA Underwater Art Museum West Coast Marine National Park Isla Mujeres, Punta Cancun, Punta Nizuc.
Human interests are as diverse as the day is long, which is most evident in the way we choose to document our passions. Displayed in these 15 museums are tributes to innovation and tributes to the idiosyncratic. Then there's the museum dedicated to Bigfoot, proving that there's truly no limit to the human imagination and that whatever your interest, there's a place for you in the world.—Vanita Salisbury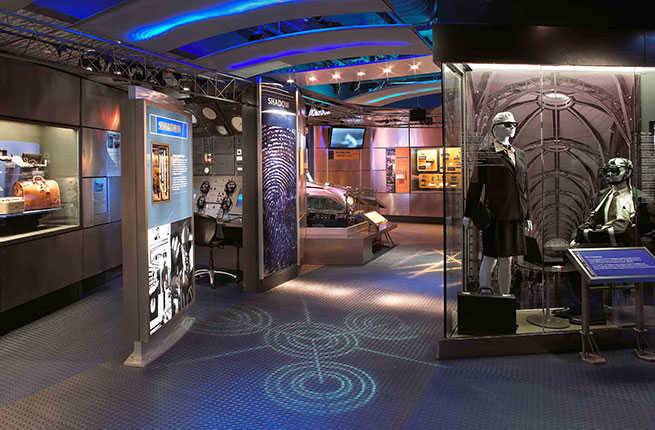 International Spy Museum
WHERE: Washington, D.C.
Although it may sound like a destination for conspiracy theorists, the International Spy Museum deals in fact: the history of intelligence and espionage as told through individual stories, artifacts, and, should you choose to accept your mission, interactive exhibits. Of course, as the exciting world of spydom has captured the public imagination, fictional stories are highlighted as well, like an exhibit of 50 years of Bond villains, featuring props used from the films and exploration of the evil plots to take down humanity.
PLAN YOUR TRIP: Fodor's Washington D.C. Travel Guide
Museum of Bad Art
WHERE: Massachusetts
Art is subjective, sure, but this community-run museum cherishes all the (mal)forms, displaying it in three locations around Massachusetts—two fittingly outside of theater bathrooms. The inaugural piece, Lucy in the Sky with Flowers, was discovered in the garbage. You can also see the collection online, meticulously detailed with descriptions and helpfully separated into categories like portraiture, landscape, "noods" (nudes), and the more obscure "blue people."
PLAN YOUR TRIP: Fodor's Massachusetts Travel Guide
Explore Minnesota
WHERE: Darwin, Minnesota
Less of a museum and more of a ball of twine made by one man measuring 40 feet in circumference and weighing 17,400 pounds, this massive attraction grew out of the daily labor one man, Francis A. Johnson, for 23 weeks in 1950. This display of persistence is on view year-round in a glass-walled gazebo for free, but if you can, try to show up on the second Saturday in August, when the town celebrates "Twine Ball Days."
PLAN YOUR TRIP: Fodor's Minnesota Travel Guide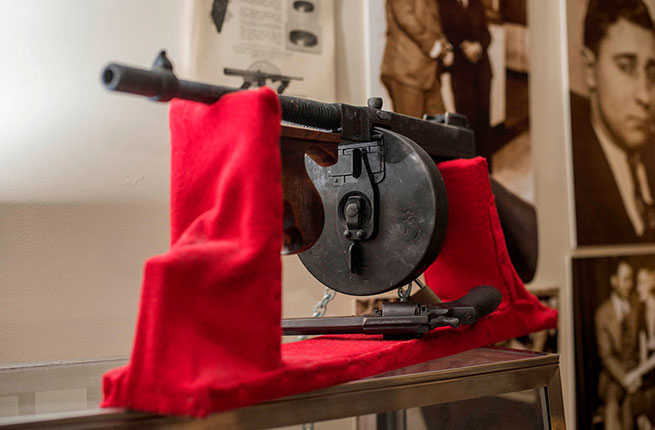 Neville Elder
Museum of the American Gangster
WHERE: New York, New York
Americans are obsessed with gangster stories, which is evident in this museum, located above a former speakeasy frequented by the likes of Al Capone, Lucky Luciano, and John Gotti. The two rooms are packed with encyclopedic memorabilia: bullets from the St. Valentine's Day Massacre, a range of firearms including an actual Tommy gun, and two death masks. See how Prohibition only fostered more new, imaginative crime, or take a tour with stops including a spot where Frank Sinatra once slung drinks. Maybe even down one yourself.
PLAN YOUR TRIP: Fodor's New York City Travel Guide
Momofuku Ando Instant Ramen Museum
WHERE: Ikeda, Osaka, Japan
In 1958 Momofuku Ando invented the first instant noodles, which he called "Chicken Ramen," after a year of researching and tinkering in a shed in his backyard. Today approximately 100 billion bowls are eaten every year internationally. This museum in Japan is not only a monument to the noodle and the man, but also to the spirit of invention. See exhibits like "The Birth of Chicken Ramen," which re-creates the shed, or an exhibit of Momofuku Ando's life. Or get hands-on with experiences like the My CUPNOODLES factory, where you can design your own packaging and flavors.
PLAN YOUR TRIP: Fodor's Osaka Travel Guide
Hormel Foods Corporation
WHERE: Austin, MN
"Please don't eat the exhibits" reads a sign at the museum dedicated to the eight-decade-old all-American lunchmeat, SPAM, which itself either represents "Spiced Ham" or "Shoulder of Pork and Ham." Found in Austin, MN, home to the SPAM factory, the 14,000-square-foot museum houses SPAM memorabilia and explores its role in culture, including an exhibit focused on SPAM's role in the military during World War II, which elevated the canned meat's popularity in island nations. Did you know Hawaii consumes more SPAM than any other state?
PLAN YOUR TRIP: Fodor's Minnesota Travel Guide
Bigfoot Discovery Project and Museum
Bigfoot Discovery Project and Museum
WHERE: Felton, California
In 1967, filmmakers Roger Patterson and Bob Gimlin recorded a subject they claimed was a female Sasquatch running through the forests of Oregon. It is the definitive evidence for Bigfoot enthusiasts, so of course an exhibit on the film is a focus of the Bigfoot Museum in Felton, California. The museum is just steps away from the Henry Cowell State Park, where there have also been sightings. Alongside local tales and memorabilia like matchbooks and toys, you'll also find plaster foot and handprints made by the filmmakers and what is allegedly dried droppings from the beast, though we're not really sure how you would tell.
PLAN YOUR TRIP: Fodor's Santa Cruz Travel Guide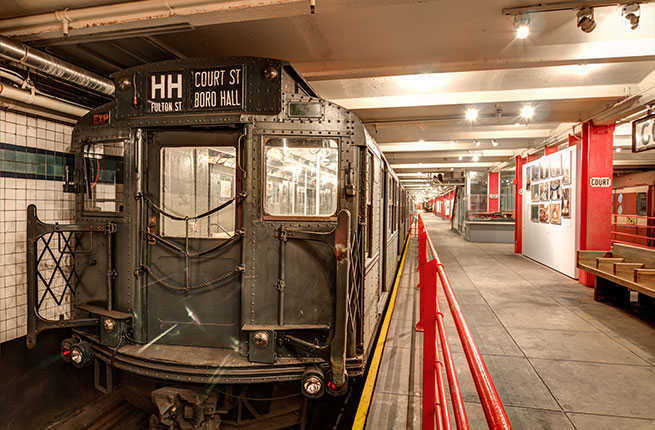 Courtesy of Black Paw Photo / New York Transit Museum
WHERE: New York, New York
The largest museum dedicated to urban public transportation is fittingly located in New York, housed in a decommissioned 1936 subway station Brooklyn. Along with exhibits highlighting the past and future of mass transit, visitors can take the helm of a city bus, explore vintage subway cars, and travel through time with the evolution of turnstiles. Also on view are historic signs (like "No Spitting on the Platform").
PLAN YOUR TRIP: Fodor's New York City Travel Guide
The-Stills LifeStyle Agency MUSA Underwater Art Museum West Coast Marine National Park Isla Mujeres, Punta Cancun, Punta Nizuc.
WHERE: Cancún, Mexico
Making a case for how cool it would be to live underwater, the Museo Subacuatico de Arte is the largest artificial underwater attraction in the world, consisting of more than 400 sculptures. Erected in 2009 with works by English sculptor Jason deCaires Taylor, the museum is more than just a cool attraction; it also promotes the preservation of underwater reefs by drawing the attention of visitors elsewhere. And you don't have to have a scuba license to witness eerie splendor—glass-bottom boats and snorkeling will also get you close enough to enjoy the attraction.
PLAN YOUR TRIP: Fodor's Cancun Travel Guide
Scott McMurren via Wikimedia Commons, [CC BY 2.0]
WHERE: Haines, Alaska
In the beginning, there was the hammer. The importance of the first known tool is not lost on this Alaska museum, which, with 2,000 artifacts, not only chronicles the history of the hammer but includes different types of the tool. Sometimes the facts are not so fun; one item on display is the Winterhilfswerk Hammer Pin, given to donors in an annual charity drive, organized by the Nazi party.
PLAN YOUR TRIP: Fodor's Haines Travel Guide
Alex Ludden
Salt and Pepper Shaker Museum
WHERE: Gatlinburg, Tennessee
With more than 20,000 sets of salt and pepper shakers, this museum near the tourist mountain town of Gatlinburg, Tennessee, is a tribute to our universal desire for seasoning. See everything from pop culture examples like the mop-topped Beatles shakers to presidential memorabilia, like the remarkably detailed shaker depicting JFK on his rocker. If you see something you like, there's a chance you can buy it in the museum store. And if you happen to find yourself in Spain and woefully under-seasoned, there's a branch of the museum over there as well.
PLAN YOUR TRIP: Fodor's Gatlinburg Travel Guide
The Leeds Castle Foundation
WHERE: Leeds Castle, Kent, England
Believe it or not, dog fashion has actually evolved over the years, and while today the accessory serves mostly as a utilitarian signifier of domesticity, history would hold a few more uses. The Dog Collar Museum in Kent houses a collection curated by Irish medieval scholar John Hunt and his wife Gertrude, spanning from times when spikes were used on collars to keep human predators from ripping out the throats of hunting dogs in the early 15th century, to the decorative collars of the 18th century. With more than 130 rare collars, there's something for everyone.
PLAN YOUR TRIP: Fodor's Leeds Castle Travel Guide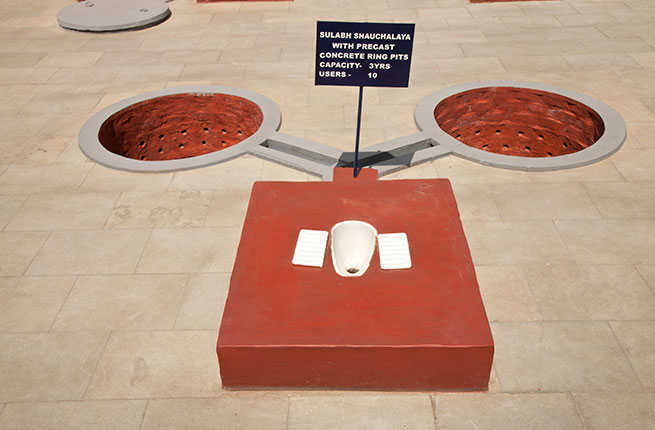 Sulabh International Social Service Organization
Sulabh International Museum of Toilets
WHERE: New Delhi, India
Poop is always hilarious, and while that may be the initial draw for visitors to this museum, located in the largest sanitation and social welfare NGO in India, what you'll stay for is a thoughtful dissemination of information chronicling the evolution of how humans have dealt with sanitation throughout history. Divided into three eras—Ancient, Medieval, and Modern—you'll find chamber pots from ancient Greece, decorative Austrian urinals, bedpans, bidets, and a replica of the throne of King Louis the XIV.
PLAN YOUR TRIP: Fodor's Delhi Travel Guide
PersianDutchNetwork via Wikimedia Commons, [CC BY-SA 3.0]
WHERE: Amsterdam, Netherlands
Two centuries ago, punishment for crime was inflicted using vicious, agonizing methods. This small museum in Amsterdam may be campy, accompanying their torture devices with recorded screams, but also informative: documenting the instruments and their place in history, with some original and some replicas of devices. You'll see obscure devices like thumb screws and skullcrackers, alongside more well-known instruments like the rack and the guillotine (which was used in France as recently as 1939).
PLAN YOUR TRIP: Fodor's Amsterdam Travel Guide
Vent Haven Ventriloquist Museum
WHERE: Fort Mitchell, Kentucky
Wooden alter egos abound at this Kentucky museum, which houses more than 800 ventriloquist ("Vent") dummies. It also chronicles the history of the craft through thousands of photographs, playbills, and letters. You'll even find some books that date back to the 1700s.
PLAN YOUR TRIP: Fodor's Kentucky Travel Guide