Twas the weekend before Christmas....Charleston getway
Join Date: Jul 2010
Posts: 4,142
Twas the weekend before Christmas....Charleston getway
---
We love to travel at Christmas time. My job in sales can be tough for taking a vacation at any other time. With my husband's job, it's much the same as his clients are traveling or otherwise occupied before getting back to training. We visited Paris in April, so we needed to do something closer to home for a Christmas trip.
NYC and San Francisco were on the table. I love NYC at Christmas but as soon as Chaz mentioned Charleston, I jumped on it. We were supposed to visit New Orleans in the Fall and decided to bale on that, so a trip not far from Atlanta was perfect. I spend my life on airplanes and in airports, so a short trip sounded great. Chaz had never been to Charleston and I was excited to go there for a long weekend. We decided to travel there Dec 20 and back on Dec 23, to be home for Christmas.
Thursday, Dec 20
We arrived on Delta after about an hour flight and the weather was a bit rainy but not bad and not cold. We took a cab into town and chatted with the driver who has been impacted by Uber/Lyft. She had been at the airport since 6am and we were only her second fare. I use Uber a lot in some cities because it is significantly less than cabs and sometimes in areas where you can't get a cab at all. I do love that many cabs now use Arro and Curb to allow you to pay/tip through their app (you can also order one through these apps) and suggested that to her as a way to make taxi travel easier and take advantage of one of the things that make Uber/Lyft popular. I don't think she really understood what I was saying but we way over tipped her.
We decided to stay at a brand-new Homewood Suites just off upper King Street. Perfect for dining and shopping on King St. It was very nice (except for the hallway carpet pattern was an acid trip gone very wrong). The staff there was friendly and helpful and the room was spacious and clean. (The view was awful but we were expecting that…one day there may be a view when the street between Meeting and King gets developed, for now…not worth looking at the window). We were not there for the view and the proximity to great food was excellent.
I wish we had arrived earlier. Finding a place to get a small late lunch was a bit of a challenge as many of the places close after lunch or don't open until 4pm. It was 3pm with a 7:15pm dinner reservation at Husk. We went to The Rarebit. It took a while to get the bartender to wait on us but I enjoyed some Spanish Rose wine (Chaz a local IPA) and I had a beet and goat cheese salad. Chaz had a shrimp Po Boy and the shrimp were light and crispy.
Both were good and the bartender turned out to be friendly and offered some local spots to try. Although, I wish someone would tell him not to untie his pony tail and put it back up while he is behind the bar.
We were very happy to see a Callie's Hot Biscuit right there…that was going to be our breakfast destination and we couldn't have been closer. All the stores and restaurants were nicely decorated for Christmas. I love King Street! Lots of clothing boutiques, a mix of local and national chain stores, jewelry, shops, bars, restaurants (local and a few chains…this is also right by College of Charleston, so Five Guys, Subway and Chipotle have to be there). There is even a tasting room for a local distillery.
We did a little window shopping and plotting future meals, we returned to the hotel to clean up for our night out. It had been quite a while since I had spent much time in Charleston but I used to be there a lot for business. I remembered that Charleston Place (now a Belmond) has a great bar and is beautiful, so I imagined it would be dressed up for Christmas. We took a quick Uber down Meeting Street to Charleston Place.
The lobby was beautifully decorated and to Chaz' delight outfitted with a train display and Christmas village under their double staircase. It was quite an elaborate set up with trains, ski lift and more. I am pretty sure it is mostly intended for kids but apparently, grown men love it as much the kids.
We took a seat and enjoyed a glass of Champs (me) and a Cranberry Old Fashioned (him). After snacking on some nuts and viewing the trains and Christmas trees, we walked over to Queen Street and to Husk. The bar at Husk is in a tiny carriage house next to the main house where the restaurant is located. The drink menu and beer menu is awesome and so are the bartenders. I chose a Smoking Bishop (Christmas in a glass, apple brandy, orange topped with mulled wine and fresh nutmeg—but Cratchit and Scrooge were not there to share). Chaz chose another old fashioned. Both excellent drinks! We also got a look at the Husk burger which looked delicious.
We went next door for our reservation and were seated upstairs in the old mansion. The menu had lots of great options. Chaz started with General Tso octopus and I had to have the chicken skins with a dusting of house made ranch seasoning. Both were delicious, although Husk's chicken skins are not as good as Holeman and Finch's in Atlanta. We got some tasty Champagne at a very reasonable price but I forgot to photograph the label. Husk arranges their wine list by the soil the grapes grow in. Interesting-see below.
~Wine and Soil~
As an agricultural product, grapes show a breadth of characteristics from the place in which they are grown.
Starting from the ground up, the soil is the foundation that creates the backbone of any wine.
Alluvial (sand, clay, gravel, silt/loess, loam)
soils are blends that have good water and nutrient retention. Throughout the world, these are the most prolific vine soils and a good place to look for more fruit-forward and juicy wines.
Sedimentary (limestone, sandstone, silex/flint)
rock soils are made from solidified mineral or organic deposits. These soils work like a sponge, wicking water away and storing it. Highly valued in cool climates because of its heat reflection.
Metamorphic (slate, schist, gneiss)
rock soils are formed under pressure from another type of rock. Retaining water and radiating heat the rocks contribute to ripening and develop flavor. Wines can have an underlying mineral quality.
Igneous (volcanic, basalt, pumice, granite)
rock soils are formed by lava flows above and below the earth's surface. Volcanic soil is formed from molten lava and ash deposited from the earth's surface. Granite is a plutonic rock formed deep under the earth's surface. Resulting wines are typically earthy, often savory and complex.
We had to have the skillet of cornbread and my main was grilled snapper (perfectly cooked with nicely crisp skin). Chaz had a NY Strip. All terrific but way more food than we could finish. I hated to say no to Gingerbread cheesecake but I had to! Sigh!
A quick Uber back to the hotel and the end of our first day in Charleston. The next day's weather promised sun and wind and we ere looking forward to wandering around the Battery and Historic District.
Friday, Dec 21
We both were motivated to get moving on Friday morning….Chaz wanted to get to Starbucks and I needed a diet coke.
I grabbed a diet coke at the hotel and we headed to Starbucks (very close to the hotel) for Chaz to get a cold brew iced coffee. We couldn't help devising a strategy for breakfast that would allow us to sample as much local Charleston as possible. First, Callie's and then Glazed for a dessert donut. We justified it because we would be walking a lot, we were on vacation and it's Christmas (if you have read my previous trip reports, you know we can put some food away).
First stop, Callie's on upper King. Tiny spot with wonderful biscuits. I had just shipped some via FedEx to my sister and mom and now I get to have some fresh from the source).
Chaz got a full size biscuit sandwich with sausage, egg and fiery pimiento cheese. I got the small cheddar and chive biscuit with country ham. Both excellent---Callie's did not disappoint.
I was glad I hadn't gotten too much since we walked right across the street to Glazed for a doughnut. We decided to share 3 !! A vanilla glazed, a cinnamon sugar and a gingerbread filled donut. All terrific but the glazed won our vote. Perfect donut…not too sweet, light and airy with a little crispiness to the exterior.
A casual stroll down King Street (making note of shops to come back to and restaurants for lunch) and then over to Market Street for a visit to the Charleston Market. We first stopped by Peninsula Grill for a look at their courtyard and our dining destination for Saturday night. We chatted with the valets out front for a bit. Everywhere we went in Charleston, the locals are very friendly and kind. I love this about the South and its one of the reasons I have been so glad to call the South my home/birthplace.
Lots of jewelry options, sweetgrass baskets, local mixes for red rice, she crab soup, Christmas ornaments and other Lowcountry favorites. There is also another Callie's location but we did pass it up.
We exited the market at East Bay and passed the old Customs House. We walked to Vendue Range and to the waterfront. It was windy! I love the Lowcountry look and the grass that grows along the water's edge. From there, we visited my favorite Charleston landmark – the Pineapple fountain. Pineapples are all over Charleston and are a symbol of hospitality. The fountain is unique and gorgeous. I have always loved it.
We walked on to the Battery and all over the area admiring the homes, the decorated doors, fountains and the intimate courtyard we glimpsed as we strolled. Charleston is so unique, beautiful and interesting. We figured the walk in all the wind might help burn off the huge breakfast! We saw a lot and Chaz loved it as much as I do! If we win the lottery, we are buying a place in the historic district of Charleston. We saw lots of courtyards and porches that would make perfect places for our Sparkling Saturday!!
We figured it might be too much if we asked a resident to use their restroom, so we started working our way to Charleston Place. We passed St Phillip's and they were practicing for Christmas Eve services. Another observation…Charleston loves the French bulldog! While we saw lots of pups—the French bulldog reigns supreme in the Holy City!
After a quick bathroom break and a second iced coffee and diet coke, we wanted a light seafood lunch. We decided to visit Hyman's seafood. At other times of the year, there is a line out the door but right before Christmas doesn't seem to be very busy for tourism in Charleston (lucky us).
We had a kind waiter from Jamaica who has learned the American art of the upsell! We skipped all the mixed drink suggestions and went with some Rose wine. Chaz got a dozen oysters and I chose a broiled, crab stuffed grouper with red rice. Great food, very casual place but it's been there forever. We enjoyed it. We were hoping to have a light lunch the wouldn't ruin our dinner at Slightly North of Broad (SNOB).
We spent some more time shopping on King Street. I was looking for a few small things to take back for my sister who would arrive Sunday night. This was a scouting trip to find gift ideas.
Lots of interesting shops to mill around in and we met a local resident who convinced us we needed to cancel our brunch reservations at High Cotton and try to get in at Hall's Chophouse for the Sunday gospel brunch. No reservations were available but she tipped us to go early and sit at the bar.
We made our way back to the hotel to rest our feet and clean up for dinner. We had hoped to find a good spot for a drink with a water view so we headed back out to the Vendue Inn and their rooftop bar. As we passed through the hotel, we passed the bar and it looked like a great spot (and had a live piano player). I was more interested in that than being outside since it was so windy, but we headed up to the roof. Most of it was "wrapped" in plastic but what wasn't was far too windy to enjoy. Without the view, we decided the lobby bar was more our style.
We got a seat in the sleek and stylish bar and settled in. The hotel was decorated beautifully and the entertainer was fun and trying to get people to sing. Now, this was at about 5:30pm so no one had enough alcohol in them to sing along. Another Rose for me and an old fashioned for Chaz. I sang along for a few songs (I am sure no one was entertained by that). Turns out the singer/piano player's wife also performs with him and she is from my home town of Memphis. We had a nice chat during their break. We had a second round before heading to SNOB for dinner.
SNOB is another Charleston restaurant that has stood the test of time. The service is great and so is the menu! I started with a winter greens salad with sugared pecans, goat cheese and satsumas (I love satsumas and the season is so short). Chaz tried the she crab soup, another Charleston favorite. We stuck with wine by the glass and for main dishes, I had their shrimp and grits – THE lowcountry dish! SNOB's is wonderful with just a little spice. Chaz got barbecued tuna, which he loved! I think we had dessert but I didn't take a picture and can't remember.
We really enjoyed our night and the whole day in Charleston. It's so pretty anyway but Charleston really dresses up perfectly for Christmas.
We are always planning the next meal, so we decided to go back to Glazed and Callie's (I hated to say no to Hominy Grill but Callie's was calling me). We were also planning to take advantage of a sunny Saturday to go someplace waterside for lunch.
Another Uber back to the hotel for some shuteye! We looked for cabs but saw none around the historic area, even around hotels.
Saturday, December 22
Well, I got smart and took a diet coke to our room so I could get dressed at a more relaxed pace while getting my caffeine fix. Chaz went ahead to Starbucks and I met him there. It was sunny and still a bit windy but better than Friday. From there, we retraced our steps to Callie's for a biscuit breakfast.
The special was a BLT biscuit….bacon, roasted grape tomatoes, arugula on a biscuit with homemade lemon, basil mayonnaise. I had to have that. Chaz went with the selection of 3 small biscuits—blackberry, peppered bacon and cheddar/chive with bacon. Oh, so good. I can't say enough about the BLT biscuit-delicious and somehow light.
Dessert at Glazed – glazed and cinnamon. I enjoyed watching a dad telling his kids "no Sprite" with the donuts and then eating with them at a kid sized table in a kid sized chair!
Properly fueled, I was ready for Christmas shopping. I naturally found myself a few things along the way but found some bracelets and earrings for my sis at Filigree. Very cute things made in the shop. We also made our way through the market at Marion Square. We could have had breakfast there as they had a number of food stalls that looked wonderful. I did pick up a pair of earrings here made by a local artisan.
We continued down King Street for more shopping. We also stopped by Hall's Chophouse to read the brunch menu and decided we would go for it on Sunday. I picked up an infinity scarf at a shop and then we went back to the Charleston market. They have jewelry based on some of the architecture in the city. Church windows, gates, etc…I chose a Citadel sword hate pattern in some earrings.
We decided to stroll some more through some of the historic cobblestone streets and churches before lunch. We stayed closer to Meeting Street and Broad street this time but continued to find festive wreaths and swags decorating painted doors and iron gates. We love peering into courtyards as they always look so relaxing. It was gorgeous out and a light coat is all you need in December in Charleston.
We made our way to a beautiful Catholic church with a spire you could see all over the city. It was really pretty and nice to browse around in it for a little while. As always, we worked our way back to Charleston Place to use the restrooms and find transportation our to Shem Creek. It was packed with families with little kids! I assume there was some sort of Christmas event there and the trains were the top attraction.
Again, no taxis around so we got an Uber and headed across the Ravenel bridge toward Mt Pleasant and Tavern & Table. As you cross the bridge, you can see all the church spires in the downtown, historic district and you understand why they call Charleston the Holy City!
We had lunch outside at Tavern & Table. More Rose and some pimento cheese with bacon jam as an appetizer. Holy cow—addictive! Lunch for Chaz was a truffle burger (with duck fat fries) and for me simple peel'em & eat'em shrimp. Excellent food and we walked across the bridge to access Shem Creek park and walk through the grass to the waterfront. The view is pretty everywhere you look. The bridge, the grassy banks and the waterfront. Great way to spend some time and walk off the lunch. It was sunny and spectacular! An Uber back to the hotel to clean up, nap and prep for our finale dinner at Peninsula Grill.
We went to their Champagne bar first and I had some Laurent Perrier Rose, Chaz an old fashioned. We got chatted up by a man who had recently moved to Charleston. Nice but at some point got a bit annoying (believe he was a bit drunk).
The restaurant is located at Planters Inn and is lovely. It's an excellent location for exploring the city.The courtyard dining there looks remarkable but it was a bit too chilly for that. We were seated in the dining room and chose a bottle of Gaston Chiquet Special Club Champagne (see below for info on Special Club).
The Club Trésors comprises 28 artisan wine makers, selected from the finest areas of the Champagne region, each one recognised for the quality of their work. The Club Trésors is the only organisation in Champagne to select its members according to a set of unrelenting quality standards.
Each wine maker must make their champagnes entirely in his, or her, own premises and cellars. Furthermore the champagne must be made exclusively from grapes harvested in his, or her, own vineyards.
Each wine maker is devoted to his work and passionately protects the quality and the unique character of his own terroir.
The jury of oenologists and wine professionals who select the champagnes, demand irreproachable quality as regards both the work in the vineyard and the wines.
Each champagne is subject to two blind tastings (once at the still wine stage before bottling and again after 3 years ageing in bottle) by a panel of passionate and distinguished oenologists and wine makers.
A Special Club champagne may only be made in outstanding vintage years.
Only wine makers who have successfully passed these two tests are deemed worthy of putting their chosen champagne in the unique 'Special Club' bottle which may not be used by anyone except the members of the Club Trésors.
Obtaining this 'Holy Grail' is a true accolade and one that requires daily dedication and application by the wine maker. Only in this way can our select group guarantee to champagne lovers everywhere the exceptional quality and unique artisan character of our champagnes.
Back to dinner, I skipped the appetizer because I knew I wanted their famous coconut cake for dessert. Chaz got she crab soup, which is perfect for a night with some chill in the air.
I got a filet and butterbeans (which I love and grew up) for my meal and it was excellent. Chaz had lamb, also excellent. Last, was the coconut cake I had heard so much about! Delicious and huge (if you go split a piece---we did and still couldn't finish it).
Back to the hotel for one last night.
Sunday, December 23
The most gorgeous day of all was Sunday. Starbucks to start the day and some wandering around until about 10am when the restaurant would open. We saw a line forming really early but decided we would not stand in line for 45 minutes. We broke down and got one last donut in case brunch didn't work out. We wandered a bit more came back to Hall's Chophouse at about 10 minutes before 10am. The line was a bit bigger and we decided to take our place at the end. We got lucky and the excellent restaurant management opened the door early. We were greeted on the way in and shown around a large group who was plotting out their seating.
It was busy but we got seats at the bar and were greeted again by the owner or manager. This place knows about hospitality! Chaz had some Champagne and I had a bellini. The choir was singing and it was a very fun scene. Great place for brunch---if you are in Charleston, try it for brunch. I got a cup of she crab soup and the best steak sandwich I have ever had. Super tender and delicious. Chaz had crab cakes benedict- also well done! All the food looked great and they were nice enough to let the guy next to me order a single sweet potato pancake for "dessert". Everyone is friendly here and we really enjoyed it.
It was finally time to head to the airport and back to Atlanta.
We both had a great time. Beautiful weather, history, great food and wine, festive decorations, friendly locals and we didn't have a bad meal any where! It was a great way to spend a weekend.
Join Date: Jul 2010
Posts: 4,142
Attaching some photos
img]https://cimg2.ibsrv.net/gimg/www.fodors.com-vbulletin/1500x2000-1/img_3561_9ee3963f407c650b0b914478c1e361a76b615e46. jpg[/img]
She Crab Soup at Hall's Steakhouse
Laurent-Perrier at Champagne bar (Peninsula Grill)
Lamb - Peninsula Grill
Champagne bar - Peninsula Grill
Courtyard - Peninsula Grill
Courtyard
Charleston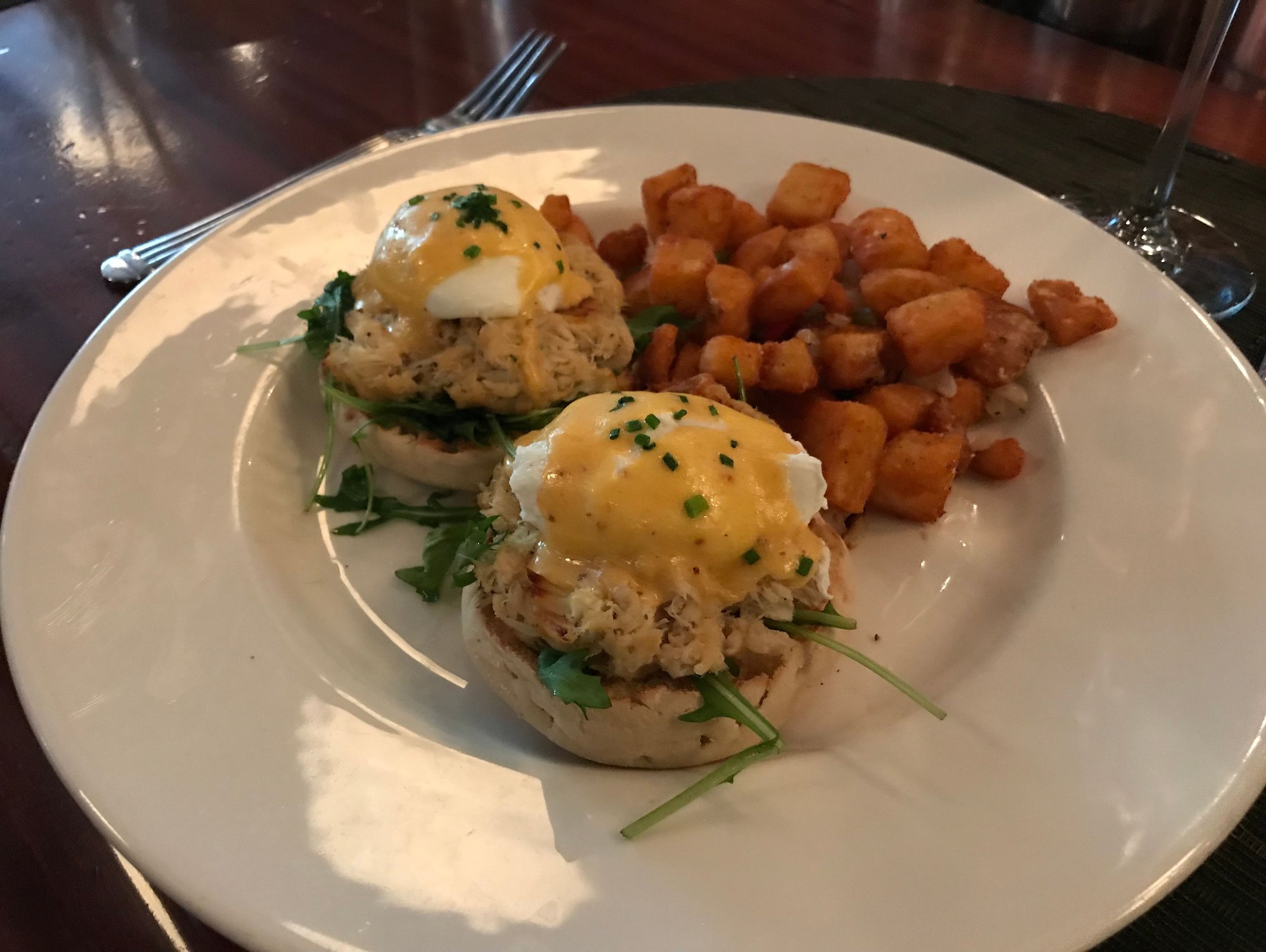 crabcake benedict- Hall's
Steak and butterbeans - Peninsula Grill
Steak Sandwich - Brunch at Hall's
Hall's Steakhouse
Join Date: Jul 2010
Posts: 4,142
Charleston homes and scenes
So Charleston
Coastal scene
Coastal Charleston view
fountains
Holy city curch
Waterfront view
Christmas at Charleston Place
Shem Creek boats
my favorite thing in Charleston
Catholic Church
loved this house
entry to Peninsula Grill
Christmas decor
more Charleston
Join Date: Jan 2008
Posts: 1,234
Charleston. . .a nice place to spend Christmas week. Great report, Denisea! Your walk along the Battery, admiring all the beautiful homes, the Vendue Inn, King St.: all remind us of a former trip in late spring.

I admire your punctual report. We returned from Spain in mid-Sept., and I'm just now working on our TR! Happy 2019 to you and Chaz!
Join Date: Jul 2010
Posts: 4,142
Originally Posted by
tomarkot
Charleston. . .a nice place to spend Christmas week. Great report, Denisea! Your walk along the Battery, admiring all the beautiful homes, the Vendue Inn, King St.: all remind us of a former trip in late spring.

I admire your punctual report. We returned from Spain in mid-Sept., and I'm just now working on our TR! Happy 2019 to you and Chaz!
if I don't do a report quick...I forget everything!