Five Days in the City by the Bay (And Surrounds)
Mar 31st, 2022, 06:49 AM
Five Days in the City by the Bay (And Surrounds)
---
I begin with the travel, IAD to SFO
In early 2020 B.C. (Before COVID), DS and I hatched several schemes to move him from D.C. to San Fran for his new job. Fodorites offered advice and opinions on our various schemes, but ultimately he flew out on his own because, well, COVID.
Fast forward to March 2022. I hedged my bet
that the Federal mask mandate for transportation would end on schedule in mid-March, and thus booked five days in the Bay Area. I lost that bet owing to The Science™️, but since the non-refundable Airbnb was in place I dug a mask out and etched an itinerary for my first non-work related visit to the City by the Bay.
COVID Theater is alive and well.
A 6 hour non-stop departing 0630 from IAD with no open food vendors in the domestic terminal save for Starbucks, with its line longer than a TSA security line on the week before Thanksgiving.
Announcements about social distancing echoed throughout the concourse on this early morning, yet travelers were queued like sardines waiting for their
HalfCaffTripleAlmondSkimTwoHazelnutPumpLattes
. Airport workers milled about with masks beneath their chins, as well. So much COVID Theater.
Onboard, my airline offered only beverages and one small package of Biscoff to passengers in cattle class (Economy and Economy Plus.) For a 6 hour flight. From my vantage point in EP I could spy the folks in Business Class, who were served a breakfast that absolutely did not warrant the $400 upgraded ticket cost, or even come close.
Flight attendants were definitely not enforcing the mask mandate between "bites and sips," either; the passenger across the aisle from me slept with his mask beneath his chin for almost the full duration of the flight, and not a reprimand was issued.
Once we reached cruising altitude, passengers all around me began opening containers of food. The cabin soon smelled liked a United Nations food truck convention on a hot summer day, and not in a complimentary way. A traveler in the row across the aisle BRUSHED THEIR TEETH while in their seat; spitting the effluent into a cup. "What has happened to airline travel," I wondered to myself?
The phone charging ports in my row did not work, so no "personal movie viewing" lest I want to run the battery out on my phone. Halfway through the flight, the plane's WiFi (that many people paid for) went kaput. A barely audible sadness reverberated throughout the cabin. Passengers were forced to read the inflight magazine that had been, "treated with an antimicrobial process," which made me laugh aloud. Microbes are
bacteria
, not viruses.
A most appreciated tailwind brought the flight in 45 minutes early. My bag arrived promptly and DS was waiting curbside for me.
Mar 31st, 2022, 10:08 AM
Being only two years into his career DS has limited vacation time at his disposal, and I stressed that he save his hours for the further afield activities we had planned while I toured SF solo. So, after airport hugs and a coffee at his place, he dropped me at BART.
BART. Nothing much to write. The system is quite like D.C's Metro: daytime trains run infrequently and there is little character but for the passengers. No one cared who was, or was not, masked up. Did anyone move out of the "Pregnant/Elderly/Handicapped" priority seating? Absolutely not.
My first stop, Chinatown. The largest Chinatown outside China, and the oldest in North America, and definitely impressive. I walked past Old St. Mary's Cathedral, the oldest in California and built from bricks made in China. Soon, the famous Dragon Gate with plenty of 'grammers doing their thing was in my view. Colorful streets and temples, the latter of which were closed to tourists, alas. I dipped in and out of shops, soaking up the color and the neighborhood. I patted several market kitties, and watched fortune cookies being made. Unfortunately, pun attended, the cookie-making factory is small, and the clerk seemed disenthralled with offering "flat" fortune cookies to all those who glommed into the space.
NSFW fortune cookies? A tourist gimmick fail. Visitors purchased the family-friendly options, instead.
I did stop in at the Wok Shop, still owned and run by Tane Chan, the woman who brought wok-cooking to America following President Nixon's 1972 Beijing visit. I thought her to be quite rude to a shopper who asked if the store carried mandolines. "Mandolines! I am assuming you don't mean the musical instrument?" she boasted, with little humor in her tone. The store otherwise was enjoyable, and I added a new wok spatula to help improve my own wokology skills.
Then the tummy-rumbling began. I roamed about, deciding on a little place filled with local diners, opting for a dish that I saw all around me, Braised Short Ribs with Bok Choy. A delicious bargain at $10. I had also ordered a Dim Sum sampler, though most of that ended up in my tote, ultimately becoming breakfast for DS the following morning.
Leaving Chinatown I followed a Kerouac tour group through the artful Jack Kerouac Alley and past the City Lights Bookstore. I loved the aroma of the bookstore and made notes of books to consider purchasing, or at least books to check out from our local library. While in the Alley I overhead the tour guide ask, "Who knows who Jack Kerouac is?" and…no one raised their hands.
Wanderings after this took me past North Beach and its incredible lunchtime aromas and on to Washington Square. The sparkling Cathedral against the blue sky was striking, and a pause in the park would have been lovely but for homeless persons having confiscated all of the benches. From the Square, an uphill walk to Telegraph Hill. I found a perch at the top of a dead-end street with semi-views while I collected myself and then wandered downhill toward the Embarcadero. Honestly, I found the market at the Ferry Building to be uninspiring. Overpriced boutique stores with nothing of novel interest on offer. I relaxed with a beverage along the promenade, listening to a semi-nude person speak about being saved.
Jetlag and the warm sun beginning to take its toll, I made my way to BART and across the East Bay to Oakland and to DS' flat. His studio is lovely, in a quiet and (supposedly) safe residential area (though his nondescript 2014 vehicle has been broken into twice in two years) with gorgeous Craftsman bungalows and pretty, pretty landscaping that likely requires more water than California laws permit.
DS returned from the office and we drove a few minutes over to my Airbnb in Rockridge, along College Avenue. A perfect Beau-Arts space, with a community garden in the back. Given the grubbiness that I was feeling after this long day, DS picked up Ethiopian take-away from a place that he told me I can not mention, lest I ruin the vibe. We ate the amazing food, chatted until I could barely keep my eyes open, and then called it a day.
Apr 1st, 2022, 06:06 AM
Two objectives on this first full day in the Bay Area: to explore Golden Gate Park, and to eat delicious food. I underestimated on the former and struck culinary gold on the latter.
With my Clipper card and my camera in tow, onto BART I boarded. As BART crosses into west Oakland one can view the homeless camps and tiny homes beneath the overpasses, with the residents conducting their business, including their personal business, even with facilities available, before the train heads underground. DS suggested that if I wanted a true slice of San Francisco life, I should take MUNI to the park once across the east bay. DS was correct. White-collared professionals; San Franciscans going about their day; along with Pure Barre Mimosa Moms and Ladies who Lunch who were also heading to the de Young. At one stop, a quite high young man boarded with a purloined plastic grocery basket containing several packages of cookies, one of which had been torn into. He sprawled across two seats and fell asleep. And an open air drug deal going down at a bus stop steps from City Hall, where a woman with a stroller was waiting to board. Just another morning in San Francisco.
The de Young impressed, so much so that between the regular and special exhibits I spent much more time in the museum than estimated. Beyond my faves Rothko and Chihuly the entire Art in the Americas galleries impressed with its heavy hitters like Hopper, Wood, Tiffany and a surprise Hicks' Peaceable Kingdom! I most enjoyed the Alice Neel special exhibit, though I feel I rushed through the galleries because early afternoon was approaching and my yogurt breakfast from hours earlier had worn off. I'll make a point to seek out her pieces at Smithsonian the next time I visit. To the museum café I went, accepting that I would have an overpriced and ordinary museum meal in the interest of saving time.
Was I ever wrong, and on both accounts.
The server brought out possibly the most beautiful salad I will ever eat. A salad that would leave everything on Instagram in the dust, if I were a 'grammer. Microgreens that tasted like they had been gently plucked from the earth moments before. Pea shoots, the essence of spring itself. Wafer-thin French radishes and whisper-fine mint slivers. Expertly grilled chicken atop thin and perfectly chewy rice noodles. Tiny Elderflower buds and fresh Nasturtium to finish. Perfection.
Now it is mid-afternoon and I have barely explored the park. Just a few steps down Hagiwara Tea Garden Drive is, you might have discerned by the name, the Japanese Tea Garden. (Mr. Hagiwara brought the fortune cookie to America from Japan in the late 1890s). I love Japanese gardens, and this one was a priority sight. The cherry blossoms were not in full bloom but still beautiful; and I did give gratitude to the azaleas that were running cover for all of the eventual bloomers. The fog had not yet lifted on this day and the air was cool, so I grabbed a jasmine tea and relaxed in the tea house before strolling the paths. I could not help but chuckle at one family (Mom, Dad, and three Tween-ish daughters). The Dad was having the best time in the garden. "Look girls, look at the big goldfish! Come on, let's take some pictures!" Mortified Tweens and an exuberant Dad. A classic.
However did that happen? The time is now late afternoon; DS and I were meeting for dinner in Rockridge, and I had an hour transit time ahead of me. The afternoon MUNI did not offer the same people watching as in the morning, though I was shouted at (as were others) by a wild-haired and disheveled San Franciscan running barefoot up and down the stairs at the BART.
Dinner reservations for Oliveto, the famous Oakland restaurant that led the way for the "Cal-Italian" food movement. Nose-to-tail and farm-to-table before it was cool. We settled in upstairs with a street view table. Olives and roasted almonds, and housemade meatballs served over polenta, along with a solid red, began our evening. The Chitarra with Smoked Salmon for me; the Sausage and Caramelized Onion pizza for DS, and we shared both. A very nice meal. The following day we noted a sign on the door that read, "We are officially closing on April 23." It turns out the owners are retiring, and after 35 years they wanted to wait until the pandemic was over before closing their doors.
A quick stop at the adjacent market for breakfast foods before DS and I bid one another "Good Night." A day in wine country awaited us in the morning.
Apr 4th, 2022, 10:47 AM
We hit the road in time for a later breakfast at Oxbow Market in Napa. $16 for a Loveski bagel with salmon, cream cheese and capers. DS had clearly planned how to spend Mom and Dad's money on this holiday.
A wander around the market, oohing and ahhing at the beautiful greens; unfamiliar items (Okarra Flour? 'Tis a byproduct of tofu and soy milk production. Hmm.); and eyebrow-raising wine prices. Full disclosure: though we are now almost three years removed from those seven magical years in Austria, we still gasp over the price of fermented grapes here in America.
Driving along the Silverado Trail was one snap worthy moment after another. Beautiful dips and strikingly green peaks filled my eyes and camera lens to our first tasting, a small batch winery on a former equestrian estate. Lovely from start to finish: the setting; our table; and our tasting. I know, I know, Napa is known for its Cabernet, and until this day I had never tasted a wine with a $190 tag (quite good, I have to write) and one that DS ranked his favorite, but my favorite was the unfiltered Chardonnay. At this winery I'd also tasted my first concrete aged white, a SauvBlanc. I thought I would love the minerality but it ended up last in my polling. We lingered a bit with the warmth of the heat lamps to our back as we looked out over the gentle hills of the topograph and blue skies all around before motoring on to lunch reservations awaiting us at the "peasant" French Laundry, Bouchon.
Yountville. A town known for Michelin Star restaurants and the very first vine planting of what would become Napa Valley is not your average tourist town. Upscale and refined, DS laughed that he had absolutely no worries about his vehicle being broken into in the public parking lot. Our table in this classic Parisian-styled restaurant, created for the staff of French Laundry to have a place to eat after work was perfect, in a discreet corner with a view of the entire space. (Given that the simple Steak Frites lists at $47.50, though, I do wonder how many of the French Laundry staff actually dine here?) We both selected the Plat du Jour, Confit Duck with Apple Puree. Exceptional; and in glancing around, the choice of many others, as well. A pleasant walk about the main street afterward, past the notable French Laundry and other high-brow shops. It is easy to see why California's governor would escape to the locale and (try to) hide from his own COVID restrictions.
Now time was of the essence, it being that we had two reservations in Sonoma, one for a wine tasting and the second, for an olive oil tasting. The cellar was a small, boutique family-run enterprise that assigned a sommelier to every table so that we appreciate each sip of their wines. To my surprise I was not intimidated by our sommelier's presence at our tasting; rather, his affable manner lent a personal touch to our experience. That is, until he insulted Virginia wines. I 'get' that California wineries have a certain image of themselves, but his comment that, "Virginia doesn't have any good wine" certainly did not score him any points with me, so I returned the goodwill by not purchasing any of these wines.

Our finale of the day was the olive oil tasting at a longstanding Sonoma winery. We were given an informative tour of the olive pressing inner workings, and then proceeded to the tasting. The tasting was extremely interesting and surprisingly delicious; a "flight" of four oils was presented first, then each was paired with a vinegar. DS and I, both "foodies," were impressed with our ability to discern the different characteristics of the oils. I appreciated that the oils and the vinegars were available for purchase in small quantities, and brought home several to up our thrice-weekly salad game.

In all, it is difficult to play favorites with the wine countries.
Napa is high-end and glamorous; Sonoma is laid-back and casual. A feast-for-the-senses mashup of Tuscany, Provence and Austria's Wachau Valley under sunshine and California blue skies with an occasional aroma of olive trees wafting on the breeze. I would return to both.
The sun, the food (!) and the tastings all made for a long and delicious day that conspired against our plans for dinner out once back in Oakland. DS dropped me at the Airbnb and picked up a couple of dishes from Kitchen Story, a Cal-Asian fusion nearby for us to enjoy (which we did!) on the comfy sofas with our feet propped up and a jazz playlist streaming from my laptop in the background. After dinner, DS showed me the engagement ring that he will soon present to his lovely GF. The ring is as stunning as the GF is lovely; and though this proposal will not surprise anyone, the news nonetheless added to the enjoyment of this holiday.
Apr 5th, 2022, 11:09 AM
The Icons, the Well-Known, and the Rest
DS arrived with a coffee for Mom, good son that he is, and we chatted about the plan. Our first stop on this day was (the remains of) Battery Spencer, perched nearly 500ft on a cliff overlooking the most photographed bridge in the world. Bay area weather is as diverse as its residents, and on this morning photos of the bridge were rather ho-hum, all things considered. Though, watching the 'grammers and wannabe-influencers shivering in summery clothes while trying to get the perfect snap did amuse us. The Marin Headlands was even more spectacular than the photos DS sends on his numerous trail wanderings here. Magnificent.
Land's End Lookout felt like the coastal equivalent of forest bathing, the salty sea air a tonic for my spirit. The Sutro Baths, perhaps an idea ahead of its time, sitting forlornly on the edge of the shore. Seal Rocks, but no seals. We visited during high tide, so no shipwrecks, either. Still, the colors on this somewhat overcast day made for beautiful snaps.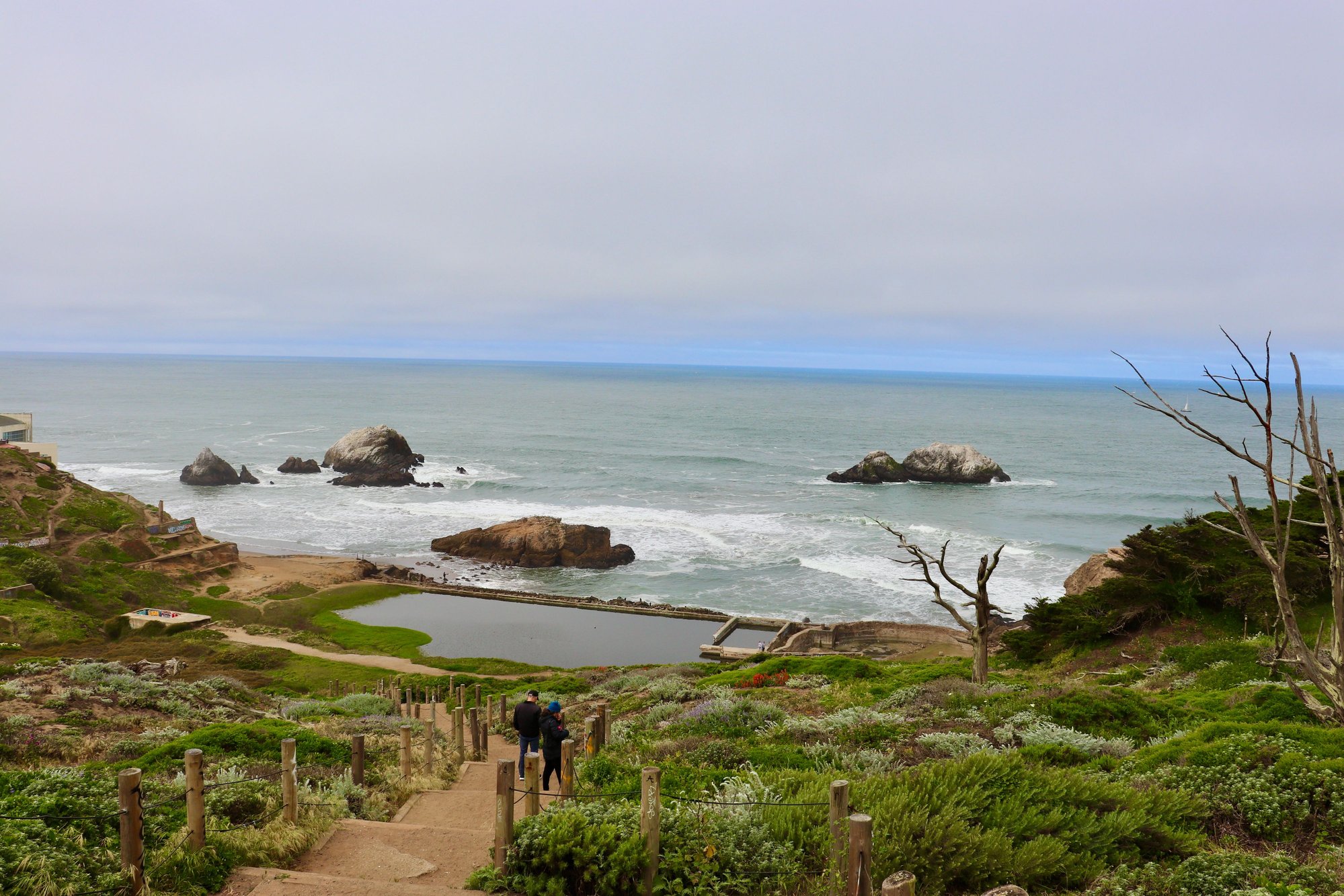 Over to the Beach Chalet across from Ocean Beach for an early afternoon snack. Luck was on our side on this weekend day and there was a high-top open for the two of us. We shared a dozen oysters and the Truffle Parmesan Fries made from the former "it" potato and French Fry gold standard, Kennebec. Outstanding fries, truly, and worth the shout out on the menu. DS calibrated my expectations about West Coast oysters before tipped, sipped and slurped: it's all about the merroir, the marine equivalent of terroir. Indeed. The oysters needed an assist of the vinegary sauce provided and tasted fine, but I'll take the briny bivalves from the East Coast any day.
A walk over to the Queen Wilhelmina Tulip Garden and the Bison Paddock followed. Cheery and colorful blooms in the garden, but it was lunchtime for the herd, so all we saw in the distance was a mass of Bison Butt.
Hyde Street Pier and Fisherman's Wharf followed. An informative dose of maritime history in the former and a tourist experience that did not disappoint in the latter, with parking at creative prices. No fresh crab out for sale, and we weren't in the mood for a sit-down, so we picked up two "World Famous Fishwich" from Frankies, grabbed a bench and amused ourselves with people-watching and keeping the seagulls from stealing our fries. Darn good sandwich and even good-er slaw, something that can always be a deal breaker for me.

You might guess what's next. THE SEA LIONS! No narrative is necessary.
Once DS was finally able to break me away from the pretty pinnipeds, our last stop on this long day, Crissy Field. Late afternoon and the fog had either never lifted, or was rolling back in. Regardless, this is one of my favorites of the many bridge snaps I took.
Back across the bridges and into the East Bay we went, dinner this evening at Kitchen Story, a Cal-Korean American restaurant whose "Millionaire's Bacon" was featured on the Discovery Network series, "United States of Bacon." The menu's descriptions made us want to order one of every dish, but we eventually honed in on the Jjapaguri (a dish inspired by the movie Parasite) and the Clay Belly Pot, sharing both. Oh, and of course the Bacon. It is probably good that I live on the opposite coast of such multi-culti deliciousness.
One final day remained before my red-eye return to the East Coast.
Apr 6th, 2022, 07:41 AM
Forest Bathing and The Inbound
Not a terribly early start, though we did have parking lot reservations for Muir Wood National Monument at 0900, and had to drop my case back at DS's place since I was checking out. We had discussed the drive to Muir Wood at length beforehand owing to my strong dislike for driving along cliffs, and charted a route for the day to avoid the daredevil thrills of the PCH. In short order, and with only two instances where I closed my eyes, we arrived at the Redwoods.
Oh. Unparalleled bathing in an ancient forest. The aroma of spring was sprinkled in this fog belt, and with every step we only wanted to walk deeper and deeper into the trees. The forest was wonderfully not crowded, either. All told, we logged almost 4 miles along the trails, failing spectacularly at attempting to hug even the smallest of these giants. Then we realized that it was time to dine, and our intended destination, a Czech restaurant in Inverness, of all places, was nearly an hour's drive away. Time to say goodbye.
We never made it to Inverness, stopping instead at Point Reyes Station for lunch at one of the only two restaurants in the town and scoring a scarce indoor table at a casual farm-to-table place while awaiting our Pork Belly LT. Yes, you read that correctly.
Pork. Belly. LT
. A balanced and most delicious composition of pork belly, caramelized jalapeño-onion, tomato, lettuce, with goat cheese-aioli, all on a ciabatta.

Returning to Oakland, a couple of hours were spent window shopping and conversing over beverages at a sunny outside table, and then I commandeered DS' kitchen table to download photos and begin the report before dinner and my departure. We dialed up his favorite fish tacos for dinner (our son eats well in the Bay Area!) and toasted the great holiday.
Wherein I regret boasting about the outbound flight arriving 45 minutes early.
I was prepped and ready for the 2350 red-eye into N-ewww-ark and the 2-hour layover before the puddle-jumper into DC; I asked him to drop me (three hours) early in order that he have time to get himself ready for his work week, etc. because I could chill in the Lounge before my flight.
Make that FOUR hours early. While cozied in my comfy chair in the Lounge, sipping my Pinot and nibbling on crackers and fruit, my phone pinged: "Your inbound plane is delayed...your new departure is 0050." Whatever. Time for more wine.
Make that FIVE hours early. "Flight XXXX is delayed further. It now departs at 0120." More wine, more crackers; and I tucked an apple and a banana into my tote out of an abundance of caution.
Then, quelle horreur! Though the etchings on the Lounge doors stated hours of "0630-0100," at 2315 an announcement jolted everyone from their wine comas: "The Lounge is closing in 15 minutes." WTH?
At 2330 we were all sent out into the cacophony of the terminal, like little birds being kicked out of the nest. Multiple flights had been delayed, so it became a Hunger Games effort, really, to find some personal space. I squatted on the floor in a corner and watched the humanity around me for the next 90 or so minutes before we could finally board our flight.
With gratitude to the two glasses of Pinot, I fell asleep before take-off. The cabin was chilly, so I opened my "blanket." Honestly, covering myself with the paper towel from my home kitchen would have provided more warmth; the blanket was papery thin and was otherwise useless in its duties. There were no aromas wafting through my slumber, so I'm assuming the cattle class masses went hungry once we reached cruising altitude. Prior to landing, just a little plastic cup with water was the offer. I ate my banana and apple amidst of sea of envious gazes.
Ah, N-ewww-ark. A plastic-boxed "Turkey and Swiss on Whole Grain Roll" sandwich with a cost equivalent to a small country's GDP from the Hudson News was my breakfast. At least I had a legit seat in the terminal for the remaining 45 minutes before my connection.
Ping. "Flight XXXX from Newark/New York is approximately 1 hour delayed." The tension amongst the DC-types longing to return to the swamp soared to 11/10.
Once the plane arrived the ground crew announced that the "disinfectant team" would quickly ready the plane for departure. Two persons armed with spray bottles and a roll of paper towel "disinfected" the plane in about 5 minutes. Sure they did.
Onboard the lone flight attendant, possibly an interrogator of foreign prisoners in a previous life warned us, "Because of the short flight duration there will be no beverage service." Interestingly, though, she did find time to roam the aisles providing face masks to passengers whose masks SHE deemed "inappropriate;" and also made time to shill for the airline credit card. But somehow, no time pass out a cup of water.
Soon the plane was making that fun descent into DCA. By the luck of the travel gods my checked bag had somehow been tagged "Priority," and the time between landing and walking into the door of our flat was less than an hour. #Home.
Thank you for reading.