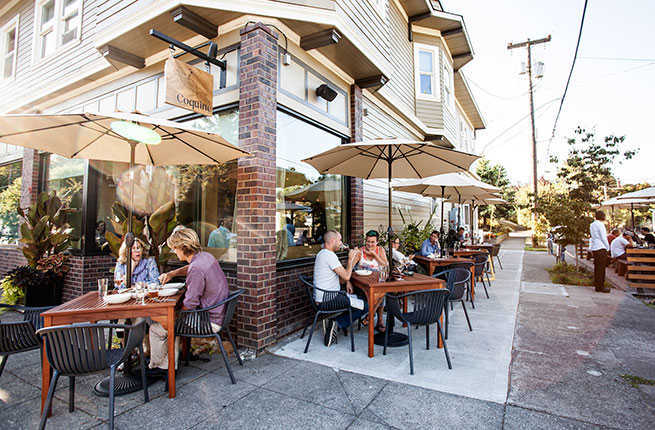 Jannie Huang
From eclectic food truck pods and all-day doughnuts and coffee, to high-end, innovative tasting menus, Portland has long had a reputation for great food and meticulous ingredient sourcing. The dining here is more laid back and affordable than other gourmet meccas like New York and San Francisco. Spots like Pok Pok and Le Pigeon are institutions, and there are plenty of great new restaurants opening all the time.—Amber Gibson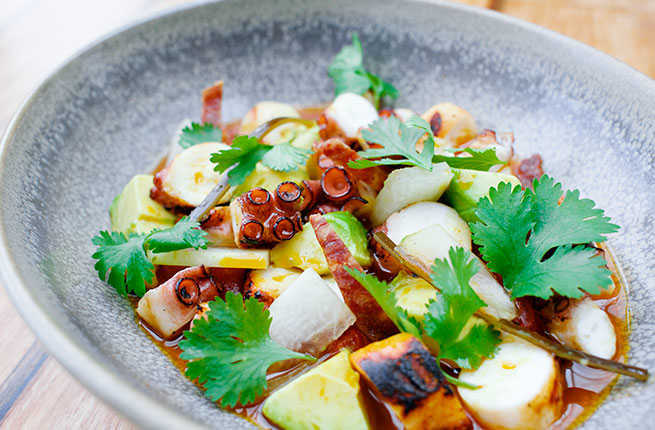 Courtesy Departure Restaurant & Lounge
DEPARTURE RESTAURANT + LOUNGE
Stepping off the elevator into this rooftop restaurant at The Nines is like stepping onto the set of a cyberpunk music video. Then you're seated amid some of the best-dressed diners in the city, and presented with a pan-Asian menu that flits from sushi and dim sum to Japanese charcoal grilled kushiyaki skewers and bibimbap and you know you're in for a treat. Top Chef runner-up Gregory Gourdet is famous for vibrant, clean flavors in his colorful dishes, accented with plentiful fresh herbs from his rooftop garden. Several of his signature dishes are vegan-friendly, including roasted carrot and rhubarb salad and wok-fried chili-lime Brussels sprouts. 525 SW Morrison St.
PLAN YOUR TRIP: Visit Fodor's Portland Guide
Jannie Huang
This cozy 30-seat café and restaurant is the perfect place to stop for a pick-me-up after hiking or biking through Mt. Tabor Park a few blocks away. Chef Katy Millard's chocolate chip cookies are legendary and her savory buckwheat biscuits served with homemade marmalade are equally addictive. Or try the cacao nib hazelnut granola with sheep's yogurt for breakfast—the best granola in the city, according to locals in the know. A casual counter service of pastries and sandwiches during the day transitions to a more elevated dining experience in the evening, and there's a spacious patio during the summer. Everything at this overachieving neighborhood café is simple but thoughtful and made with love. 6839 SE Belmont St.
PLAN YOUR TRIP: Visit Fodor's Portland Guide
Courtesy of Pok Pok
Andy Ricker inspired a new generation of chefs to explore lesser-known, more authentic cuisines from far-flung corners of the world when he opened Pok Pok in 2005, serving northern and northeastern Thai specialties with sides of sticky rice. The original location is still going strong, with lines out the door even on weeknights. Charcoal roasted kai yaang chicken stuffed with garlic, lemongrass, and cilantro and Vietnamese fish sauce wings are signature dishes—but good luck with the Thai pronunciation on the menu. There are lots of punchy, spicy flavors, best washed down with a house-infused gin and tonic or zero-proof tart drinking vinegars for the designated driver. 3226 SE Division St.
PLAN YOUR TRIP: Visit Fodor's Portland Guide
Courtesy Olympia Provisions
Carnivores rejoice! Portland's first USDA-approved salumeria also operates two popular restaurants serving their own meats along with international cheeses, bar snacks, and rustic European-inspired food. Start with a Spanish, Italian, or French charcuterie and cheese board accompanied by housemade pickled vegetables and crostini before diving into Mediterranean tapas and heartier entrées like Hungarian braised beef and dumplings for dinner. Sit along the bar and watch the chefs in action between lusty stares at the case full of juicy sausages. Don't miss the smoked-trout eggs Benedict at brunch or the whole-roasted chicken and prime rib from the antique French rotisserie at the Northwest location. There's even chocolate salami for dessert. 107 SE Washington St. & 1632 NW Thurman St.
PLAN YOUR TRIP: Visit Fodor's Portland Guide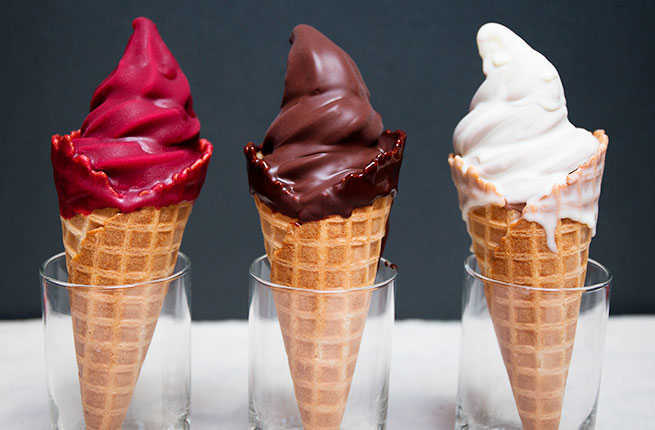 Carly Diaz
From Tyler Malek and the team behind Salt & Straw comes a brand new soft-serve and sundae dessert bar at Pine Street Market. The focus is still squarely on the ice cream, but with fewer flavors and more accoutrements. All toppings and mix-ins—from angel food cake and candied hazelnuts to Oreo cookies—are made in house. The five soft-serve flavors rotate regularly, and might include a well-balanced ancho chili and cinnamon, Woodblock chocolate fudge, lusciously eggy vanilla custard, and vegan strawberry coconut. Encase your favorite flavor with a black truffle white chocolate shell or one made from fresh Oregon black raspberries. Enormous sundaes are meant for sharing but we won't judge if you devour one all by yourself. 126 SW 2nd Ave.
PLAN YOUR TRIP: Visit Fodor's Portland Guide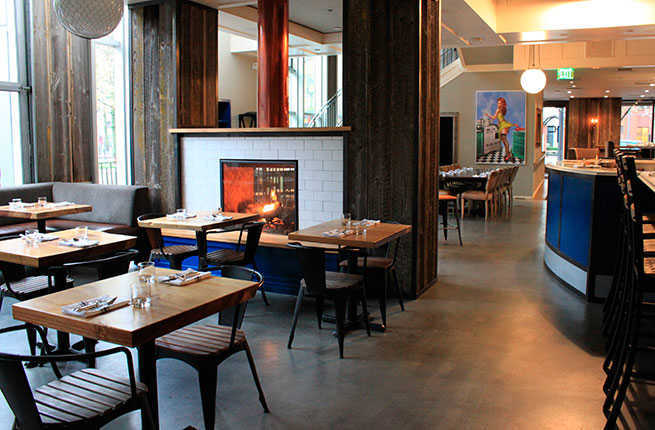 Natalie Wayt
Husband-and-wife team David and Mellisa Root just opened their comfort food, small plates restaurant in March in the Pearl District. He's been cooking for 45 years and she previously worked as a pastry chef at Madera and Per Se. None of the small plates are more than $20, and there are plenty of creative options for vegetarians, like a manchego schnitzel and silken tofu with pickled beets and creamed spinach. For bigger groups and appetites, there are a few large-format platters that serve four to six people, including a tender pork shank with cornbread and red-hot pork rinds. Save room for the light and refreshing strawberry financier dessert topped with brown butter ice cream. 900 NW 11th Ave.
PLAN YOUR TRIP: Visit Fodor's Portland Guide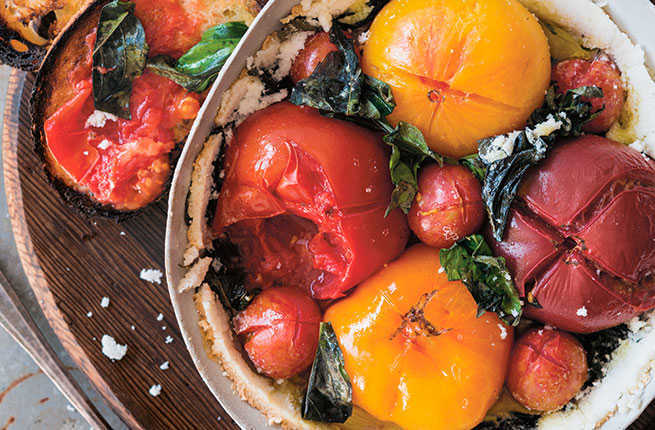 Dina Avila
This Argentine-inspired restaurant turns out most of its dishes from a wood-fired grill helmed by husband-and-wife team Greg Denton and Gabrielle Quiñónez Denton, who were 2016 James Beard Award finalists for Best Chef: Northwest for their savory, succulent dishes. Meat is the star here, with juicy steaks, housemade morcilla blood sausage, and whole fish pairing well with a selection of Spanish and local Oregon wines. However, there are also plenty of flavorful vegetarian options, including coal-roasted spaghetti squash with aged goat cheese, fried Brussels sprouts with hazelnut dukkah, and smoky locally foraged mushrooms. 2225 NE Martin Luther King Jr Blvd.
PLAN YOUR TRIP: Visit Fodor's Portland Guide
Boris Zharkov Photography
More than a pop-up but not quite a full-fledged restaurant, tickets at this Korean eatery must be purchased in advance, and dinner is only served on Fridays and Saturdays; there's also Sunday brunch. Look for the inconspicuous "511" address on the otherwise unlabeled door. Step into a grassy courtyard strewn with mismatched furniture before taking a seat at wooden picnic tables for a four-course family-style affair. It's tempting to devour the first banchan course of kimchi and assorted pickled veggies all at once, but you'd be wise to exercise a little restraint and save a few bites to accent the meaty courses to follow. Housemade sauces are a highlight—we asked for extra ssamjang with our hanger steak lettuce wraps. After the rich and spicy pork gravy ddukboki, cool off your palate with more rice cakes for dessert, topped with a scoop of earthy red bean ice cream. 511 NE 24th Ave.
PLAN YOUR TRIP: Visit Fodor's Portland Guide
Clari Noel Photography
Creo is one of Portland's newest bean-to-bar chocolate makers, and their Purely Dark bar was a Good Food Award finalist in their first year competing. Chocolate making is a family affair here for the Straubs, with mom, dad, and son all involved in daily operations. They source all of their heirloom Arriba Nacional cacao beans directly from one farmer in Ecuador. Sign up online for a complimentary factory tour that's equally delicious and educational. One of the Straubs will walk you through the chocolate making process, breaking down the science of chocolate with samples along the way. Their Lloyd District cafe also serves homemade chocolate macaroons, brownies, cookies, and sipping chocolate, and you can sample all of their bars (toasted coconut and mint are favorites) before purchase.
PLAN YOUR TRIP: Visit Fodor's Portland Guide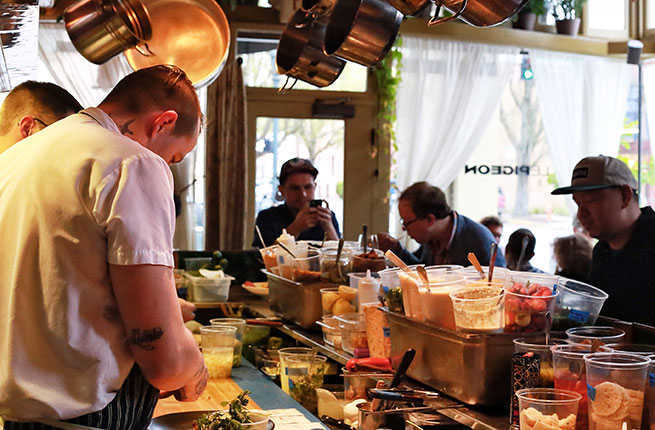 Carly Diaz
Even when two-time James Beard Award winner chef Gabriel Rucker isn't in the kitchen, the food here is on point. It's a testament to the versatility and persistence of Rucker's entire team that Le Pigeon has become an institution. Arrive early and grab a coveted seat at the kitchen counter bar. Order the chef's tasting menu and prepare to be surprised with five to seven courses of deliciousness. Beef and clam crudo with broccoli pesto might be followed by a crispy lamb salad over jasmine rice grits and green curry. Grilled pigeon is the namesake course and you'll end on a sweet and savory note with a bite of foie gras profiterole that leaves you longing for more. 738 E Burnside St.
PLAN YOUR TRIP: Visit Fodor's Portland Guide