Waldorf Astoria Hotels & Resorts
The city that bills itself as home of the original cocktail takes its craft very seriously. This is your go-to list for spirit sipping: from local dive to historic hang to hipster lounge, here are the best renditions of the classics to fresh modern twists.—Cameron Quincy Todd
Courtesy of the Hotel Monteleone
The bar at the Hotel Monteleone would be worth a trip even if it wasn't home to some of the city's best bartenders. The decor is ornate and reminiscent of an older time, and the bar is true to its name: a grand, lit-up carousel topper covers the circular bar, and its seated circumference rotates slowly around the busy mixologists at its center. Test any of the New Orleans classics on these expert bartenders, or try a London Fairy: gin, lucid absinthe, fresh lime, pineapple juice, and egg white.
PLAN YOUR TRIP: Visit Fodor's Guide to New Orleans
Kevin O'Mara
This uptown spot was first in a movement of modern craft cocktail bars around the city, and it still deserves its reputation. It's classier than some of the more divey craft bars, with a loose dress code (discourages shorts) and gorgeous bare industrial touches to the decor. The bartenders are no joke, and the creativity of the cocktail menu is overwhelming. Try the Eye in the Sky, a reinvention of the Aviation with grapefruit and pisco.
PLAN YOUR TRIP: Visit Fodor's Guide to New Orleans
Rush Jagoe
This dark, wood-paneled bar is popular among the service industry crowd, and with good reason: it boasts 275 whiskey selections is as good for a late-night beer-and-shot combo as it is for a rare Highland Scotch. Whiskey varieties are divided by country, region, and distillery and take up a majority of the menu, although the bar also serves other spirits, beer, and cocktails. Barrel Proof often hosts a variety of pop-up kitchens, from vegan dumplings to gourmet fried chicken. Order a rare Japanese whiskey like the Yamazaki 18, or choose from a vast selection of ryes for an Old Pal (rye whiskey, vermouth rouge, Campari).
PLAN YOUR TRIP: Visit Fodor's Guide to New Orleans
Waldorf Astoria Hotels & Resorts
No cocktail lover's trip to New Orleans is complete without a stop to the historic Sazerac Bar located inside the Roosevelt Hotel on Canal Street (right off the Canal Street streetcar). The bartenders and ambience are reminiscent of cocktail culture before modern hipster joints came onto the craft cocktail scene. The room is dark and swanky with velvet chairs, a grand walnut bar, and 1930s Art Deco murals along the walls. Order a Sazerac, of course, or a Ramos Gin Fizz—Huey P. Long's favorite—if not simply to watch its dramatic, expert preparation.
PLAN YOUR TRIP: Visit Fodor's Guide to New Orleans
Catahoula Hotel
No need for a room at this new hip hotel in town: enjoy the intimate, boutique decor in the small black-and-white tiled bar and succulent-laden courtyard. The cocktail menu celebrates pisco, the ancient Peruvian brandy, and is divided into categories like "Sours," "Creamy," and "Refreshing." The "Just for Fun" section of the menu is the bartenders' playground, complete with hearty descriptions and innovative, sometimes mysterious combinations like the Miracle Berry Trip, containing "a cocktail, two small wine glasses, fruit, and a miracle berry, among other things."
PLAN YOUR TRIP: Visit Fodor's Guide to New Orleans
Tyler Chauvin
If Tulane Avenue is having a resurgence, this bar, restaurant, and art gallery with one of the best cocktail programs in the city might just be responsible. The spirit list is extensive—including hard-to-get amaros, aperitifs, and liqueurs—and the signature cocktail list changes seasonally. The happy hour is a craft cocktail lover's dream: for $7 you can imbibe from an extensive list of classic cocktails like the Ramos Gin Fizz, Vieux Carre, and Cocktail de la Louisiane. Order the Last Word (gin, chartreuse, lime, and maraschino liqueur) or the "craft shot of the week," a rotating selection of miniature craft cocktail specialties for the sampling.
PLAN YOUR TRIP: Visit Fodor's Guide to New Orleans
Kevin O'Mara/Couresty of 12 Mile Limit
Tucked away on a quiet Mid-City street, the vibe is divey and the drink menu sophisticated. Cole Newton, USBG vice president and cocktail man about town, owns and runs the place, and you won't meet a night owl in New Orleans who doesn't rave about 12 Mile's dance parties, barbecue, and inexpensive libations. The cocktail menu is playful and spirit-forward with seasonal additions. Try the popular Baudin (bourbon, honey, lemon, hot sauce), or the Rhymes with Amelia (mezcal, rye, vermouth, amaretto, pomegranate liqueur, citric acid).
PLAN YOUR TRIP: Visit Fodor's Guide to New Orleans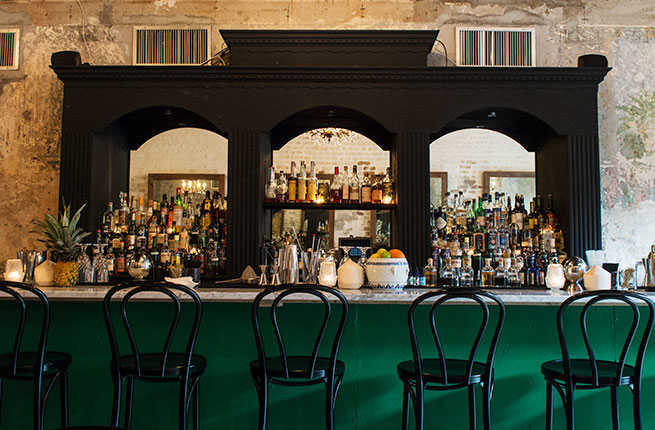 Kevin O'Mara
At Cane and Table, the cocktail knowledge from sister restaurant Cure meets an elegant Caribbean vibe. The large marble bar, dimly lit brick room, and lush private courtyard à
la Old Havana are a refreshing respite from the grime and tourism of Decatur Street. The Caribbean flavors of Cane and Table's cocktail menu are familiar—bright citrus, cane sugar, and spice—but the combinations are fresh and sophisticated. The Cane Street Swizzle is an embodiment of these modern, tropical touches: Diplomatico rum, Falernum and housemade juices combined with crushed ice and served in a hollowed-out pineapple.
PLAN YOUR TRIP: Visit Fodor's Guide to New Orleans
Faith Simmons
The creation from 12 Mile alum Jeff Schwartz and the team behind Debbie Does Doberge cakes, this bar combines the brilliant minds behind two delicious indulgences: craft cocktails and dessert. Besides a cake counter, savory small bites (the cauliflower salad can't be missed) and a quirky, original cocktail menu created by Jeff, the bar serves several tasty New Orleans classics. Try the Absinthe Frappe, a sweet and refreshing absinthe-based granita made to order in a blender and served in a vintage dessert glass.
PLAN YOUR TRIP: Visit Fodor's Guide to New Orleans
Mark Schettler​
Exposed brick, hidden booths and alcoves, and a large open bar make this spot feel both romantic and neighborhoody. Some nights you'll find couples and quiet music, while on weekends the spillover from the French Quarter turns this bar into a raucous party. The bartenders are some of the most knowledgeable and well respected in the city—among them is Mark Schettler, the United States Bartender's Guild president, who spearheads cocktail events all around town. The menu is a mix of meticulously crafted classics and creative adaptations. Daily specials feature different traditional cocktails and bartender's five-dollar punch on Fridays. Try a Bitter Harvest, built around Bernheim's Wheat Whiskey and Bitter Truth Orange Bitters, or an Ed's Tonic and Gin with housemade Tonique au Quinquina.
PLAN YOUR TRIP: Visit Fodor's Guide to New Orleans