With an abundance of world-class cultural attractions and amazing architecture, you'll never be bored in Chicago, regardless of the weather. But the Midwest's largest city really comes to life in summer when days are longer, temps are warmer, and the calendar is jam-packed with al-fresco festivals and events. From an extended Lolla to "the Taste," to the newest rooftop bars and the Heartland's version of the High Line, there's so much to see and do this summer in Chicago. It'll be Labor Day before you know it, so we whittled the list down to 25 essential warm-weather activities.—Kristine Hansen
In the shadows of Lolla, but with a mighty cult following, Pitchfork's outdoor music festival offers a similar (but better, if you're a music snob) lineup of established and emerging indie-rock bands. This year's dates are July 15–17 and it's held in Union Park on the near West Side. Top acts include Brian Wilson of the Beach Boys, Beach House, Carseat Headrest, Carly Rae Jepsen, Anderson Paak, and Digable Planets. A three-day pass will set you back $165, or you can pay $65 per day.
PLAN YOUR TRIP: Visit Fodor's Chicago Guide
Why walk when you can paddle? Exploring downtown Chicago's waterways in a kayak is the way to go this summer. Both guided paddles and rental kayaks are offered through Urban Kayaks. Beer lovers will want to sign up for the new "Paddle & Pints" tour, which takes kayakers on a 90-minute ride that ends at a pub (beers and food included in the $80 cost). Kayak Chicago rents out 200 kayaks and also hosts tours that take off from the river between Old Town and Bucktown, and include options like a three-hour Sunset Paddle ($59).
PLAN YOUR TRIP: Visit Fodor's Chicago Guide
UnPosed Photography
In some ways, Chinatown is what you'd expect, in that you can get delicious dim sum, shop for cool décor (hello, paper lanterns!) for your home, and pick up teas and spices. But there's also a new vibe emerging in Chicago's Chinatown and now's the time to check it out. The area's first boutique hotel—Jaslin, a 101-room property with marble baths and splashy contemporary art throughout—opened in spring, and the Chicago Public Library's Chinatown branch is anything but stuffy (rather, it's got lots of chi, in accordance with feng shui design, and a green roof). Summer brings regular music performances in Ping Tom Memorial Park, including the Chicago Philharmonic on June 18 and Make Music Chicago on the summer solstice. The annual Chinatown Summer Fair (July 17) features a Lion Dance Procession, demonstrations of martial arts, Chinese classical dance and music, as well as food from local restaurants.
PLAN YOUR TRIP: Visit Fodor's Chicago Guide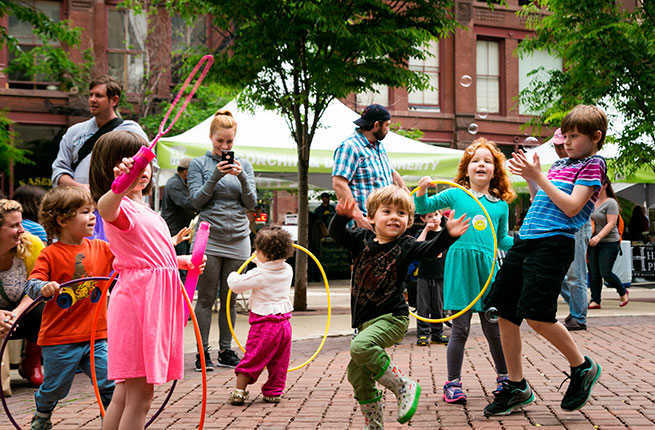 Alissa Pagels
Get Literary at Printers Row in the Loop
Angling to lovers of the written word, Printer's Row Lit Fest is June 11–12 this year, snug in Printers Row in the Loop, a part of Chicago once home to the bookbinding industry. This is the place to go if you love scouting for antiquarian titles or wish to hear today's famed authors read their prose. Featured authors this year include children's author R.L. Stine and Sebastian Junger, who wrote The Perfect Storm: A True Story of Men Against the Sea. Novelist, memoirist, and cookbook writer Ruth Reichl, who edited Gourmet before its demise, will also present.
PLAN YOUR TRIP: Visit Fodor's Chicago Guide
Ekashustrova | Dreamstime.com
Take an Architecture Tour Along the Chicago River
As the late poet and Chicagoan Carl Sandburg wrote, this is the city of "big shoulders," and what better way to gaze up at the architectural giants than from the Chicago River? Wendella Boats' narrated "Chicago's Original Architecture Tour"—taking design fans along the river since 1935—coaches you in the best buildings, departing eight times daily.
PLAN YOUR TRIP: Visit Fodor's Chicago Guide
Jeff Marini
Get Your Barbecue Fix at Windy City Smokeout
Want your 'cue and country music all at once? Windy City Smokeout merges the two—plus lots of craft beer sourced from around the nation—in a weekend fest July 15–17 in River North. Hosted by Bub City and Joe's Bar, two Chi-Town institutions, expect to see pitmasters (from farther-afield spots in Arkansas, Texas, Georgia, Mississippi, North Carolina, and Tennessee, plus a few Chicago eateries) and country-music stars (including Old Dominion, Chase Rice, and Phil Vassar) light up the night.
PLAN YOUR TRIP: Visit Fodor's Chicago Guide
Navy Pier
Stroll the Boardwalk at Navy Pier
Marking its centennial this summer, Navy Pier is one of the city's top attractions, stretching more than six city blocks, and offering 50 acres of parks, 2,000 feet of boardwalk, restaurants, shopping, art, and attractions­­—plenty to entertain on a long summer's day.­­ Summer crowd pleasers include the fireworks shows on Saturdays at 10:15 pm and Wednesdays at 9:30 pm, and rides on the new Centennial ferris wheel. The Chicago Shakespeare Theater productions are also worth checking out here. This year the company performs on a new stage, acting out The Merchant of Venice, a one-man Hamlet, and Macbeth. Grab burgers and beer from DMK Burger Bar and Fish Bar's new take-out window to enjoy on the pier.
PLAN YOUR TRIP: Visit Fodor's Chicago Guide
Randolph Street Market
Go Shopping at Randolph Street Market Festival
With more than 250 vendors offering everything from vintage clothing, antiques, housewares, and handmade goods, this indoor-outdoor festival is for treasure hunters, fashionistas, and design-décor fans alike. Randolph Street Market Festival kicked off this year's season in May; upcoming dates are June 25–26, July 30–31, August 27–28, and September 24–25 (plus two more the last weekend of the month in November and December). All are held in a mix of indoor and outdoor spaces at Plumbers Hall, 1340 W. Washington, in the West Loop ($8 in advance; $10 at the gate).
PLAN YOUR TRIP: Visit Fodor's Chicago Guide
Pilsen Food Truck Social
Have a Food Truck Picnic at the Pilsen Food Truck Social
Chicago may have been late to the food-truck scene but it didn't waste any time supporting a mobile food culture. The city now offers a steadily growing and diverse scene with locals lining up for everything from Neapolitan pizza to tangy pierogi and more. You'll find a row of trucks parked weekdays in the city's designated food-truck parking locations like downtown's Wacker and Adams, and Clark and Monroe. The Pilsen neighborhood curates 25 food trucks with live music at the Pilsen Food Truck Social (June 11–12), while 45 trucks serve everything from crêpes to ribs in an 11-acre green space in the South Loop at Chicago Food Truck Fest (June 25–26.) Tip: Track the whereabouts of trucks in real time at Chicago Food Truck Finder.
PLAN YOUR TRIP: Visit Fodor's Chicago Guide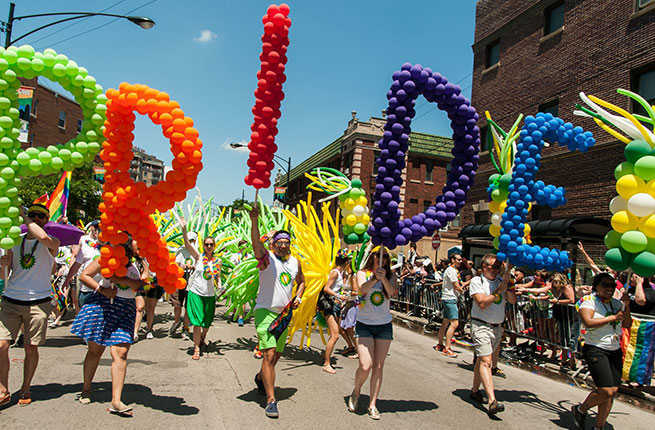 Ed Negron
Celebrate Pride at Chicago Pride Fest
As one of the country's most vibrant Pride Fests (this year's dates are June 18–19), and held during National Pride Month, much of the North Halsted Street area­­­—home to Boystown, Chicago's gay-friendly neighborhood—gets involved in Chicago Pride Fest. This year's festivities include musical entertainment from American Idol alum Jordin Sparks, pop singer Daya, and more. The Fest is followed up by a parade on June 26 that starts from Broadway and Montrose in Uptown.
PLAN YOUR TRIP: Visit Fodor's Chicago Guide
City of Chicago
Sing the Blues in Grant Park
The world's largest free blues festival is held in Grant Park (this year's dates are June 10–12) and attracts 500,000 people. The 33rd annual festival will celebrate the music of legendary blues guitarist Otis Rush with a special tribute and feature performances across the festival's five stages from headliners including Fred Wesley & the New JB's, Shemekia Copeland, and Irma Thomas. Folding chairs and blankets are okay to bring into the park, with the exception of folding chairs in the seating area inside the Petrillo Music Shell. A variety of food vendors keeps crowds fed and happy.
PLAN YOUR TRIP: Visit Fodor's Chicago Guide
Galdones Photography
See What's New on the Dining Scene, Including Duck Duck Goat
Chicago's foodie scene keeps getting tastier, with Top Chef winner Stephanie Izard celebrating her first summer at Duck Duck Goat in the Fulton Market neighborhood, dishing up creative Chinese. A married couple who met working at the now-shuttered Charlie Trotter's debuts Smyth in the West Loop this summer, with the choice of an 8- or 16-course menu and a ground-floor casual lounge called The Loyalist. Other hot-ticket/reservation new eateries in West Loop include Oriole, a new micro concept with just 28 seats and a 16-course fine-dining menu; and Kitsune, the latest venture from Iliana Regan (of the Michelin-starred Elizabeth), this one with a Japanese twist.
PLAN YOUR TRIP: Visit Fodor's Chicago Guide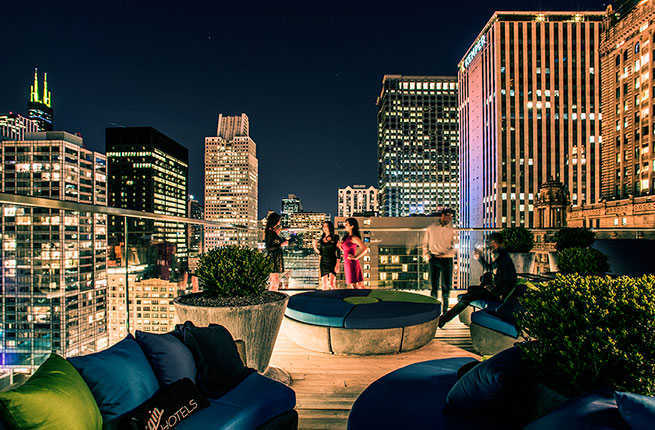 Virgin Hotels Chicago
Have a Drink With a View at Raised
Chicago's hottest new perches for imbibing with a view this summer can be found in the Loop. Raised, at Renaissance Chicago Downtown Hotel across from the Chicago River, features "greenhouse" cabanas, fire pits, a vertical herb garden, and a boho-chic vibe. LondonHouse Chicago, a 452-room hotel inside a 22-story glass tower, opens this summer with LH Rooftop, Chicago's first tri-level rooftop bar. The Gwen Hotel's Upstairs at the Gwen invites guests to relax five floors above the Magnificent Mile (the hotel is housed in the iconic McGraw-Hill building) with 1930s-style cocktails and Art Deco–inspired decor. At the Virgin Hotel, Cerise kicks off its second summer at the indoor/outdoor rooftop bar with colorful décor and flowing Champagne.
PLAN YOUR TRIP: Visit Fodor's Chicago Guide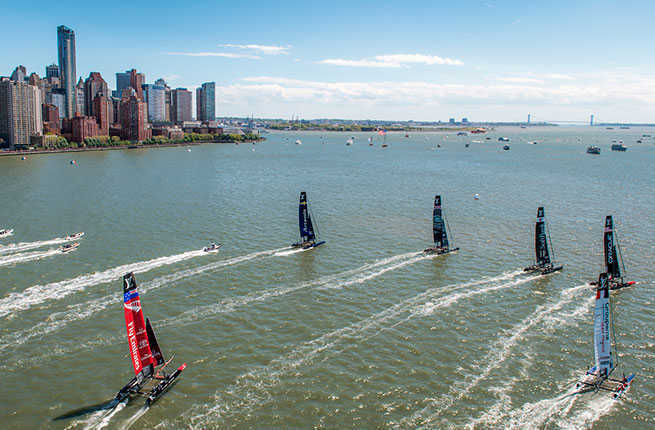 America's Cup Event Authority (ACEA)
Head to the Lake for the America's Cup World Series
The Windy City has long been a sailing town, but this summer the America's Cup World Series (June 10–12, at Navy Pier) invites top-notch sailors to test the waters—the first time the event has entered a freshwater venue. This is one of the qualifying races (others are in Oman; New York City; Portsmouth, N.H.; and Toulon, France) for the America's Cup finals in Bermuda in 2017, so you may very well see the ultimate winner. For a front-row seat watching sailors race on 45-foot catamarans, snag a general-admission ticket for the weekend ($59) or just one day ($19–$35).
PLAN YOUR TRIP: Visit Fodor's Chicago Guide
Nyker1 | Dreamstime.com
Just like other urban meccas, Chicago has a shared-bicycle system (Divvy) to help visitors and locals get around, burn some calories, reduce traffic, and spend more time outdoors. Like many experiences in Chicago, biking is best enjoyed in summer! Rent your bright-blue bike from one of many stations throughout the city, and then head east to experience one of the reasons Chicago is continually voted a top cycling destination: 18 miles of car-free paved paths curls along Lake Michigan and through Grant Park, North Avenue Beach, and Lincoln Park. A 24-hour pass costs $9.95.
PLAN YOUR TRIP: Visit Fodor's Chicago Guide
Green City Market
On Wednesdays and Saturdays from 7 am to 1 pm, Lincoln Park on the North Side hosts Green City Market, the city's biggest farmers' market and one so popular it's even got its own cookbook (The Green City Market Cookbook: Great Recipes From Chicago's Award-Winning Farmers Market). Even more green cred: all 56 vendors of vegetables, fruits, meats, and other products must hold organic certification from a nationally recognized third party, such as USDA Certified Organic or Certified Naturally Grown. Don't miss: salsas from Tomato Mountain Farm or a wedge of cheese from Brunkow Cheese, two vendors who cross the border from neighboring Wisconsin.
PLAN YOUR TRIP: Visit Fodor's Chicago Guide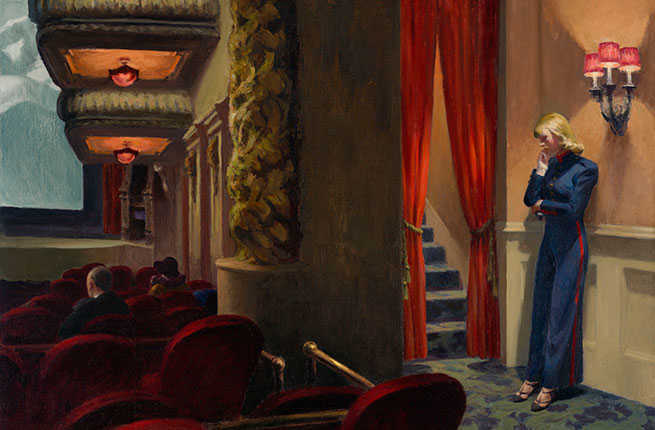 Digital image ©MoMA, N.Y., Courtesy of the Art Institute of Chicago
Spend a Day at the Art Institute of Chicago
Considered one of the world's best art museums, the Art Institute of Chicago's current show, "America After the Fall: Painting in the 1930s," surveys the art and artists of Depression-era America (June 5–Sept. 18). The exhibition features fifty masterpieces of American painting, including works by some of America's most celebrated painters during the 1930s, like Georgia O'Keeffe, Grant Wood, and Edward Hopper, as well as lesser-known artists like Paul Cadmus and Helen Lundeberg. Don't leave without checking out the newest acquisitions in the Modern Wing, a collection of 44 works from a private collection dubbed "The New Contemporary," representing Andy Warhol, Jasper Johns, and other well-known artists.
PLAN YOUR TRIP: Visit Fodor's Chicago Guide
Shea Flynn
Go to a Music Festival at Lollapalooza
Chi-Town's most famous rock fête celebrates its 25th birthday this year with an extra day of music. The festival runs over four days, from July 28–31, and, once again, the lineup does not disappoint—unless you can't get tickets, that is. As usual, tickets sold out promptly, which means you'll have to snap up tickets from a third party or splurge on VIP tickets ($650 per day includes catered food and alcohol, plus mini-spa treatments). Among the 170 acts taking the eight stages this year in downtown Chicago's Grant Park are Radiohead, Red Hot Chili Peppers, LCD Soundsystem, and Lana Del Rey.
PLAN YOUR TRIP: Visit Fodor's Chicago Guide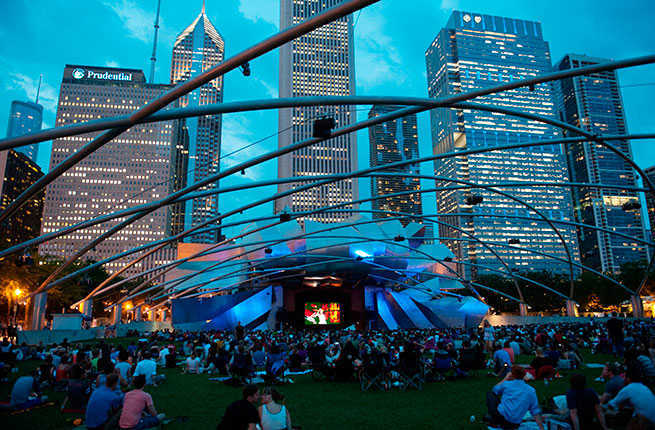 City of Chicago
See What's Happening at Millennium Park
"The Bean"—local-speak for "Cloud Gate," the mirrored, bean-shaped installation by Anish Kapoor in Millennium Park's AT&T Plaza—has become as synonymous with Chicago's skyline as the John Hancock Building, so you'll probably need to pose in front of it. While you're in the park, check out its other icon­­, the Frank Gehry–designed Pritzker Pavilion, which hosts free indie rock, blues, jazz, funk, and reggae music as part of the Millennium Park Summer Music Series on Mondays and Thursdays at 6:30 pm beneath Gehry's signature undulating sheets of stainless steel. "Ferris Bueller's Day Off" kicks off the Millennium Park Summer Film Series on June 21 at 6:30 pm.
PLAN YOUR TRIP: Visit Fodor's Chicago Guide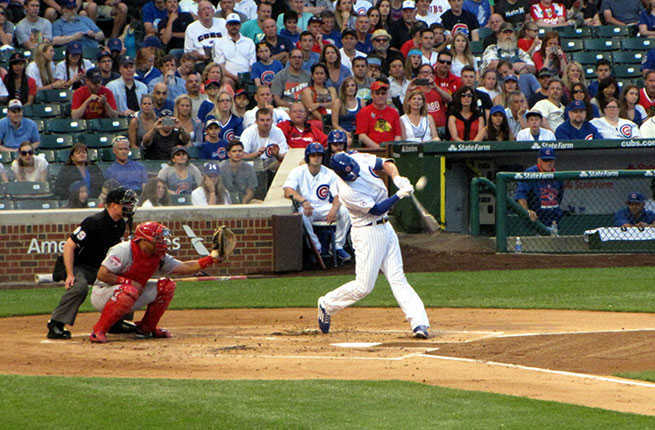 Danfleckner | Dreamstime.com
Root for the Home Team (Whether You're a Cubs or White Sox Fan)
In Chicago you're either a Cubs fan or a White Sox fan—never both—but that doesn't mean you can't switch-hit just to enjoy the experience of a summer's eve at both stadiums. The Cubs play at Wrigley Field on the city's North Side and the White Sox's home turf is on the South Side at U.S. Cellular Field. Built in 1914, Wrigley Field has hosted the Cubs for 99 years and this year rolls out new eats like a Bloody Mary with a mini Vienna Beef Chicago dog as garnish. Launching at U.S. Cellular Field is a bacon-cheddar pretzel dog.
PLAN YOUR TRIP: Visit Fodor's Chicago Guide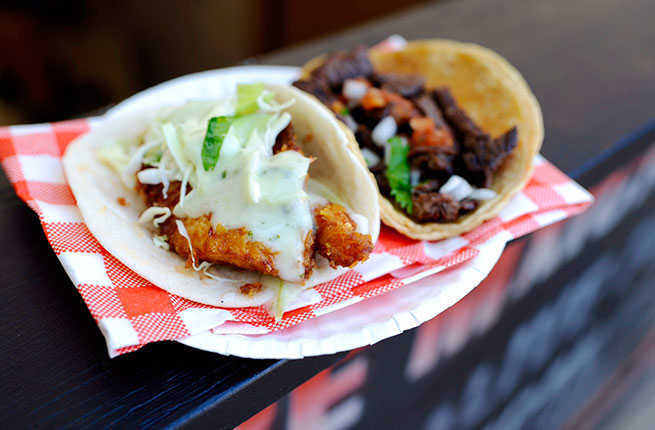 City of Chicago
Act Like a Foodie at Taste of Chicago
Worried you won't have time to hit up the culinary staples (hot dogs and deep-dish pizza!) and check out Chicago's celebrity chefs? Taste of Chicago in Grant Park—this year from July 6 to 10—lets you have your cake (or rather, deep-dish pie) and eat it, too. With a lineup of 69 restaurants, including food trucks and pop-up restaurants, as well as a three-course meal event with chefs of note (Graham Elliot of Graham Elliot Bistro and Master Chef is one of the It chefs in this year's event), visitors can sample the classics and all that's hot and happening, too. Entrance to the festival is free; tickets for food and beverages are sold in strips of 12 tickets for $8.50.
PLAN YOUR TRIP: Visit Fodor's Chicago Guide
Smontgom65 | Dreamstime.com
Dance Up a Storm at Grant Park's Spirit of Music Garden
When the weather heats up, so does the outdoor dance scene, with lovers of salsa, swing, waltz, and cha-cha twirling and strutting in Grant Park's Spirit of Music Garden, on a 4,900-square-foot dance floor. Forty or so different bands fill the space all summer long to get everyone grooving. Feel like you've got two left feet? Hour-long lessons at Chicago SummerDance at 6 pm on Friday and Saturday (plus 4 pm on Sunday) will get you prepped for the night and beyond.
PLAN YOUR TRIP: Visit Fodor's Chicago Guide
City of Chicago
Take in a Show at the Chicago Air & Water Show
Capitalizing on Chicago's glittering shoreline, specifically North Avenue Beach, the Chicago Air & Water Show (this year it's Aug. 20–21) boasts the benefit of being totally free—and given that the planes are soaring high above and the boats curving along the coast, there are many spots to take in the show. Essentially any place along Lake Michigan from Fullerton Avenue to Oak Street is a great viewing spot.
PLAN YOUR TRIP: Visit Fodor's Chicago Guide
Special Events Mananagement
Drink Beer at Goose Island and Dovetail Breweries
While Goose Island Beer Company used to be the only major craft brew in town, there are now more than 70 (and growing) craft breweries in Chicago. Whether you like pilsners, IPAs, or stouts, sip a slew of them by visiting the new tasting room at Dovetail Brewery in Ravenswood or On Tour Brewing Company, a brewery set to open in West Town this summer. If you're lucky enough to be here in late July, drop by the Chicago Craft Beer Festival (July 23–24) in Lincoln Park, with tastings between 11 am and 4:30 pm.
PLAN YOUR TRIP: Visit Fodor's Chicago Guide
Go For a Walk Along the 606
Once a derelict elevated rail line, the 606 (named for the city's ZIP code prefix) is now a thriving park and trail system that is almost twice the length of New York's High Line. Opened in 2015, the park carves out much-needed green space for the four neighborhoods it spans on Chicago's northwest side while also serving as a vibrant arts destination, with a rotating collection of installations and murals. The park also offers a new traffic-free transportation corridor. Hop on the line for a breezy 2.7-mile hike or bike ride (bike rentals available) without the hassle of heavy traffic or crossing intersections. To reach the 606, take the CTA's Blue Line to the Logan Square stop on the near West Side.
PLAN YOUR TRIP: Visit Fodor's Chicago Guide