aragami12345s / Shutterstock
It's no secret that Los Angeles is one of most sprawling cities in the world, making it impossible to see all, or even most, of it in one trip. It's downright overwhelming when you think about how to pack Hollywood, Beverly Hills, the beach cities, and everything in between into one trip. Many visitors try to do it all, but there are some things you simply shouldn't do in L.A. We're here to guide you away from those, so you have more time for the best of Los Angeles.
By: Spencer Spellman
Don't eat at Pink's Hot Dogs
If you're going to stand in line for thirty minutes for a hot dog, it should be a unique L.A. experience, not just another hot dog stand. Ditch Pink's and go to Dodger Stadium for a Dodgers game to enjoy the famous 10-inch Dodger Dog. Or better yet, visit Wurstküche, with locations in Venice Beach and Downtown Los Angeles in the Arts District, featuring exotic sausages (such as duck and bacon sausage), Belgian fries with homemade dipping sauces, and more than twenty different Belgian and German beers.
PLAN YOUR TRIP: Visit Fodor's Los Angeles Travel Guide
turtix / Shutterstock
Don't take a star home tour
Lining Hollywood and Sunset Boulevards you'll find no shortage of sightseeing companies and vendors handing out brochures and maps for guided and self-guided tours of celebrity homes. A lot of celebrities don't even live in Hollywood or Beverly Hills, and the ones who do treasure their privacy and often have large fences around their residences. You're more likely to see a celebrity at an independent shop, such as the Brentwood Country Mart, or a locally owned restaurant.
PLAN YOUR TRIP: Visit Fodor's Los Angeles Travel Guide
Filipe Frazao / Shutterstock
Don't shop on Rodeo Drive or The Grove
Both Rodeo Drive and The Grove aren't short on upscale shops or people watching. However, if it's shopping you're after, there are better options that won't require elbowing your way through crowds. Though Rodeo Drive often gets all the attention, one of the trendiest shopping districts is Robertson Boulevard, lined with both prominent designer stores and small boutiques. Further west in Santa Monica, Montana Avenue is a tree-lined street home to more than 150 specialty shops and restaurants.
PLAN YOUR TRIP: Visit Fodor's Los Angeles Travel Guide
Don't hike Runyon Canyon
Runyon Canyon, located just off Hollywood Boulevard, may be the most convenient and accessible trail in Los Angeles. That also makes it one of the most crowded. To escape the hordes, go to Griffith Park, home to the Griffith Observatory and more than fifty miles of hiking. Further west, near the Pacific Palisades is Topanga Canyon, which offers trails through the Santa Monica Mountains and sweeping views of the Pacific Ocean.
PLAN YOUR TRIP: Visit Fodor's Los Angeles Travel Guide
Sean Pavone / Shutterstock
Don't go to Hollywood and Highland
It may be the best people-watching spot in L.A., but Hollywood and Highland is also the biggest tourist trap here. It's the Times Square of Los Angeles, feeling a bit like a can of sardines on the weekends. Everyone will try to sell you something on the street, from souvenirs to DVDs, and even Superman will ask for money to take a photo with him.
PLAN YOUR TRIP: Visit Fodor's Los Angeles Travel Guide
NigelSpiers / Shutterstock
Don't walk the Venice Beach Boardwalk on the weekend
There's a recurring theme here with crowds in Los Angeles, and Venice is no exception, especially on weekends when you'll have to move with the pace of the crowd to walk down the Venice Beach Boardwalk. However, the great thing about L.A.'s beaches is that the 22-mile paved bicycle path, The Strand, also runs along some more offbeat, less crowded beaches, such as Playa del Rey, which is just south of Venice. Whatever you do, don't go into one of the boardwalk's cannabis clinics in Venice.
PLAN YOUR TRIP: Visit Fodor's Los Angeles Travel Guide
Eric Broder Van Dyke / Shutterstock
Don't rely on public transportation or taxis to get around
Public transportation (more specifically, buses) doesn't have the same virtues in L.A. as it does in other cities. Taking a bus from LAX to Hollywood, for example, takes no less than an hour and a half although it's just a 12-mile trip. Also, don't try hailing a cab because it doesn't work in L.A. Rent a car or use Uber or Lyft for nearby drivers to pick you up and drop you off. They are often 20 percent to 30 percent cheaper than taxis.
PLAN YOUR TRIP: Visit Fodor's Los Angeles Travel Guide
Don't go to the Sunset Strip during the day
During the day, the Sunset Strip is just another line of cafes, nightclubs, and shops. It's after the sun goes down that it shows its true colors. By and large, even at night, many of its bars can be skipped, as most are packed to the gills. If you go to one place, make it The Troubadour, an intimate music venue that's considered one of the best in L.A. Other notable bars include Pearl's and Skybar at the Mondrian for their views of L.A.
PLAN YOUR TRIP: Visit Fodor's Los Angeles Travel Guide
Supannee Hickman / Shutterstock
Don't jaywalk
While Los Angeles is no Manhattan, many of the neighborhoods, like West Hollywood, Venice, Santa Monica, and Silver Lake, are very walkable, contrary to public opinion. However, don't even think about jaywalking. The city is notorious for its jaywalking tickets, and even celebs aren't impervious to it. Don't let that stop you from donning comfortable walking shoes and hitting the relatively flat streets of L.A. Just follow the crosswalk signals and be vigilant, as many drivers forget you can actually walk here.
PLAN YOUR TRIP: Visit Fodor's Los Angeles Travel Guide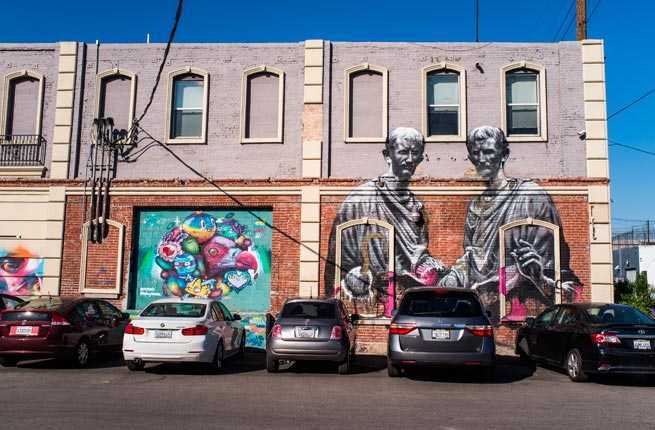 shalunts / Shutterstock
Don't ignore Downtown Los Angeles
Many don't even consider a visit to Downtown Los Angeles, and in doing so, they ignore one of the city's coolest and fastest growing neighborhoods. In the Arts District, there's Angel City Brewing, serving small-batch craft beer in an old warehouse, and Bestia, one of the trendiest Italian restaurants in L.A. The streets of Downtown L.A. are lined with cool speakeasy-style bars like The Varnish and dives like King Eddy, a bar during prohibition. There's also The Last Bookstore, the largest used bookstore in California and Grand Central Market, which feels like a European-style indoor food market.
PLAN YOUR TRIP: Visit Fodor's Los Angeles Travel Guide
Jon Bilous / Shutterstock
Don't try to see the entire city
If you try to see Hollywood, West Hollywood, Beverly Hills, Santa Monica, Venice, and the beach cities in one trip, you'll end up seeing only a little of L.A. and spending most of your visit in traffic. Maximize your travel time and stick to one area, such as Santa Monica, which offers easy access to Malibu, Venice, and other parts of the west side.
PLAN YOUR TRIP: Visit Fodor's Los Angeles Travel Guide
Don't get up-close and personal with the Hollywood Sign
While there are a couple different hikes to the Hollywood Sign, such as the Hollywood Ridge and Beachwood Canyon trails, your best view and photo is likely to be well beneath it, from Griffith Park. If you try to climb the heavily guarded fence surrounding the sign, you could get a free night's stay in jail.
PLAN YOUR TRIP: Visit Fodor's Los Angeles Travel Guide