Sarawinter | Dreamstime.com
Emerald green lakes, forests as far as the eye can see, wild animals, and snow-covered mountains: Canada is a dream destination for many outdoor lovers. No doubt it's always a great time to visit, but in 2017 Canada turns 150 years old and as a celebratory gift to travelers from near and far, entry to the country's 47 national parks will be free throughout the year. With many breath-taking sites to choose from, check out our picks for Canada's 10 Best National Parks.—Wibke Carter
Vlad2003 | Dreamstime.com
Where: Quebec, Canada
Located at the outer tip of the Gaspé Peninsula and covering 94 square miles, Forillon was Quebec's first national park in 1970. Much of the park is pure mountain wilderness, with remarkable hiking trails skirting seaside cliff edges, but there are also fishing villages, pebble beaches in quiet coves, and near vertical cliffs, sometimes up to 650 ft high. Forillon National Park is famous as a bird lovers paradise and more than 225 known species such as kittiwakes, cormorants, guillemots, terns, puffins, and razorbills live and breed here. Between July and September, different species of whales can be spotted during migration.
PLAN YOUR TRIP: Visit Fodor's Gaspe Travel Guide
Amichaelbrown | Dreamstime.com
WHERE: Yukon, Canada
Mostly skipped by tourists due to its remote location, the Yukon Territory and Kluane National Park and Reserve are home to Canada's highest mountain, Mt Logan (19,551 ft). Icefields, mountain peaks, and grizzly bears are familiar sights in this national park, which is mostly covered by ice and as such, nearly devoid of people. In summer, temperature changes of 80 degrees Fahrenheit in a day and snow in July are no oddities. The Kluane Icefield, which slowly moves towards the Pacific Ocean, represents a portion of the most extensive non-polar icefield in the world, making it an accessible destination for ice climbing. The mountaineering season in Kluane National Park and Reserve runs from mid-April to mid-June though helicopter flights over this spectacular landscape of snow and ice can be taken all year round.
PLAN YOUR TRIP: Visit Fodor's Yukon Territory Travel Guide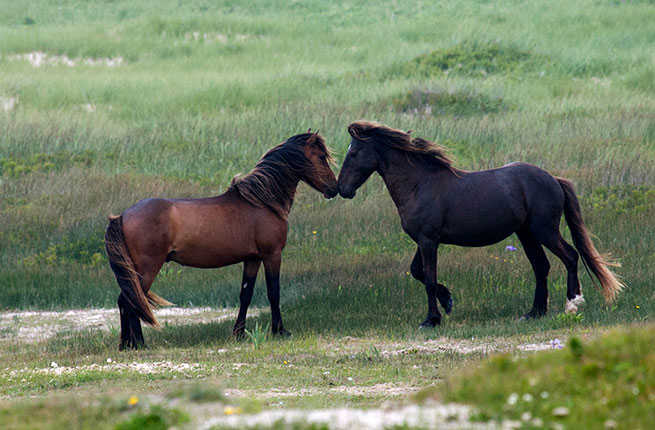 One Ocean Expeditions/Jocelyn Pride/Canadian Tourism Commission
Sable Island National Park
WHERE: Nova Scotia
Wild, unsheltered and remote, Sable Island (the name is derived from the French word for sand) sits far out in the North Atlantic. Shifting sand dunes dominate the landscape in which around 500 of the famous Sable Island wild horses roam freely and the world's biggest colony of gray seals occupies its extensive beaches. Despite its remoteness, Sable Island has a long and fascinating human history which spans more than four centuries. Nicknamed the "Graveyard of the Atlantic", more than 350 vessels have been wrecked in the waters surrounding the island due to rough seas, fog and submerged sandbars. Most visitors on Sable Island are day-trippers from June to the end of October.
PLAN YOUR TRIP: Visit Fodor's Nova Scotia Travel Guide
Steveprorak | Dreamstime.com
WHERE: Newfoundland, Canada
Shaped by two continents that collided nearly 500 millions years ago and grinding glaciers, Gros Morne's ancient landscape is a UNESCO World Heritage Site. The park is of special significance to geologists, supplying evidence for theories such as plate tectonics. In Eastern Canada's most renowned hiking and adventure destination, you can walk upon the earth's mantle (normally found far below the crust), the barren Tablelands Trail, or read about the history and geology of this unique landscape in the Discovery Center. Explore traditional seaside villages, towering fjords, dry lowlands, bogs, coastal walkways, and stunning cliffs where deep ocean crust and the rocks of the earth's mantle lie exposed.
PLAN YOUR TRIP: Visit Fodor's Western Newfoundland Travel Guide
Bcbounders | Dreamstime.com
Cape Breton Highlands National Park
WHERE: Nova Scotia, Canada
Often described as where mountains meet the sea, Cape Breton Highlands National Park, a forested plateau bordering the Atlantic Ocean, is best discovered on the Cabot Trail, an 185-mile scenic route which passes through the park. There are numerous lookouts scattered along the trail with the ones at French, North, and MacKenzie mountains offering the best views of the rugged coastline and rust-colored cliffs. The cool maritime climate of the park permits a unique wildlife not found anywhere else in Canada. Ranging from easy strolls to challenging climbs, 26 hiking trails invite visitors to explore old-growth forests while bald eagles soar above in the skies and mink whales breach the waves below.
PLAN YOUR TRIP: Visit Fodor's Cape Breton Island Travel Guide
Sarawinter | Dreamstime.com
WHERE: Alberta, Canada
Banff was Canada's first national park, founded in 1883, and for many visitors it remains the country's most stunning for its diverse landscape and wildlife. From its humble beginnings as a small hot springs reserve, Banff National Park now consists of 2,564 square miles of unparalleled mountain scenery nestled in the heart of the Canadian Rockies. Each year, millions of visitors encounter raging rivers, majestic glaciers, and steep mountains. The park's main town, Banff, and jade green Lake Louise, known for its dramatic setting at the foot of Victoria Glacier, are especially popular. With a bit of luck, you might be able to see bears picking berries on the side of the road or moose walking through town!
PLAN YOUR TRIP: Visit Fodor's Banff National Park Travel Guide
Sarawinter | Dreamstime.com
Pacific Rim National Park
WHERE: British Columbia, Canada
The Pacific Rim National Park Reserve on Vancouver Island comprises three separate regions and is home to a maritime wilderness that's hollowed ground for ecotourists, long-distance hikers (the 47 mile West Coast Trail is considered to be one of the most spectacular on the continent), and sea kayakers. Lush temperate rainforests with 600-years-old giant trees, ferns, and moss grow close to the long, white sand beaches on Vancouver Island. Bleached driftwood covers the rocky shoreline while in places like postcard-scenic Long Beach stretches of dazzling white sand make for a perfect recreational playground. Watch for whales or sea kayak among cedar covered islands.
PLAN YOUR TRIP: Visit Fodor's Vancouver Island Travel Guide
Wirepec | Dreamstime.com
WHERE: Alberta, Canada
The drive to Jasper National Park alone is spectacular. The Icefield Parkway is arguably one of Canada's most picturesque scenic driveways, stretching 144 miles from Lake Louise to Jasper along majestic mountain ranges, ancient glaciers, and broad sweeping valleys. Almost 97 percent of the park's 4,200 square miles is protected wilderness, though there is a trail network for keen hikers. It's quite possible you'll encounter deer and moose, maybe even mountain goats or black bears while passing through Jasper National Park. Top attractions are guided walks to Columbia Icefield, boat excursions on Maligne Lake to scenic Spirit Island, and a soaking visit to the outdoor hot springs in Miette.
PLAN YOUR TRIP: Visit Fodor's Jasper National Park Travel Guide
Patrick Moners/Canadian Tourism Commission
Gwaii Haanas National Park
WHERE: British Columbia, Canada
Gwaii Haanas National Park Reserve and Haida Heritage Site, often shortened to simply Gwaii Haanas, covers an archipelago of 138 islands, the largest being Moresby Island, some 81 miles off the mainland. This huge UNESCO World Heritage provides a time-capsule look at sites of the Haida culture including abandoned villages and burial caves of which more than 500 have been documented. The most famous village is Ninstints, where remains of houses, together with carved mortuary and totem poles, illustrate the Haida people's art and way of life. Other sights are the ancient village of Skedans, and Hotspring Island with its natural hot springs. Access to Gwaii Haanas is by boat or plane only and from May to September a reservation is required.
PLAN YOUR TRIP: Visit Fodor's British Columbia Travel Guide
Jiawangkun | Dreamstime.com
Thousand Islands National Park
WHERE: Ontario
Just a few hours drive from Toronto, this is one of Canada's smallest national parks comprising 26 islands and about 90 islets scattered along the St Lawrence River from Brockville to Kingston. Most of the islands are the summits of ancient hills which, after the retreat of glaciers, were flooded by the newly formed St Lawrence River. Marshlands, rugged rocks, and a diverse plant and wildlife characterize Thousand Islands National Park, which is especially popular with boaters and paddlers. Most islands have docks, trails, shelters, and camping facilities, however, access is by boat only—or you can experience paddling into the park with a tour operator.
PLAN YOUR TRIP: Visit Fodor's Side Trips from Toronto Travel Guide