Courtesy of Hotel Ullensvang
The extraordinary landscapes of Norway—magnificent fjords, mountains, glaciers, and endless islands—are undoubtedly the country's biggest attractions. This Scandivanian nation is also home to a plethora of wildlife (reindeer, elk, wolves, whales, musk-ox, puffins, arctic fox and polar bear, to name a few) and one of the most dynamic design scenes in the world. Want to know what you won't find in Norway? Hardly any chain hotels. In both remote island outposts and city centers, there are magnificent hotels, some of them hundreds of years old, that possess a deep sense of time and place. Step back in time at any of these properties, where history meets contemporary luxury, and a warm, welcoming fireplace will always greet you. —Deb Hopewell
Courtesy of Røisheim Hotel
Set at the foot of Norway's popular Jotunheimen National Park, Røisheim has been a way station for travelers crossing the Sognefjellsveien (Norway's highest mountain pass) since 1858. Originally a farmstead dating back to the 1700s, the 24 rooms at the inn are housed in several buildings, most of them featuring wooden hot-tub-like baths that require a small step ladder to get in. Two rooms also have their own open fireplaces, stocked with kindling and logs; they're the priciest, but worth the splurge on chilly evenings.
Insider Tip: Take time to visit the nearby town of Lom for its stave church, one of only 28 remaning in Norway; this one dates back to the twelfth century.
PLAN YOUR TRIP: Visit Fodor's Norway Travel Guide
Courtesy of Hotel Ullensvang
Opened on the shores of the Hardangerfjord in 1846, Hotel Ullensvang later became a favorite of Edvard Grieg, who composed music in a cabin that now sits in the hotel's garden. Today the property has expanded to incorporate such modern amenities as a heated indoor pool, 288-foot outdoor "swimming channel" that ends in an infinity pool overlooking the fjord and glacier beyond, contemporary spa, and an indoor tennis court. In warmer weather, you can borrow a rowboat to explore the fjord.
Insider Tip: The Ullensvang area is the fruit basket of Norway, since the time Cistercian monks began planting orchards in the early thirteenth century. Book early to stay anytime between mid-May and June, when more than a half-million fruit trees are draped in fragrant blossoms: first cherry and plums, followed by pear and apple.
PLAN YOUR TRIP: Visit Fodor's Norway Travel Guide
Courtesy of Bekkjarvik Gjestgiveri / De Historiske Hotel og Spisesteder
Located on the harbor of Selbjørn, one of 667 tiny islands in the Austevoll archipelego on Norway's far west coast, Bekkjarvik Gjestgiveri dates back to the late 1600s: It was built to comply with a royal decree that any area along the nearby shipping lanes should have an inn within a day's distance. Today, the hotel includes the original inn's main house as well as rooms in the village's former barrel factory and carpentry shop, not to mention an art gallery housed in the historic store.
Insider Tip: The hotel's 30-year chef, Ørjan Johannessen, is a two-time winner of the coveted Bocuse d'Or award—this year and back in 2012 (he also won their award for best fish in 2013). You won't want to miss a meal here, so book well in advance.
PLAN YOUR TRIP: Visit Fodor's Norway Travel Guide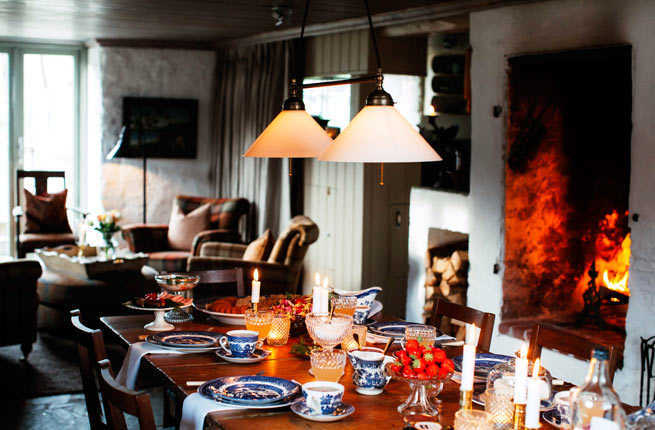 Courtesy of De Historiske Hotel og Spisesteder
Åmot Country Villa and Opera Farm
While this property's history as a farm can be traced back to around 1350, the history of Åmot Country Villa & Opera Farm's current owners dates to 1852, when a carpenter from Bergen purchased the property. Steinar Sørli, along with partner Yngve Brakstad, is the fifth generation of the family at Åmot, which was a working farm until 1993. Sørli had no interest in farming when he inherited the property, so he and Brakstad (an architect), inspired by a shared passion for music, decided to add a performance stage to the old painted barn as well as ten rooms for guests in both the country villa house and the opera barn.
Insider Tip: This summer, the Bergen National Opera partnered with Åmot for the inaugural Mimi Goes Glamping, a three-day festival of music, performance, yoga, gourmet food and, yes, glamping. The event, held at Åmot, is scheduled for it's second year in August 2016.
PLAN YOUR TRIP: Visit Fodor's Norway Travel Guide
Courtesy of Visit Norway
One of the oldest continuously operating hotels in Norway, this property has done business under the same roof since 1722, when a Norwegian officer traded his duty pay for a license to operate an inn after his duty in the Great Nordic War. Today, the Utne Hotel's elegantly appointed rooms seem nearly preserved in time, with furnishings that span the centuries. Highlights include a bed that dates to 1800 and a piano in the lounge from the 1800s, the same type Beethoven played.
Insider Tip: The hotel can help arrange a hike up to nearby "Troll's Tongue" (Trolltunga), the iconic ledge that sits 2,300 above the Ringedalsvatnet lake—and made famous in a million Instagram photos.
PLAN YOUR TRIP: Visit Fodor's Norway Travel Guide
Courtesy of Fretheim Hotel / De Historiske Hotel og Spisesteder
When English noblemen discovered the salmon-rich Flåm River in the 1870s, wealthy local farmer Christen Fretheim decided there was money to be had in building a guesthouse, which became known as the "English Villa." The original building at the Fretheim Hotel has been restored with open fireplaces and antiques, including its seventeen guest rooms. Over the years the hotel has been expanded, but seamlessly so, to include 104 more rooms, most with views of the Aurlandsfjord.
Insider Tip: The town of Flåm sits at the bottom of the 50-mile-long Navvies Road (Rallarvegen), an unpaved rail-access road built in the early 1900s, and the most popular cycling route in the country, winding along crystalline rivers and waterfalls. Take the train uphill to Haugastøl, where you can rent bikes, ride down, and drop your bike off in Flåm.
PLAN YOUR TRIP: Visit Fodor's Norway Travel Guide
Frøydis Asp Ormåsen
Not long after Fleischer's Hotel opened in 1864, it became a favorite with well-heeled European tourists on their way from Oslo to Bergen and the West Coast's famous fjords. The grand, sprawling hotel, built in the decorative Swiss style that was all the rage at the time, survived intact after Nazi bombing destroyed most of the town of Voss in 1940. Today, the meticulously restored hotel is popular with skiers and extreme-sports enthusiasts who converge on Voss for its paragliding, whitewater rafting, and BASE jumping.
Insider Tip: Sports aren't the only "extreme" experience in these parts. The hotel, which features two restaurants and one après-ski bar, offers one of the area's more infamous specialties: smalahove—sheep's head—served the traditional way, with the eye and ear eaten first while they're still warm.
PLAN YOUR TRIP: Visit Fodor's Norway Travel Guide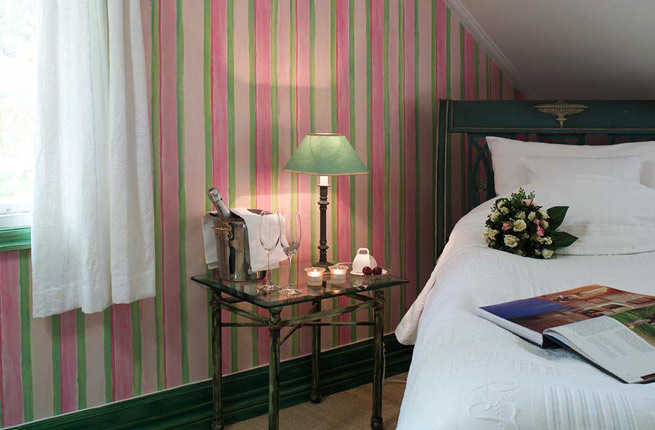 Courtesy of Engø Gård / De Historiske Hotel og Spisesteder
The original building at Engø Gård—in a parklike setting on the island of Tjøme about 90 minutes south of Oslo—was built in 1845 but didn't begin operating as a country inn until 1928.The hotel has expanded over the years; today, it houses 44 guestrooms in six different buildings, including the old servants' quarters, hayloft, and the original dining-room building.
Insider Tip: The population (4,600) of this tiny island swells nearly tenfold during the summer, when visitors—including Norway's royal family—flock to one of the best areas in the country for beaches and warm, sunny weather. If you're thinking of a summer visit, book well in advance.
PLAN YOUR TRIP: Visit Fodor's Norway Travel Guide
Courtesy of Hotel Continental
One year after the National Theater opened in 1899, Hotel Continental opened across the street with a restaurant, the Theatercaféen, which became a gathering place for the city's actors and artists and is still an Oslo landmark. The same family has owned and managed the five-star luxury property for four generations, and they've just overseen a refurbishment—tastefully blending modern design elements while retaining the original design—that earned the hotel a spot on the shortlist spot for a European Hotel Design Award.
Insider Tip: In 1932, the hotel's owner happened on a dozen original prints by Norway's most beloved painter, Edvard Munch, which he was able to buy at a bargain since he wanted all twelve. Today they're on display in the lobby bar, where you can enjoy a glass of fine wine under a self-portrait of one of the world's most important artists from that era.
PLAN YOUR TRIP: Visit Fodor's Norway Travel Guide
Courtesy of De Historiske Hotel og Spisesteder
The walls of GamlaVærket,in Sandnes, bear witness to the building's beginnings in 1783: a brick-and-tile factory that launched the town's renown as a production center for bricks, pots, bricks, clay pipes, and various ceramic products. The hotel, which fronts one of Norway's longest pedestrian streets, offers 28 rooms individually decorated to include antiques that reflect the building's past.
Insider Tip: Sandnes is only a short ferry ride and drive to one of Norway's most famous and photographed natural sites: Pulpit Rock (Preikestolen), where uoi can enjoy staggering views of the Lysefjorden from 1,982 feet above.
PLAN YOUR TRIP: Visit Fodor's Norway Travel Guide