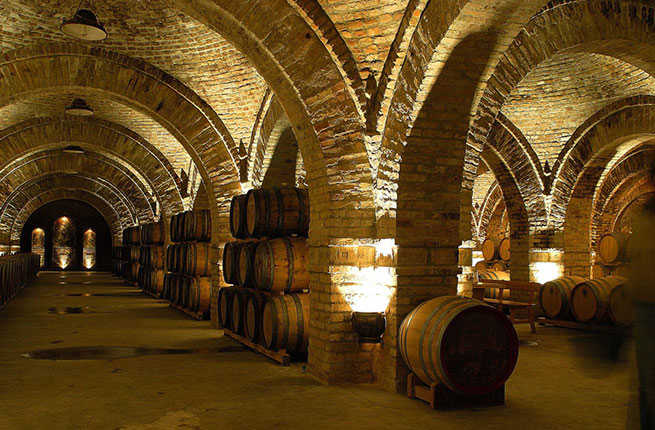 Vincze Pinceszet
Hungarians really know and love their wines. Luckily, vineyards in this landlocked Central European country are plentiful. Most of the vineyards are quite ancient, and types of soil found here are varied. There are more than 100 vineyards in Hungary spread across seven wine regions in the country, including Eger in the northeast, famous for its reds and whites; Balaton, a shallow lake region known for its heirloom grapes and its Burgundy-style pinot noirs; Duna, the largest of the seven wine regions between the rivers of the Danube and Tisza and known for its lighter sand (granite) varietals; Észak-Dunántúl known for limestone-based white wines; Pannon, an undulating region in the southwestern part of the country, known for its loess soil and ancient Roman-era wines; Sopron, founded by the Celts and one of the most ancient wine regions at the foothills of the Alps; and the most well-known of all, Tokaj, a historical region with high humidity in the northeastern part of the country which has a proliferation of noble rot, as well as indigenous grape varietals; it is now a UNESCO World Heritage Site.—Charu Suri
Beres Vineyards and Winery
Where: Tokaj
This family-owned estate made its debut fairly recently, in 2003, on 10 hectares of land near the village of Erdőbénye. It is most well-known for its Tokaji Cuvée, which is fermented in oak barrels. The result is a crisp, balanced wine with fruitiness and sugar-acidity.
Insider Tip: If you go, visit in August, in time for a festival that shows off the village of Erdőbénye dressed in its finest gaiety.
PLAN YOUR TRIP: Fodor's Hungary Guide
Balázs Bergics
WHERE: Villány
Steeped in tradition, the Bock family vineyard is well-known in the region for making wine since the 18th century. Among the vineyard's gorgeous 70 hectares, you can find aromatic wines made from some unique red varietals including Cserszegi Fűszeres, Muscat Ottonel, Sauvignon Blanc, Hárslevelű, and white wines made from Chardonnay grapes. Bock also makes rosé wines from Kékfrankos grape (which also known as Blaufränkisch, Hungary's most widely-planted blue grape).
Insider Tip: Bock's most popular wine is Magnifico, made from merlot planted near the Ördögárok river.
PLAN YOUR TRIP: Fodor's guide to the best Wine Regions in the world
Chateau Winery Dereszla
Where: Tokaj
This historical vineyard has one of the country's most extensive and winding cellars, over 0.6 miles long and spanning three stories. It has somewhat of a royal history, with a written relic of the cellar dating back to the early 15th century during the era of King Zgsimond, who was a Holy Roman Emperor.
Insider Tip: The wine to get is the Furmint Late Harvest 2000, which won the gold medal at the Concours Général de Vins de Tokaj competition in 2002, and the silver medal at the Vinalies International competition in 2003. For all its allure, it is attractively priced at $45.
PLAN YOUR TRIP: How to plan your vacation to Hungary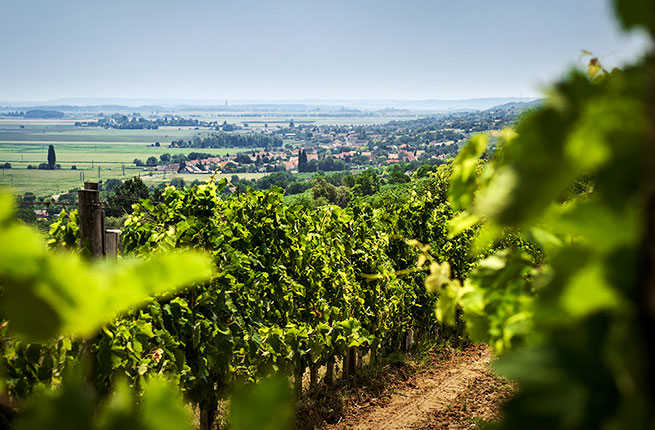 Fritz Wine House
Where: Szekszárd
This vineyard, sprawled of a generous 30 hectares, pays respect to the German traditions that were established here in 1635. The vineyard has a somewhat hallowed vibe, with a chapel built onsite, and is known for its light white wines.
Insider Tip: Try the Tanya Cuvee 2011, a blend of two noble grapevines with depth, fullness, and a silky elegance.
PLAN YOUR TRIP: Fodor's Hungary Guide
GIZELLA PINCE
WHERE: Tokaj
This vineyard is a combination of a hotel and guesthouse producing a controlled quantity of 10,000 bottles of wines from the grape varietals of furmint, Hárslevelű, and Tokay as well as a blend of these varietals. The wine-making style consists of hand-harvesting small lots of grapes once they have reached peak maturity, and fermenting them in new Hungarian oak barrels. The result is a mixed batch of both dry and sweet wines.
Insider Tip: This vineyard is located at the foothills of the Tokaj wine region and is therefore perfect for hikes; relax for a few days at the guesthouse, which has a living room, kitchen, bedroom, and private garden.
PLAN YOUR TRIP: Fodor's Hungary Guide
Lics Pincészet
Where: Mor
These vineyards are situated on 25 hectares on the northern side of Velence Lake, the third largest lake in Hungary. It's a popular vacation spot for Hungarians, providing a glistening backdrop for some dramatic sunsets. Because the vineyards are on the southern side of nearby Warm Hill, they enjoy a microclimate suitable for growing grape varietals like Turán, a dark-skinned grape with a deeply-pigmented flesh often used in blends, and Kékmedoc (called Mornen noir in France).
PLAN YOUR TRIP: A Fodor's guide to Hungarian Food & Wine
Mészáros Borház
Where: Szekszárd
This vineyard, focusing on fresh, fruity wines, is sprawled over 120 lavish hectares in the city of Szekszárd, one of the oldest red-wine growing areas in Hungary. The vineyard offers over 10 types of bottled wine, spotlighting the area's full-bodied and spicy reds that grow particularly robustly in the loess soil. The wines are made in steel tanks, and aged in oak barrels for 1-2 years.
Insider Tip: The vineyard also has a hotel downtown.
PLAN YOUR TRIP: Fodor's European wine recommendations
Mokos Családi
Where: Villány
Three generations of families have surveyed the grape varietals growing in this 15-hectare vineyard filled with loess and clay soils. The production quantities are not very large, only 70,000 per year, but the varietals (including national and international varieties of Portugieser, Gamay,Pinot Noir, Cabernet Franc, Cab Sauvignon, Merlot) are hand-picked. In addition to the traditional wines, the vineyard makes fruit wines with fruit picked from orchards on the property.
Insider Tip: In addition to the Cabernet Hotel and Restaurant, the vineyard is also home to a 320-person theater and a 120-person wine tasting room.
PLAN YOUR TRIP: A Fodor's guide to Hungarian Food & Wine
Vincze Borászat
Where: Eger
Located in Eger, the second-largest town in Northern Hungary, this vineyard is known for Cabernet Franc 2007 Arcanum, which won the gold medal in the Brussels Wine competition. It is also noteworthy for its wines produced from Kékfrankos and Blauburger grapes.
Insider Tip: Eger has been inhabited since the Stone Age, so take some time to visit the surrounding area, including the historic cathedral.
PLAN YOUR TRIP: Fodor's Hungary Guide
Vineum
Where: Tokaj wine region
This vineyard started as a weekend hobby and became a fully-operational winery in 2002. It's known for its small batches of dessert wines. Because of the volcanic rocks surrounding the area, the wines have a robust minerality, and an extensive portfolio: try the sparkling dry wines, as well as the classic dry furmint and Sparkling Wine Tokaji 2010.
PLAN YOUR TRIP: Fodor's Hungary Guide