Courtesy of Shangri-La Hotel, Paris
Each of Paris's legendary hotels has a character all its own, but when it comes to luxury, the differences become more nuanced. The pursuit of excellence is in the details, and that extends to the jewel in every hotel's crown: its spa. The 10 hotel spas listed here represent Paris's very best, offering an indulgent experience that goes so much more than skin deep.
Roméo Balancourt
Spa Le Bristol by La Prairie, Le Bristol
Hotel: Le Bristol
The elegance and serenity of Le Bristol extends to its sumptuous three-level spa, beginning with the downstairs Russian Room's affusion shower, steam room and signature Russian massages, designed to wash away all stress as you begin your spa immersion. Three of the eight gorgeous ground-floor treatment rooms offer private garden terraces for a restorative tea, champagne, or lunch by Michelin 3-star chef Eric Frechon. For optimal effectiveness, state-of-the-art products from Swiss beauty giant La Prairie are featured in all facial and body treatments, which range from the quickly transformative Beauty Express facial (50 minutes, $195) to the total works Swiss Bliss Treatment (3 hours, $560). If you're lucky enough to be a hotel guest, the sixth-floor pool—the only rooftop hotel pool in Paris—is flooded with natural sunlight and offers breathtaking views of the city. For busy moms, Les Amis d'Hippolyte playroom keeps kids happily occupied for the duration of your visit.
Guillaume de Laubier
Dior Institut, Plaza Athénée
Hotel: Plaza Athénée
This stylish spa may not offer a pool or an exhaustive treatments list, but that actually works to the advantage of Plaza Athénée's newly spruced up Dior Insitut. The choice selection of facials, body treatments, massages, and hand and foot care therapies are performed by highly skilled technicians and geared toward immediate and lasting results. Clients begin with tea in the serene relaxation room and emerge 90 or 120 minutes later a more luminous version of the self that arrived. The highly recommended One Essential Detoxifying Treatment (90 minutes, $317; 120 minutes, $390), for example, combines massage, delicate pressure, and Dior's top-of-the-line products to soften lines and detoxify the face and neck, leaving you looking five years younger. Each treatment includes a full analysis and recommendations from the range of highly effective Dior products. Afterwards, avail yourself of the sauna and steam room before emerging as a whole new you.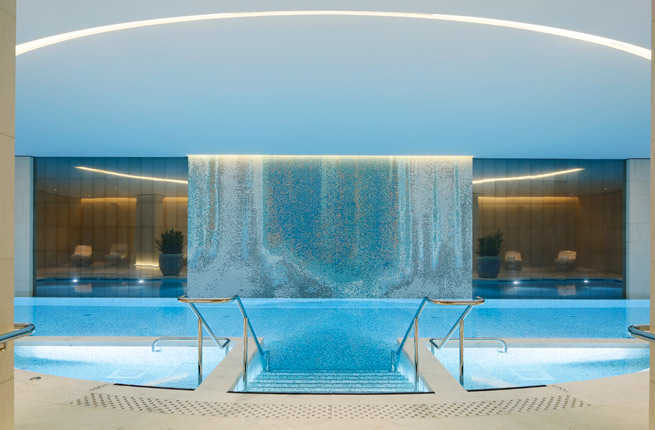 Courtesy of The Peninsula Paris
The Peninsula Spa, Peninsula Paris
Hotel: The Peninsula Paris
No expense was spared or detail overlooked in the billion-dollar transformation of the historic Hotel Majestic into the new The Peninsula Paris. This extends to the Asian-inspired The Peninsula Spa, where tranquility, indulgence, and high-tech treatments blend the best of East and West. Each visit begins with a tranquil tea in the beautiful tea lounge, followed by a personalized consultation in the sumptuous treatment rooms (there are two private couples' suites). Advanced techniques and products from Biologique Recherche, formulated with high concentrations of bioactive ingredients, are adapted for a range of luxury treatments—like the Ultimate Lifestage Facial (90 minutes, $311), which lifts and firms while it revitalizes. Before returning to the outside world, linger in the shimmering pool or work up a sweat in the fitness room, steam room (with ice machine), or sauna.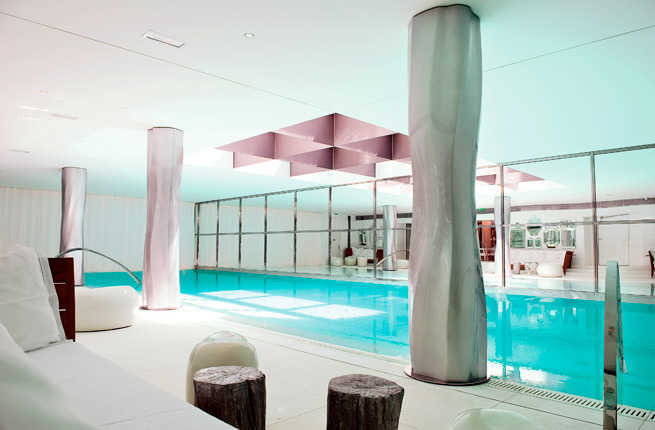 Harold Gottschalk
The Spa My Blend by Clarins, Le Royal Monceau Raffles Paris
Hotel: Le Royal Monceau Raffles Paris
In an atmosphere of luminous calm, the Spa My Blend by Clarins at Le Royal Monceau Raffles Paris transports you directly to bliss and beyond, using top products from the celebrated French beauty giant Clarins. Each My Blend treatment is specifically customized to your needs, with an emphasis on stimulating immediate and enduring benefits that extend well beyond your spa visit. A popular indulgence: The Art of Touch (90 minutes, $231) uses skillful massage, botanic oils, fragrance, and warmth to deeply soothe and gently stimulate the skin for total revitalization. For more total indulgence, the My Royal Detox program ($341) proposes fine dining (via a Michelin-starred gourmet brunch or lunch), followed by a private yoga or Pilates session, and a deep-cleansing body treatment. Afterwards, you're invited to benefit from the spa's fitness room, sauna, steam room, and magnificent sky-lit pool—one of the largest in Paris—at your leisure.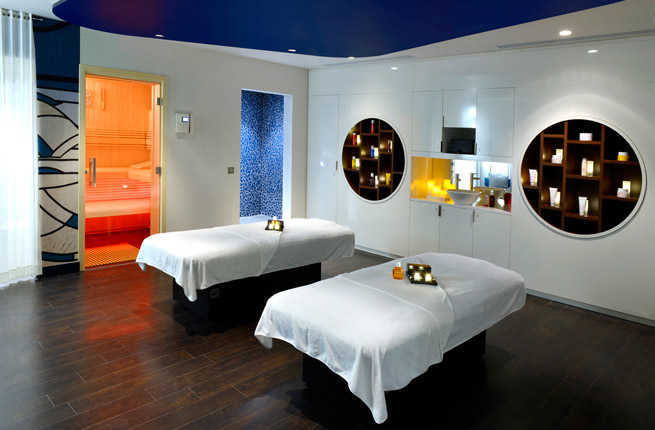 Michel Tréhet
Molitor Spa by Clarins, Molitor Paris
Hotel: Molitor Paris
Besides the Molitor Paris hotel, gourmet restaurant, rooftop bar, and club, the Molitor complex incorporates Paris's legendary, art deco Molitor swimming pool—recently opened to enormous acclaim after a four-year restoration—and the superb Molitor Spa by Clarins. Capitalizing on its spectacular setting, the spa offers a unique array of body treatments, facials, massages, and nail care—some performed poolside. The most respected name in French beauty since the '60s, Clarins specializes in cutting-edge, scientifically proven skin care, and has developed signature treatments for this spa that you'll find only here. The Parenthesis line of treatments includes the two-hour L'Impatiente ($280), incorporating revitalizing hand, foot, and facial treatments for men and women on the go. Or, try La Dilettante (4 hours, $499), a half-day immersion in bliss, incorporating a full facial, hand and foot treatments, full body massage, and hair styling at the in-spa Shu Uemura hair salon, to bring out a totally gorgeous new you.
Courtesy of Shangri-La Hotel, Paris
Spa at the Shangri-La, Shangri-La Paris
Hotel: Shangri-La Hotel Paris
The glorious pool and private outdoor sunning terrace might steal the limelight, if it weren't for the stellar quality of the gleaming spa itself, within the Shangri-La Hotel (newly designated one of Paris's eight palace hotels). A world of serenity awaits you: Before or after your pampering, take advantage of the spacious treatment rooms' steam shower and lounge area for a relaxing cup of tea. Like the hotel, this luxurious spa prides itself on a meticulously personalized approach, with a focused menu of four signature facials and four body treatments designed by the renowned French cosmetics giant Carita, and three facials and body treatments by Paris-based spa experts Thémaé (their based on the healing and rejuvenative properties of tea). For total pampering, the four-hour Beauty Day Package ($670) unites four treatments to reinvigorate the whole body, plus, it grants daylong access to the pool and fitness club.
Courtesy of Le Meurice, Spa Valmont
Hotel: Le Meurice
The legendary Le Meurice hotel, overlooking the Tuileries Gardens, is the darling of the international fashion set, who demand instantaneous results to counter the wear and tear of their fast-paced lives. That's where the Spa Valmont excels, with a choice menu of revitalizing and anti-aging treatments that use high-tech, scientifically tested technologies (developed at the famous Valmont Spa in Switzerland) to afford an instant, noticeable difference for over-partied, jet-lagged skin. The Peaks of Purity treatment (90 minutes, $268) cleanses with mountain spring water followed by a pure collagen mask to eliminate fine lines and wrinkles on the spot. Or, you can go the extra mile with exfoliating enzymes and a hydrating massage, followed by a deep-moisturizing algae mask. Effects are profound and enduring enough to last you till your next trip to Paris. To counter winter doldrums, make a ladies afternoon of it with the Winter Indulgence package, including sauna and steam, facial, and elegant afternoon tea ($250, $268 with champagne).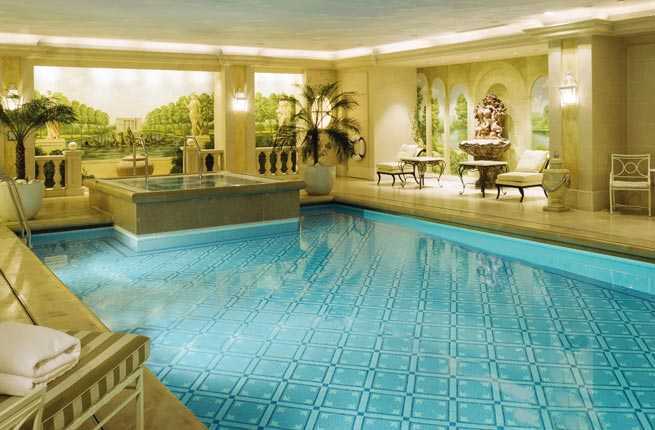 Courtesy of Four Seasons, George V
Spa at Four Seasons Hôtel George V Paris Paris
Hotel: Four Seasons Hôtel George V Paris
The aristocrat of spas, the spa at Four Seasons Hôtel George V's boasts palatial treatment rooms, bedecked with elegant toile de Jouy fabrics, wood paneling, crystal chandeliers, fresh flowers, Jacuzzis, and steam rooms. Being treated like royalty is a way of life here: Witness the signature package A Stroll Through Versailles (2.5 hours, $548), inspired by Marie Antoinette's royal pampering, which infuses a body scrub, warm shea butter massage, and milk facial, with the scent of orange blossom, the queen's favorite. Afterwards, you'll nibble daintily on macaroons (champagne optional). Or, if you prefer you pampering gilded, the 24-Carat Gold package (2.25 hours, $670)—including facial, full body and head massage, and hair treatment—reveals the anti-aging effects of pure gold. An extensive range of slightly less exalted firming, rejuvenating, and anti-aging treatments are all tailored to your needs using premium products from Carita and Sodashi, in harmony with your skin type and the season.
Cécil Mathieu
Le Spa, Paris, Park Hyatt Paris-Vendôme
Hotel: Park Hyatt Paris-Vendôme
The tranquil Le Spa Paris assembles the latest technologies for total well-being in the same atmosphere of contemporary luxury and ease that the Park Hyatt Paris-Vendôme is famous for. An impressively complete menu of signature treatments features sumptuous Crème de la Mer products intended to relax, revitalize, purify, and tone every millimeter of your body. A phalanx of experts is on hand to ensure the job is done thoroughly and just right: remodelage inventor Martine de Richeville performs "body sculpting" through massage and touch; and hair-stylist-to-the-stars Jon Nollet, (whose client list includes Monica Bellucci, Marion Cotillard, and Nicole Kidman) will expedite your totally new look. For those who prefer pampering in private, the Park Hyatt Paris-Vendôme is the first Parisian hotel to offer in-room spas, available in four 2,000-square-foot suites—they'll be no need to face the world until total perfection is achieved.
Courtesy of Mandarin Oriental Paris
Spa at the Mandarin Oriental Paris
Hotel: Mandarin Oriental Paris
Paris star designer Sybille de Margerie created the harmonious mood at the Mandarin Oriental's expansive spa, covering over 9,000 square feet and incorporating a peaceful garden courtyard, a 50-foot ozone pool, fitness room, saunas, steam rooms, and anything you could possibly wish for in a state-of-the-art spa. This graceful temple to well-being upholds a rigorous commitment to results-driven treatments that incorporate Chinese medicine, aromatherapy, custom-blended essential oils, and award-winning products from Aromatherapy Associates, for maximum therapeutic effect. Your treatment begins with a consultation to determine the best course for your specific needs and ends with a nutritional and exercise guidance program to ensure that effects will last well beyond your visit. Think of it as an investment not only in your glowing face and body, but in your overall health, too.