Pristine forests, high-design architecture, lakeshores home to rare seals and blissful sauna sessions—Finland has it all. And with summer's midnight sun, there's even more reason to hightail it here to experience Scandinavia at its best.—Terry Ward
Jean Noel Lanthiez
WHERE: Ruka
Dog sledding is an iconic Finnish wintertime activity. But even when the snow has melted in Finland you can still hang out with sled dogs. During the warmer months, from the beginning of May till late October, visit Erä-Susi husky farm in Lapland to go hiking with the resident huskies. The more than 200 sled dogs here include Alaskan and Siberian breeds. After an intro to your animal, you'll be given a belt and a leash for the dog to set out for an energetic walk in the area. Routes along nearby nature trails range from two to six hours and include a stop by an open fire for a snack.
PLAN YOUR TRIP: Fodor's Finland Guide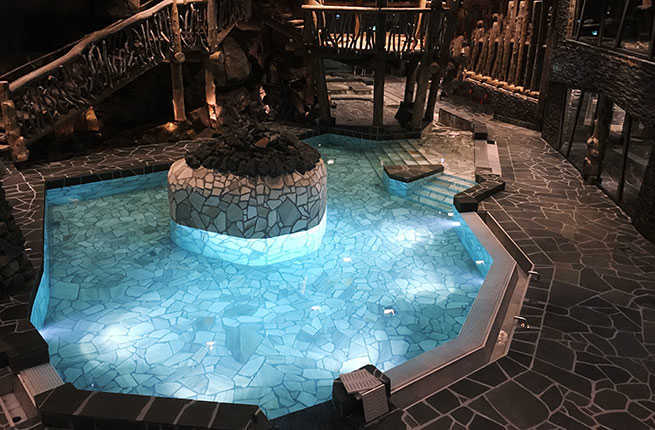 Visit Finland
Experience a Wellness Cave
WHERE: Rantasalmi
Famed for its sauna culture, Finland is full of wellness-minded ways to indulge your body and mind. And one of the most atmospheric spas is along the shores of Lake Saimaa in eastern Finland at Järvisydän Resort. The hotel's new Lake Spa is inside a cave built into rocks surrounding the lake and has five saunas as well as six decadent hot soaking pools with natural rock bottoms. Cracks in the rock let natural light from outside filter into the spa, and huge timbers that are over 500 years old complete the natural aesthetic. Soak in the saunas, dip in the pools and—if you're feeling brave—finish off with a cold plunge in the lake, accessible right from the spa.
Insider Tip: The hotel can arrange sailing day trips around Lake Saimaa on a private sailboat, Roxanne, skippered by a friendly local named Seppo Hayrinen who has sailed around the world.
PLAN YOUR TRIP: Fodor's Finland Guide
Visit Finland
Golf Under the Midnight Sun
WHERE: Salo
If golfing is your passion, you'll love the extended hours of play during the summer months in Finland, when the midnight sun lets your game linger on well into the white night. Since it never really gets dark during the Finnish summer, you can actually tee up at midnight at some of the country's premier courses including Wiurila Golf & Country Club, Salo Golf, and Meri-Teijo Golf.
PLAN YOUR TRIP: Fodor's Finland Guide
Tomi Tahti
WHERE: Hanko
Leave your bikini and board shorts back home when you dive into Finland's windsurfing culture in Hanko, a small seaside town on a peninsula southwest of Helsinki that's been called the Hamptons of Finland. And while you'll definitely need a wetsuit to brave the waters here, the windsurfing and board-riding scene in Hanko is alive and kicking. Sign up for lessons at Surf Club Hanko or rent paddleboards, kiteboards, and windsurfing boards if you already know what you're doing.
PLAN YOUR TRIP: Fodor's Finland Guide
Tenetsi | Dreamstime.com
WHERE: Nuuksio National Park, Espoo
Finns, for the most part, are all about getting outside and enjoying their country's remarkable nature. So do as the locals do and spend a night camping in a tree in Nuuksio National Park, a forest and lake filled area northwest of Helsinki. Local outfitter Honkalintu provides your tree tent as well as sleeping bags, towels, firewood, bottled water, and an eco toilet, so all you have to bring is yourself. Breakfast is even served the next morning—but you'll have to descend back to earth from your tree tent to enjoy it.
PLAN YOUR TRIP: Fodor's Finland Guide
Teuvo Juvonen
WHERE: Linnansaari National Park
Finland's rarest animal, the Saimaa ringed seal, can sometimes be spotted during kayaking trips around the Lake Saimaa archipelago that leave from the quaint village of Oravi. The animals are considered the most endangered seals in the world, with just over 300 living in the lake. Five-hour guided kayaking trips into Linnansaari National Park offer one of your best shots at seeing the seals. You'll enjoy lunch by a campfire along the way and have the option to stop and swim, too. Guides help you spot local bird species such as osprey along the way.
PLAN YOUR TRIP: Fodor's Finland Guide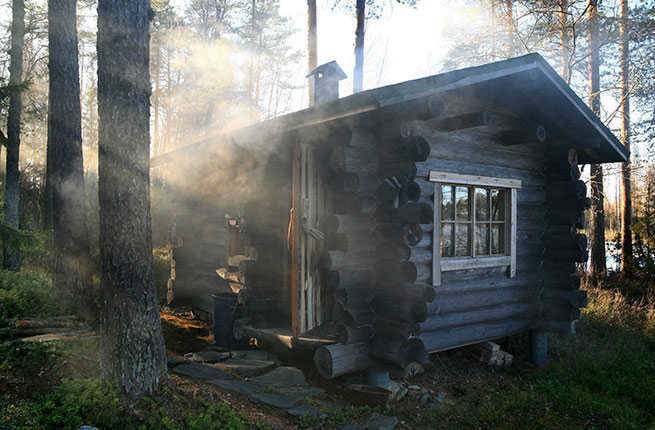 Saara Kostama
Stay in a Design Villa and Try a Smoke Sauna
WHERE: Anttolanhovi
You can experience cutting edge Finnish contemporary architecture alongside a very traditional Finnish wellness experience when you stay in one of the spectacular design villas at Anttolanhovi in the Lake Saimaa region. The villas are built to blend in with the surrounding nature and have large windows to let in the midnight sun and lake views. Finish your day with a stint in the resort's smoke sauna—a chimney-less sauna where the wallls are black with soot (trust us – it's heaven!) that's located on a beach fronting the lake. Bask in the heat and steam of the sauna and enjoy the relaxing effects, then shock your body with a cold plunge in the lake, a few steps away.
PLAN YOUR TRIP: Fodor's Finland Guide
Jaako Posti
Arrive by Steamship to Hotelli Punkaharju
WHERE: Punkaharju
Perched high on the banks of Lake Saimaa, Hotelli Punkaharju operates two of the world's oldest steamships that date to the early 20th century. You can step aboard the boats in the town of Savonlinna to reach the hotel on an especially scenic ride, and it's even possible to sleep onboard one of the boats where it docks at the hotel's jetty. Even if you're not spending the night in the luxury hotel here or one of the rustic lakefront cabins, it's worth visiting for an atmospheric lunch of the local specialty— a lake fish called vendace—while soaking in the sublime forest and lake views.
PLAN YOUR TRIP: Fodor's Finland Guide
Visit Finland
Listen to Opera Inside a Medieval Castle
WHERE: Savonlinna
Operas by Verdi, Mozart, and Tchaikovsky take the stage in one of the world's most spectacular settings to experience a live performance during the 2017 Savonlinna Opera Festival. The venue is the three-towered Olavinlinna castle, built in 1475 and located on an island in Lake Saimaa in the town of Savonlinna. The natural acoustics of the medieval stone castle are ideal for listening to operas. Even if you're a newbie to the genre, it makes for a once in a lifetime listening experience.
PLAN YOUR TRIP: Fodor's Finland Guide
Jussi Hellsten
WHERE: Helsinki
Flow Festival is one of Europe's best loved festivals among the creative set and always dishes up a good range of musical legends and indie up-and-comers. Set in the industrial chic setting of a historic power plant, the festival gives rise to all manner of ancillary cultural and foodie events around Helsinki, too. And with the summer days still long and lovely, it's one of the best moments of the year to be soaking up the city's atmosphere.
PLAN YOUR TRIP: Fodor's Finland Guide