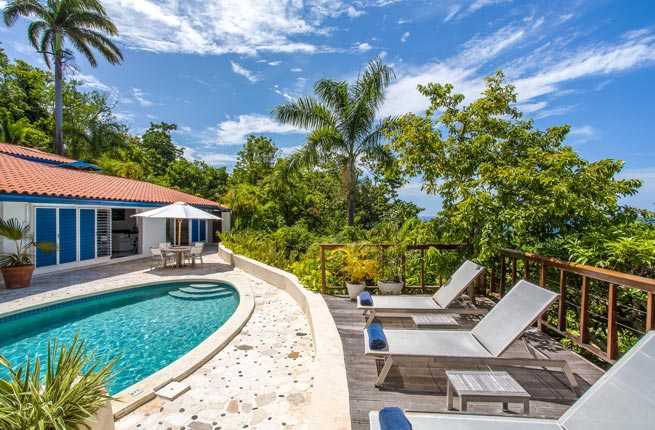 Courtesy of Geejam Hotel
For all the gated-in mass resorts lining its northern shores (after all, this is the country that gave birth to the all-inclusive concept), Jamaica remains one of the Caribbean's most appealing and accessible locales. From Montego Bay and Ocho Rios to Negril, scores of new and newly-renovated hotels opened their doors in 2015 and are on the docket for 2016 and beyond. Tourism is booming, but despite the crowds at the island's most popular locales, authentic experiences still await visitors from coast to coast. Read on for 10 great reasons to go to Jamaica now. —Terry Ward
Courtesy of Sandals Resorts
Sandals Negril
Honeymooners have long honed in on this luxury all-inclusive resort for couples on Negril's beautiful Seven Mile Beach, where Hobie Cats, scuba diving and snorkeling tours are all included in your rate. And with the recent renovations to 72 rooms here (out of a total of 226), there's even more to like. Most impressive are the property's new Sunset Loft Suites. The two-story accommodations just steps from the water's edge are sleek and stylish, with a floating staircase, solid mahogany furnishings, and an outdoor soaking tub that your butler will prep for the two of you.
Insider's Tip: Guests at Sandals can also enjoy the facilities at Beaches Negril, a short drive (or long walk) down the beach), for no extra charge. It's worth detouring to Beaches for an excellent sushi dinner at Soy restaurant.
PLAN YOUR TRIP: Visit Fodor's Jamaica Guide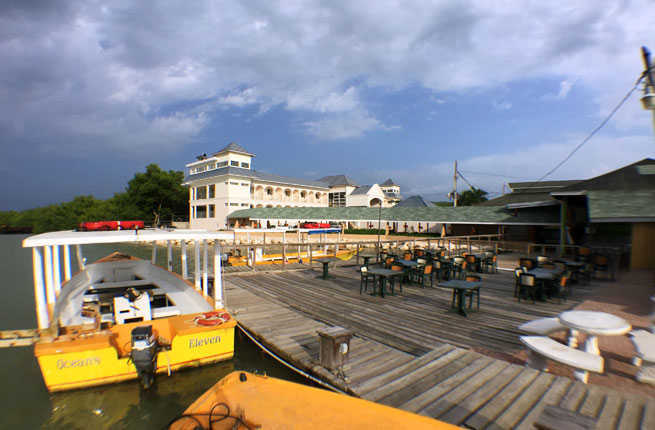 Courtesy of Glistening Waters Luminous Lagoon
Glistening Waters Luminous Lagoon
Even if you've already witnessed water aglow with the phenomenon of bioluminescence, we're willing to bet you've never seen the effect quite as intensely as it presents itself in this bay near Falmouth. Tours happen after dark, when a five-minute boat trip from an old-school marina delivers you into a different world entirely. The presence of tiny marine organisms called dinoflagellates in the water here cause any movements made by you, a boat's motor or passing fish to produce an electric shade of lime green. And when you jump off the boat for a swim in the shallow water, you and your friends will light up like Tinkerbell. Trust us, you haven't really seen bioluminescence until you've dived in here.
Insider Tip: The unassuming little restaurant at the marina serves excellent seafood prepared to traditional Jamaican recipes. Whole fish with brown sauce is particularly tasty.
PLAN YOUR TRIP: Visit Fodor's Jamaica Guide
Courtesy of Your Jamaican Tour Guide
Jamaican Tasting Tours
Native son Alrick Allen makes it his mission to introduce intrepid visitors to the true taste of Jamaica during private tours to some of the more local eating establishments around Montego Bay. He might take you to a Rasta cook shop to try vegetarian specialties like ackee and callaloo, or bring you to a Jamaican patty shop to sample the favorite local fast food. There are stops at local fruit stands to try pineapple, mango or whatever else happens to be in season. And a highlight comes when you greet local fishermen on the beach as they bring in the day's catch—a rainbow array of parrot fish, snapper, baby barracuda and more—then head to a nearby restaurant for a seafood feast.
Insider's Tip: For more excellent seafood that's not on Alrick's tour, set your sights on an oceanfront meal at Far Out Fish Hut, near Falmouth on the North Coast Highway (no website). Start with some fish soup or grilled conch, then point to the lobster of your liking for a king's grilled meal at a pauper's price.
PLAN YOUR TRIP: Visit Fodor's Jamaica Guide
Michael Condran
Rockhouse
This beautiful hotel on the cliffs in Negril's west end is a perennial contender for the Caribbean's best boutique property. And now there's even more incentive to settle in for a stay—or at least a spa treatment—at Rockhouse. The Holistic Bath House that opened in 2015 in the hotel's award-winning spa is perhaps the most sublime setting in all of the West Indies for an open-air tub soak. Island herbs and spices are employed in the treatments—turmeric as an anti-inflammatory agent, for example, and Jamaican mint in a green energy blend. And you'll soak alone or with a partner (there are two deep soaking tubs) in the privacy of a beautiful wooden villa that's open to the Caribbean breezes and views.
Insider's Tip: The Rockhouse has several restaurants on-site, but ask the concierge to book you a taxi to visit Just Natural, a hideaway vegetarian and seafood restaurant set amongst illuminated gardens at night.
PLAN YOUR TRIP: Visit Fodor's Jamaica Guide
Courtesy of The Cliff, Jamaica
The Cliff Hotel
Negril's newest hotel opened in December of 2015 on the far cliffs of Negril's west end, a short stroll from the lighthouse. The property has standard hotel suites with spacious balconies and marble bathrooms as well as entire four and five-bedroom private villas for hosting a crowd (the property is adults only, so kids must be 13 or older). The sunset views from the natural rock pool carved into the cliffs are the best in all of Negril. And even if you aren't bedding down here, you can still book a table at the new Zest Restaurant, helmed by celebrated Miami chef, Cindy Hutson. Sunset cocktails at the oceanfront Cliff Bar are always a fine idea, too.
Insider's Tip: For a delicious dinner off property, The Cliff's managing director likes to point guests to the Hungry Lion, known for great seafood and vegetarian fare.
PLAN YOUR TRIP: Visit Fodor's Jamaica Guide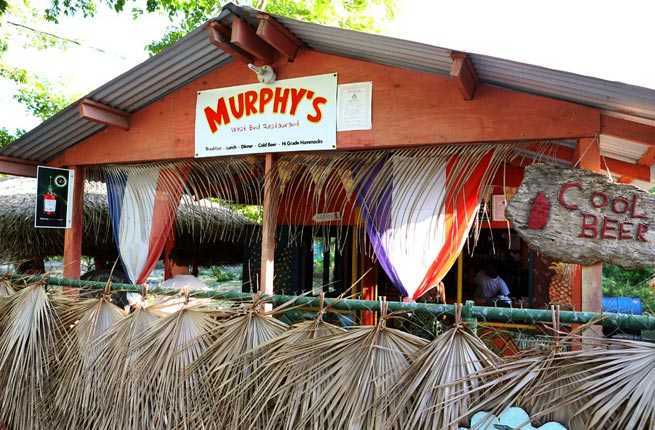 Joe Haas
Murphy's West End Restaurant
Spend any time on the West End in Negril and someone will point you to this colorful wooden-shack restaurant right along West End Road. What the restaurant lacks in sea views (there are none) it more than makes up for in delicious aromas emanating from the open-air kitchen. And chef Murphy is as much a whiz with taste as he is with presentation. Entrees like fresh fish in garlic sauce, ackee and saltfish, rice and peas with fresh grated coconut and jerk are all garnished with beautifully carved fruit and vegetables—and most to the tune of less than $5 a dish.
Insider's Tip: You'll find jerk chicken all over Jamaica, so pass on that here and opt instead for the "devil's chicken"—fall-off-the-bone-delicious meat cooked with a blend of sweet and savory Jamaican spices.
PLAN YOUR TRIP: Visit Fodor's Jamaica Guide
Courtesy of Half Moon Resort
Half Moon Resort
Everyone from Eddie Murphy and Jacqueline Kennedy Onassis to Her Royal Highness Queen Elizabeth herself have stayed at this most venerable of vintage Caribbean resorts in Montego Bay. Toss all the ideas you have of over-crowded all-inclusive resorts out the window when you check in to Half Moon, A RockResort. With a collection of stark white villas and cottages lining two adjoining coves fronting the sparkling Caribbean sea—and with perfectly manicured palms and lawns everywhere in between—the property breathes exclusivity and gentility. Horseback riding, polo lessons and the chance to swim with dolphins in a natural lagoon onsite are a few of the ways you can keep busy away from the beach and pools.
Insider's Tip: Half Moon's new restaurant is the first establishment to serve Wagyu beef on the island.
PLAN YOUR TRIP: Visit Fodor's Jamaica Guide
Courtesy of AMResorts
Sunscape Splash Montego Bay
One of Jamaica's most family-friendly all-inclusive resorts opened in Dec. 2015 in Montego Bay. And opening deals on rooms are expected to extend into the summer months at Sunscape Splash Montego Bay. A pirate ship-themed water park with two waterslides and a lazy river will be your kids' gathering ground when they're not on the beach or taking part in fun activities like dance or patois (Jamaican dialect) lessons. The Explorer's Club, for kids ages 3–12, gives adults a break with included child care and activities from 8am to 9pm.
Insider's Tip: The airport in Montego Bay can be a very busy place. For fast-track privileges through immigration and customs at the Montego Bay airport, book a pass with Club Mobay to be greeted on arrival or escorted through departure procedures.
PLAN YOUR TRIP: Visit Fodor's Jamaica Guide
Courtesy of Jamaica Tourist Board
Rockland Bird Sanctuary
A short drive from Montego Bay near the town of Anchovy in St. James Parish, a quiet bird sanctuary where you can beckon hummingbirds hither awaits. The home on the property here once belonged to Jamaican environmentalist Lisa Salmon, who began feeding the birds back in 1952. Today, caretakers show you how to hold a tiny bottle of sugar water just so to lure hummingbirds in close for a sweet feed. If you're lucky, Jamaica's national bird, the Doctor Bird, might even show up. It's an emerald breasted beauty with a long tail that's among the most spectacular or winged Caribbean things.
Insider's Tip: Early morning or late afternoon is the best time to visit, as birds, like people, prefer to lay low during the heat of the day.
PLAN YOUR TRIP: Visit Fodor's Jamaica Guide
Courtesy of Geejam Hotel
Geejam Hotel
If Montego Bay attracts the masses, then Port Antonio, on Jamaica's lush northeast side, is where in-the-know travelers go to escape that scene. With just a handful of cabins, suites and villas set on 46 lush acres in the foothills of the John Crow and Blue Mountains, this boutique property feels like the kind of place a rock star would stay (and indeed they have, thanks to the on-site recording studio). The Caribbean Sea is at Geejam's doorstep, and you're close to Port Antonio's revered watering holes at Frenchman's Cove and Blue Lagoon, too. Perched overlooking the forest and water here is Bushbar, one of Jamaica's most unique restaurants, where the island's flavors get an Asian infusion to a most magical effect.
Insider's Tip: Plan at least one meal off-property at the restaurant called Soldier Camp (the hotel's concierge can arrange your transport), where the ex-US-Army owner proffers dishes such as crawfish and curry goat.
PLAN YOUR TRIP: Visit Fodor's Jamaica Guide