Kenneth Theysen | Timeless-Pixx
It's an outdated notion that Aruba offers only generic resort restaurants and classic American-style fare for diners. The innovative culinary scene is thriving, and with inspiration from over 90 cultures, chefs are constantly finding new ways to push the boundaries on creative cuisine.—Susan Campbell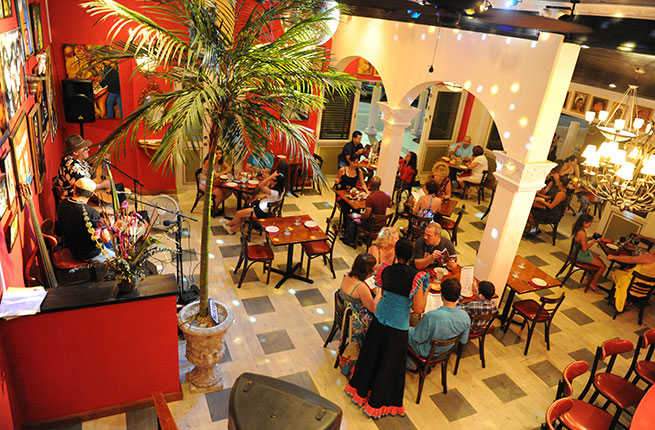 Cuba's Cookin
It seems as if everything Cuba is cool these days, but Aruba has had close ties with "The Big Island" for decades. In downtimes many Aruban men went there for work and came back with Cuban wives! Now authentic Old Havana fare can be found at Cuba's Cookin' in Oranjestad. It's a lively indoor/outdoor eatery with live Latin music and Cuban favorites like monfongo and ropa vieja. Though the translated name is rather unappetizing—it means old clothes—the braised skirt steak in sofrito sauce is melt-in-your mouth delicious. They also boast the most authentic mojitos on Aruba.
PLAN YOUR TRIP: Visit Fodor's Aruba Guide
Kitchen Table By White
Buoyed by rave reviews of his flagship restaurant, White Modern Cuisine, Chef Irvin Croes decided he wanted to create his avant-garde fusion fare for guests in a more intimate venue. Enter The Kitchen Table by White where Croes displays his true culinary artistry and passion for molecular gastronomy from an open kitchen. The set menu changes with the seasons–typically five-courses paired with wine. It's always a great foodie adventure. Deconstructed ayacas and lionfish ceviche anyone? Reservations mandatory. Located at the Blue Residences.
PLAN YOUR TRIP: Visit Fodor's Aruba Guide
Kenneth Theysen | Timeless-Pixx
One of coolest ways to dine on Aruba is in a canopied bed at Screaming Eagle. Eating between the sheets in public is quite the trip; mind you having Crepes Suzettes flambéed so close to the covers can be risky! But cool as that sounds, the novelty there shouldn't overshadow the high quality of fare. Opt for Chef Erwin's bi-weekly specials with seasonal ingredients like white asparagus from the Netherlands. Plus, they have seriously creative handcrafted cocktails and one of the best wine lists on the island— much of it available by the glass. They also have regular tables.
PLAN YOUR TRIP: Visit Fodor's Aruba Guide
Steve Keith
Executive Chef Matt Boland has taken over the menu at the landmark glassed-in dome overlooking Divi Aruba's golf course Windows on Aruba. Classics like chateaubriand, steak, shrimp, and lobster are still on offer, but the new dishes reflect fusion trends. How about duck breast aux fruits rouge with cranberry, merlot, pomegranate chutney, and couscous; or sea bass with miso tamarind vodka glazed soy soba noodles and local baby bok choy? Both signal an inclination toward lighter and healthier. Though the new direction will reflect more seasonal, locally-sourced, and organic ingredients, they still do decadent well—the molten chocolate lava cake is worth the guilt!
PLAN YOUR TRIP: Visit Fodor's Aruba Guide
Papamiento
Founded in 1983 by Eduardo and Lenie Ellis, Papiamento is a legendary family run landmark named after the island's local language., It's one of the best spots to try Aruba's most famous dish, Keshi Yena, a Gouda cheese and meat casserole. Dine poolside in a tropical garden or inside their restored century-old country house—a mini museum in its own right. Second generation chef Edwards Ellis makes a mean bouillabaisse using locally sourced ingredients, and daughter Annelotte is an award-winning pastry chef. Creative daily specials nod to classic island fare and their on-site wine cellar is impressive.
PLAN YOUR TRIP: Visit Fodor's Aruba Guide
Bucuti & Tara Beach Resort
Bucuti & Tara Beach Resort is probably the most highly awarded hotel in the Caribbean for its green practices, so it's no surprise that their seaside dining room Elements follows suit in offering healthy, organic, locally-sourced specialties. It's also a smart choice for gourmet gluten-free, vegetarian, and vegan offerings. You'll find dishes like sautéed quinoa with vegetables stuffed in a pineapple flamed with Caribbean rum alongside surprises like North Atlantic swordfish with Himalayan pink salt and virgin pumpkin oil. They have an extensive salad bar as well. The restaurant is adults-only, cashless, and reservations are recommended.
PLAN YOUR TRIP: Visit Fodor's Aruba Guide
Loyal fans of chef Patrick Van der Donk's exquisite French inspired fusion fare were sad to hear he moved from his enclave on the main strip to just outside of Oranjestad. But they are ecstatic with the gorgeous new surfside location that accommodates many more diners and offers spectacular sunsets. He and his sommelier wife have built a stellar reputation for consistently delighting diners with their daily surprise three- and five-course Carte Blanche menus paired with wine. And their classics (like crispy panko breaded veal sweet bread with saffron sauce) are well worth the extra drive!
PLAN YOUR TRIP: Visit Fodor's Aruba Guide
Quinta del Carmen
Set in a beautifully restored 100-year-old mansion with a magnificent courtyard in Noord, Quinta del Carmen's theme is "Monumental Courtyard Dining" (on Aruba, a historic building is called a monument). The interior alone is worth a visit for its antique/art decor and bespoke bar, but it's the food that draws diners eager to enjoy upscale Dutch comfort fare like Grandma's Favorites of Sucade Lappen (an ironsteak stew in red wine and herbs) or whimsical desserts like stroopwaffle parfaits. Surprises like herb crusted Canadian salmon and Asian tuna join fresh seafood and classic meat mains too.
PLAN YOUR TRIP: Visit Fodor's Aruba Guide
Aruba Tourism Authority
Any self-respecting foodie seeks the most authentic local fare possible, and you can't get any more real Aruban than Zeerovers in Saventa. The process is simple. Boat. Net. Cook. Plate. Any fresher and it would still be flopping! In fact, this is where top restaurants buy their catch-of-the-day. Choices are easy: grilled or fried fish or jumbo shrimp (or both), served with typical sides of pan bati (flatbread), funchi (like polenta), and fried plantains. Douse it in local papaya hot sauce and wash it down with a cold locally made Balashi beer. Fun fact: "zeerovers" means "pirates".
PLAN YOUR TRIP: Visit Fodor's Aruba Guide
Barefoot Aruba
"Elegant dining in flip-flops" is the motto at Barefoot, and they really want you barefoot with toes in the sand. Even the inside palapa dining room has sand on the floor. But this is no casual beach bar. Sommelier Luc and Chef Gerco are a celebrated island duo who work in perfect harmony to create signature experiences for their guests. Specialties include lobster cappuccino bisque, tenderloin and truffles, and grouper with mango cream cheese and mango sauce. Request a table as close to the surf as possible for a serenade from lapping waves.
PLAN YOUR TRIP: Visit Fodor's Aruba Guide
The Old Man And The Sea
Savaneta's The Old Man and the Sea is as visually exhilarating as it is satisfying for the palette due to the artist-owner's eye for decor. Snag the overwater bungalow for private dining and see Aruba's first over-water bungalow rentals on site there, too. Their specialty thin crust artisan "stuffed cheese" pizza is topped with Aruba's most famous local specialty "keshi yena", but their main claim to fame is the giant lobster fresh from their own wharf. Indoor, and on-the-sand tiki-torch lit dining both available. Reservations mandatory.
PLAN YOUR TRIP: Visit Fodor's Aruba Guide