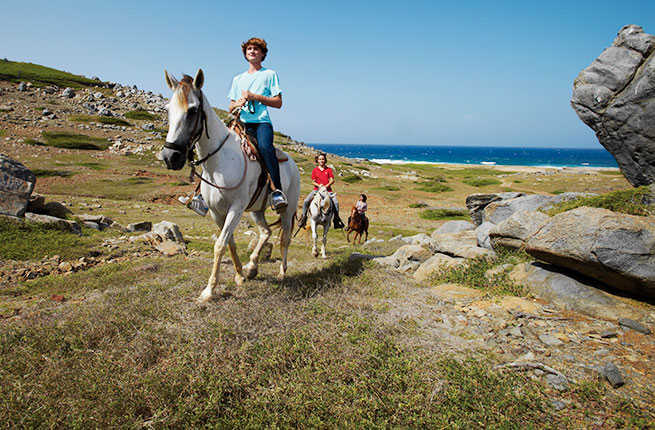 Aruba Tourism Authority
They don't call it "One Happy Island" for nothing, and that's especially true for families. Aruba has miles of shallow, soft sand beaches perfect for all kinds of water activities geared toward all ages. But beyond the beach, there are also lots of great family-friendly things to do.
DePalm Island
Pack up the family for a day of water fun at De Palm's private island just offshore. Adults will love the all-day buffet, open bar, small spa, and great beach while the kids will delight in a giant multi-adventure water park. And all ages are sure to enjoy snorkeling with giant blue parrotfish in a protected bay, or trying Snuba–deep snorkeling tethered to an oxygen raft–or power snorkeling with a propeller. They also offer Seatrek, an ocean floor walk in an air helmet. There are aerial adventures, too, via air jumpers and zip lines over the park!
PLAN YOUR TRIP: Visit Fodor's Aruba Guide
Ben Champoux
The Aruba Butterfly Farm, just off Palm Beach in a lush tropical garden, is an unforgettable outing for all ages. Witness over 200 species of butterflies and moths flying freely about in a meshed-in enclosure where you can interact with them and watch them feed. Go early morning, when the enchanting winged wonders are most active and you're likely to see a butterfly emerge from its cocoon. Your kids will love the turtle pond, too. Also, go early in your stay because first-time admission is good for repeat visits all week. Informative guided tours are included.
PLAN YOUR TRIP: Visit Fodor's Aruba Guide
Aruba Tourism Authority
Once cars replaced donkeys as the prime mode of transportation on the island, donkeys were basically left to survive on their own. But as traffic grows and manmade perils increase, donkeys need help, especially when they get sick, injured, or give birth. That's where the nonprofit Donkey Sanctuary Aruba comes in. Visitors are always welcome to visit—bring treats like apples and carrots if you really want to make fast friends—and children will adore getting to know these funny, friendly creatures. Donations are always welcome, and you can adopt a donkey as well.
PLAN YOUR TRIP: Visit Fodor's Aruba Guide
Philip's Animal Garden
Don't let the name "garden" fool you; this is a sprawling ranch habitat for rescued animals. Large enclosures give the animals room to roam, and there's a large playground and a place to have a picnic lunch to make it a full day out. Philip's Animal Garden is a nonprofit foundation, so admission goes to upkeep, food, and vet bills, but also includes healthy snacks for the residents. Your children will delight in feeding them and making new friends with animals like camels, ocelots, monkeys, deer, and even a kangaroo!
PLAN YOUR TRIP: Visit Fodor's Aruba Guide
Aruba Tourism Authority
The Spaniards introduced their favorite steeds to Aruba, they're called Paso Finos, which means "fine step," and riding them is as comfortable as sitting in an easy chair—even at a trot! There are horseback riding tours for all skill levels and special rides for children as well. It's a great way to reach natural spots inaccessible by car. There are four horse ranches, each with their own appeal, and some also offer private tours. Some best bet rides are to the natural pool, the old gold mine ruins, Arikok National Park, and scenic wild beaches like Boca Prins.
PLAN YOUR TRIP: Visit Fodor's Aruba Guide
DePalm Tours
Atlantis Submarines has consistently been voted one of Aruba's best adventures, and it's easy to see why. It's not every day you get to dive 130 feet below without even knowing how to swim! It's a wonderful way to introduce all ages to Aruba's resplendent coral reefs and colorful tropical fish. Children will marvel through the glass windows, and everyone will learn a lot about the important underwater ecosystem. Sometimes divers join alongside for fun, and if you're lucky you might also see some sea turtles. (Children must be a minimum height of 36 inches and 4 years old to board.)
PLAN YOUR TRIP: Visit Fodor's Aruba Guide
Aruba Ostrich Farm
Aruba's arid interior is not so different from the African outback, which is probably why these big, flightless birds are quite at home. The Aruba Ostrich Farm has 80 some birds, including a few emus, and guided tours there take you from the egg to hatchling to juvenile right up to the adult bird with interactive adventures ideal for families. But the highlight is always the ostrich feed. Better hang on tight to your bowl though; these birds are seriously competitive when it comes to their eats! Tours every half hour. There is a restaurant on site as well.
PLAN YOUR TRIP: Visit Fodor's Aruba Guide
Aruba Tourism Authority
Not for small tots, but for families with children old enough to snorkel in the sea, there are wonderful marine adventures in calm, clear waters full of tropical fish accessible from reputable tour operators aboard luxury catamarans and even from a pirate ship! They all do the same snorkel stops where the fish are most plentiful, but the coolest stop is where you can see an entire shipwreck just below the surface: the Antilla, a sunken German freighter almost intact. All sail and snorkel tours include drinks and food, and safety in the water is their utmost priority.
PLAN YOUR TRIP: Visit Fodor's Aruba Guide
Casbari Cafe
These odd rock formations on Aruba puzzle geologists as they crop up out of nowhere, and that type of rock isn't found anywhere else on the island. There are some at Ayo, but the formations at Casabari are the most accessible, with manmade stairs and railings. Children and adults will love climbing about this natural jungle gym that resembles Bedrock from The Flintstones and provides great photo opportunities when you reach the top. Across the road, a delicious meal awaits at the equally offbeat Casabari Café that serves great grilled fare; they also have a swingset to keep the kids occupied.
PLAN YOUR TRIP: Visit Fodor's Aruba Guide
Dudau | Dreamstime.com
Palm beach Plaza Dreambowl
Aruba has very little rain, but it does happen, and there are also days when you need a break from the tropical sun. So when you do, head to the modern, multistory Palm Beach Plaza with your kids for an indoor day of air-conditioned fun. Take in a first-run flick at their modern cinemas, let your kids enjoy a video arcade, and the whole family will enjoy some glow-in-the dark bowling on the entertainment level. After dark, head to the Paseo Herencia outdoor courtyard next door for the nightly waltzing waters show of water fountains and lights put to music.
PLAN YOUR TRIP: Visit Fodor's Aruba Guide