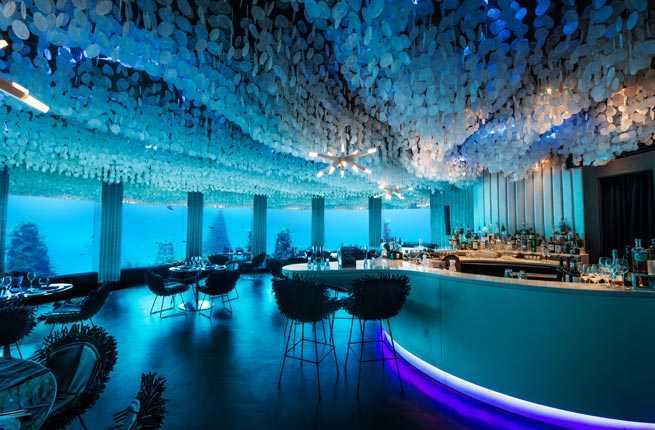 Courtesy of Subsix
The next time you're looking for a good place to grab a drink, skip the standard spots and instead make your way to one of these unique bars. Located all across the world, these spots not only serve up alcohol and bar food, but they give you an entire themed experience. From weirder concepts, such as alien and horror homages, to strange locations, like underwater or in a tree, these 9 bars are sure to spice up your next outing and spark plenty of conversation.
By Annie Bruce
Courtesy of Alux Caverna, Restaurant, Bar, and Lounge
Alux Caverna, Restaurant, Bar, and Lounge
WHERE: Quintana Roo, Mexico
Filled with stalactites and stalagmites, this nature-made underground cavern is home to a restaurant and bar that can accommodate more than 300 people. With tables and lounge seats, Alux Caverna is primarily lit with candles, giving visitors a cozy vibe as they descend down the steps into the cave, which dates back more than 10,000 years. The Bar & Lounge space is located in the second biggest vault in the cave and often features DJs, bands, theater performances, and more in the underground setting. The Alux Restaurant, which serves Pre-Hispanic, Mexican, and International foods, fits into the largest vault of the cave and just above it sits another dining area surrounding a limestone creation, called a cenote.
PLAN YOUR TRIP: Visit Fodor's Riviera Maya Travel Guide
Andy Davies/Giger Bar
WHERE: Chur, Switzerland
Modeled after his other-worldly designs in Alien, Swiss artist H.R. Giger opened this biomechanical themed bar in 1992. Despite skeletal arches that loom over guests and equally eerie chair designs, the bar serves up a pretty standard menu to go along with the spooky décor. There's currently a second location in Gruyeres, as part of the Museum H.R. Giger, but if you can't make it over to Switzlerand to experience it yourself, don't worry. There are plans in the works to bring a Giger Bar to the U.S., with no official location announced yet.
PLAN YOUR TRIP: Visit Fodors Graubünden Travel Guide
Courtesy of Subsix
WHERE: Maldives
Subsix, the world's first underwater nightclub, opened in October 2012 off the coast of the Maldives and sits 20 feet (or six meters, hence the name) beneath the Indian Ocean. Floor-to-ceiling windows make it possible for visitors to view manta rays and fish swimming by, while they sip Pimm & Proper or Strawberry Balsamic Caipirinha cocktails, two of many selections from the drink menu. In order to protect coral reefs and other ocean creatures, Subsix was built above ground and then lowered into the water about a third of a mile from the coast, meaning guests take a boat to get to the bar. And if you're looking for a break from the underwater scene, you can head to Edge, an open-air restaurant that sits above Subsix on the water.
PLAN YOUR TRIP: Visit Fodor's Maldives Travel Guide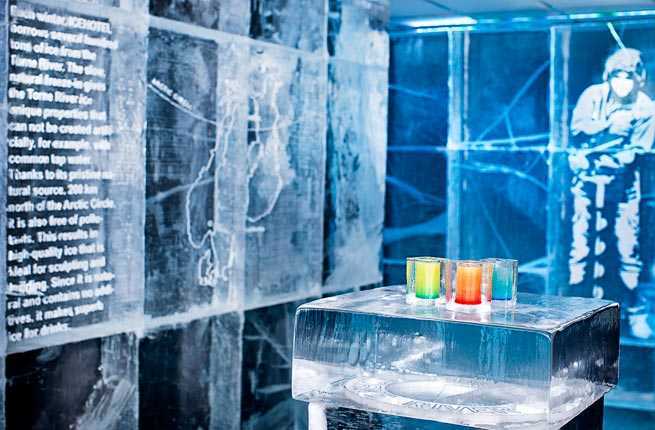 Paulina Holmgren
WHERE: Stockholm, Sweden
While many similarly themed bars have popped up at spots across the globe, this was the world's first permanent ice bar when it was built in 2002. As part of the ICEHOTEL, visitors eager to experience the ICEBAR bundle up in jackets, with a cape and gloves provided by the company, and brave the negative five-degree temperatures. Here, everything is made of ice, from the decorations, to the drink glasses, to the carved tables and seats. The bar's entrance fee includes the 40-minute ICEBAR experience and your first drink. Ice used to create the bar is brought in from the Torne River and replaced each year, creating a fresh new design for your next visit.
PLAN YOUR TRIP: Visit Fodor's Stockholm Travel Guide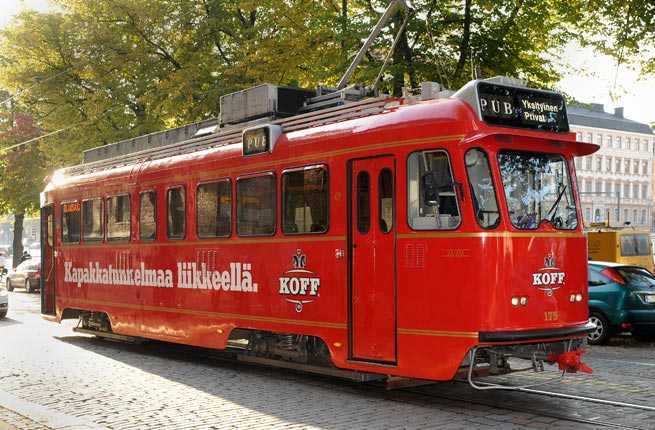 Courtesy of Sparakoff
WHERE: Helsinki, Finland
Enjoy a drink while you tour the city, on this tram that doubles as a bar. With a 35-person capacity, the bright red, 1950s-inspired car travels around Helsinki for 40 minutes while serving up beer, cider, and other beverages. You can book the tram for your own private touring experience or hop on at Railway Square on the hour from May through August.
PLAN YOUR TRIP: Visit Fodor's Helsinki Travel Guide
www.fullhouse.co.za
WHERE: Limpopo Province, South Africa
Housed in a naturally hollow 6,000-year old Sunland Baobab tree, this bar has drawn visitors since it opened in 1933. While only about 15 people can fit inside at once (although rumor has it 54 people once squeezed into the space), there's room for stools, countertops, and a cellar to keep alcohol chilled. The bar's ceiling reaches 13 feet in height, while the entire tree spans close to 75 feet in height and about 108 feet in circumference.
PLAN YOUR TRIP: Visit Fodor's South Africa Travel Guide
Courtesy of Palacio de Sal Hotel
WHERE: Uyuni, Bolivia
If you're looking to add some extra salt to the rim of your margarita, you'll be all set at the Palacio de Sal bar, where everything is made of salt. Thanks to its proximity to the Uyuni salt mine, the bar is part of the world's first salt hotel, which features walls, beds, and tables all constructed from salt. At the bar, customers are discouraged from licking the walls.
PLAN YOUR TRIP: Visit Fodor's Bolivia Travel Guide
WHERE: Austin, Texas
It's Christmas all year long at this Austin-based bar. Lala's Little Nugget, or Lala's, is filled with sparkling lights, tinsel, garland, fake snow, Christmas trees, and many other festive decorations to accompany the 1970s bar design and jukebox. The holiday origins supposedly date back to 1972, when the bar's owner thought the establishment looked too boring without Christmas lights and decided to keep them up throughout the year, thus starting the Christmas-themed bar tradition. Visitors can enjoy drinks, interact with friendly locals, and listen to a mix of holiday music and old-time classics, like Frank Sinatra, during their visit.
PLAN YOUR TRIP: Visit Fodor's Austin Travel Guide
Courtesy of Madame Claude
WHERE: Berlin, Germany
You'll feel a little turned around in this Berlin-based spot, but not because of the drinks. Everything is upside down at this brothel-turned-bar, where tables, chairs, lamps, and other assorted pieces of furniture and decorations are stuck to the ceiling. Located in the city's Kreuzberg neighborhood, Madame Claude also features like live performances, music quiz nights, DJs, and plenty of ping-pong.
PLAN YOUR TRIP: Visit Fodor's Berlin Travel Guide