Courtesy of Perch LA
When it comes to outdoor drinking, can anything possibly beat a view from the top? With skyline vistas as delicious as the cocktails they serve, rooftop bars are ideal scenes for post-work happy hours and lazy weekends. Not surprisingly, more and more rooftop bars open every year, so we've done the hard part of choosing 15 of the best offerings around the country. In addition to open-air settings, these spots serve up small plates and drinks with distinct, regional flavors to complement exceptional views of the cities they call home. Whether you're looking to lounge poolside at a Beverly Hills hot spot or admire the twinkling lights of the Second City, there are plenty of reasons to raise your glass at one of these elevated oases.
by Emily Wasserman
Ivan Nava
WHERE: Miami
South Beach views and ultramodern décor keep guests coming back for more at Juvia, one of Miami's most popular rooftops. The restaurant and bar takes on the city's laidback, Art Deco vibe, and features a vertical garden designed by an internationally renowned botanist. The French-Asian fusion menu offers a wide variety of ceviches and light crudos, including salmon nashi with truffle oil.
PLAN YOUR TRIP: Visit Fodor's Miami Guide
Courtesy of Perch LA
WHERE: Los Angeles
At Perch, it would be easy to think you'd landed in the South of France if it weren't for the nearby skyscrapers. This 15th-floor bistro draws its inspiration from vintage French restaurants, with plush antique furniture, wicker chaises, and intricately carved fireplaces. Visitors can opt for indoor seating under sweeping 30-foot ceilings, or relax at a table at the bar's outdoor rooftop patio. On cooler evenings, guests can move up to the 16th floor to enjoy a drink around fire pits and live jazz music. Drinks take on a Parisian flair with cocktails like the "French Maid" with cognac, lemon, cucumber, and fresh mint.
PLAN YOUR TRIP: Visit Fodor's Los Angeles Guide
© Jorge Gera Photography
WHERE: Chicago
Perched on the fourth floor of Chicago's Godfrey Hotel is I|O Urban Roofscape, one of the city's most popular rooftop lounges. The 10,000-square-foot space features uninterrupted views of the city skyline, with indoor and outdoor areas, appropriate for the Windy City's notoriously unpredictable weather. Visitors can enjoy drinks in communal booths under a retractable roof, or kick back next to a two-level fire pit during the winter. The Roofscape's handmade cocktails put a modern spin on classic libations; standouts include the "Chef's Margarita" with Don Julio, Cointreau, and salt air foam; and the "Spiked Root Beer Float" with Courvoisier.
PLAN YOUR TRIP: Visit Fodor's Chicago Guide
Courtesy of The Skylark
WHERE: New York City
For a drinking experience that exudes Old World glamour, visit New York's The Skylark. Towering 30 stories above Gotham, the lounge features panoramic views of the Hudson River and Empire State Building and offers classic cocktails with fresh, seasonal ingredients. Specialty cocktails are crafted by an expert mixologist, and include the eponymous favorite "The Skylark" with Hendrick's gin and Blue Curacao.
PLAN YOUR TRIP: Visit Fodor's New York Guide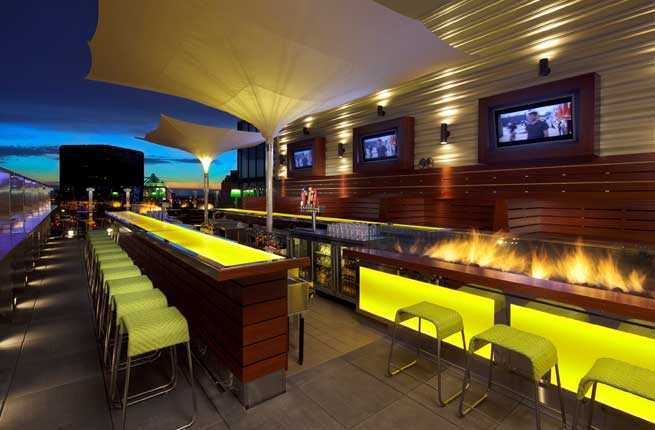 © Debbie Franke
WHERE: St. Louis
For unparalleled views of one of the Midwest's most iconic monuments, look no further than Three Sixty. Located atop the Hilton St. Louis at the Ballpark, the bar offers dramatic views of the Gateway Arch and a bird's-eye view of nearby Busch Stadium. In addition to wine, beer, and cocktails, visitors can enjoy handcrafted small plates like roasted BBQ oysters and house-smoked salmon chips. Don't miss the bar's Cardinals-themed infusions: the "#Worldseries 2014" mixes Salerno blood orange, Aperol, and Prosecco; and the "Yadier Mind" (named for the popular catcher) features Malibu Spiced rum infused with pineapple and banana.
PLAN YOUR TRIP: Visit Fodor's St. Louis Guide
Courtesy of Motif Seattle
Frolik Kitchen + Cocktails
WHERE: Seattle
Modern furnishings, seasonal cocktails, and expansive outdoor seating make Frolik Kitchen + Cocktails one of Seattle's most beloved destinations. Outdoor fireplaces and colorful modern seating give the venue a futuristic feel, and bright orange ping pong tables and shuffleboard courts add to the bar's whimsy. Indulge in one of the Pacific Northwest-inspired cocktails, which include the "Marionberry Smash," made with Mischief whiskey and fresh marionberry.
PLAN YOUR TRIP: Visit Fodor's Seattle Guide
Ryan Heffernan Photography
La Fonda's Bell Tower Bar
WHERE: Santa Fe
Watch the sun setting over the Jemez Mountains at Santa Fe's La Fonda's Bell Tower Bar. Located at the top of La Fonda on the Plaza hotel, the bar dishes out light fare with a Southwestern twist, and offers an extensive beverage menu with signature margaritas. Visitors who finish a bracing "Bell Ringer" margarita (Tanteo Jalapeno Tequila, jalapeno juice, and Patron Citronge) get to ring the bell.
PLAN YOUR TRIP: Visit Fodor's Santa Fe Guide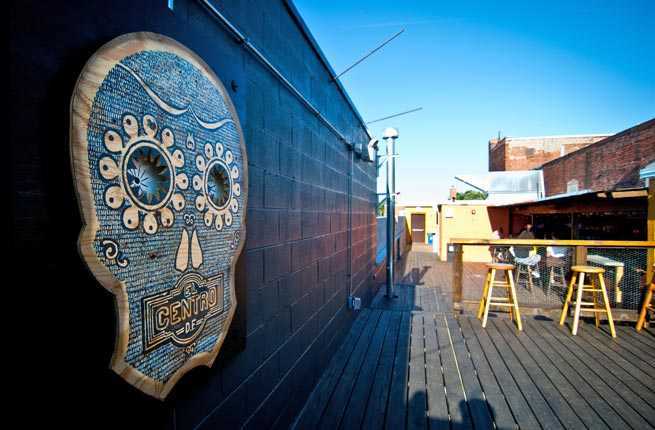 Courtesy of Bushel Photography
WHERE: Washington, D.C.
Mexican comfort food and a huge selection of tequilas keep visitors coming back for more at El Centro D.F. The D.C. hotspot features two spacious, open-air patios, and mixologists who carefully craft drinks from 200 varieties of tequilas and mezcals. Stop by during happy hour for deals on the bar's signature cocktails, including the "El Centro Margarita" made with pure agave tequila, agave nectar, and lime; and the "Tinta Roja" sangria.
PLAN YOUR TRIP: Visit Fodor's Washington, D.C. Guide
Courtesy of Six Feet Under
WHERE: Atlanta
Take in the Atlanta skyline from Six Feet Under, one of the city's most popular rooftop bars (there are two locations). Visitors can order beer by the glass or pitcher; popular pours include locally made Eventide Kolsch and German Spaten Lager. But Six Feet Under is no one-trick pony; guests can also sample themed cocktails like the "Georgia Mule" with Savannah 88 handcrafted bourbon, or enjoy the pub's extensive seafood menu; the fried calamari with spiced cornmeal and homemade horseradish-dill sauce is the perfect accompaniment.
PLAN YOUR TRIP: Visit Fodor's Atlanta Guide
Courtesy of NYLO DALLAS SOUTH SIDE
WHERE: Dallas
Set above the streets of downtown Dallas is SODA Bar, a modern rooftop hideaway with an unabashedly Southern vibe. Tucked away at the top of NYLO boutique hotel, the bar offers sweeping views of the city lights and a diverse drink menu. Pop open a bottle of Veuve Clicquot, or leisurely sip a "NYLORita" (PAMA liqueur, lemonade, cranberry, and 1800 Silver). For guests who bring an appetite, popular appetizers include the shrimp nachos with queso fresco.
PLAN YOUR TRIP: Visit Fodor's Dallas Guide
Courtesy of Linger
WHERE: Denver
Once a historic mortuary, Denver's Linger has since transformed into a vibrant restaurant serving vegan-friendly small plates and a wide selection of local brews. The whimsical "eatuary" makes the most of its location, offering stunning downtown views from its rooftop bar and a main dining space with a towering wall of windows. The drink menu emphasizes local and sustainable products, with Colorado draft beers and wines making a standout appearance. But the real show stoppers are the bar's house cocktails; sip on a "Ginger Collins," (vodka, ginger, and lemon juice, served over ice with a lemon wheel and cherry) or try "The Devil Inside," made with rye whiskey, ramazotti amaro, and served with a red wine float.
PLAN YOUR TRIP: Visit Fodor's Denver Guide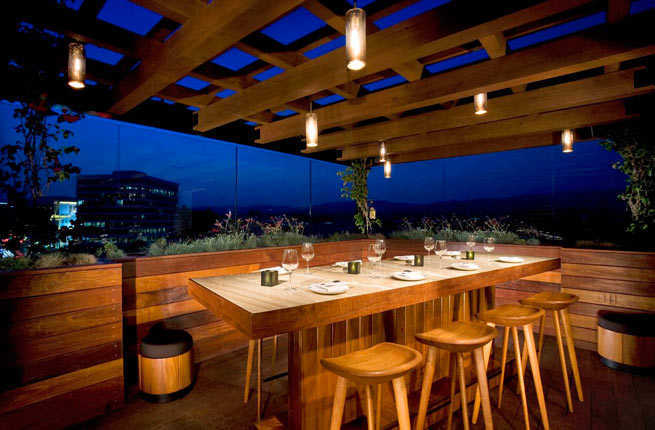 Courtesy of SIXTY Beverly Hills
WHERE: Beverly Hills
Chic ambiance and stunning views make ABH one of Beverly Hills' most sought-after drinking spots. Located in the city's upscale SIXTY hotel, the two-level rooftop space serves small bites, full meals, and specialty cocktails, and offers breathtaking views of the surrounding area. At night, the bar takes on a decidedly club-like atmosphere with fireplace lounges, DJ music, and dancing next to the crystal-encrusted pool.
PLAN YOUR TRIP: Visit Fodor's Beverly Hills Guide
Courtesy of Stars Restaurant
Stars Restaurant & Rooftop Bar
WHERE: Charleston
Step back in time at Stars Restaurant & Rooftop Bar. Housed in a restored Arts and Crafts building, the Charleston hot spot features upscale 1930s décor and a rooftop bar with a 360-degree view of the city's historic district. International wines, cocktails, and beers round out the menu, which includes an extensive list of cordials, bourbons, and whiskeys. Don't leave without trying the bar's original cocktails; the "Southern Belle Bathwater" puts an innovative spin on traditional Southern spiked lemonade.
PLAN YOUR TRIP: Visit Fodor's Charleston Guide
Jeremy Bitterman
WHERE: Portland
Set in the 15th floor penthouse above the Nines Hotel is Departure, a Pan-Asian restaurant and cocktail bar with an ultramodern vibe. Views of the city skyline and mountains are only half the bar's appeal, as the creative food and cocktails attract a near-cult following. Handcrafted drinks extend the venue's Asian flair, and popular picks include the "Tasho Macho" (Thai chili vodka and ginger beer) and the "Kato," made with Russell's Reserve bourbon and muddled lychee.
PLAN YOUR TRIP: Visit Fodor's Portland Guide
Kimpton's Hotel Palomar Phoenix
WHERE: Phoenix
As the only rooftop lounge in the downtown Phoenix area, Lustre Rooftop Garden doesn't disappoint. The bar features views of the city skyline and South Mountain, and serves up creative cocktails made from locally sourced ingredients. Visitors can lounge poolside with a drink, or reserve a cabana for a more secluded experience. Craft cocktails take on a Southwestern flavor; try the "Prickly Pear Fizz," with Ford's gin, prickly pear syrup, and lime.
PLAN YOUR TRIP: Visit Fodor's Phoenix Guide