mookielove
There are bars with unique clienteles all across the U.S., but some play host to some more interesting patrons than you'll find anywhere else: ghosts, spirits, and shades. With Halloween approaching, what better way to experience a haunting night than by being surrounded with spirits of the alcoholic and ghostly varieties? Here we've collected ten of our favorite and most colorful bars around the country that are reportedly haunted by some colorful characters. Pull up a bar stool, grab a drink, and try not break into a cold sweat as you imbibe with the dearly departed.—Clint Lanier and Derek Hembree
Clint Lanier and Derek Hembree
Lafitte's Blacksmith Shop
WHERE: New Orleans, Louisiana
The history of this centuries-old stone building is a bit vague, but legend says Lafitte's Blacksmith Shop was built sometime between 1761 and 1762, and that the blacksmithing was just a front to hide the illegal activities of pirate Jean Lafitte. The building, now an atmospheric piano bar, is lit only by candlelight. Numerous guests have spotted Jean Laffite himself lingering around the fireplace (where it's said he stashed his gold), sitting at a back table, or hanging around the women's restroom (he was a notorious womanizer). Guests have also reported seeing a distraught woman in period garb pacing towards the back of the building.
PLAN YOUR TRIP: Visit Fodor's New Orleans Guide
Clint Lanier and Derek Hembree
WHERE: Goodsprings, Nevada
About 35 minutes west of Las Vegas, out in the lonesome desert of Nevada, lies the abandoned mining town of Goodsprings. Booming in the early twentieth century, the town boasted a magnificent hotel, shops, apartments and, of course, a saloon. All that's really left now is Pioneer Saloon, which will transport you right back to its founding year of 1913. Inside, check out a cluster of three holes punched through the tin wall; these were made when a drunken miner, cheating at poker, lunged for the card dealer. The dealer responded with three gunshots that went through the man and the wall. Many strange events occur here, causing locals and visitors alike to assume the ghost of the miner is trapped here, maybe still playing cards at the back table.
PLAN YOUR TRIP: Visit Fodor's Las Vegas Guide
Clint Lanier and Derek Hembree
WHERE: New York, New York
One of New York City's oldest bars, the Ear Inn has been serving drinks since the early nineteenth century. Because of its location next to the Hudson River, the inn was frequented by sailors, merchants, pirates, and many of the city's undesirables. The building was also reportedly used as a brothel during the nineteenth and early twentieth centuries, when it was also a speakeasy. Given its lurid history, many modern-day patrons have seen the spirits of the Ear Inn's past customers. Most often seen is the ghost of a sailor named Mickey, who boarded here in years past and was killed out front. If you visit, try to get a tour of the upstairs of the building: The place is truly creepy and the experience will have your hair standing on end.
PLAN YOUR TRIP: Visit Fodor's New York City Guide
Clint Lanier and Derek Hembree
WHERE: San Antonio, Texas
The Menger Bar, opened in 1859 inside the Menger Hotel, is one of the oldest bars in the United States. When it opened, San Antonio was home to gun fights, Civil War soldiers, cattle rustlers, and notorious outlaws. With all of this juicy history, ghosts are practically a given. In fact, the Menger Hotel is often called the "most haunted hotel in Texas." There are said to be thirty-two different entities roaming the bar, hotel, and restaurant. Some of them, like the ghost of Teddy Roosevelt (who recruited troops from the bar for his Rough Riders during the Spanish-American War), are said to be good-natured and friendly. Others, like a buckskin-wearing apparition frequently spotted around the hotel, are a bit less congenial.
PLAN YOUR TRIP: Visit Fodor's San Antonio Guide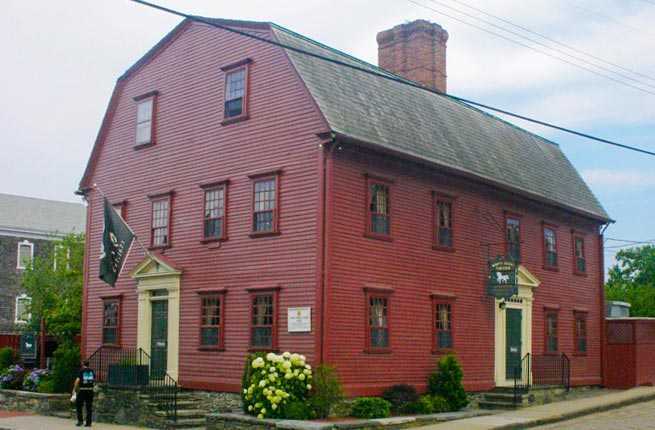 Clint Lanier and Derek Hembree
WHERE: Newport, Rhode Island
The oldest bar in the United States, of course, has some ghost stories to tell. The Whitehorse Tavern was opened in the Rhode Island Colony in 1673, making it the oldest bar in the country (though it had other roles, like a boarding house in the early twentieth century, and British military quarters during the Revolutionary War). Walking alone in the building feels a bit creepy, especially when one knows at any time they might see one of the spirits wandering around. One of the ghosts is an elderly gentleman who died while renting a room upstairs in the early years of the Whitehorse. He was never identified, but has certainly been seen by a number of people. Another is a small girl, often heard crying on the second level near the restrooms.
PLAN YOUR TRIP: Visit Fodor's Newport County Guide
Clint Lanier and Derek Hembree
WHERE: Chicago, Illinois
Located in Chicago's Andersonville neighborhood this cafe, turned speakeasy, turned legitimate bar, has quite a few ghost stories to share. From cold drafts, noises, apparitions, and voices, Simon's Tavern (520 N. Clark Street; 773/878-0894) has it all, including a love triangle complete with shunned lovers, a horrible car accident, and an expensive and extensive family cover-up. Stop by the bar, ask for Scott and request the nickel tour, then watch and listen as he tells you about the bar's haunted happenings—guaranteed to be a chilling experience. Finish it off with a few drinks at the bar and if you're lucky, a ghost or two may join you.
PLAN YOUR TRIP: Visit Fodor's Chicago Guide
WHERE: New York, New York
Opened in 1794 as a grocery and porterhouse, the Bridge Café is one of New York City's oldest bars. Throughout its colorful past it has been a pirate haven, brothel, and speakeasy, and today's paranormal activity reflects its notorious history. From random footsteps on the second floor, unexplained scents of lavender (the perfume of eighteenth- and nineteenth-century prostitutes), malfunctioning electronics, and unexplained late-night parties, the Bridge Café is sure to please those in search of paranormal activity. For a special treat, stop by when manager and owner Adam Weprin is working, order an Old Fashioned, and ask him about his personal experiences with the resident ghosts—he wasn't a believer when he started working there, but he is now (and you may be, too, when you leave).
PLAN YOUR TRIP: Visit Fodor's New York City Guide
WHERE: Austin, Texas
During Prohibition, this Austin favorite was a grocery store by day and upscale bar, casino, and brothel by night—and some of the patrons refuse to leave. Numerous staff members and visitors at The Tavern report having seen a young lady dressed in early-twentieth-century garb, accompanied by her daughter while wandering the halls or looking out windows. The ghosts are thought to be Emily, a former prostitute, and her young daughter, who were supposedly killed accidentally during a fight between patrons. Emily's spirit also has a habit of changing channels randomly on TVs, making telephone calls from the manager's office when no one is there, and slamming dishes in the empty kitchen.
PLAN YOUR TRIP: Visit Fodor's Austin Guide
Tiger's Tap Room (Hotel Congress)
WHERE: Tucson, Arizona
Phone calls from empty rooms requesting room service, bodiless voices excusing themselves or blessing you after a sneeze, and apparitions appearing in the hallways and windows will surely spook anyone who visits. Originally opened in 1919, the Hotel Congress and Tiger's Tap Room have played host to some of history's most nefarious characters: John Dillinger's gang stayed here, and Wyatt Earp shot and killed Frank Stilwell right across the street. But to really experience the hotel's late-night spiritual activities, spend the night in room 242, where a hotel guest took her own life; if you examine the closet you can still see the bullet hole. Many claim to wake and see the woman watching them sleep. One man even says he awoke to his dog barking at the bathroom and there found all of his belongings stuffed into the toilet and a bathtub full of water.
PLAN YOUR TRIP: Visit the Fodor's Tucson Guide
Tony Perreault
WHERE: New Orleans, Louisiana
Originally opened in 1918, this New Orleans bar and restaurant is located right next to the world-famous Bourbon Street, right in the middle of some of America's most active spirit haunts. Today, Arnaud's is haunted by a wide variety of ghosts, including those believed to be spirits of opium fiends (the original building was an opium den before the founder, Arnaud, purchased it), apparitions of gentlemen enjoying a late night at the bar, and even Arnaud himself appearing at random to look in on his legacy. If you're lucky enough to spend Halloween on Bourbon Street this year, make Arnaud's one of your stops. Step inside to enjoy a cocktail, a tall tale of ghosts or even, if the spirits are willing, a moment or two with Arnaud himself.
PLAN YOUR TRIP: Visit the Fodor's New Orleans Guide