Marc De Tollenaere/Caffe Florian
Some of cinema's most memorable scenes have taken place in watering holes, from pretty bars in Paris to more edgy spots like The Prince in Los Angeles, where it's nearly criminal to leave without ordering Korean-style deep-fried chicken. From The Godfather II to this year's runaway hit at the Oscars (cue La La Land), here's where you're going to want to imbibe if you're a film buff.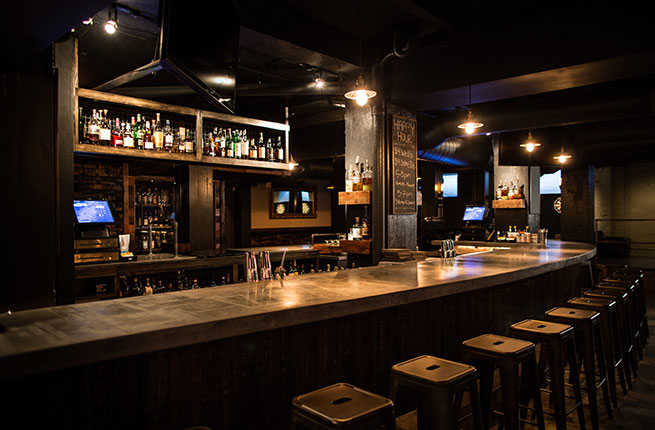 Blind Donkey
WHERE: Long Beach, California
After its numerous Oscar wins this past February, nearly every location seen in La La Land (2016) is now enjoying a tourism boom. This includes The Blind Donkey, with a menu of whiskeys, craft cocktails, and beer. The reserve list of whiskeys is what draws locals—and La La Land fans, of course.
PLAN YOUR TRIP: Visit Fodor's Long Beach Guide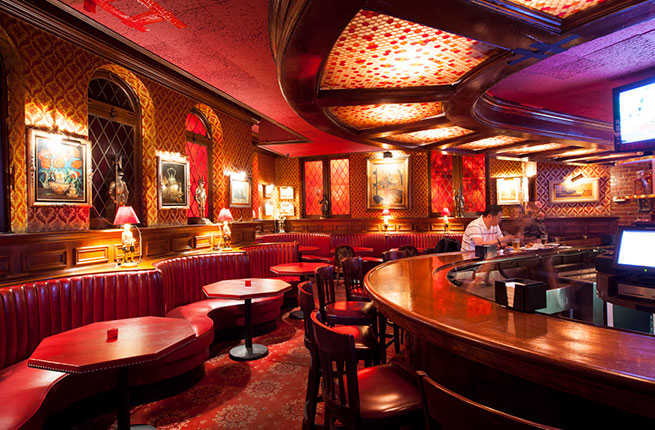 The Prince
WHERE: Los Angeles, California
L.A.—home to movie studios—hosts plenty of bars that have appeared on film. Although this dive bar is in Koreatown, it appears in the Roman Polanski-directed film Chinatown (1974) as The Brown Derby, a since-shuttered bar. This is where "Evelyn" and "Jake" meet for drinks. Pro tip: order the Korean deep-fried chicken.
PLAN YOUR TRIP: Visit Fodor's Los Angeles Guide
Rudi Wyhlidal
WHERE: Sölden, Austria
To reach this glass-walled lounge in South Tyrol—in the 2015 James Bond film Spectre, and open since 2013, at an altitude of 10,000 feet—you have to board a ski lift, but it's worth the trek. On the menu are not only cocktails and wines by the glass, but indulgent desserts such as Austria's signature apple strudel and Sacher cake.
PLAN YOUR TRIP: Visit Fodor's Sölden Guide
Park Hyatt Tokyo
WHERE: Tokyo, Japan
In the cult classic Lost in Translation (2003), for which Sophia Coppola won an Oscar for Best Original Screenplay, Bill Murray and Scarlett Johansson strike up a friendship as two foreigners in bustling Tokyo. This includes talking over drinks at New York Grill, on the 52nd floor of Park Hyatt Tokyo, where the wine list numbers around 1,800 selections.
PLAN YOUR TRIP: Visit Fodor's Tokyo Guide
archivespierrecardin
WHERE: Paris, France
In Woody Allen's"Midnight in Paris (2011), Gil—played by Owen Wilson—is magically transported to the 1920s. But romantic interest, Adriana (Marion Cotillard), longs for the 1890s, so they drop by the tony Maxim's in Paris' 8th arrondissement, filled to the brim with Art Nouveau décor. Naturally, you're going to want to order a glass of French wine here (the list is impressive).
PLAN YOUR TRIP: Visit Fodor's Paris Guide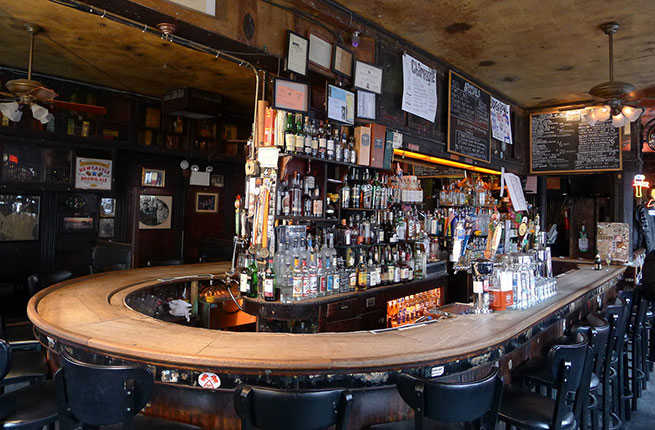 Tom Ross
WHERE: New York City
If you're looking for a lounge where all the hipsters hang, or you can sip a highly rated glass of Napa Cab, this isn't it. This old-school, major-dive bar—where PBR is de rigueur—appeared in The Godfather: Part II (1974), as the backdrop for a gunfight scene. Happy-hour specials and daytime hours make this a neighborhood spot. But it was also chic enough for Carrie and the girls to visit on Sex & the City, after she was dumped in a Post-It.
PLAN YOUR TRIP: Visit Fodor's Lower Manhattan Guide
L Street Tavern
WHERE: Boston, Massachusetts
Before Ben Affleck's and Matt Damon's careers exploded, they starred in collegiate drama Good Will Hunting (1997). Damon plays 20-year-old Will, a janitor on the MIT campus until he's outed as a math genius. This wood-paneled bar with an Irish bent is where the characters hang after class. Kick back a few pints of Guinness and pretend you're back in school (sans homework, whew).
PLAN YOUR TRIP: Visit Fodor's Boston Guide
Marriott International
WHERE: St. Croix, U.S. Virgin Islands
In the movie Trading Places (1983), starring Eddie Murphy and Dan Aykroyd, much has been said about the final scene, which is a conversation between someone on a beach and the occupants of a yacht just off shore. Behind that scene is Renaissance Carambola Beach Resort & Spa's Flamboyant Beach Bar along Davis Bay…where a cover-up is all you need to don over your swimsuit to sip a cocktail.
PLAN YOUR TRIP: Visit Fodor's St. Croix Guide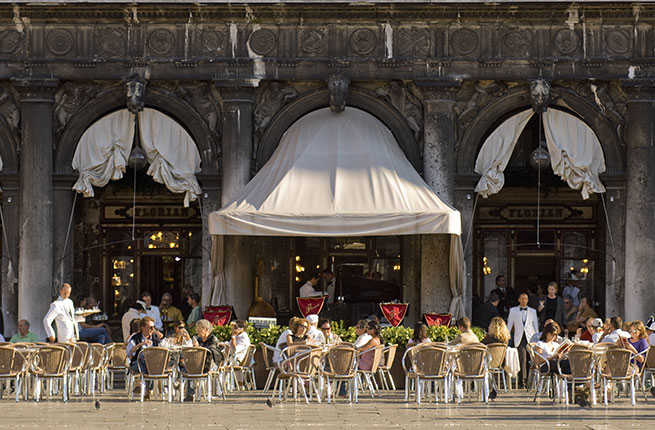 Marc De Tollenaere/Caffe Florian
WHERE: Venice, Italy
In The Talented Mr. Ripley (1999), Tom Ripley—played by Matt Damon—sits down at this café in busy St. Mark's Square with Marg (Gwyneth Paltrow) and Herbert (James Rebhorn). Although the film is set in the late 1950s, you can still visit that café, in business since 1720. Don't just order a drink (like the Caffe Venexiana, with Florian coffee liqueur), though: try one of the colorful, uniquely plated desserts, too.
PLAN YOUR TRIP: Visit Fodor's Venice Guide