Grant Glendinning/Shutterstock
Cities are all about change—new fashions, new buildings, new restaurants—but nowhere is that more apparent than in the hot new neighborhoods of the world. In cities around the globe, abandoned and derelict areas have been rebooted with new developments that turn historic buildings into hip destinations brimming with new parks, cultural venues, and nightlife. From a former slaughterhouse in Madrid that now houses a contemporary art center, to a revitalized section of Johannesburg that's become a creative hub, here are the world's coolest urban renewal projects.
by Nicholas DeRenzo
Charlie Fong [Public Domain], via Wikimedia Commons
WHERE: Beijing
Beijing's 798 Art Zone is intimately tied to its Communist history. Designed by East German architects in the 1950s and funded with Russian money as part of the Soviet Unification Plan, these Bauhaus-style factories once churned out parts for nuclear bombs and satellites. In 2002, the largely unused buildings northeast of the city were converted into galleries and design studios, producing contemporary works you might not expect from a place with such a background.
Don't Miss: Opened in 2007, the Ullens Center for Contemporary Art features exhibition galleries, a bookstore, and a screening room that shows art house films.
PLAN YOUR TRIP: Visit Fodor's Beijing Guide
SeanPavonePhoto/Shutterstock
WHERE: New York City
Once home to 250 slaughterhouses and packing plants, this cobblestoned neighborhood along the Hudson River now ranks among the city's trendiest spots, thanks to celebrity-filled restaurants, exclusive nightclubs, and flagship boutiques of world-renowned designers. It's also the southern terminus of The High Line, a public park built on a historic elevated freight rail line that will soon welcome Renzo Piano's new Whitney Museum of American Art building in 2015.
Don't Miss: With its ping pong tables and oversized pretzels, the Biergarten at the base of The Standard Hotel (rooms from $375) is a low-key respite from the district's more posh haunts.
PLAN YOUR TRIP: Visit Fodor's Meatpacking District Guide
(c) Andresgarciam | Dreamstime.com
WHERE: Madrid
Perched on Madrid's southern edge, the cavernous Arganzuela municipal livestock market and slaughterhouse was transformed in 2007 into Matadero Madrid, a vast contemporary art center where you can find some of the country's best (and most avant-garde) art, film, music, and theater. The complex sits adjacent to the new Madrid Río project, a six-mile-long park on the banks of the once-blighted Manzanares River, which had previously been blocked by a traffic-clogged highway.
Don't Miss: The on-site Cineteca is Spain's only movie theater dedicated exclusively to documentary films.
PLAN YOUR TRIP: Visit Fodor's Madrid Guide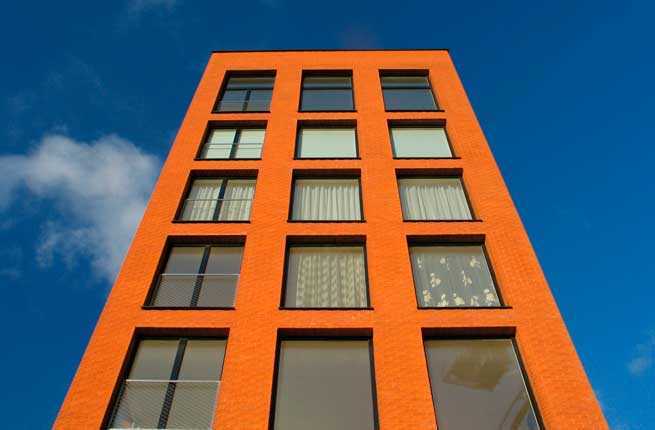 (c) Pklysz | Dreamstime.com
WHERE: Tallinn, Estonia
Just outside the walls of Tallinn's fairy-tale Old Town, the Rotermann Quarter occupies a previously unused stretch of 19th-century factories and warehouses that have since been updated with contemporary architectural embellishments. Restaurants and stylish design shops populate the district that also boasts the Museum of Estonian Architecture in the city's renovated limestone salt storage warehouse.
Don't Miss: Part modern Nordic cafe, part global concept store, Sfäär (average main: $21) is a hip and sunny space occupying a former warehouse-turned-casino.
PLAN YOUR TRIP: Visit Fodor's Tallinn Guide
Grant Glendinning/Shutterstock
WHERE: Glasgow
Scotland's Clyde Waterfront regeneration project was such an ambitious undertaking that developers didn't stop when they hit Glasgow's city limits; instead, they continued for 12 miles until they reached nearby Dumbarton. This stretch of the River Clyde, which once saw the building of Cunard's immense ocean liners, is now home to the Glasgow Science Centre, as well as two major projects by Sir Norman Foster: the Clyde Auditorium (nicknamed "The Armadillo") and the SSE Hydro, Scotland's new national arena.
Don't Miss: Designed by British-Iraqi architect Zaha Hadid, the Riverside Museum houses a free transportation and travel collection, and was named European Museum of the Year for 2013.
PLAN YOUR TRIP: Visit Fodor's Glasgow Guide
WHERE: Los Angeles
Post-industrial and unabashedly urban, L.A.'s buzziest neighborhood feels unlike anything else in the metro area. Much of that uniqueness lies in its easily navigable dense warren of gritty artist studios, spacious lofts, and cutting-edge galleries that you can explore on foot. True to its name, the area is also home to a full slate of street-art murals, from the likes of Shepard Fairey, Kim West, and Anthony Lister.
Don't Miss: Run by husband-and-wife team Ori Menashe and Genevieve Gergis, Bestia (average main: $25) is an ode to Italian regional cooking, where the salumi is house-cured and the Neapolitan pizza is baked in a 900-degree, wood-burning oven.
PLAN YOUR TRIP: Visit Fodor's Downtown Los Angeles Guide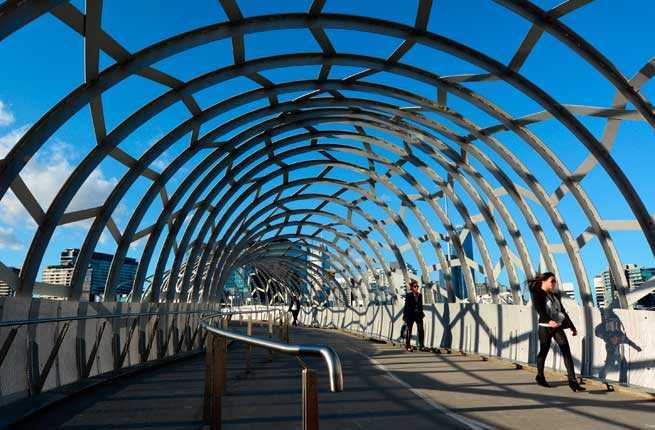 ChameleonsEye/Shutterstock
WHERE: Melbourne
This stretch of formerly derelict docks along the Yarra River sat unused for decades, until a massive redevelopment scheme helped transform it into a dynamic leisure district, filled with parks, stadiums, and film studios. Most importantly, however, the Melbourne Docklands project has reconnected the city with its waterfront, thanks to its scenic harbor, marina, and esplanade. Though the zone is already wildly popular, it's only about halfway done, with a projected completion date of 2025.
Don't Miss: With air-conditioned glass cabins seating up to 20, the Melbourne Star is one of only four giant observation wheels in the world—and the only one in the Southern Hemisphere.
PLAN YOUR TRIP: Visit Fodor's Melbourne Guide
Courtesy of The Maboneng Precinct
WHERE: Johannesburg
In the transitional, post-apartheid 1990s, this southeastern section of inner-city Johannesburg was a ghost town, filled with crime, squatters, and derelict warehouses and factories. But, with a name that means "place of light" in the local Sotho language, developers saw promise. Opened in 2009 in a renovated 1911 warehouse, the Arts on Main complex became the buzzing creative hub this neighborhood needed, brimming with contemporary galleries, restaurants, bars, and shops selling local fashion and handicrafts.
Don't Miss: The Bioscope is the city's only indie cinema, where you can catch local documentaries and narrative films, rooftop screenings, and live music from area bands.
PLAN YOUR TRIP: Visit Fodor's Johannesburg Guide
WHERE: Rio de Janeiro
Though Porto Maravilha means "Marvelous Port" in Portuguese, this dilapidated dockyard spent the last few decades looking anything but marvelous, cut off from the city by an elevated highway. Thanks to the World Cup and the 2016 Olympics, however, the city has invested in a facelift before its big close-up. The renovated district, still a work in progress, will include Santiago Calatrava's Museum of Tomorrow, the Hanging Gardens of Valongo, and miles of biking paths.
Don't Miss: The first major new project, the Rio Museum of Art, opened last March in three repurposed historic buildings: a Modernist bus terminal, a police station, and a 1916 palace.
PLAN YOUR TRIP: Visit Fodor's Rio de Janeiro Guide
Pearl Brewery Redevelopment
WHERE: San Antonio
Just north of downtown along the San Antonio River, this massive brewery churned out beer from the 1880s through 2001. Today, its industrial spaces have been transformed into a mixed-use, live-work complex with an eye toward sustainability. Hosting one of only four branches of the Culinary Institute of America, the district is a 23-acre foodie playground, home to a farmers' market, wine and espresso bars, and high-end restaurants.
Don't Miss: Housed in the brewery's 1904 administrative building, Cured (average main: $15) is chef Steve McHugh's ode to cured foods, like charcuterie, salumi, and pickles.
PLAN YOUR TRIP: Visit Fodor's San Antonio Guide