Strahildimitrov | Dreamstime.com
Every traveler's bucket list should include viewing the northern lights, also known as aurora borealis, one of nature's most spectacular phenomena. And while scientists predicted that December 2013 would be the peak of the current solar cycle, and thus the best time to see the northern lights, recent celestial activity suggests that this winter will offer plenty of viewing opportunities as well, with earlier-than-expected sightings in August as far south as the United Kingdom. The viewing season typically lasts until March, and ideal viewing conditions are crisp, cold, clear, and cloudless skies in locations with little light. If you want to catch nature's most impressive light show, head to one of these ten destinations near the Arctic. And if you want to capture the astonishing sights, check out our top tips for photographing the northern lights.
By Lola Akinmade Akerstrom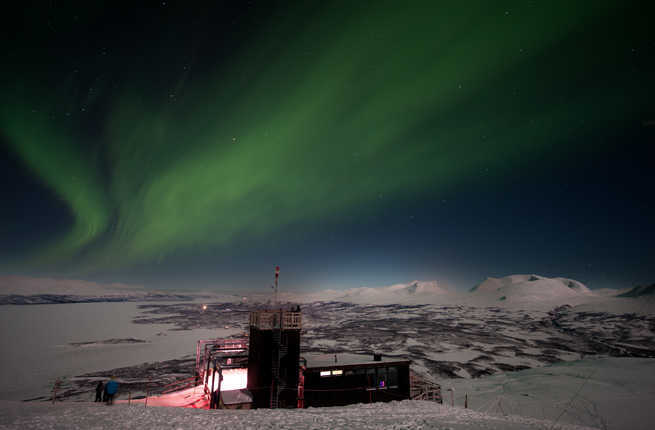 Lola Akinmade Akerstrom /
Best Viewing Locations: Kiruna, Abisko, Swedish Lapland
The area around Abisko in Swedish Lapland is scientifically proven to be an ideal viewing spot due to a unique microclimate. Close to Abisko National Park, the dark winter night is perfect for watching the night sky. The 43-mile-long Torneträsk Lake helps create the infamous "blue hole of Abisko," a patch of sky that remains clear regardless of the surrounding weather patterns.
PLAN YOUR TRIP: Visit Fodor's Sweden Travel Guide
Courtesy of Visit Finland /
Best Viewing Locations: Luosto, Nellim, Utsjoki, Ivalo, Kakslauttanen
Head to Luosto in Northern Finland to the Hotel Aurora where, upon arrival, you'll be handed an "Aurora Alarm" that beeps whenever the northern lights appear. (In the nearby town of Sodanklya, the Northern Lights Research Center relays the signal to the hotel.) On chilly, cloudless nights, you're also bound to catch the lights shimmer in the skies over the town of Nellim, close to Lake Inari, Finland's third-largest lake.
PLAN YOUR TRIP: Visit Fodor's Finland Travel Guide
Best Viewing Locations: Þingvellir National Park, most of the country
Leave the bustling nightlife of the capital city and head out into the wide open plains of Þingvellir National Park, a UNESCO Heritage Site where the North American and Eurasian continental plates meet to cause a rift valley. Unlike other countries where you can see aurora borealis, in Iceland, you can spot them from almost anywhere in the countryas long as you're outside Reykjavik.
PLAN YOUR TRIP: Visit Fodor's Iceland Travel Guide
Pavelvasenkov | Dreamstime.com
Best Viewing Locations: Murmansk, Siberia, Kola Peninsula
In Northern Russia, you've got a good chance of seeing aurora borealis. The Kola Peninsula's proximity to the northern lights viewing zone also makes it a key area, and the town of Murmansk is a popular base to stay in—if you can handle the below freezing temperatures of a typical Siberian winter.
PLAN YOUR TRIP: Visit Fodor's Russia Travel Guide
Best Viewing Locations: Anchorage, Fairbanks, Denali, the Yukon
Alaska's location within "the zone" means you're almost guaranteed to see spectacular light displays. Be sure to move further away from city lights of Fairbanks into the region's vast wilderness areas of Denali and the Yukon.
Insider Tip: Check the University of Alaska's aurora forecast to help schedule your viewing trip.
PLAN YOUR TRIP: Visit Fodor's Alaska Travel Guide
Best Viewing Locations: Calgary, Ontario, Yukon Territory, Manitoba
Areas around pristine Lake Superior in Ontario and Northern Canada's tundra backcountry are prime viewing spots. Head to the town of Whitehorse within the Yukon Territory to best see the swirling lights. Sometimes, the glowing sky can be seen as far south as the American border, but stick to Canada's vast wilderness for your front-row seats.
PLAN YOUR TRIP: Visit Fodor's Canada Travel Guide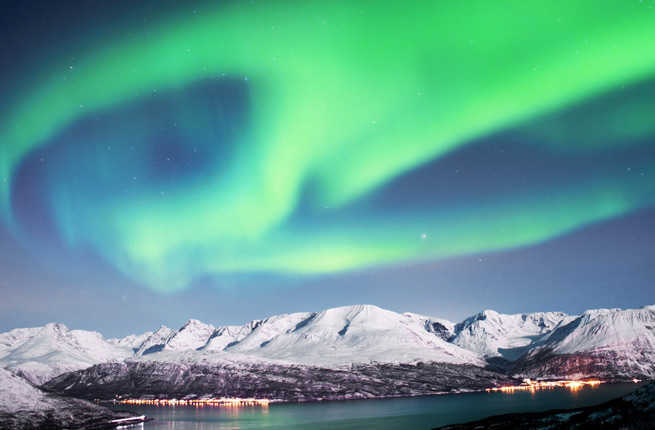 Strahildimitrov | Dreamstime.com
Best Viewing Locations: Tromsø, Alta, Svalbard, Finnmark
The northern town of Tromsø teems with aurora borealis activity when those extended summer days are long gone. Its location above the Arctic Circle makes it one of the top places in the world to view shimmering green lights. The town also boasts the world's most northerly university, brewery, and planetarium. As an alternative, you can cruise Norway's fjord-lined coast aboard a Hurtigruten ship and get wake-up calls to head out on the deck when the lights appear.
PLAN YOUR TRIP: Visit Fodor's Norway Travel Guide
Ykumsri | Dreamstime.com
Best Viewing Locations: Kulusuk, Ammassalik
Greenland remains a final frontier for the average traveler and its interior ice remains the optimal viewing location. However, more accessible areas south and east provide equally good viewing opportunities. You can see the northern lights from most parts of the country, similar to Iceland.
Best Viewing Locations: Aberdeen, Isle of Skye, Northern Highlands, Dunnet Head
The British Isles are known for stormy, foggy, and cloudy weather—not exactly ideal conditions for observing the sky. But on those rare occasions when thick cloud covers break momentarily during dark winter months, you've got a good chance of witnessing the display in parts of Scotland's north.
PLAN YOUR TRIP: Visit Fodor's Scotland Travel Guide
Best Viewing Locations: All islands within the Faroe Islands archipelago.
North of Scotland between the Norwegian Sea and the North Atlantic, the Faroe Islands archipelago is mostly known for puffins and Viking folklore. While its stormy weather mimics that of the British Isles, visitors to this Denmark-owned province can also see the spectacular lights when the weather cooperates.
PLAN YOUR TRIP: Visit Fodor's Denmark Travel Guide