totophotos / Shutterstock
Winter may not have officially arrived just yet, but the time to start planning your next vacation is now. There are plenty of winter festivals on the horizon, as well as important anniversaries: In 2015, Switzerland will celebrate the 150th anniversary of the scaling of the Matterhorn, while America's oldest city will the mark the 450th anniversary of its founding. Whether you're looking for a warm-weather escape or the ski trip of a lifetime, you'll find inspiration on our list of the top 10 destinations to visit this winter.
Michael Alan Connelly is the Editor of Fodors.com. Follow him on Twitter: @malanconnelly.
Pierre-Jean Durieu / Shutterstock
Paris may be called the City of Light, but every December, light takes center stage in Lyon, France's second-largest metropolitan area. That's when the annual Fête des Lumières (Festival of Lights; December 5–8) takes over, with more than 70 light installations that transform the city's streetscapes into innovative works of art. This season will also see the opening of the new Musée des Confluences (scheduled to open December 20), a futuristic-looking building dedicated to science and anthropology. Referred to as the Crystal Cloud, the concrete, glass, and stainless steel structure makes a striking addition to the riverbank. The city is also home to two Christmas markets (one in La Croix-Rousse; the other at Place Carton; through December 25) as well as its famous bouchons, which serve hearty, meat-centric fare that suits the winter temperatures splendidly.
Where to Stay: Collège, La Cour des Loges, and Phénix Hôtel are among the best accommodations in the city.
PLAN YOUR TRIP: Visit Fodor's Lyon Travel Guide
DonLand / Shutterstock
Winter in Vermont means skiing and snowboarding, and with the Northeast set to head into another cold, snowy stretch, skiers and riders are looking forward to another long season on Vermont's slopes. Several resorts are already open for business—Killington opened in early November—and many of them have greatly upgraded their snowmaking abilities as part of a $15 million statewide program that replaced many outdated snow guns with new, low-energy models. Promising to expand the efficiency, quality, and coverage of ski resorts' snowmaking efforts, these new machines will also improve the quality of snow surfaces and extend the season, meaning this will be one of the best winters for skiing and riding in Vermont in recent memory.
Where to Stay: In northern Vermont, top properties include Smugglers' Notch Resort and Stowe Mountain Lodge; in central Vermont, The Pitcher Inn, The Woodstock Inn & Resort, and Twin Farms are outstanding; and in southern Vermont, try the Four Chimneys Inn or Forty Putney Road.
PLAN YOUR TRIP: Visit Fodor's Vermont Travel Guide
Evaulphoto | Dreamstime.com
WHERE: Caribbean
The big news on this isle is that, for some travelers, it will be easier to get to Curaçao than ever before. Starting December 2, JetBlue will offer a twice-weekly service from New York City to the island, making it the only nonstop option between the two destinations. Located outside the Caribbean's "hurricane belt, " Curaçao's weather is appealing year-round, with temperatures in the 80s. Add to that the melting-pot culture and cuisine plus Dutch architecture and 38 beaches, and you've got one compelling destination on your hands. Aside from the weather, winter is a good time to visit to experience Carnival, the island's biggest event of the year.
Where to Stay: We particularly like the Avila Hotel and Baoase; for larger properties, try the Curaçao Mariott Beach Resort & Emerald Casino or the Renaissance Curaçao Resort & Casino.
PLAN YOUR TRIP: Visit Fodor's Curaçao Travel Guide
Lukas Hlavac / Shutterstock
WHERE: China
Harbin's winter isn't for wimps—the average temperature is 1.8 °F—but those who brave the cold will be rewarded by experiencing one of the world's largest winter festivals. Next year marks the 30th installment of the Harbin International Ice and Snow Sculpture Festival (January 5–March), when massive frozen structures rise and are illuminated, transforming the city into a dazzling winter wonderland. There is a host of other winter activities to keep visitors busy: skiing, snowmobiling, dog sledding, sleeping in an ice hotel, visiting the Siberian Tiger Park, and more.
Where to Stay: The best options in town are the Shangri-La Hotel and the Sofitel Wanda Harbin.
PLAN YOUR TRIP: Visit Fodor's China Travel Guide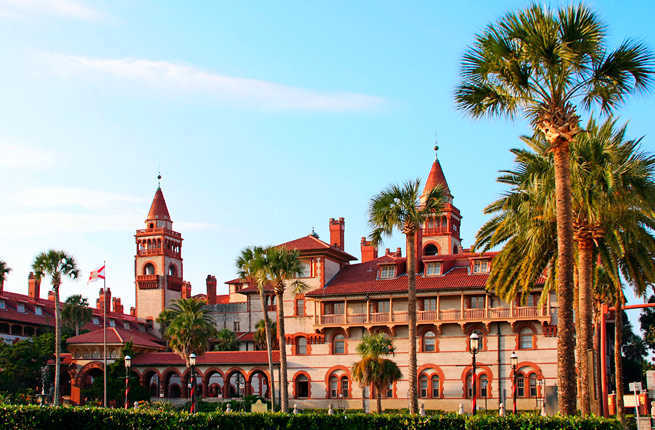 Nataliya Hora / Shutterstock
WHERE: Florida
Sometimes called the Nation's Oldest City, St. Augustine is technically the country's longest continually inhabited European settlement, having been founded in 1565 by Spanish explorers. Starting in January, the city will kick off its 450th anniversary celebrations, with a series of events leading up to a nine-day extravaganza in September. Why go before then? Well, the weather for one, which isn't hot but rather comfortable, with average temperatures in the 50s and 60s. On the history front, there's always the impressive Castillo de San Marcos National Monument, dating to 1695, while The First City Through the Eyes of Masters (through January 12) presents artworks from the 19th and early 20th centuries that portray St. Augustine's early history and landmarks. February 28 brings the Noche de Gala, an event celebrating the 496th birthday of St. Augustine's founder.
Where to Stay: The Casa Monica Hotel is the grande dame of St. Augustine, while the Renaissance Resort at World Golf Village is ideal for golf lovers.
PLAN YOUR TRIP: Visit Fodor's Northeast Coast Travel Guide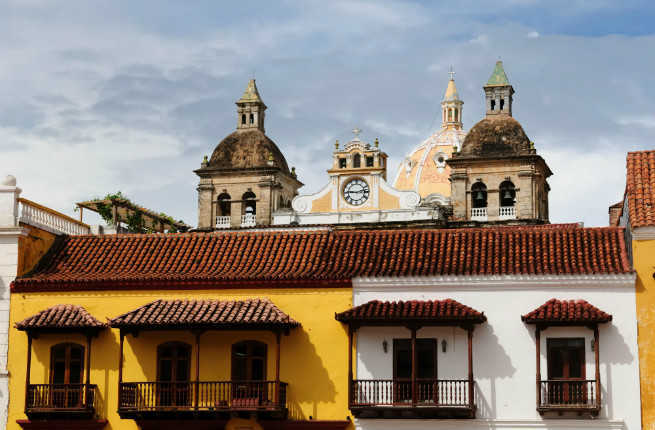 Shaun Dodds / Shutterstock
WHERE: Colombia
December through April is the dry season in this stunning walled city, with temperatures in the mid-70s to high 80s. Located on the Caribbean coast of Colombia, Cartagena offers crystal-clear waters and thriving coral reefs that make for excellent year-round diving off the nearby Islas des Rosario, an archipelago made up of 27 tiny islands. In the city, there's the vibrant, well-preserved old town to explore, with restaurants serving up fresh seafood and nightlife spots with salsa dancing. Next year marks the 10th anniversary of the Hay Festival Cartagena (January 29–February 1), which brings together writers and artists from more than 20 countries. In March, the International Film Festival of Cartagena returns with a week of programming, with actor Clive Owen at the guest of honor.
Where to Stay: Our favorites are Casa San Agustín and the Sofitel Cartagena Santa Clara.
PLAN YOUR TRIP: Visit Fodor's Caribbean Coast Travel Guide
totophotos / Shutterstock
WHERE: Switzerland
With its iconic peaks, this stunning, L-shaped valley is one of the world's top skiing destinations in winter, with top resorts in Crans-Montana, Verbier, and Zermatt. In 2015, Zermatt will celebrate the 150th anniversary of the first scaling of the Matterhorn with a year-long series of events and festivities, including the reopening of the Hörnli hut, where climbers sleep before attempting to tackle the mountain. Winter is the ideal season for indulging in regional specialties like fondue and raclette, and at the end of winter, it's worth making a trip to any of Valais' 22,000 vineyards. If your schedule allows, don't miss Carnival, either in Sion or Monthey (February 12–17).
Where to Stay: Valais is home to several top-tier properties, including the Dom Hotel, Ferienart Hotel & Spa, Hotel Waldhaus, and Mont Cervin Palace.
PLAN YOUR TRIP: Visit Fodor's Valais Travel Guide
Christian Vinces / Shutterstock
WHERE: Peru
Peru's capital is too often left out of discussion of great South American cities, but the fact is that the city has undergone a transformation from crime haven to international foodie mecca in just a couple of decades. To wit, Lima is now home to the world's highest number of cooking schools per capita. Aside from its sophisticated dining—and abundance of fresh ceviche—the city also has great cocktail bars where you can sip classic or contemporary takes on the Pisco Sour. Combine that with the oceanfront setting, colonial-era splendor, archaeological digs, pretty parks, and temperatures in the 80s, and you'll understand why Lima should no longer be ignored.
Where to Stay: Belmond Miraflores Park, Hotel B, and Second Home Peru are all standout options.
PLAN YOUR TRIP: Visit Fodor's Lima Travel Guide
charles taylor / Shutterstock
WHERE: Colorado
This top ski destination has so much more to offer then just the slopes, making it an ideal winter escape for both ski bums and chairlift-avoiding culture lovers. The Aspen Snowmass complex is comprised of four adjacent ski areas that feature terrain for beginners and black-diamond experts, and everyone in between. Off the slopes, new additions include the Cooking School of Aspen and the recently expanded Aspen Art Museum. There's also swanky dining, good shopping, cultural events and festivals, and a variety of nightlife options year-round, making Aspen just as exciting in the winter as it is in the height of summer.
Where to Stay: It's hard to choose between Hotel Jerome, the St. Regis Aspen Resort, The Limelight Hotel, and The Little Nell, but expect an excellent stay at any of them.
PLAN YOUR TRIP: Visit Fodor's Aspen Travel Guide
Club4traveler / Shutterstock
WHERE: Japan
The capital of Hokkaido has something to offer visitors year-round, but winter may be the best time to experience the city. First of all, there's the rich miso ramen served here, best enjoyed during chilly weather. Second, there's the Sapporo Winter Sports Museum, which puts visitors face to face with the top of a towering ski jump. (There's great skiing in nearby Furano and Niseko, with deep powder and no lines.) Third, there's the annual Sapporo Snow Festival (February 5–11), which draws two million visitors annually with large snow and ice sculptures that line Odori Park. Non-seasonal delights include visits to the Sapporo Beer Garden and Museum, home of the city's most famous export.
Where to Stay: Taking into account both its location and service, The Windsor Hotel is far and away the best property in Sapporo.
PLAN YOUR TRIP: Visit Fodor's Hokkaido Travel Guide