Courtesy of Disney
Providing picture-perfect moments and memories to last a lifetime, amusement parks are ideal places for family fun, but not all parks are designed for smaller visitors. Featuring the conveniences and necessities that children demand and parents appreciate, the country's 10 best family-friendly amusement parks deliver a treasured day of thrills and laughs for kids and their keepers. Expect carousels, animatronic dinosaurs, and real bulldozers as these parks push the limits of innovation and creativity in the name of fun. — Zachary Laks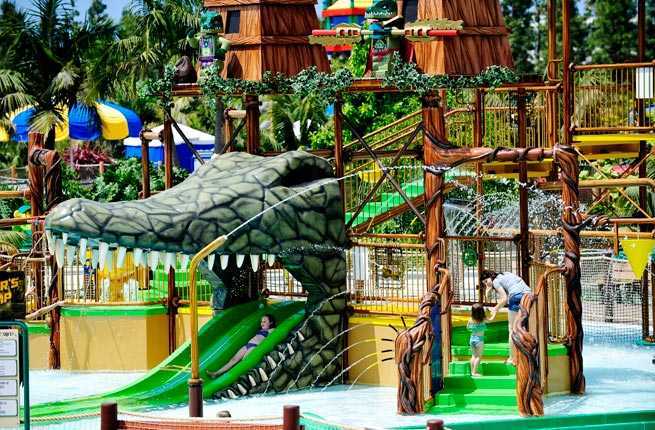 Courtesy of LEGOLAND California Resort
LEGOLAND
WHERE: Carlsbad, California
Brick by brick, LEGOLAND stacks up to a full day of fun for the family in Southern California. Packed with activities, rides, and endless photo opportunities, the park expands into ten themed areas, with themes from Dino Island, where dinosaurs guard their territory, to Castle Hill, a province where kings and queens rule. The park achieves a good mix of thrills to keep adults engaged, particularly in the water park where the Twin Chasers slides propel riders down an enclosed red tube at intense speeds. Don't miss out on the park's SEA LIFE Aquarium where the Moon Jellyfish exhibit showcases the mystical sea creatures.
PLAN YOUR TRIP: Visit Fodor's Carlsbad Guide
Courtesy of Disney
Disneyland Park
WHERE: Anaheim, California
Home to magic for the whole family, Disneyland remains an enchanted oasis of family fun that consistently delivers. Disney's incomparable theming sets the standard with immersive attractions, from the iconic Pirates of the Caribbean boat tour to the high-tech Buzz Lightyear Astro Blasters, where riders compete to beam lasers at targets. Splash Mountain remains a park favorite for families with its adventurous log flume that finishes with a picture-perfect drop, while those looking for a more thrilling adventure should explore the cursed temple at Indiana Jones Adventure on an awe-inspiring rugged transport tour. Endless opportunities to dance along with a street parade, meet and interact with Disney's famous characters, and even train to be a Jedi at the Jedi Training Academy make for a vacation unlike any other.
PLAN YOUR TRIP: Visit Fodor's Disneyland Guide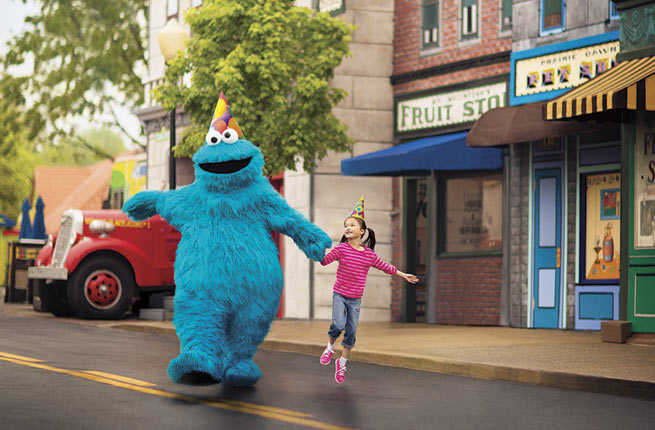 Courtesy of Sesame Place
Sesame Place
WHERE: Langhorne, Pennsylvania
About thirty minutes northeast of Philadelphia, Sesame Street's lovable puppets come to life at Sesame Place, a 14-acre children's amusement park. Elmo, Big Bird, and Cookie Monster are just some of the many friendly, furry characters kids can expect to encounter as they make their way through the cheerfully bright park. Sesame Place offers a thrill for everyone, with nearly all of the park's rides built for children and adults alike. Highlights among the rides include the Vapor Trail mini steel coaster and the always-dependable spinning cups at Monster Mix-Up. For a respite from the commotion of the park, pop into one of the park's shows, most notably Elmo the Musical, where the magic of the stage has the power to quiet and calm.
PLAN YOUR TRIP: Visit Fodor's Pennsylvania Guide
Courtesy of Disney
Disney's Animal Kingdom
WHERE: Orlando, Florida
At the forefront of family entertainment for years, Disney's newest Walt Disney World theme park, Animal Kingdom (in operation since 1998), is the world's second largest theme park (after Six Flags Great Adventure, New Jersey). Built with families in mind, younger children rejoice at the hands-on, interactive spirit of the nature-centric park. Get up close to the cute and cuddly animals at Affection Section, where sheep, donkeys, cows, and pigs are on hand to pet, brush, and feed. The fun continues at The Boneyard, the park's archeological dig site that welcomes children ten and under to discover dinosaur fossils and explore the world of dinosaurs. And for those 44 inches or taller and looking for a premium thrill, don't pass up the opportunity to challenge Expedition Everest – Legend of the Forbidden Mountain, a thrilling steel roller coaster that weaves throughout the Himalayan mountain setting.
PLAN YOUR TRIP: Visit Fodor's Disney World Guide
Courtesy of Santa's Village Azoosment Park
Santa's Village Azoosment Park
WHERE: East Dundee, Illinois
In a year-round tribute to the world's most thoughtful man, Santa's Village Azoosment Park manages to deliver summertime Christmas spirits that feel joyous and welcome. The park added its nineteenth ride to its kid-friendly roster last season with the Wildcat Roller Coaster, a steel mini-coaster that delivers genuine thrills with its drops and banked turns. The park's animals offer a fun diversion, especially the Alaskan Railway, a train ride past reindeer, bobcats, and foxes. Complete the day with one of the treats from Tinselbella's Pizzeria where fried candy bars, Oreos, and Twinkies leave no option but to indulge.
PLAN YOUR TRIP: Visit Fodor's Illinois Guide
Courtesy of Indiana Beach Amusement Resort
Indiana Beach Amusement Resort
WHERE: Monticello, Indiana
Indiana Beach Amusement Resort overwhelms with enough family-centric activities to fill a long weekend. Families descend on the park for the dozens of accessible rides for children and its expansive water park. The park's Kiddyland features some old-time classics like the merry-go-round and a miniature Ferris wheel alongside some more adventurous rides like the Air Crow, where kids pilot their own flying plane, revolving at their own elevation. For the park's favorite nightly tradition, get your seats early for the World's Longest Running Ski Show, a traditional ski show that features daredevil stunts, impressive jumps, and the classic water ski pyramid.
PLAN YOUR TRIP: Visit Fodor's Indiana Guide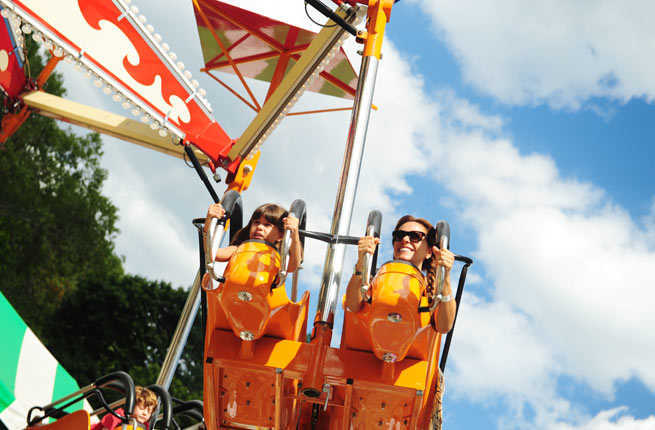 Courtesy of Victorian Gardens
Victorian Gardens
WHERE: Central Park, New York City
With the faint murmurs of the city abuzz from beyond the Central Park tree line, the Victorian Gardens transports the younger set out of the city and into a fairground. The park is centrally located on Wollman Rink (used as an ice skating rink in the winter months) just steps away from one of the most popular entrances to the park at 59th and Fifth Avenue. Over a dozen attractions pop up, including bumper boats, flying swings, and Mini Mouse, the park's miniature roller coaster. Smaller and more compact, Victorian Gardens is the perfect start to a day exploring Central Park where treasures such as the Central Park Zoo (and its accompanying Tisch Children's Zoo) and a visit to the Alice in Wonderland statue are family favorites.
PLAN YOUR TRIP: Visit Fodor's New York City Guide
Courtesy of Diggerland USA Marketing Team
DiggerLand USA
WHERE: West Berlin, New Jersey
Making childhood dreams a reality, construction zones become play pits at DiggerLand USA, the country's first and only construction theme park. Children of all ages are finally able to get behind the controls of some of the world's most intense construction equipment, driving, riding, and operating the bright yellow machines. Twenty-eight attractions fill the park with a bustling energy unlike any other theme park in the country, as many of the massive machines on site are nearly identical to the ones you'd see on a real construction site. And to get the full scope of what these powerful machines can do, the park's daily Stunt Show features "heavy equipment acrobatics" (wheelies, fast turns, and kick-stands) operated by the park's four lead stuntmen.
PLAN YOUR TRIP: Visit Fodor's New Jersey Guide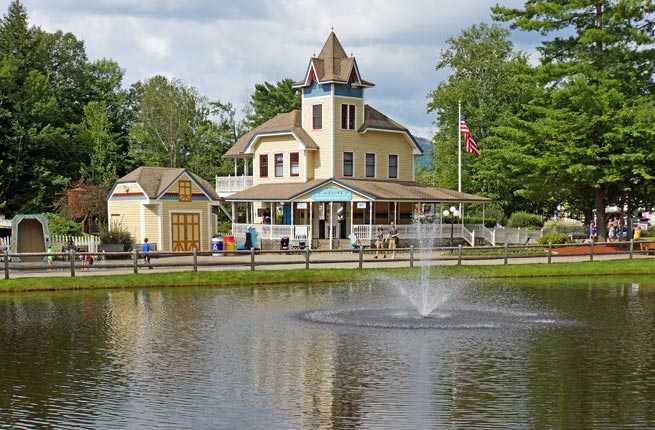 Story Land
WHERE: Glen, New Hampshire
Taking a page from classic fairy tales that have been passed down through generations, Story Land excels at reinventing timeless, treasured characters. Of the park's twenty-one kid friendly attractions, the Roar-O-Saurus coaster remains a major draw, along with the park's Bamboo Chutes log flume. Six shows at the park provide entertainment throughout the day with shows such as Fun Times at Fairy Tale High, which follows the magical students of Headmistress Mother Goose. If you're running near empty come mid-afternoon, make it a priority to drop into Tea Time with Cinderella (for an additional per person fee), where children have the opportunity to sip tea amidst royalty.
PLAN YOUR TRIP: Visit Fodor's New Hampshire Guide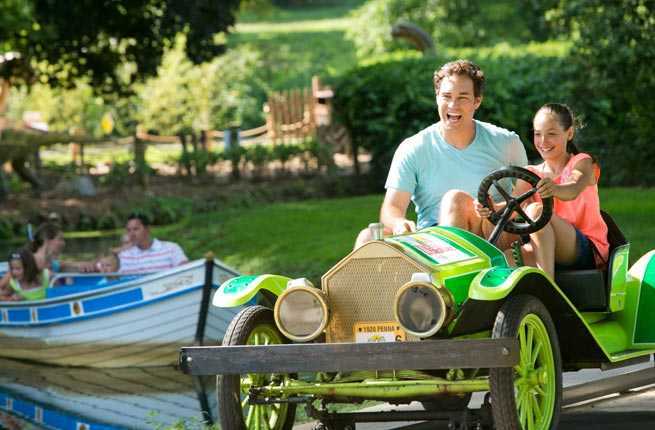 Courtesy of Dutch Wonderland
Dutch Wonderland
WHERE: Lancaster, Pennsylvania
Touted as a "Kingdom for Kids," Dutch Wonderland in Lancaster, Pennsylvania has been delivering perfect days of family fun since 1963. Start with a stroll through the park's Prehistoric Path, which features more than twenty animatronic dinosaurs on a self-guided walking tour. Be sure to grab a park map and continue the morning with the Gondola Cruise, the Monorail, and the Sky Ride, the three best ways to scout out the rest of your day in the park. And when it comes to lunch, go for broke with the indulgent fresh cut fries at the Potato Patch, where cheese, gravy, and bacon bring the spuds to the next level.
PLAN YOUR TRIP: Visit Fodor's Lancaster Guide