Once upon a time it seemed like a crazy pipe dream that marijuana would be recreationally legal in the United States. But that was long ago, before the first states legalized its medical use and before Colorado and Washington voters made it legal recreationally in 2012. Following the 2014 and 2016 elections, cannabis reached a new high, becoming legal in six more states—Alaska, California, Maine, Massachusetts, Nevada, and Oregon—and Washington D.C. (Not to mention legal for medical use in 28 states).
While marijuana is still illegal on a federal level, states have made their own determinations about how to handle pot within their borders, and for the most part are enjoying more tax revenue and a new tourism stream. But each state differs somewhat in its laws, so here's a rundown of how it works in each one and when the new laws are expected to take effect.—Kelsy Chauvin
Shutterstock
The very first state to sell legal recreational marijuana (on January 1, 2014) accumulated more than $70 million in tax revenue in its first year—and already expanded its laws. So not only can anyone in Colorado buy pot; as of last November, voters approved a measure letting businesses create cannabis "consumption areas." The new law means locals and tourists will be allowed smoke in designated areas once the state sorts out some of the legal stipulations in early 2017. For now, tourists over the age of 21 can buy up to a quarter-ounce of weed (residents can buy a full ounce), and may smoke in private areas such as homes, social clubs, "420-friendly" hotels, or by riding in a cannabis tour bus.
Insider tip: Check out our guide to legalized marijuana in Colorado.
PLAN YOUR TRIP: Fodor's Colorado Guide
Shutterstock
Since July 2014, the Evergreen State has allowed recreational cannabis sales up to an ounce to locals and tourists alike (aged 21 and up). For non-smokable forms, you can buy up to 16 ounces of marijuana-infused edibles or 72 ounces of beverages. It's only legal to smoke in private areas, and you could face a small fine if you're caught smoking on the street. There aren't as many dispensaries in Washington due to its permitting system, but that hasn't kept the state from raking in more than $1 billion in non-medical pot sales since the law went into effect.
Insider tip: Check out our guide to legalized marijuana in Washington.
PLAN YOUR TRIP: Fodor's Washington Guide
Shutterstock
Alaskans and tourists have legally lit up since February 2015, though its first retail dispensary, Herbal Outfitters in Valdez, only opened its doors last October. Now adults 21 and up can buy as much as an ounce for recreational use. And not that it would matter much to a tourist, but unlike Washington and Oregon, in Alaska and most other fully green states, you can cultivate pot plants even if it's not for medical use.
PLAN YOUR TRIP: Fodor's Alaska Guide
Getty Images
The first state to legalize medical marijuana back in 1996 didn't join the recreational-use party until the 2016 election. And tourists there will have to wait until after January 1, 2018 to actually buy it, when the government begins issuing the first retail licenses. Until then, only Californians with medical-use permits can legally acquire cannabis to smoke, eat, or drink—but they can "gift" it, as long as it's not more than an ounce. Like in all states, smoking is only permitted in private areas, and driving under the influence comes with steep penalties.
PLAN YOUR TRIP: Fodor's California Guide
Shutterstock
When voters approved recreational cannabis in 2016, Maine legislators seemed to have been caught somewhat off-guard. Not surprising, since the measure eked in with just over 50 percent of the vote (though medical pot has been legal since 1999). The new recreational law allows individual possession of up to 2.5 ounces of marijuana, which is more than double the limit in most states. While possession and consumption by adults is legal, licensed dispensaries likely won't open doors until well into 2018. So New England tourists seeking a greener vacation in the Pine Tree State may prefer to wait until local officials iron out its regulatory fine print.
PLAN YOUR TRIP: Fodor's Maine Guide
Shutterstock
The Massachusetts government is having a hard time implementing the exact recreational-cannabis measure approved by 54 percent of voters in 2016. As of mid-December 2016, purchase, consumption, and possession of up to an ounce of weed is legal, as is growing up to six plants. But legislators are still tweaking regulations that may alter some of the ballot-approved initiative, like changing the tax rate for marijuana sales and raising the legal age from 21 to 25. For now, retail dispensaries are still expected to start opening in 2018—but whether in January or July is still to be determined.
PLAN YOUR TRIP: Fodor's Massachusetts Guide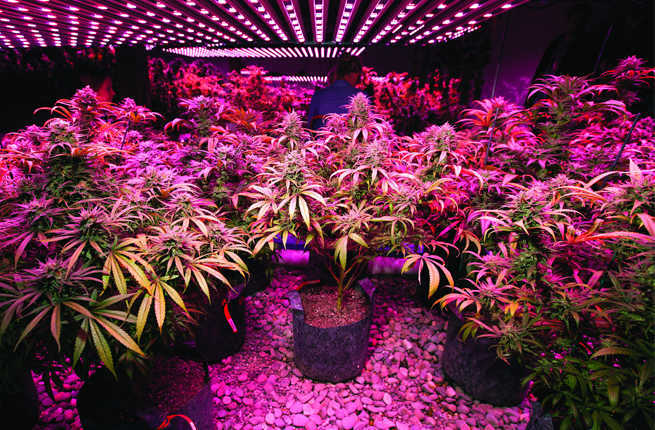 Shutterstock
It comes as no surprise that voters in the free-wheeling state of Nevada approved recreational marijuana in the 2016 election, under a measure to "regulate and tax" it. As of January 1, 2017, adults 21 and over can possess up to an ounce, or 3.5 grams of cannabis concentrates. It's also legal to grow up to six plants, as long as it's more than 25 miles from a pot dispensary—which shouldn't be a problem until the first licensed retail stores open in January 2018. On a side note, some state prosecutors declared that they're dropping pending pot cases nullified by the new law.
PLAN YOUR TRIP: Fodor's Nevada Guide
Shutterstock
In 2014, voters approved recreational pot use in Oregon, the third state to do so, and among the first to green light medical cannabis back in 1998. Today the state is enjoying tens of millions of dollars in tax revenue, thanks to having as many marijuana dispensaries as Starbucks and McDonalds outposts combined—not to mention hundreds of applications in the hopper for new weed retailers. Tourists (over 21, of course) can choose from a wide array of consumer-friendly pot shops, where "budtenders" relay all the salient details about each strain, edible, beverage, or concentrate. The wrinkle, as is the case everywhere until Colorado's new "consumption area" law kicks in, is that all grass must be consumed in private.
PLAN YOUR TRIP: Fodor's Oregon Guide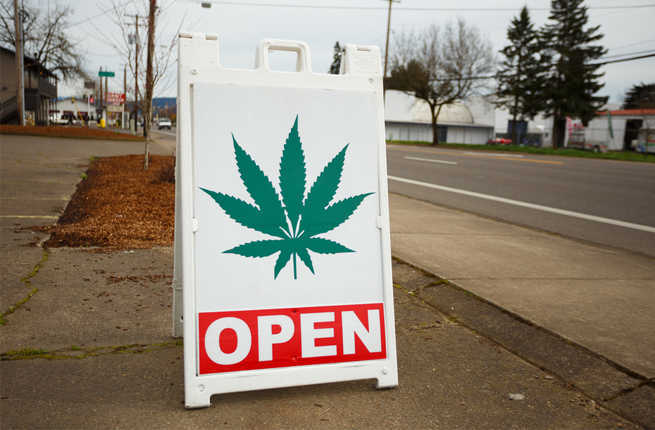 Shutterstock
Not even the most liberal state can rival the 70-percent approval rate by which D.C. voters legalized recreational marijuana in 2014. (The next closest was California, by 57 percent.) The law took effect in February 2015, and it's tricky: In the city limits, it's legal to possess up to two ounces or grow up to six plants. But technically, you can't buy or sell it; and you can only "gift" up to one ounce. So tourists would have to find a generous soul willing to donate a sample. Unless you have a doctor's prescription, that is, because medical cannabis has been legal here since 2011.
PLAN YOUR TRIP: Fodor's Washington, D.C.