Photo: Blair Eadie
Perhaps you've seen Instagram influencer (@blaireadiebee) and fashion mogul (Atlantic-Pacific) Blair Eadie sashaying through your social feeds and coveted her travels and wardrobe, wondering, How can I live like that? Her recent collaboration with Fodor's and Fairmont Hotels & Resorts took her on trips to Vancouver, Chicago, Bermuda, and New York City with the intention of doing just that–scouting the most spectacular lodging, eats, and sights for photo-ops to recommend to the tourist-turned-shutterbug. Check out Blair's recommendations on how to celebrate the winter season at each destination and add a little sparkle to your travel slides.
Photo: Blair Eadie
Vancouver is brimming with great hotels, but for a stay in the heart of the city, Eadie recommends a taste of luxury at Fairmont Pacific Rim.
"The Owner's Suite at the Fairmont Pacific Rim was fantastic, huge, and comfortable! Using the in-room record player was such a nice way to wind down at the end of a long day traveling. The views of the harbour were incredible as well."
Pro tip: For an unbelievably relaxing experience after a long trip, be sure to stop by the hotel's Willow Stream Spa for a mineral wrap.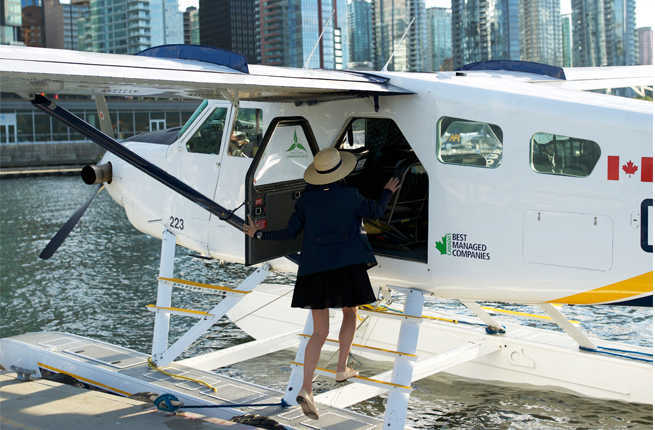 Photo: Blair Eadie
There's so much to see in Vancouver, the best place to start is in the air. Blair says Harbour Air Seaplanes offers an "unforgettable way to see such a beautiful city."
"We took off from the bay and headed north over Brunswick Mountain. Heading back to the city we passed over Howe Sound and its islands. We banked around the city and were able to take in Vancouver from all angles! The scenery was beautiful in every direction. I can't recommend this activity highly enough."
For something a little closer to earth, Blair recommends Grouse Mountain. "It's fun to take the Skyride Tram up to the mountain and take in the views of the city." Hop off at the top, and you can enjoy cold-weather activities such as skiing & snowboarding, snowshoeing, and more.
Facebook | Chambar
No matter what you're in the mood for–from high-quality sushi to authentic British Columbian cuisine–Vancouver's ridiculously diverse culinary scene has got you covered.
If you have trouble deciding, Blair recommends an experience you can share: Chambar Restaurant near the Queen Elizabeth Theater. "The restaurant is a great place to dine with a large group of friends or co-workers and the cuisine is fantastic—the mussels are to die for."
If you want to build up an appetite, combine sightseeing at Grouse Mountain with a delightful lunch at Altitudes Bistro and enjoy British Columbian cuisine coupled with views of the city. For dinner, reward yourself with a touch of fine dining at The Observatory.
Or just stay chez Fairmont. The The RawBar at The Lobby Lounge is right below your room on the ground floor of the Pacific Rim. Their Omakase sushi dinner will make you glad you never left the building. Blair says, "The food is so spectacular; it may be among some of the best sushi you'll ever have. Place yourself in the hands of the chef, and let him take care of crafting your experience."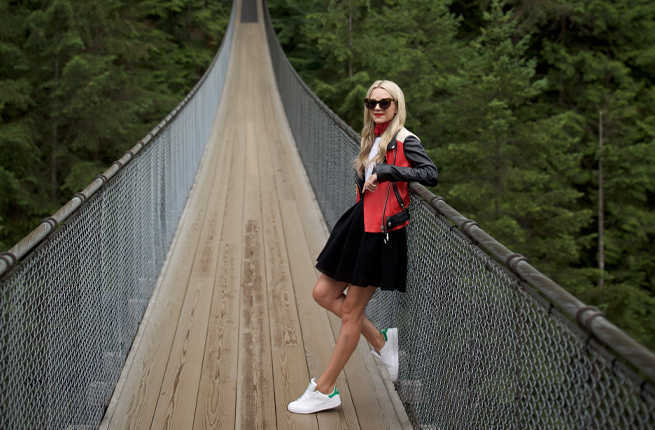 Photo: Blair Eadie
Vancouver's oldest attraction is the Capilano Suspension Bridge. Built in 1889, it's just as stunning today as it was back then. Blair recommends putting it at the top of your itinerary list: "Go as early as you can to beat the crowds and enjoy other attractions while there, including the Cliffwalk."
Then, take it easy for the rest of the day. "The scene in Vancouver was vibrant but also quite laid back," says Blair.
During her wander around Granville Island, "Everyone we met was so nice and approachable—locals and tourists alike. The outdoors seem woven into the fabric of the city, which provides a real connection to nature. It was fun to be a part of, even if for a few days!"
Photo: Blair Eadie
Another great benefit of staying at Fairmont Pacific Rim is the hotel's complimentary bike program to explore 1,000-acre Stanley Park. And Blair says it's definitely worth the pedal.
"Being right by the entrance to Stanley Park, it's a no-brainer to enjoy a quick ride. Pack a lunch or something warm from the hotel's Giovane market and café and bring it along in your bike basket."
Stop at all the sights as you make your way around the 8.8 km Seawall along the park and visit attractions such as the Brockton Point Lighthouse and Siwash Rock.
Photo: Blair Eadie
Blair Edie's choice? The Fairmont Chicago on the Gold Floor, and be sure to stop by the Gold Lounge. "It is incredible and the staff are so friendly and attentive. For someone working on the go, it is nice to retreat into the lounge for a few hours to be productive while also enjoying good food, great drinks, and a view."
"The small touches like chocolate and champagne were so thoughtful after long days sightseeing. I am also head over heels for Le Labo so I was very excited to see Le Labo Rose 31 provided by the hotel."
Another great stay? The Swissotel Chicago. "The staff at the hotel are so incredibly gracious."
Photo: Blair Eadie
THE BAR in the lobby of Fairmont Chicago. Blair says, "I'm a sucker for a Moscow Mule. THE BAR is such a refreshing cocktail after a stroll on the Riverwalk." For a bite, walk right over to the Columbus Tap, also inside the hotel: "The Rotisserie Chicken Salad with kale and farro was fantastic for lunch. The space has a modern yet welcoming feel and it is always so convenient to have a great restaurant space in your hotel when traveling."
Blair's other local Chicago favorites? "We did try deep dish pizza at Lou Malnati's! It was great. The Hampton Social and Bernie's were my favorite eats in Chicago. I am a seafood lover, so trying the Lobster Roll at The Hampton Social was on my list of things to do and the space was even more adorable in person. We stopped by Bernie's for brunch and enjoyed really delicious cold brew coffees and homestyle food."
Photo: Blair Eadie
The Fairmont is near some of Chicago's best local attractions like nearby Auditorium Theatre and PrivateBank Theatre (where Hamilton is currently playing).
"Fairmont Chicago's close proximity to Millennium Park was amazing. Checking out The Art Institute of Chicago and the Cloud Gate sculpture were two of my favorite experiences." If you're traveling in winter, head to Millenium Park's McCormick Tribune Rink to ice skate and admire the Christmas Tree. For indoor entertainment, there's nearby
Another Chicago must-see is the Gold Coast area. "The architecture, landscaping, and overall grand feel of the neighborhood were so impressive and beautiful. We also stumbled upon the 3 Arts Club Café, which was an incredible space I would highly recommend putting on your list of places to go in Chicago."
Photo: Blair Eadie
The Hamilton Princess & Beach Club. Says Blair, "From the amazing cuisine at Marcus's, to rum swizzles in the infinity pool and the boat tour, I didn't want it to end! The hotel has so many unique selling points, I had a fabulous time on the property."
Photo: Blair Eadie
Marcus' at Hamilton Princess & Beach Club: "Marcus' was incredible. I loved the décor of the restaurant and the ability to sit either inside or outside on the patio overlooking the harbor. I would recommend sharing as many of the appetizer snacks as you can before the main dishes; the Fish Chowder Bites were my favorite. They also have one of the most decadent champagne brunches."
1609 Bar & Restaurant at Hamilton Princess & Beach Club: "1609 Restaurant & Bar is a really unique space. It is positioned right on the water with large open windows that allow you to feel as though you really are eating on the water. It's a must stop if you are on the island. I would recommend the catch-of-the-day fish tacos – I had them three times!"
Crown & Anchor at Hamilton Princess & Beach Club: "Crown & Anchor is great for breakfast. The buffet has everything from French toast to eggs, a full fruit station with yogurt, nuts, and dried fruit. The ability to sit and enjoy or take away is also a nice feature for those with morning activities planned."
When you're out and about in Hamilton, Blair recommends heading downtown. "Downtown Hamilton has so many cute restaurants and bars. We were able to eat at The Lobster Pot on our first night – fresh seafood! After dinner, we had a cocktail at Devils Isle Café. It is very convenient that Front Street is so close to the hotel."
Photo: Blair Eadie
Blair Eadie recommends a day in Saint George's: "The cute town of Saint George's offers so many beautiful colors for photo backdrops. The narrow streets, small parks, and landmark buildings are charming. The town is so picturesque with brightly colored shops and houses as well as a great park, amazing perfumery and lots of other activities to do."
Eadie's other suggestions for a curated itinerary?
"Astwood State Park is magical as well. The narrow trains leading down the water offer near secret access to some of the most breathtaking coves and beaches I have ever seen."
See the island by sea with Harbour Boat Tour: "Our captain took us from the Hamilton Princess harbour past all the small islands in the Great Sound, around Spanish Point, and out past Ireland Island and the Royal Navy Dockyard. From there, we watched a perfect sunset. It is such a cool experience to see the island from a different vantage point."
Wrap up your evening with Marina Nights: "Marina Nights was a blast! I couldn't believe how many people showed up – a great mix of hotel guests and locals. It was fun to interact with everyone over a cocktail. My recommendation to guests would be to have a drink, listen to music and enjoy the harbor, and then pop up to 1609 for dinner."
Photo: Blair Eadie
For a luxury stay in New York City, Blair Eadie says you can't go wrong heading uptown for a stay at The Plaza. "The location is unrivaled. With Central Park directly across the street, world class storefronts along 5th Avenue, and incredible museums nearby, the options on how to spend your time can so easily be tailored to your current mood.
"The Plaza Hotel is, of course, famous for its timeless and elegant rooms and tradition of wonderful service. The bathrooms are absolutely incredible and luxurious. The 24-carat plated sinks, custom tile details, and white marble vanities add touches of elegance to already outstanding accommodations!"
Photo: Blair Eadie
The Plaza isn't just famous for its luxury suites. If you're going to stay at one of the world's most famous hotels, Eadie recommends eating there too starting with The Palm Court. "It's no surprise that The Palm Court has been a destination for afternoon tea and evening cocktails for over 100 years. The room is incredibly iconic and a wonderful relaxing break to the hustle and bustle just outside."
Another Plaza perk you shouldn't miss? The Food Hall's many options, "from fine food purveyors to counter-style dining to easy pick-up treats. With so many activities to see near the hotel, it is a nice luxury to have so many great dining choices right at the hotel."
Eadie recommends spending all afternoon at Bergdorf Goodman on Fifth Avenue for a luxury browse or splurge. "[It's] incredible for shopping and dining! The first floor, featuring accessories, was recently remodeled, and is gorgeous!"