Gotham Market West
For those fed up with restaurant decision making, your new dining era is here. Food halls have taken the variety of yesteryear's shopping mall food courts and spun them into delectable culinary bazaars. They're cropping up in cities from coast to coast, but in New York it seems like nouveau food halls are in (or coming to) practically every neighborhood—including a massive one proposed by Anthony Bourdain for Manhattan's Pier 57, rumored to open in 2019. Here's a look at the best halls hungry to feed you right now.—Kelsy Chauvin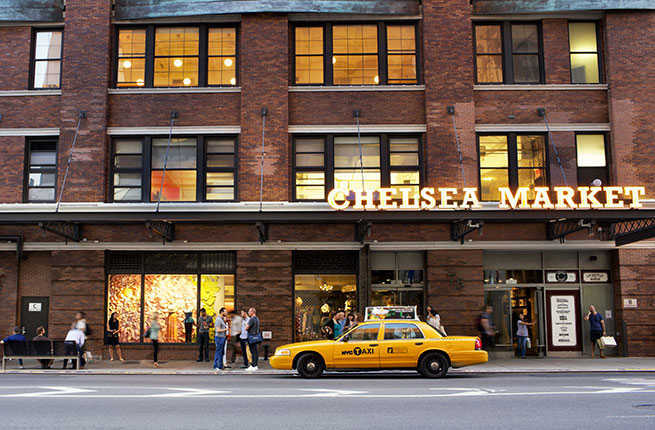 Chelsea Market
WHERE: Chelsea
Chelsea Market was one of New York's original food halls, serving a nice variety of fare from its block-long concourse since 1997. Today the place is a hive of restaurants and food-related shops that attract hungry patrons working and living around its hot spot at 9th Avenue and 15th Street—just within the tech zone that's home to both Google and a massive Apple store. Befitting the historic building's legacy as the former Nabisco plant, today you'll find phenomenal baked goods, along with loads of other cuisines from sushi to tacos to lobster rolls, and lots more.
PLAN YOUR TRIP: Visit Fodor's New York City Guide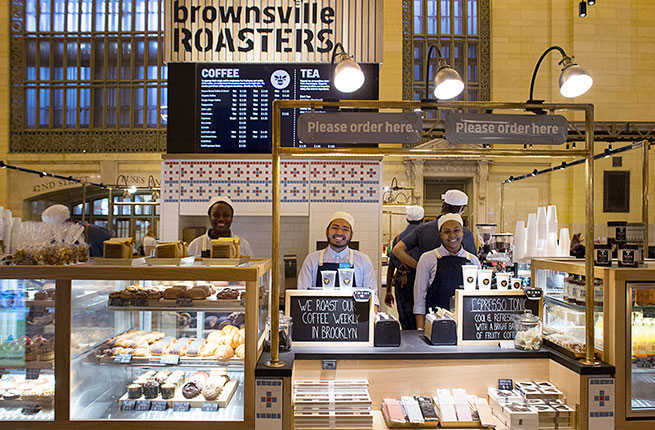 Grand Central Market
WHERE: Midtown
For a functional transit hub, Grand Central Terminal has a lot of foodie appeal. Of course, many travelers inevitably discover the famous Oyster Bar, the Campbell Apartment (if they can find it), and other fine restaurants. But there's also the upscale Grand Central Market at the northeast corner of the main concourse, where shoppers pick up delicious New York–made groceries. On the lower-level Dining Concourse, the terminal's spruced up its options with a Shake Shack, Magnolia Bakery, Mendy's Kosher Deli, Juice Press, and other new additions. The choices are so good diners head here even when they're not catching a train.
PLAN YOUR TRIP: Visit Fodor's New York City Guide
Ken Goodman Photography
WHERE: Herald Square
Just when it seemed all culinary hope had faded for Penn Station, we get The Pennsy. Opened in early 2016 at 7th Avenue and 33rd Street, this 8,000-square-foot food hall introduces some tasty brands to a neighborhood starved for alternatives to fast-food chains. The choices range from American classics, impressive vegan dishes, gluten-free fare, and carnivorous sandwiches (from Pat LaFrieda, the brand's first permanent retail site). Pennsy appeals for its food, bar, and large (if heavily trafficked) outdoor patio, which sometimes hosts live lunch and evening shows.
PLAN YOUR TRIP: Visit Fodor's New York City Guide
John von Pamer
WHERE: Brooklyn
Brooklyn's original hipster food assemblage has grown exponentially since its modest beginnings in 2011. More outdoor market than enclosed hall, Smorgasburg operates seasonally from its original location on the Williamsburg waterfront's East River State Park, as well as in Prospect Park and at the South Street Seaport in Manhattan (it's also rolled out to Kingston in upstate New York, and established its first out-of-state outpost in Los Angeles). It's impossible to keep up with the ever-evolving Smorgas vendor roster but count on inventive, multiethnic dishes so deliciously done you're practically guaranteed to overeat.
PLAN YOUR TRIP: Visit Fodor's New York City Guide
Plaza Food Hall
WHERE: Midtown
You might not realize that on the lower level of one of Manhattan's most famously grand hotels, The Plaza, exists a sprawling food hall eager to fill your belly the fancy way. The Plaza Food Hall has gradually expanded its choices over these first few years, featuring high-end, Euro-centric restaurants like a caviar "boutique," French grocery, bakery, patisserie, as well as sushi and noodle shops. Even fancier: One end of the concourse is home to the Todd English Food Hall, serving gourmet and specialty foods in an elegant setting, complete with marble floors and stained-glass windows.
PLAN YOUR TRIP: Visit Fodor's New York City Guide
Gotham Market West
WHERE: Hell's Kitchen
In the mostly industrial southern end of Hell's Kitchen, locals at last have reliably appetizing dining choices, all in a one-stop food hall. Located on 11th Avenue and 44th Street, Gotham West Market offers 10,000 square feet of assorted retailers, food counters, and communal tables, plus a board-game table where you can sip your Blue Bottle Coffee or savor a cone from Ample Hills Creamery. Theater-going groups with mixed cravings will prize these choices before or even after a show thanks to late closing times—from ramen and tapas to diner plates and charcuterie. (Look for Gotham Market's next enterprise to open later in 2016 in downtown Brooklyn.)
PLAN YOUR TRIP: Visit Fodor's New York City Guide
Michael Kleinberg
WHERE: Times Square
At times, the food landscape around Times Square can seem impossibly dreary. Help arrived in 2015 with the opening of City Kitchen inside Row NYC hotel on 8th Avenue, which instantly became Midtown's contribution to worthwhile food-hall dining in a shiny new space. At 4,000 square feet, it's not enormous, but its handful of vendors are enough to satisfy cravings for everything from lobster to burgers to ramen, polished off by tantalizing Dough doughnuts (try the hibiscus glazed!).
PLAN YOUR TRIP: Visit Fodor's New York City Guide
Le District
WHERE: Battery Park City
Catering to the downtown crowd in the World Trade Center vicinity, Le District is a chic hall with French-inspired shops and fare. It's a big draw inside Battery Park City's revamped Brookfield Place thanks to its sophisticated, abundant options. Divided into four "districts," Le District appeals equally to locals buying fresh produce, cheeses and meats; commuters grabbing a croissant on the fly; and executives lunching at Beaubourg brasserie or Le Bar for after-work cocktails and oysters. Don't miss the shady outdoor seating overlooking the Hudson River and North Cove Yacht Harbor.
PLAN YOUR TRIP: Visit Fodor's New York City Guide
Turnstyle

WHERE: Columbus Circle
Epitomizing the transit-center-goes-gourmet theme of NYC food halls is Turnstyle, the food hall and retail strip that opened last spring in the 325-foot-long Columbus Circle subway mezzanine. Commuters and hungry shoppers can enter via stairs at 8th Avenue and 57th or 58th streets, and take their pick of 20 small restaurants and almost as many more assorted purveyors. Sweets seem to dominate the corridor, with treats from Dylan's Candy Store, Doughnuttery, Batter & Cream, and others to tempt passersby. But there are good savories to enjoy too, like pizza, fine sandwiches (including breakfast bites), Mediterranean dishes, and—the real standout—authentic Bolivian food. Watch for more shops to open in coming months.
PLAN YOUR TRIP: Visit Fodor's New York City Guide
Littleny | Dreamstime.com
WHERE: Meatpacking
If Chelsea Market seems a bit soverwhelming (often the case around weekday lunchtime), pop over to Gansevoort Market on 14th Street just east of 9th Street. This Meatpacking District food hall is more low-key with about two dozen compact counters dishing a good mix of alternately meaty or veggie-forward meals, plus irresistible cupcakes and crepes. Eat at a bench at one of the communal tables in back, and enjoy the cool décor of twisted tree branches wrapped around this historic building's old steel columns and huge skylight.
PLAN YOUR TRIP: Visit Fodor's New York City Guide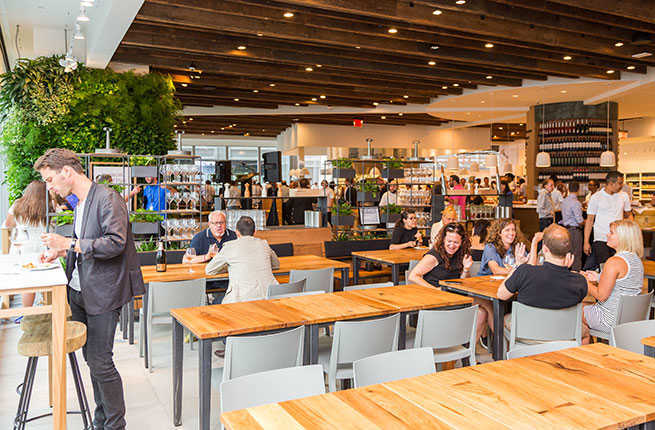 Pablo Enriquez
WHERE: Flatiron
The Eataly brand is steadily expanding to more locations, including a new outpost inside 4 World Trade Center. But its Flatiron spot remains a go-to for shoppers and diners craving all things Italian. Eataly may strike some as a slick combination market and food hall, but there's no arguing with the quality of its food and drink, including hard-to-find Italian imports and seasonal delicacies (black truffles, anyone?) available both in shops and in its five restaurants. Don't miss the giant Birreria rooftop restaurant and microbrewery, open all year round.
PLAN YOUR TRIP: Visit Fodor's New York City Guide