Provence is the jewel in France's many-splendored crown, a wildly diverse region featuring splendid mountains, azure bays, rolling vineyards, and scrubby herb-scented garrigue. The region's abundant sunshine, sublime wines, and fresh Mediterranean-inflected food have inspired a legendary culture of leisure. To take full advantage of this generous region, we've assembled nine of Provence's finest all-inclusive wine estate and resort hotels, complete with spas, gastronomic restaurants, contemporary art, gardens, outdoor activities, and fine estate wines.—Jennifer Ladonne
Serge Chapuis
WHERE: Luberon Natural Regional Park, Lauris
You'll feel right at home at this gracious retreat where time stands still under the dappled shade of tall cedars deep in the Provencal countryside. A rare attention to detail has been paid to every aspect of the domaine's exteriors and interiors for a sophisticated contemporary vibe that's entirely unpretentious. Art lovers will appreciate the original artworks in all the rooms and common spaces, as well as the domaine's contemporary art gallery. Indulge in Michelin-starred chef Jérôme Fauré's locally-sourced gourmet cuisine paired with the domaine's fine wines, produced on the premises from acres of vines. Lounge at the grassy poolside, stroll the lush gardens, take a long hike through nearby woods and vineyards, or sample the estate wines, along with local gourmet treats, at the state-of-the-art tasting room. And if that's not pampering enough, a small spa with a steam room offers a range of massages and treatments.
Insider Tip: Close to the perched villages of the Luberon, a half hour by car from Aix-en-Provence and just under an hour from Avignon, the Domaine de Fontanille is an excellent base for exploring the area. That is if you can tear yourself away!
PLAN YOUR TRIP: Fodor's Provence Guide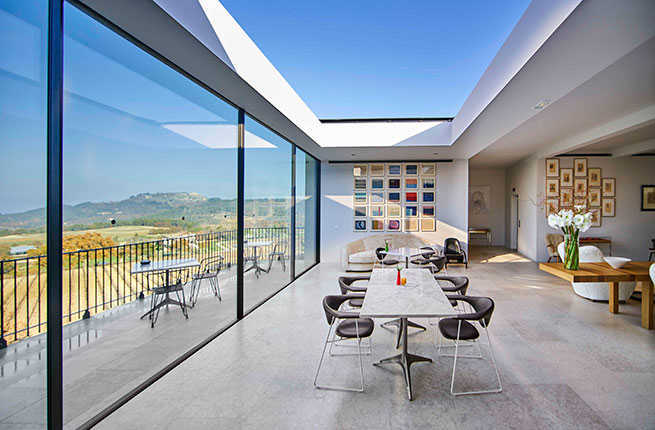 Chateau La Coste
WHERE: Le Puy-Sainte-Réparade
Opened to the public in 2011, this spectacular 600-acre wine estate, 10 miles from Aix-en-Provence, is fast becoming Provence's essential destination for lovers of contemporary art and architecture. Striking site-specific structures by some of the top names in architecture—Frank Gehry, Oscar Neimeyer, Norman Foster, Renzo Piano, and the estate's Jean Nouvel-desgined biodynamic winery—rise above woods and vine-clad hills along with artworks, and earthworks, by the likes of Richard Serra, James Turrell and Andy Goldsworthy. Last year, the chateau inaugurated Villa La Coste, a five-star resort featuring 28 contemporary villas done up in elegantly minimal style and bedecked with fine contemporary artworks. Each villa has a large private terrace with spectacular views for miles over the mountains of the nearby Luberon. The villa's sleek gastronomic restaurant is overseen by Michelin-starred chef Gérald Passedat and there's also the less formal Le Salon restaurant.
Insider Tip: Even if you don't stay the night, visitors are encouraged to spend the day exploring the grounds or dining al fresco at La Terrasse café, part of Tadeo Ando's sleek visitor center and restaurant, to the strains of live music in summer under the gaze of Louise Bourgeois's Crouching Spider and Alexander Calder's Small Crinkly.
PLAN YOUR TRIP: Fodor's Provence Guide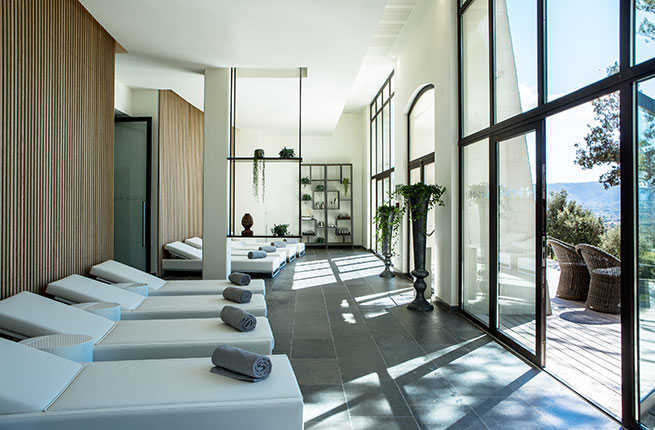 Gilles Trillard
WHERE: Gargas
Set on 90 acres of rolling vineyards between Avignon and Aix-en-Provence, with panoramic views for miles over the Luberon Valley, this country spa and wine estate offers sophisticated pampering with everything you need onsite for a flawless Provence stay. Gorgeous in every season, particularly autumn and spring, the emphasis here is on the great outdoors, with miles of marked paths through pastoral woods, vivid lavender fields, and rolling vineyards. There's also a mountain biking center where visitors can get everything they need to explore the grounds or the many nearby perched villages. Take in the view from two shimmering pools before indulging in the newly refurbished indoor-outdoor spa, where you can relax in the whirlpool while the sun sets over the vineyards. Coquillade Village's three dining options include an al fresco bistro, an Italian restaurant, and fine gastronomic dining. A series of wine classes and tastings introduce you to the Aureto AOP estate wines.
Insider Tip: Coquillade also has an elegant private house for rent, set on the grounds away from the main resort.
Read More: 10 Must-See Towns in Provence
Chateau Le Berne
WHERE: Lorgues
You'll feel far, far away from it all at this luxurious chateau retreat, set on more than 1,200 acres of forest and rolling vineyards, where everything you could possibly want is right at your fingertips. Perfect for a luxurious romantic weekend or a family getaway, the sprawling estate offers all the bucolic pleasures of Provence—miles of hiking and biking paths through spectacular countryside offer sublime panoramic vistas, charming gardens, an animal farm and bird watching, and even Roman ruins to explore. Closer to the resort, tennis courts, indoor and outdoor pools, boules, yoga, and fitness classes keep you active during the day. Or you can relax and be pampered at the Cinq Mondes spa, where you can choose from an extensive roster of beauty treatments and massages. Château de Berne's 27 rooms and are all decorated in modern Provencal style or you can opt for your own private villa, available throughout the year.
Insider Tip: Hone your cooking or wine tasting skills at the chateau's private cooking school, then sample Michelin-starred gastronomic cuisine complemented by the estate's award-winning wines.
PLAN YOUR TRIP: Fodor's Provence Guide
Hotel de Castellet
WHERE: Le Castellet
Views across sweeping lawns all the way to the azure Mediterranean provide a stunning first impression at this sophisticated hilltop getaway. Set on 100 acres, visitors can enjoy panoramic views of the medieval village of Le Castellet, the sea, and the mountains beyond. There's a six-hole golf course, indoor and outdoor pools, and tennis courts. The hotel's luxurious new spa offers state-of-the-art pampering, including a salt cave, fitness room, sauna, steam room, and every beauty treatment you could wish for in a sumptuous setting. Rooms and suites in the main building offer a cozy Provençal décor, all with private balconies, or opt for your own private villa with plenty of space for the family. Double-Michelin-starred chef Christophe Bacquié lights up evenings with his sublime gastronomic cuisine paired with choice local wines. For more casual dining, the Bistro San Felice serves gourmet dishes at lunch and dinner. The hotel organizes wine classes and tastings as well as outdoor activities like sailing or diving in the nearby Mediterranean or biking and hiking in the mountains.
Insider Tip: Just a few kilometers from a small private airport, the hotel attracts jet-setters and racers from the famous Circuit Paul Ricard a mile away.
Read More: 10 Must-See Towns in Provence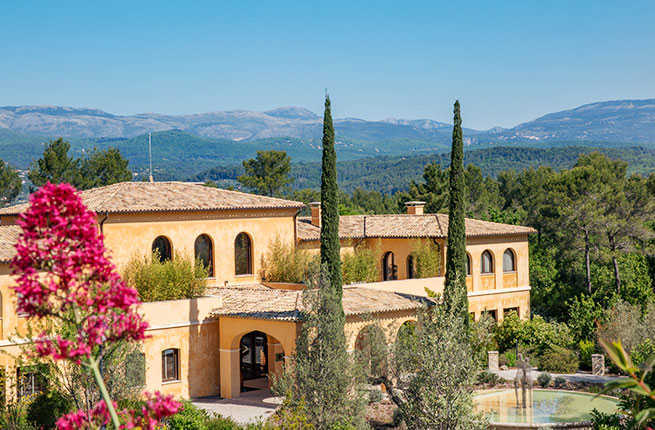 Terre Blanche
WHERE: Tourettes
Tucked away in the splendor of the Provence countryside, about 30 minutes from the Côte d'Azur, this Mediterranean-style resort has the air of an exclusive private village, with secluded villas set on winding lanes among luxuriant trees and flowers. Relaxation at Terre Blanche has been raised to an art form: when you feel like being alone, you've got your own spacious lodging, decorated in high style and comfort with original artworks, plush furnishings, and a sheltered private terrace (some with their own pool and whirlpool). And when it's time to play, there's a world of leisure activities to choose from, including the award-winning Carita spa—the largest in Frances—offering indulgent treatments, fitness classes, and a pool. A chic Michelin-starred restaurant and convivial bar make dining out an event, but several other dining options offer more casual bistro fare. Terre Blanche is justly famous for its two spectacular 18-hole golf courses, which host of prestigious tournaments and affords panoramic views of hilltop villages, rolling countryside and the mountains beyond. You also have the choice of several swimming pools, tennis courts and a roster of more exotic activities, like buggy excursions, gliding, sea sports, and hiking in France's most dramatic gorge.
PLAN YOUR TRIP: Fodor's Provence Guide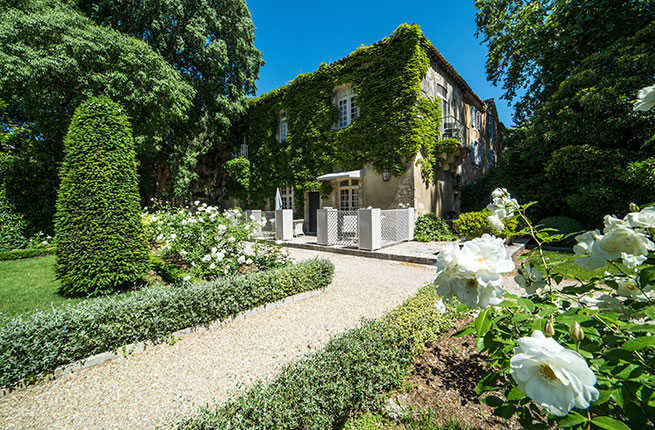 Baumaniere Les Baux De Provence
WHERE: Les Baux-de-Provence
Having recently celebrated its 70th anniversary, this refined farmhouse refuge has taken its time to perfect a certain French art de vivre. With the dramatic white cliffs of Les Baux-de-Provence as a backdrop, everywhere you look on this charming property you'll find a picture-perfect spot to take in the atmosphere (at least Queen Elizabeth, Pablo Picasso, and Grace Kelly and her Prince thought so when they stayed here). Spread over five buildings, each sun-filled Provencal-style room is accented with antiques and original artworks, and many come with private terraces, making breakfast al fresco a rare pleasure. Between three shimmering pools and a superb indoor-outdoor spa, lounging was never so easy. And L'Oustau de Baumanière, the hotel's two-Michelin-starred gastronomic restaurant (as well as La Cabro d'Or, a more relaxed gourmet bistro) is the cherry on the cake. The estate makes its own wine, which can be sampled in both restaurants, in the elegant tasting room, or purchased in the chic boutique.
Insider Tip: Located a half-hour from Arles and an hour from Aix en Provence and close to the perched villages of the Luberon, it's an excellent base from which to explore the glories of Provence.
Read More: 10 Must-See Towns in Provence
Domaine de Manville
WHERE: Les Baux-de-Provence
You will find much to love about this splendid country estate, luxury spa, and spectacular golf course set in the shadow of the picturesque medieval village Les Baux-de-Provence. Once a private golf club, the domaine's handsome 17th-century country farm buildings were meticulously converted into luxury lodgings and opened in 2015 with a full-service spa and an expanded 18-hole ecological golf course. Clustered around a charming pool under ancient plane trees, the farmhouse outbuildings offer single and duplex lodgings, many with private terraces, and all beautifully furnished in an elegant contemporary country style, with spacious baths and all the amenities. Gourmet dining at the chic La Table gastronomic restaurant is a delight. Guests can opt for more casual affair at Le Bistro and breakfasts or teatime in the spectacular winter garden. The domaine's nine spectacular private villas, done up in sleek, contemporary style with every modern convenience, including private pools, offer an ultra-luxe setting for a short or long getaway.
PLAN YOUR TRIP: Fodor's Provence Guide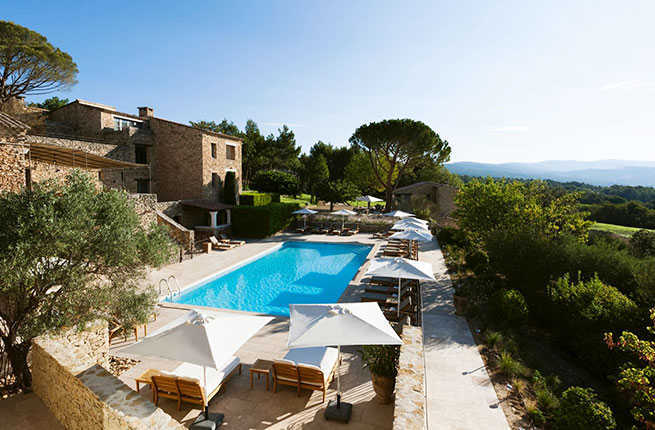 Mas des Herbes Blanches
WHERE: Luberon Natural Regional Park, Joucas
From the refreshing glass of champagne offered upon your arrival to a delicious gastronomic dinner on a charming terrace, the Mas des Herbes Blanches offers contemporary luxury and quiet repose in a beautifully renovated Provencal farmhouse. Set in the breathtaking Parc Naturel Régional du Luberon, the hotel's panoramic views—from your luxuriously decorated room, the outdoor bistro and terrace restaurant, the pool, or the spa—are your dramatic backdrop, from sunrise to sunset. The mix of sophisticated and rustic extends to the grounds, where you can hike or mountain bike through woods, vineyards, and garrigue, enjoy a guided visit to taste the local vintages, or tour the region's many splendid hilltop villages—one of the Luberon's many claims to fame.
Insider Tip: Open year-round, the resort is spectacular in every season, but the fall, when the surrounding vineyards turn to gold, offers a wonderful moment of peace, quiet, and beauty.
Read More: 10 Must-See Towns in Provence