Phil Mansfield
With the hectic holiday rush around the corner, relaxation will soon be high on the roster. Fortunately, there's an impressive array of new spas offering personalized, tailored rituals that use local, organic ingredients and new cutting-edge techniques. At these serene escapes, you can expect a range of global influences, splendid renovations, and new concepts. From the urban locales of New York City and Los Angeles to the rustic Catskills and Sedona retreats, you won't want to miss these 12 new destination spas.
By Kate Donnelly
Kate Donnelly is a freelance writer based in New York. She's the founder of the creative collaborative, From Your Desks. She's a Contributing Editor at Fathom and her work has appeared in AFAR, Bon Appetit, Departures, Forbes, Style.com and Refinery 29. She travels for the food. Follow Kate on Twitter @k8bdonnelly.
Donna Dotan/Park Hyatt New York
WHERE: New York City
The mod, clean-lined Spa Nalai (which translates to "Serenity") on the 25th floor of the newly opened 5-star Park Hyatt Hotel showcases floor-to-ceiling windows with expansive views of New York. Enjoy a swim in the 65-foot-long pool (with an underwater sound system and music compliments of Carnegie Hall). The seasonally changing menu blends cutting-edge technology and old world techniques. The "Signature Treatment," a one-of-a-kind orchestration, uses a sand quart bed and the practice of "earthing"—an ancient traditional of keeping one's body grounded to earth's natural surfaces. Still not relaxed enough? Consider enhancing your atelier experience with a customized hand or foot ritual.
PLAN YOUR TRIP: Visit Fodor's New York City Travel Guide
Delano Las Vegas
BATHHOUSE Spa at The Delano
WHERE: Las Vegas
Inside the new, un-Vegas-y Delano Hotel, the 14,000-square-foot BATHHOUSE Spa, a narrow, moody marble-clad oasis, is the perfect place to take refuge from the hustle and bustle of the Strip. Start with a warm cup of tea, an invigorating eucalyptus steam, or situate yourself in the redwood sauna. 12 treatment rooms are dedicated to global journey treatments from India (Chakra Balancing), Asia (Jade Detox treatment), and Europe. Locally infused massages, like the Desert Stone with lemon blossom oil and Prickly Fear Facial, are designed to soothe and melt away toxins, stress, and too much time sitting at the blackjack table.
PLAN YOUR TRIP: Visit Fodor's Las Vegas Travel Guide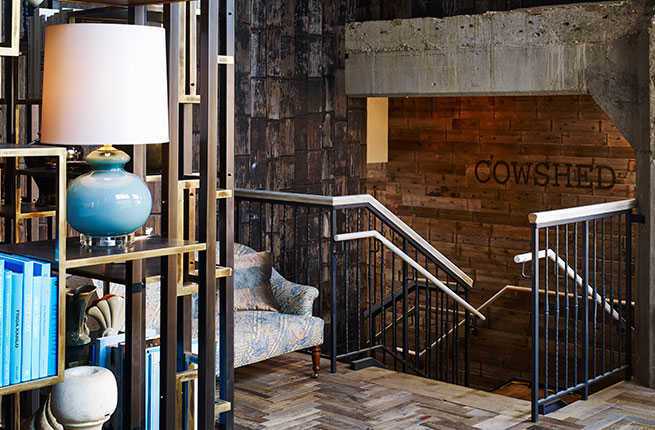 David Burk of Hendrick Blessing
WHERE: Chicago
With 7 spa locations (within and outside the U.S.), the rustic-luxe, laidback Cowshed Spa opened a branch at the Soho House Chicago. Five treatment rooms are designated for bodywork and facials using products from the line's unisex, fairly-traded essential oils and plant extracts. The cheekily titled "Moody Massage" employs essential oils based on one's level of grumpiness or laziness. The mani-pedi set will enjoy 6 spacious stations flanked by natural wood and pops of greenery. The face-focused can select from 14 facials including a Vitamin C firming one, and the rushed can zip in for a 30-minute Speedy Facial (steam and exfoliation) followed by a shoulder massage.
PLAN YOUR TRIP: Visit Fodor's Chicago Travel Guide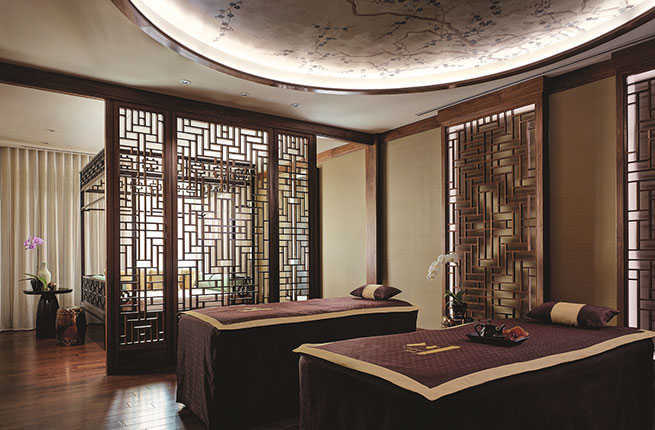 Courtesy of the Chuan Spa
WHERE: Pasadena
Located a few miles from Los Angeles in the venerable oasis Langham Huntington, Pasadena, the renovated 11,000-sqaure-feet Chaun Spa is rooted in traditional Chinese Medicine and cutting-edge practices. Commence your journey in the "Contemplation Lounge" and slowly saunter to one of 12 treatment rooms combining traditional Chinese massage techniques and private label oils. The therapeutic Chuan Stone Therapy balances the yin (with cold stones) and yang (hot stones) and a Jing Luo foot treatment uses acupressure with herbs and hot stones to detoxify. Wind down in the Dream Room as you sip on one of the five Chinese element teas.
PLAN YOUR TRIP: Visit Fodor's Los Angeles Travel Guide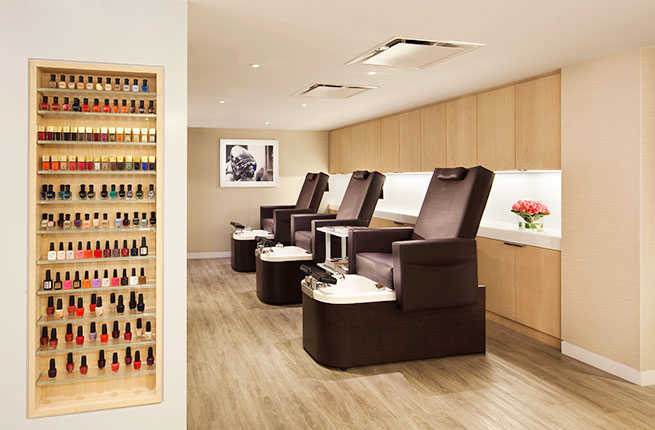 Courtesy of Julien Farel Restore Salon & Spa
Julien Farel Restore Salon and Spa
WHERE: New York City
It's everything under one roof for those who require rest, relaxation, pampering, and beautification. Located in the newly refurbished Loews Regency Hotel, Julien Farel's Restore Salon & Spa has 10,000 feet of head-to-toe pampering. A hearty menu offers anti-aging facials (the French Facelift Facial Contours with Glycolic acid) to massages, dermatology, fitness, and of course haircare by the famed celebrity stylist himself, Julien Farel. City fatigue? Retreat to one of ten treatment rooms for indulgences like the 5 Pillar Massage, an anti-aging treatment enlisting aromatherapy—adding a glistening boost to skin tone and overall health. Should time permit, have the capable salon handle a wash, dry, and style.
PLAN YOUR TRIP: Visit Fodor's New York City Travel Guide
Courtesy of COMO Hotels and Resorts
WHERE: Miami
The famed Como Shambhala (referring to one's center of harmony and peace) is located at the recently opened Miami Beach Metropolitan by COMO. The spa pampers with the brand's east-meets-west approach to wellness. Four intimate treatment rooms feature therapies like the ultimate stress-relieving Indian Head Massage and Sun Soother to hinder the drying effects of sun and salt. Holistic facial care uses botanical therapies with manual lymphatic stimulation. Clear the mind with some guided meditation or pranayama breathing. Sip from a variety of wellness juices and smoothies, or have a swim in the rooftop Hydrotherapy pool with marvelous, panoramic views of the Atlantic Ocean. Every morning, on the spa terrace, complimentary yoga is offered.
PLAN YOUR TRIP: Visit Fodor's Miami Travel Guide
Don Riddle
WHERE: Orlando
A welcome kid-free retreat for the weary Disney World crowd, the newly opened Four Seasons Orlando presents 13,000-square-foot, marble-clad sanctuary that pays homage to the lush Florida Everglades. The Aroma Design Bar allows guests to customize signature scents to take home. Local bodywork specialties include La Floridan, offering a cane-sugar polish and finished with whipped shea butter. The Citrus Drench Cocoon is a good match for sun-damaged skin infused with rich, nourishing honey, shea butter, and orange extract. Retreat to the relaxation lounge for a memorable "experience shower" with 9 body spray massagers, LED light system, audio system (think tropical rain) and aroma injection system.
PLAN YOUR TRIP: Visit Fodor's Orlando Travel Guide
Phil Mansfield
WHERE: The Catskills, NY
Just east of Woodstock, the small and intimate eco-chic Savor Spa (which first appeared in New York's West Village) opened a charming 2000 sqaure-foot rustic barnhouse space. Treatments like the "Sophia" focus on mapping with deep-tissue methods while facials include Diamond Microdermabrasion, a Power Peel, and the customer favorite Vitamin C Glow Treatment. For good measure, add on a relaxing, warm coconut scalp massage and mini-facial (the papaya power peels are stellar). Don't forget to stock up on the locally blended, organic anti-aging Om Aroma and Co line (try the anti-aging Pumpkin Serum) and a yoga class with an injection of soothing aromatherapy.
PLAN YOUR TRIP: Visit Fodor's The Catskills Travel Guide
Dean Stevenson
WHERE: Sedona
Situated in the spectacular Arizonia Red Rocks, the secluded L'Auberge invites guests to a tranquil, intimate, unpretentious space. The new bespoke spa concept L'Apocethecary Spa allows guest to blend body care and treatments from herbs, flowers, and botanicals including local Sedona pinion pine, juniper, and rosemary. The Quiet Mind, composed of a Lotus Wei flower blend, supplements calming breathing techniques. The aptly-titled Sedona Dreams treatment employs coconut, argan oil, and hot stones sweetened by a scalp and massage ritual. "Feet in The Creek" melds an earth-nature connection with a reflexive foot massage and soothing sounds of the nearby creek. Finish your day with moonlit mediation.
PLAN YOUR TRIP: Visit Fodor's North-Central Arizona Travel Guide
Courtesy of The Setai, Miami Beach
WHERE: Miami Beach
This summer, the plush Setai, Miami Beach launched a new spa concept from Paris brand THÉMAÉ (currently its only U.S. based partnership) employing treatments using four types of Japanese teas: antioxidant-rich white and green teas along with stimulating black and red. Four suites grant front-row ocean and pool views. The Oriental Massage using kneading and treading and is performed after the Hammam (a traditional black soap scrub and body mask). The Themae Ceremony is a head-to-toe treatment with a back and scalp massage and facial, while the Oriental Ceremony combines a body message for a heightened sense of relaxation. A Nepalese body polish uses bamboo powder to exfoliate and encourage circulation.
PLAN YOUR TRIP: Visit Fodor's Miami Travel Guide
The Rittenhouse Spa & Club – Hair by Paul Labrecque
Rittenhouse Spa & Club Philadephia
WHERE: Philadelphia
The historic Rittenhouse hosts a small, quiet 3,000-square foot retreat from Philadelphia's downtown hustle. Within any of 10 treatment rooms, guests can enjoy the signature Rittenhouse Massage using aromatherapy oils or The Quartet, with two therapists (totaling four hands) who perform in a soothing, matching rhythm. The Detox Facial helps congestion and dry skin with help from products like the luxe Natura Bisse and Vermont's organic darling Tata Harper. In a hurry? The Honey Scrub exfoliates while a rich C+C Vitamin Body Cream is massaged into your skin. Of course, guests have access to the sauna, steam rooms, and an indoor pool. Hungry? The four-diamond restaurant, Lacroix will supply a healthy spa meal.
PLAN YOUR TRIP: Visit Fodor's Philadelphia Travel Guide
Insider Images/Andrew Kelly
WHERE: New York City
This isn't your typical spa experience. The New York outpost of Vancouver-based cosmetic brand Lush (known for its cult-classic, fizzy Bath Bombs) has opened an Upper East Side Lush Spa resembling a traditional English countryside home surrounded with an antique blend of wild flowers, chalkboards, vintage teacups and old books. Opt for the de-stressing, holistic "Synesthesia," allowing clients to select a desired state of mind or emotion (i.e., energy, confidence, motivation) and enjoy a treatment designed to heighten all five senses with a customized massage and a personal, integral soundtrack (from folk music to classical). On your way out, pick up some handmade goodies (soaps and body butters) at the downstairs retail store.
PLAN YOUR TRIP: Visit Fodor's New York City Travel Guide