Courtesy of Shibui Spa
Soaking in a tub of alcohol, analyzing your aura, applying stem cells from plants—spas across the country go to great lengths to spark the latest healthy and beauty crazes. But these non-traditional treatments add a dash of fun to any getaway and give visitors an opportunity to explore wellness in a new way. These 10 spa treatments combine creativity and ancient healing traditions to create relaxing and truly unique experiences.
By Zachary Laks
Courtesy of The Spa At The Hotel Hershey
WHERE: The Spa at The Hotel Hershey in Hershey, Pennsylvania
The Spa at The Hotel Hershey, America's sweetest relaxation destination, finds surprising and delicious ways of incorporating the globally renowned chocolate empire's signature cocoa beans into its treatments. To experience more than the flavor of chocolate, The Hotel Hershey's spa draws a bath you'll never forget. Ease into Hershey's patented Whipped Cocoa Bath ($45 Monday through Thursday; $50 Friday through Sunday, 15 minutes) for moisturizing properties that leave the skin soft and smooth for days. Dessert has never been this rewarding!
PLAN YOUR TRIP: Visit Fodor's Pennsylvania Dutch Country Travel Guide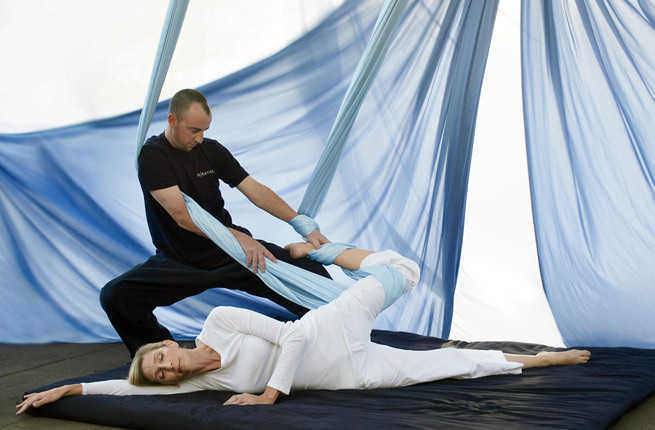 Courtesy of Miraval Arizona Resort & Spa
WHERE: Miraval Resort & Spa in Tucson, Arizona
Tuscon's destination luxury resort and spa, Miraval, has earned international acclaim for holistic treatments that are deeply rooted in historic healing methods. Miraval's Nâga ($215, 50 minutes; $295, 100 minutes) treatment stands out for its application of Buddhist principles to a non-traditional massage. Prepare for something out of the ordinary as the massage therapist wraps his or her arms into vaulted silk strands and hoists himself over your body, as you lay face down on a massage mat. The therapy is administered primarily by pressure applied through the therapist's feet, which shifts energy throughout your body and assists with deep stretching. Loose and comfortable clothing is encouraged.
PLAN YOUR TRIP: Visit Fodor's Tucson Travel Guide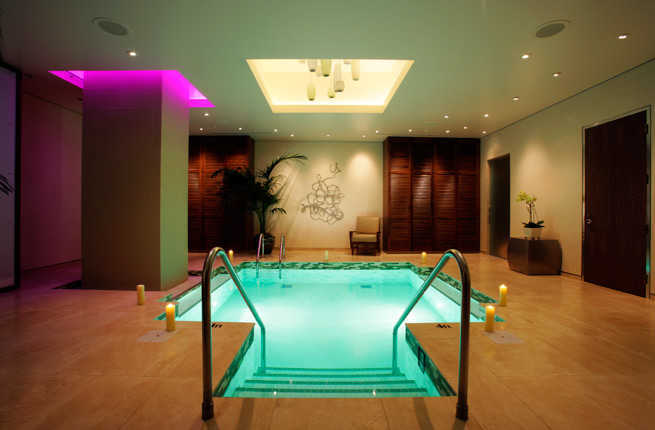 Courtesy of MGM Resorts International
WHERE: Spa at Bellagio in Las Vegas, Nevada
One of the definitive standards of luxurious relaxation on the Las Vegas strip, the spa at Bellagio Las Vegas spans an impressive 65,000 feet. As soon as you step in the door, the high-lines spa sets the tone with Zen-influenced granite, water walls, and plenty of candles. The spa offers a non-traditional aquatic massage in a private 94-degree pool. The unique 70-minute Watsu® Massage ($285 on Sunday through Thursday; $295 on Friday and Saturday) fuses Zen Shiatsu (the popular Japanese technique of applying pressure to energy points on the body) with assisted stretching while floating. Expect to float to a state of nirvana as the still water soothes and calms.
PLAN YOUR TRIP: Visit Fodor's Las Vegas Travel Guide
Courtesy of The Omni Grove Park Inn
Color and Light Wrap With Aura Imaging
WHERE: The Spa at The Omni Grove Park Inn in Asheville, North Carolina
Attracting the off-beat traveler seeking natural healing, Asheville has built an industry on wellness and relaxation. One of the most unconventional treatments of them all is The Omni Grove Park Inn Spa's Color and Light Wrap With Aura Imaging ($229 Monday through Thursday; $270 Friday and Sunday; $280 Saturday), where music, light, heat, and aromatherapies relax and unify the body and spirit. An Aura Imaging camera that displays and analyzes your energy captures the 80-minute treatment, which includes exfoliation and a clay body wrap.
PLAN YOUR TRIP: Visit Fodor's Asheville Travel Guide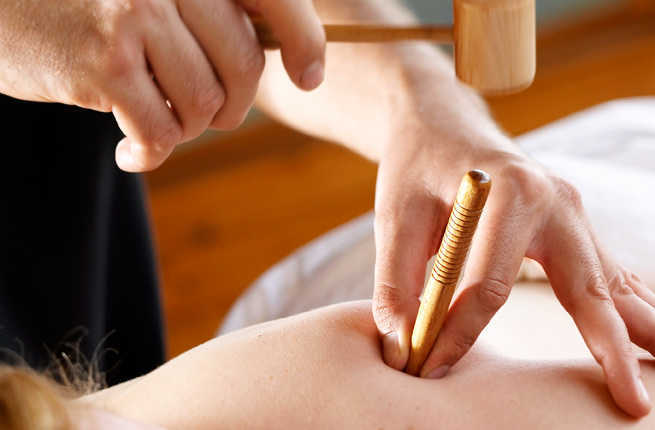 Courtesy of Lake Austin Spa Resort
WHERE: LakeHouse Spa at the Lake Austin Spa Resort in Austin, Texas
Austin's treasured oasis of health and revitalization, the Lake House Spa at the Lake Austin Spa Resort is a luxury hideaway with only 40 rooms on-site. The 25,000-square-foot spa offers more than 100 treatments, including Tok Sen ($165, 50 minutes; $220, 80 minutes) one of its most unique. Drawing from ancient Northern Thailand techniques, the treatment combines the stretching of Table Thai massage with rhythmic tapping with a special wooden hammer to instill healing vibrations throughout the body. Touted to help release energy blockages and enhance circulation, you're certain to finish the treatment feeling centered and energized.
PLAN YOUR TRIP: Visit Fodor's Austin Travel Guide
Courtesy of Galos Caves
WHERE: Galos Caves in Chicago, Illinois
Long regarded as a healing treatment, people seek out the Black Sea's Crimean salt for its mysterious natural medicinal properties. The Crimean salt can be found in great supply at the Galos Caves in northwest Chicago. Accommodating people of all ages, the colorful enclaves provide a sea microclimate layered with the special crystals. The list of healing benefits from the salt runs long but the salt-iodine enclosure is primarily sought out for respiratory, digestive, and dermatological issues. When you arrive to the caves you'll be asked to remove your shoes (make sure to pack white socks) but you are welcome to relax in your street clothes. Visits are segmented into 45-minute sessions. ($15 for adults, $10 for students/seniors)
PLAN YOUR TRIP: Visit Fodor's Chicago Travel Guide
Courtesy of The Osthoff Resort Aspira Spa
WHERE: Aspira Spa at The Osthoff Resort in Elkhart Lake, Wisconsin
A village resort and spa about an hour north of Milwaukee, The Osthoff Resort's 20,000-square-foot Aspira Spa was built with serenity in mind when it was completed in 2006. Capturing the natural splendor of the still waters of Elkhart Lake, the Spa features an awe-inspiring meditation sanctuary complete with a stone water wall, reflection pool, and plenty of candles to set the Zen mood. For those willing to go beyond the more traditional relaxing spa treatments, Osthoff's 50-minute Body Lymphatic Treatments ($125) uses the ancient Chinese practice of cupping to enhance the circulation of blood and eliminate toxins that can harbor in the body.
PLAN YOUR TRIP: Visit Fodor's Wisconsin Travel Guide
Courtesy of Shibui Spa
WHERE: Shibui Spa at The Greenwich Hotel in New York, New York
Shibui Spa shows New Yorkers there's more than one way to enjoy sake, Japan's treasured rice wine. A simplistic and elegant Japanese spa, Shibui operates out of The Greenwich Hotel, offering a short list of indulgent treatments and solutions for stress and wellness. Shibui offers a sake soak ($95 for 30 minutes for one person; $120 for 30 minutes with two people), which is part of a New Year's tradition in Japan for its purifying characteristics. The sparkling tub nourishes the skin while Japanese lore says the treatment helps to detract evil spirits and welcome new beginnings. A soak in the tub is perhaps the best reason for a celebratory toast (of sake!).
PLAN YOUR TRIP: Visit Fodor's New York City Travel Guide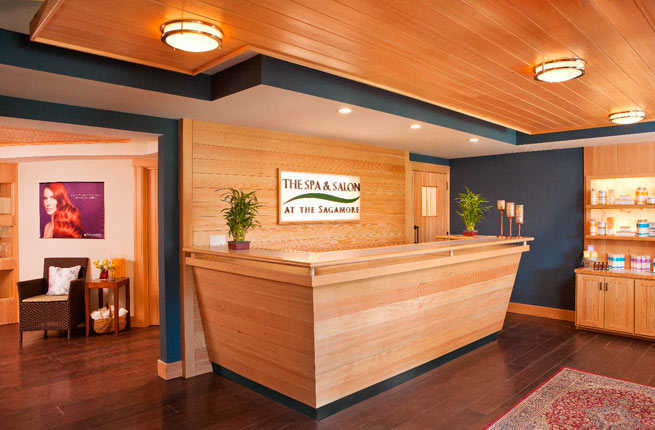 Courtesy of The Sagamore Resort
WHERE: The Spa & Salon at The Sagamore Resort in Bolton Landing, New York
Decidedly remote on an island of its own, The Sagamore Resort has a good thing going in the heart of Lake George, providing luxurious and comprehensive weekend getaways for the cosmopolitan set. The newly renovated spa has introduced a host of new treatments that stand out amongst the other resorts of the southern Adirondacks. One of the most unique, the Stem Cell Facial ($205, 75 minutes) repairs and renews skin by rebuilding cellular membranes. The hydrating experience makes lines and wrinkles less noticeable, ensuring that you'll leave feeling years younger.
PLAN YOUR TRIP: Visit Fodor's Lake George Travel Guide
Courtesy of Sonnenalp
WHERE: The Spa at Sonnenalp Hotel in Vail, Colorado
If Vail's altitude (8,150 feet above sea level) is getting the best of you, stop in at the Sonnenalp Spa at Sonnenalp Hotel, where oxygen is in abundance. A deep breath takes on a whole new meaning in the spa's Oxygen Bar, where different varieties of oxygen (such as lemongrass) provide relief to the lungs. Oxygen sessions ($2 per minute with a 5 minute minimum) help boost energy, alleviate headaches, and regulate sleep patterns.
PLAN YOUR TRIP: Visit Fodor's Vail Valley Travel Guide