Kid- and mom-tested, we've rounded up the best gifts to inspire a love of travel in your little ones age infant to five years old and keep them entertained on planes, trains, cars, and more. Whether you're looking for the best kid headphones, the coolest on-the-go toys, or something to make your journeys with kids a little less stressful, we've got you covered, from one travel-obsessed parent to another. —Alexis Kelly and Salwa Jabado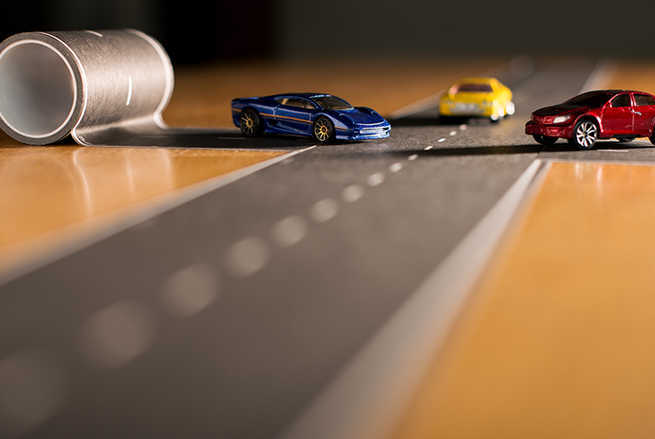 Roads To Take You Anywhere
If your son is like mine, he always has a handful of tiny cars in his backpack when we travel. But he also complains that he doesn't have a place to play with them. Enter PlayTape. Very similar to painters tape, this reusable, non-residue-leaving tape comes in road and train designs as well as curve pieces so kids can make the perfect winding track…anywhere. The tape sticks to most surfaces—we tried hardwood floors, carpets, bookshelves, and even up the walls.
Why we love it: It's inexpensive, reusable, completely portable, and occupies kids for hours.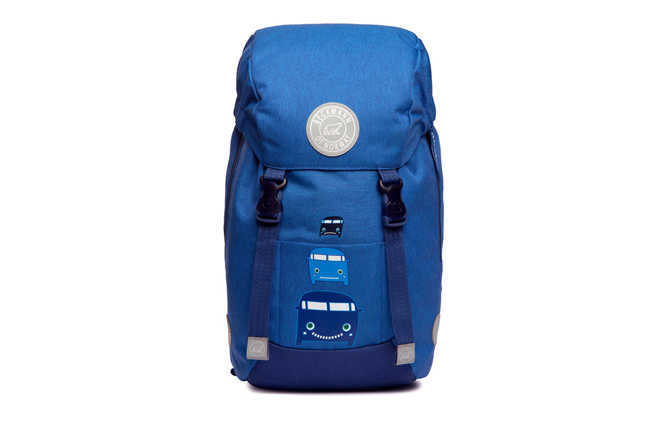 No matter how hard we might try to limit what we bring on trips, kids always seem to need more. A great way to limit what they bring is to only allow what they can fit in their bag. Beckmann of Norway's Rucksack Nursery School backpack is an awesome new option that comes in blue and purple. It's the perfect size for little backs, has reflective details on all sides, an outside pocket for a water bottle, a chest strap, and a rain cover tucked away in the bag's top flap. Kids will love the monster or bird details and parents will love the separate matching shopping bag.
Why we love it: Lightweight with just enough room for important items.
Put a little joie de vivre in your baby's wardrobe with these sweet GAP My City Bodysuits. Travel-minded parents will reminisce about past trips while plotting their next adventure, this time with baby in tow. Long-sleeved, they come in Paris, London, New York, and Italy designs.
Make it a theme: Gift the Melissa & Doug Wooden Airplane along with the GAP onesie to jet-setting babies.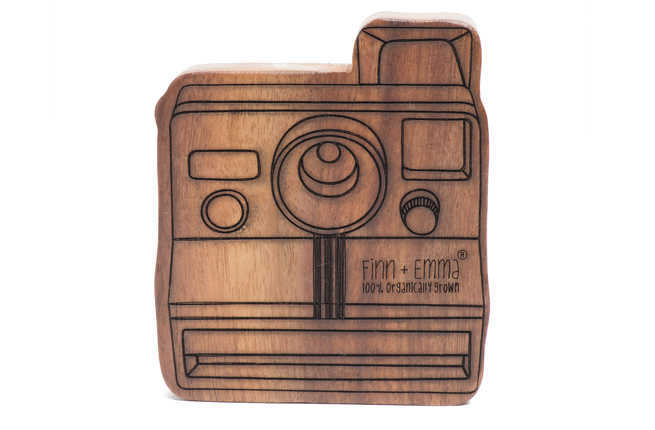 Modern Organic Wooden Rattle
For the trendy baby in your life, go retro-modern with the Finn + Emma Polaroid Wood Teething Rattle. Sourced from Indian hardwood, these organic teethers have beans in them and are finished with vegetable seed wax. The fair trade teethers will please parents looking for something unique.
Make it a theme: Give the polaroid rattle with the polaroid of the 21st century, Polaroid Snap, so new parents can print baby pictures on the go.
Have kids who hate traditional headphones? CozyPhones fleece headbands come in kid-approved designs (the blue unicorn is our fave) and have flat headphones that sit inside the headband. Volume controlled and soft enough to sleep in, these are great for plane rides. They also make them in adult sizes—sorry, no unicorns for grown-ups.
Why we love it: The headphones are removable for easy washing; they double as winter earmuffs.
Grandparents take note: The Shrunks inflatable toddler beds are perfect for sleepovers with the littles. With inflatable side rails to keep toddlers and preschoolers from falling out, there are two great options: one has an electric pump for indoor use; another is smaller, has a foot pump, and a sleeping bag included for camping out. They are Phthalates- and BPA-safe and standard crib sheets fit the mattress.
Why we love it: Compact enough to take along to sleepovers, comfy enough for a two-week vacation.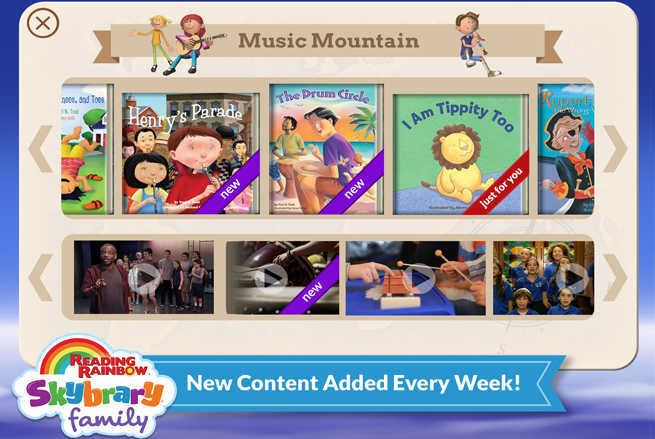 Stop lugging around kids' books on your travels—the Reading Rainbow Skybrary Family app has over 600 well-curated picture books you can have read to your 2-9 year old or they can read to themselves. There are also short educational videos featuring beloved host LeVar Burton. This is screen time you can feel good about. But you don't have to take our word for it…
Why we love it: Saves parents from traveling with picture books, nostalgia for the show, kids love the interactive animations.
While there are a wide range of themes and sizes available in Hanna Andersson's pajama collection (there's even a family set option), our favorite are the Full Steam Ahead Night Night Baby Sleepers (there are also long johns for the older crowd), which are the perfect outfit if you're planning a late-night drive to grandma's house. These 100% organic cotton PJs range in size from 3 months—3.5 years and wash like a dream. If you're ever unhappy with your purchase, the Portland, Oregon-based company offers a full refund at any time for any reason.
Why we love it: Super comfy, easy to wash, travel-themed PJs.
Reusable Airport Stickers
These truly reusable stickers are just right for the littlest travelers in your life. The At the Airport Reusable Sticker Tote contains two scenes, an airplane and a runway, that stickers cling to. Toddlers may need help getting the stickers off but they'll have fun placing the many planes (including a helicopter), trucks, luggage, and people. Unlike most stickers, these won't get stuck to your coffee table and never come off.
Perfect for: Entertaining kiddos on the plane.
Around the World Picture Book
Travel around the world to visit children in different time zones with At the Same Moment, Around the World by Clotilde Perrin. At 7 a.m. Benedict drinks hot chocolate in Paris, while in Dubai, it's 10 a.m. and Nadia's watching another building go up. It's a great way to introduce the idea of different cultures to kids and plan your next adventure.
Why we love it: You can read it in sequence or pick any page and start there. There's also a pullout map with the original 24 time zones
JLab Jbuddies folding headphones are well designed for the 2+ crowd. They stay on little heads, are soft on ears, have volume limits to prevent hearing loss, and have the volume control on the outside of the right ear for easy parental control. They come with stickers to customize the headphones—a big hit with our kids.
Why we love it: Headphones my 3-year-old actually wants to wear.
Reveal Hidden Scenes With Water
Melissa & Doug's Water Wow is a packable portable activity for toddlers. Fill the pen with water and let the kiddos paint four boards revealing hidden scenes. These are available in various themes like vehicles, fairy tales, and safari animals and are a handy, inexpensive travel-ready diversion.
Perfect for: Buying a few minutes of quiet time on planes and at restaurants.
Rather than trying to pack a standard sand pail or buying one at your beach destination, we suggest getting the Packable Pail collapsible buckets. Made of heavy-duty food-grade silicone, these are BPA- and PVC-free. This pail holds 5 liters and collapses down to 2 inches wide and 10 inches across. It's a must when flying, though we suggest bringing an additional shovel, as the one it comes with doesn't match the quality of the pail.
Perfect for: Beach babies.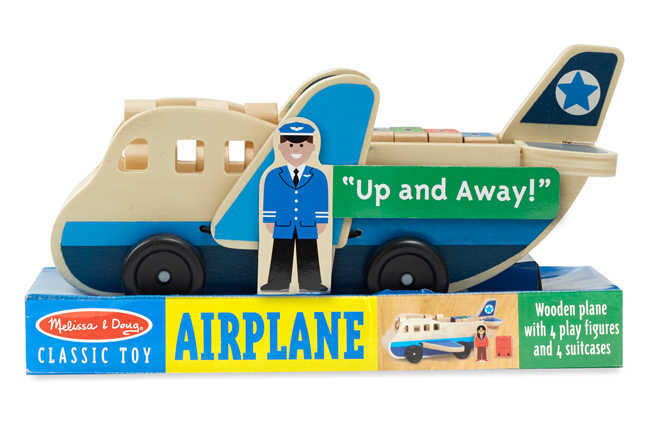 The Melissa & Doug Wooden Airplane Set is a classic. Little hands can remove the pilot, passengers, and luggage and roll the plane around on its working wheels. The color of the suitcases and people's clothing match, turning this into a learning game. A travel-themed toy for toddlers who love all things that go vroom.
Why we love it: This sturdy toy is fun for babies and toddlers alike.
It's amazing how quickly little legs get tired. Especially when you're running for your flight or trying to catch a train. Thankfully, we found Trunki, a ride on suitcase that's been making traveling fun since 2006. Ideal for kids ages 3-6, there's a design for everyone—think think red firetruck or yellow bumblebee. And, at just under 4 pounds, it's easy for adults to carry and shove into luggage compartments.
Why we love it: Skip the unwieldy gate-checked stroller and pull kids through the airport on their own luggage. If your flight is delayed, they've got a "toy" to distract them.