Courtesy of Antoine's Restaurant
You may not be able to grab a beer with Bill Clinton or sit down for supper with the Obamas, but you can certainly visit establishments where the country's Commanders-in-Chief have wined and dined over the years. In honor of Presidents' Day, we've profiled 10 restaurants and watering holes where travelers can soak up stories about Presidential drinking and dining, not to mention throw back some seriously good food and drinks.
By Alexis Korman
Courtesy of Martin's Tavern
WHERE: Washington, D.C.
Since its opening in 1933, popular Georgetown fixture Martin's Tavern has been packed with presidents. Today, guests can sit in Booth 1, where John F. Kennedy ate breakfast on Sundays after attending mass at nearby Holy Trinity Church (he was partial to the "early riser" breakfast, with eggs, toast, hash browns, ham, bacon or sausage, juice, and coffee). Other presidential menu favorites include the cheeseburger (ordered by Bill Clinton), meatloaf (Richard Nixon), and prime rib (Harry S. Truman). Wondering what to drink? Whiskey lovers should enjoy Lyndon B. Johnson's favorite pairing: bourbon with steak, which he purportedly ordered many times at the tavern with Speaker of the House Sam Rayburn in tow.
Insider Tip: John F. Kennedy proposed to Jacqueline Onassis in Booth 3, or what the staff call "the proposal booth."
PLAN YOUR TRIP: Visit Fodor's Washington, D.C. Guide
Courtesy of Gadsby's Tavern Restaurant
Gadsby's Tavern Restaurant
WHERE: Alexandria, VA
It's only fitting to fête Washington's birthday where he himself celebrated the occasion with dining and dancing: at Gadsby's Tavern in 1798 and 1799 (at the latter gathering, he reportedly enjoyed canvas-back duck, hominy and Madeira, the much-enjoyed fortified wine of the time). The tavern also played host to a lavish inaugural banquet for Thomas Jefferson. Today, it hosts George Washington's Birthnight Banquet and Ball, an annual Rum Challenge (rum punch was the tavern's signature drink in the 18th century) and offers special Madeira tastings to visitors.
Insider Tip: Stop by the Gadsby's Tavern Museum next door, where guests can peruse dining areas, rooms and the banquet hall, which hosted the first six American presidents.
PLAN YOUR TRIP: Visit Fodor's Alexandria Guide
Courtesy of Vermilion Restaurant & Bar
WHERE: Alexandria, VA
The Obamas celebrated Valentine's Day at this Old Town Alexandria restaurant in 2012—known for highlighting locally sourced ingredients and supporting the area's artisans and farmers—where President Barack Obama was spotted dining without a tie. The couple enjoyed Vermilion's special Valentine's Day tasting menu along with a martini and dined on the restaurant's second floor, which overlooks bustling King Street.
Insider Tip: Visitors can catch live music by local talents in the restaurant's lounge every Tuesday and Wednesday night at 9:30 pm.
PLAN YOUR TRIP: Visit Fodor's Alexandria Guide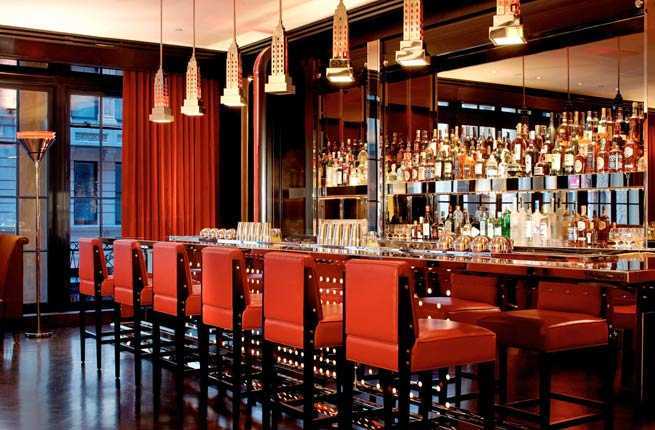 Courtesy of The Lambs Club New York
WHERE: New York City
Located in Manhattan's theater district, The Lambs Club is helmed by Iron Chef Geoffrey Zakarian and outfitted with swanky red leather banquettes and a roaring, floor-to-ceiling, 18th-century fireplace—a fitting place for former President Bill Clinton to frequent. On one occasion in 2012, Clinton was seen enjoying vegetarian dishes and drinking tea, followed by a glass of red wine. Chef/Partner Zakarian says, "Every time President Clinton visits The Lambs Club he is extremely upbeat and polite. He always takes the time to greet the staff members and shake hands with people."
Insider Tip: The landmarked building was originally home to America's first professional theater club, The Lambs, which counted Fred Astaire, Charlie Chaplin, and Milton Berle among its members.
PLAN YOUR TRIP: Visit Fodor's New York City Guide
Courtesy of Ireland's Own Pub
WHERE: Alexandria, VA
At most Irish pubs, St. Patrick's Day means mega crowds and green beer. But at Ireland's Own, the date marked the visit of a special guest in 1988: President Ronald Reagan, who enjoyed corned beef and cabbage along with a pint of Harp. "Reagan had an energy about him that put you instantly at ease," says former owner Pat Troy. "He made it easy to carry on as though he was just another patron."
Insider Tip: The Ireland's Own staff, President Reagan, and the crowd sang "The Unicorn Song" during his visit, which is now a tradition at the pub today, so brush up on the lyrics before making a visit.
PLAN YOUR TRIP: Visit Fodor's Alexandria Guide
Courtesy of Fresco by Scotto
WHERE: New York City
Former President Bill Clinton and Hillary Clinton celebrated their wedding anniversary at Fresco by Scotto, a Midtown Manhattan eatery—and began their meal with the restaurant's signature potato and zucchini chips dish, served with gorgonzola cheese. The meal included pasta, steak and fish, and ended with a sweet treat: praline ice cream sandwiches.
Insider Tip: The Clintons aren't the only Washington royals to dine at the restaurant. Former First Lady Laura Bush was spotted here with her daughters Jenna and Barbara, along with members of the Kennedy clan (including Carolyn Kennedy, Kerry Kennedy, and the late Senator Ted Kennedy).
PLAN YOUR TRIP: Visit Fodor's New York City Guide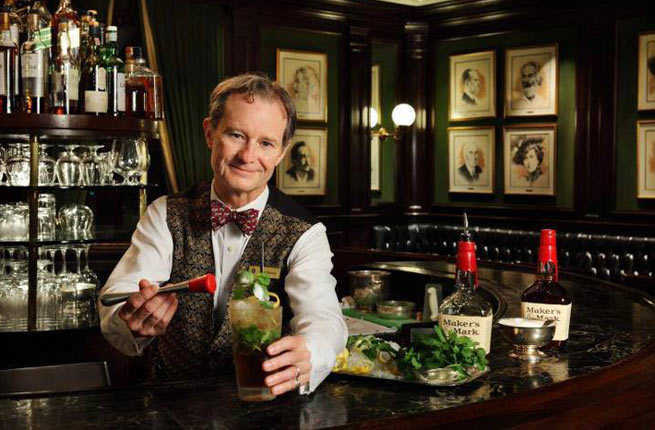 Courtesy of Willard InterContinental Hotel, Washington D.C.
WHERE: Washington, D.C.
Located inside the Willard InterContinental Hotel on Pennsylvania Avenue near the White House, the Round Robin Bar can claim to have hosted almost every president since Zachary Taylor. In honor of the many presidential visits, the bar's chief bartender and recreational historian Jim Hewes created a presidential-themed drink menu, which features beverages that can be linked by anecdotes back to each commander in chief, like Bacardi rum and Coke for Richard M. Nixon, who would relish mixing the drink for guests aboard the presidential yacht, the USS Sequoia.
Insider Tip: To hobnob with Washington's elite, don't miss the bar's annual Kentucky Derby party—complete with bow ties, big hats and the signature drink: the Henry Clay mint julep.
PLAN YOUR TRIP: Visit Fodor's Washington, D.C. Guide
Courtesy of Antoine's Restaurant
WHERE: New Orleans
Established in the French Quarter in 1840, New Orleans' famous, swanky French-Creole staple Antoine's claims to be the country's oldest family-run restaurant: but it's something of a celebrity magnet, too. The list of distinguished guests can count five American presidents (including Franklin Roosevelt, Calvin Coolidge, and Herbert Hoover), along with Bing Crosby, Bob Hope, and even Pope John Paul II.
Insider Tip: The restaurant is filled with photographs and memorabilia of world leaders and celebrities who have visited—and while what they ordered isn't public record, no one escapes without ordering the rich and buttery Oysters Rockefeller, which was invented here and named after the wealthiest baron of the day, John D. Rockefeller.
PLAN YOUR TRIP: Visit Fodor's New Orleans Guide
Courtesy of City Tavern Restaurant
WHERE: Philadelphia
Called "the most genteel tavern in America" by John Adams in his journal upon his arrival in Philadelphia on August 29, 1774, City Tavern was the meeting place of the founding fathers (and it's where Adams met George Washington for the first time). And while Madeira, punches, and red and white wines were the most popular libations enjoyed at the Tavern during the 18th century, today visitors can enjoy Ales of the Revolution (made by Yards Brewing Company), created from the original recipes noted by the founding fathers in their journals.
Insider Tip: According to the Tavern's lore, Thomas Jefferson spent more money here than anywhere else while he lived in Philadelphia (allegedly, he spent more on meals and wine at City Tavern than on his rent).
PLAN YOUR TRIP: Visit Fodor's Philadelphia Guide
Courtesy of Junior's Restaurant & Cheesecake
WHERE: New York City
On October 25, 2013, President Barack Obama made a surprise visit to Junior's in Brooklyn (he was accompanied by now-mayor of Manhattan, Bill de Blasio), where he was spotted buying one large plain cheesecake, one large strawberry cheesecake, and two black and white cookies. Owner Alan Rosen reported that Obama greeted all of the restaurant's guests and employees during his one-hour visit and said, "We are going to eat these on Air Force One."
Insider Tip: The restaurant, famous for its cheesecake, has over 200 items on its expansive menu, and has several additional locations in Manhattan (including at Grand Central Station and Times Square), making stops in for a bite of (sweet) history a breeze.
PLAN YOUR TRIP: Visit Fodor's New York City Guide
Courtesy of The Colonial Williamsburg Foundation
Christiana Campbell's Tavern
WHERE: Colonial Williamsburg, VA
Well-known colonial Virginians, including Presidents George Washington and Thomas Jefferson, loved Christiana Campbell's Tavern for its fresh seafood. Today, this Colonial Williamsburg tavern offers guests with a taste for history the chance to sample traditional dishes from the British colonies of North America, along with classic tavern fare, including cabbage slaw, spoon bread, and sweet potato muffins, all in a space decorated with period touches (like pewter candlesticks, brass sconces, and reproduction chairs).
Insider Tip: Servers can regale guests with stories pulled from George Washington's own diary, which recounts how he frequently ate and drank at the Tavern (one entry states he dined there 10 times within two months).
PLAN YOUR TRIP: Visit Fodor's Colonial Williamsburg Guide