(c) Fergy | Dreamstime.com
Some of the country's best culinary spots are most accessible on foot, from Manhattan's bustling Lower East Side to the romantic eateries hugging Santa Fe's plaza. Cooking-school owners and entrepreneurs with a foodie bent have launched guided itineraries to take you to these foot-traffic-friendly eateries, from hole-in-the-wall dim sum to cute-as-a-button cupcake cafes. Leave the car behind and hand your palate over to a guide who is schooled in the best bites in a given city.—Kristine Hansen
Courtesy of Miami Culinary Tours
WHERE: Miami Beach
Raised in Argentina, Miami Culinary Tours' founder Grace Della got the idea to launch a walking food tour from her mother, who hosts tours in their home country. From Hispanic-European fusion pastries at Charlotte's Bakery to authentic Cuban dishes, the tour of six eateries on the "South Beach Food Tour" won't leave you hungry.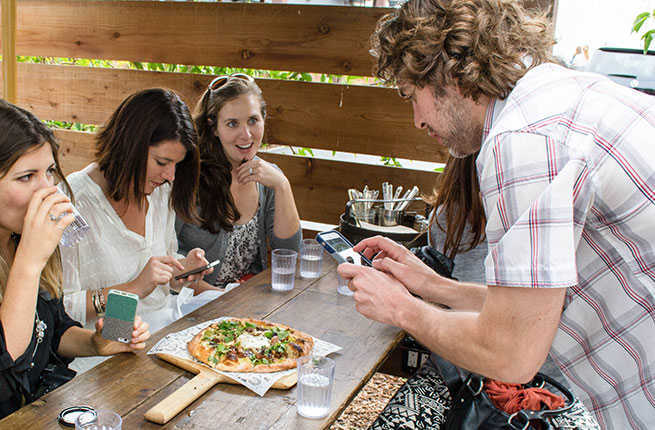 Lauren Salaun
Eat This, Shoot That Tour
WHERE: Santa Barbara
For gourmands who love snapping photos of what they eat, "Eat This, Shoot That Tour" guides not only dish on the best restaurants in Santa Barbara, but also give out photography tips. Focused on the emerging Funk Zone district, packed with tasting rooms and restaurants alike, the tour also folds in a distillery visit and two stops on Stearns Wharf (Santa Barbara Shellfish Co. and Deep Sea Winery's tasting room).
(c) Fergy | Dreamstime.com
Bloody Third Ward: Bloody Mary Brunch Tour
WHERE: Milwaukee
Bloody Marys in Wisconsin feature a unique twist—a beer chaser—and Milwaukee Food Tours shows you the city's best when it comes to this brunch staple. The tour includes four, six-ounce Bloody Marys and edible brunch pairings at eateries in the Third Ward neighborhood, a section of town likened to New York City's SoHo for its restaurants carved into former warehouses.
Ana V. Ramirez
Mission District Food Tour
WHERE: San Francisco
The food scene in San Francisco's Mission District shows no signs of cooling off, and Avital Tours has its finger on the pulse. From an artisan cheese flight at a place that grabbed ink in The New York Times, to Argentinean empanadas, this tour offers a look at the neighborhood's global appeal through five different stops, including an artisan-grocery store.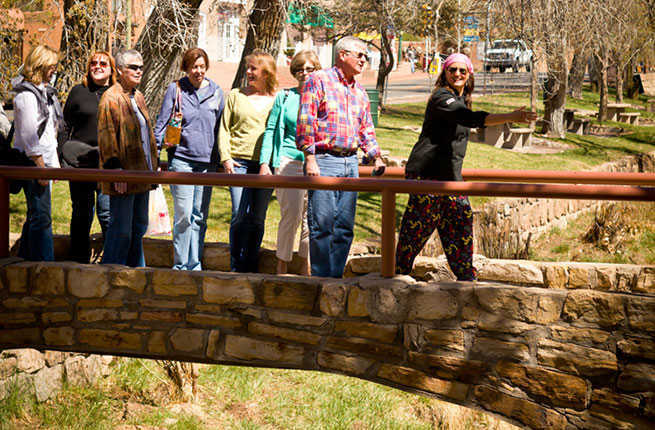 Eric Swanson
WHERE: Santa Fe
The New Mexico capital has long been a hotbed for sophisticated Southwestern-style cuisine, and the Santa Fe School of Cooking pinpoints the most decadent examples in three different tours. Featured are beloved favorites like 315 Restaurant & Wine Bar and new eateries Casa de Chimayo and Agoyo Lounge. Expect to develop a food crush on blue-corn tortillas and "Christmas" (red and green chiles).
Photo 315
Lower East Side Pizza Walk
WHERE: New York City
While ordering a slice in Manhattan is nothing unusual, Scott's Pizza Tours digs deeper to reveal the city's different personalities behind some of its best pizza. Visit America's oldest pizzeria as well as spots in Little Italy and Greenwich Village, coupled with significant sights in the borough's Italian history.
Courtesy of Chicago Food Planet, Inc
WHERE: Chicago
The Windy City is more celebrated for deep-dish pizza than dim-sum, but Chicago Food Planet aims to change that with a whirlwind tour of five restaurants in the city's compact Chinatown. Dine on Peking duck, Szechuan food, and dim-sum prepared Hong-Kong style.
Courtesy of Sweet Peach Tours
Tastes of the South Walking Food Tour
WHERE: Atlanta
Hotlanta hosts a rising food scene, with restaurant owners Kevin Gillespie (a Top Chef contestant) and Richard Blais (Top Chef: All-Stars winner) serving as two examples. Sweet Peach Tours takes a pleasantly low-key approach with casual eats like onion rings, ox tail, fried green tomatoes, grits, peaches, and catfish.
Boston Chocolate Tours
The Great Boston Cupcake Crawl
WHERE: Boston
Detouring from its chocolate specialty, but still appealing to sweet-toothed palates, Boston Chocolate Tours reveals the best cupcakes in Back Bay, Boston Common, and Beacon Hill. Also thrown in are baking tips for would-be pastry chefs in the crowd.
Jenna Pinchbeck
Find Heaven in Hell's Kitchen Dessert Tour
WHERE: New York City
Among high-rises, skyscrapers, and post-war apartment buildings in Hell's Kitchen are sugary treats like macarons, slices of pie, wedges of fudge, frozen custard, and fresh-out-of-the-oven cookies. Sugartooth Tours guides dessert lovers to six spots with the goods, accompanied by a history lesson of the neighborhood's rough past.