Courtesy of Rules
One of the great rewards of travel is seeing the world's most historic sites, whether they're sprawling palaces or impressive monuments. But often overlooked are the everyday places where some of history's most prominent players once dined and interacted. Some restaurants have had such long runs that they've been welcoming patrons for centuries, and, in one case, more than a millennium. From the eateries where ancient emperors once enjoyed soba noodles to a game house where Charles Dickens regarded the room, here are some of the oldest and most revered restaurants around the world.
By Kathleen Squires
St Peter Stiftskeller – The Restaurant
Stiftskeller St. Peter
WHERE: Salzburg, Austria
Open since: 803 AD
This antique eatery claims "genuine Salzburg hospitality for over 1200 years" as a mention of it in a manuscript has been traced back to 803 AD. Today, diners can choose from 11 historic rooms in Stiftskeller St. Peter where they can enjoy Austrian "soul food," such as filet of suckling pig with parsley and walnut risotto. Some nights come complete with entertainment, such as dinner concerts featuring music of famed Austrian, Mozart.
PLAN YOUR TRIP: Visit Fodor's Salzburg Guide
vixyao
Bianyifang
WHERE: Beijing, China
Open since: 1416
The original branch of this palace of Peking duck has been pleasing local palates since the Ming dynasty. Hailed as the oldest duck restaurant in Beijing, Bianyifang made its name by cooking the bird in a unique "closed oven." Even more old school: every part of the duck, from beak to feet, is served.
PLAN YOUR TRIP: Visit Fodor's Beijing Guide
Holger Ellgaard
Zum Franziskaner
WHERE: Stockholm, Sweden
Open since: 1421
German monks imported this beer cellar to Scandinavia, and the décor—with its wood paneling, high-backed booths, and shelves lined with beer steins—feels like it may not have not changed since. Platters of wurst and local cuisine, such as smoked herring, pair especially well with the haus's own weissbier.
PLAN YOUR TRIP: Visit Fodor's Stockholm Guide
Owariya
WHERE: Kyoto, Japan
Open since: 1465
Japanese royals, monks, and shogun have been slurping the buckwheat noodles at Owariya since the 15th century, and the recipes for the two dozen varieties of soba are stalwart. Try them cold with grated yam or in a hot, steaming bowl of ginger broth. Originally a confection house, the soba sweets are a draw, too.
PLAN YOUR TRIP: Visit Fodor's Kyoto Guide
Courtesy of LA TOUR D'ARGENT
Tour D'Argent
WHERE: Paris, France
Open since: 1582
The City of Light's quintessential special occasion restaurant, Tour D'Argent, started on this site in the 16th century, and its dazzling view, overlooking the Cathedral of Notre Dame, never goes out of style. If you order the caneton, pressed duckling, you'll contribute to a long-standing tradition dating to 1890, when the owner started to number the orders. Today, the numbers are upward of 1.2 million.
PLAN YOUR TRIP: Visit Fodor's Paris Guide
White Horse Tavern
WHERE: Newport, Rhode Island
Open since: 1673
It seems fitting that the spot claiming to be America's oldest tavern was once run by a notorious pirate. There are even stories of that seaman, William Mayes, Jr., still haunting the White Horse Tavern today. Current-day patrons come to the red, barn-like structure in search of other throwbacks to the past, like the classic New England clam chowder served beside a huge, wood-burning fireplace.
PLAN YOUR TRIP: Visit Fodor's Newport Guide
Courtesy of Botin Restaurant
Sobrino do Botin
WHERE: Madrid, Spain
Open since: 1752
While it may be a point of contention with other restaurants on this list, this Iberian landmark holds the distinction of being the record-holder as world's oldest restaurant in the Guinness Book. Sobrino do Botin's wood-fired oven has been there since its opening, turning out roasted meats, such as baby lamb, for fans such as Ernest Hemingway.
PLAN YOUR TRIP: Visit Fodor's Madrid Guide
Fraunces Tavern
WHERE: New York, New York
Open since: 1762
George Washington wined and dined his lieutenants in a formal farewell to his troops at Fraunces Tavern in 1783, which is why the restaurant, and attached museum, have a soft spot for the US's first president. The menu says GW's favorite was the pot pie, and a series of portraits of the great man adorn an entire gallery. There's even a collection of early American flags inside.
PLAN YOUR TRIP: Visit Fodor's New York City Guide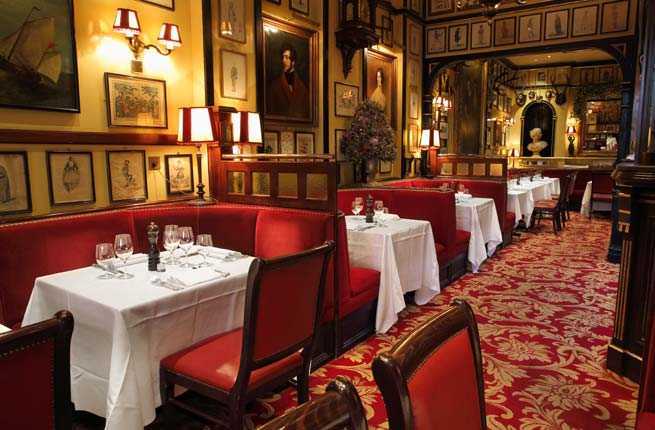 Courtesy of Rules
Rules
WHERE: London, England
Open since: 1798
The oldest restaurant in London has game… literally all over the menu. Originally an oyster house, Rule's dishes such as roast crown of pheasant and whole red leg partridge became its claim to fame. Dickens held court here, as well as later legends such as Sir Laurence Olivier. The artwork adorning the walls offers a glimpse into the restaurant's storied history and guests.
PLAN YOUR TRIP: Visit Fodor's London Guide
Yar Restaurant
WHERE: Moscow, Russia
Open since: 1826
As grand as a Tsar's palace, this columned, gilded, chandeliered, and frescoed restaurant has provided a familiar setting for Russian royalty and writers such as Tolstoy. The Yar Restaurant menu highlights "Russian hits," the most traditional dishes, such as veal stroganoff and chicken Kiev. Elaborate dance shows often come with dinner, here, too.
PLAN YOUR TRIP: Visit Fodor's Moscow Guide