Courtesy of Eataly Chicago
One glance at the country's current culinary scene proves it: Food halls are becoming as abundant as the options they offer within their walls. And while the concept itself may not be novel (check out Reading Terminal Market's history for factual backup), a handful of newcomers are demonstrating that there's something undeniably comforting about the convenience of dining, drinking, and merry-making under one roof—even if it's not your own. Here, we present 10 of America's top food halls.
By Nicole Schnitzler
Nicole Schnitzler is a freelance writer who covers travel, food, drink, lifestyle, and culture. When she is not planning her next adventure, she can be found exploring bakeries, record shops, and drink lists in her Brooklyn neighborhood. She is most comfortable with a pen in one hand and a fork in the other. Follow her on Twitter: @write_to_eat.
Courtesy Fred's Meat & Bread
WHERE: Atlanta
A mix of more than 20 restaurants, retail shops, and market stalls make up the offerings at Atlanta's recently opened Krog Street Market, which is located along the pedestrian-friendly BeltLine Trail in the Inman Park neighborhood. Last month's opening saw the debut of the French American brasserie Luminary and Japanese small plates gem Craft Izakaya; additional restaurants set to launch in the approaching months include Superica, a live-music-equipped Mexican eatery from Southern hospitality veteran Ford Fry.
PLAN YOUR TRIP: Visit Fodor's Atlanta Travel Guide
John von Pamer/Berg'n
WHERE: Brooklyn
In late August, the team behind Brooklyn Flea and Smorgasburg opened Berg'n, a beer-hall-meets-souped-up-cafeteria in Brooklyn's increasingly hip Crown Heights neighborhood. Diverse and dialed-up casual food offerings here come from Ramen Burger, Asia Dog, Mighty Quinn's, and Pizza Moto, and a long bar awaits diners with a substantial wine, cocktail, and beer list that leans local. Nearly a dozen communal tables make for ample seating in the main room, but if you're feeling particularly celebratory on a Sunday, head to the venue's neighboring "football room," complete with a big screen.
PLAN YOUR TRIP: Visit Fodor's Brooklyn Travel Guide
Timothy Hursley
WHERE: Denver
Housed inside an 1880s brick building in Denver's industrially focused River North District, The Source is home to 15 vendors that provide for nearly any culinary or artistic pursuit. Locals on the go can swing by for a pick-me-up from small-batch-inclined Boxcar Coffee Roasters and a baguette from Babettes, while those looking to kick up their feet—and their wine glasses—can taste their way through the New American menu at Acorn after a sampling of the sour Belgian specialty beer from Fort Collins-based Crooked Stave.
PLAN YOUR TRIP: Visit Fodor's Denver Travel Guide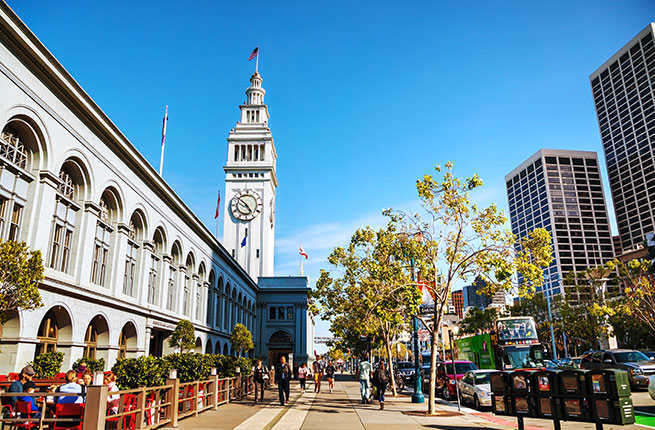 photo.ua / Shutterstock
WHERE: San Francisco
While some visitors exit San Francisco's Ferry Building with inedible goods from the likes of Sur La Table and Heath Ceramics, there's no question that the overarching theme for these 47 vendors is food. It might be challenging to find seats at the Bay Area's prized Hog Island Oyster Company or to score a taste of Charles Phan's James Beard Award-winning Vietnamese fare at The Slanted Door, but visitors can just as easily create a meal a pied from a slew of the city's primo food artisans, including Acme Bread Company, Cowgirl Creamery, and Boulette's Larder.
PLAN YOUR TRIP: Visit Fodor's San Francisco Travel Guide
Groovysoup | Dreamstime.com
WHERE: Philadelphia
When the Reading Railroad bought a block of Market Street in 1890 for its new terminal, it was the refusal of the inhabiting butchers and farmers markets to vacate that prompted the opening of one cohesive market, the Reading Terminal Market, inside the new building. Today, the venue carries the same busy energy as the historic transportation hub with 74 full-time vendors, all of which offer as much convenience for homebound shoppers as they do for Business District snack seekers. Don't get too discouraged if you walk in for coffee and leave with a Spataro's cheesesteak and chocolate-covered onion from Chocolate by Mueller—here, it's just part of the ride.
PLAN YOUR TRIP: Visit Fodor's Philadelphia Travel Guide
Daniel Krieger
WHERE: New York City
The folks behind Hell's Kitchen's Gotham West Market, which opened in November 2013, decided they would create a space that could seamlessly marry two concepts adored by food lovers nationwide: the food hall and the pop-up. In addition to housing eight permanent purveyors, the venue serves as a temporary space for businesses, including the current tenant: Jeni's Splendid Ice Creams. The eclectic vendor assembly, which offers everything from ramen (Ivan Ramen Slurp Shop) and tacos (Choza Taqueria) to burgers (Genuine Roadside) and bikes (NYC Velo), is a direct reflection on the culture-spanning city in which it's planted.
PLAN YOUR TRIP: Visit Fodor's New York City Travel Guide
Courtesy of Eataly Chicago
WHERE: Chicago
Mario Batali and Joe and Lidia Bastianich have done it again with Eataly Chicago, a Midwest outpost of the international chain that now boasts 27 locations throughout the world, including an American sibling in New York's Flatiron District. The property opened in December 2013 in Chicago's Near North neighborhood, where the crowd—a mix of lunch-break office escapees and weary Magnificent Mile shoppers—can wander the 15 restaurants (Nutella Bar included) to decide which craving to satiate first. Grocery shopping has never been more fun in the Second City: The 63,000-square-foot property imports more than 7,000 products from Italy, while also working with local producers.
PLAN YOUR TRIP: Visit Fodor's Chicago Travel Guide
Jakob N. Layman
WHERE: Los Angeles
The historic Grand Central Market, located in Los Angeles' Bunker Hill District, has been serving the city's downtown community since its 1917 opening. In 1984, developer Ira Yellin began renovations on the property, which now is comprised of 33 vendors that cease hunger pangs with currywurst and egg sandwiches alike. The coming months will see a handful of restaurant openings, including The Oyster Gourmet from Christophe Happillon—the only Master Ecailler (shellfish master) in Los Angeles—and an upcoming seafood concept from Mark Peel, the former chef and co-owner of Campanile.
PLAN YOUR TRIP: Visit Fodor's Los Angeles Travel Guide
Bonnie Sen
WHERE: Washington, D.C.
Washington, D.C., has a rich history beyond politics: When Centre Market, which opened in 1871, was torn down to make way for the National Archives, its vendors relocated and started Union Terminal Market—known today as Union Market. Since its renovated debut in September 2012, it has restored its own cultural district identity by extending its spotlight beyond food and drink to feature local artwork, a warehouse event space, and Thread, a repeating pop-up retail event. Still, with more than 40 retailers that offer everything from sustainable seafood to daily-made gelato, dining remains the biggest draw.
PLAN YOUR TRIP: Visit Fodor's Washington, D.C. Travel Guide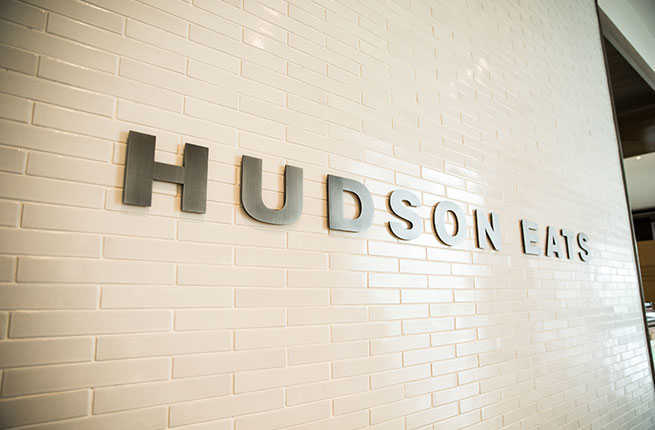 Brookfield Place
Hudson Eats at Brookfield Place
WHERE: New York City
Just in case New Yorkers didn't have enough destination-worthy dining establishments at their fingertips, they have one—or 14, depending on how you look at it—more with Hudson Eats, a food hall that opened in Battery Park City this past June. The property, which includes Big Apple favorites like Blue Ribbon Sushi, Num Pang sandwiches, and Black Seed Bagels, is part of a $250-million dining and shopping renovation project on Brookfield Place, formerly known as the World Financial Center. And the decadence doesn't stop there—Le District, a 30,000-square-foot, French-inspired marketplace with six signature restaurants, plans to open in 2015.
PLAN YOUR TRIP: Visit Fodor's New York City Travel Guide