PHOTO:
Icefields | Dreamstime.com
The golden age of bookstores may have passed, but even in this digital era, the world is home to more than a few bookshelf-lined shops that beg to be browsed for hours on end.
After all, nothing can replace the feeling of getting lost in a beautiful bookstore. Whether you're looking to pass the time on a rainy afternoon or see what the locals are reading, these spots demand a visit if you happen to be nearby. From an opulent former theater in Buenos Aires to a secret location in a New York City apartment, here are 20 of the world's most stunning bookstores.
PHOTO:
M R / Shutterstock
Selexyz Dominicanen Bookstore
WHERE:
Maastricht, Netherlands
Selexyz Dominicanen (Dominicanenkerkstraat 1) is not only a gorgeous bookstore; it's also one of the main attractions of Maastricht, a small Dutch city near the Belgian border. Originally a 13th-century cathedral, the building was converted to a bookshop in 2005. Inside, a mezzanine with sleek black shelves lines the nave and you'll find the wings where once there were pews. In addition to Dutch titles, there's a great selection of books in English.
PHOTO:
London Bookstores – DAUNT BOOKS # 02 by jmm Attribution-NonCommercial-NoDerivs License
Daunt Books has six locations in London, and its Marylebone shop is undoubtedly the most spectacular. With herringbone floors, a huge stained glass window, and a skylight fit for a greenhouse, the Edwardian bookstore is a lovely place to buy a novel by Jane Austen or Oscar Wilde. Ascend the balcony for a great view of the charming space. The well-curated travel section has travel-themed literature and poetry in addition to useful guidebooks.
PHOTO:
photography / Shutterstock
When you walk into El Ateneo Grand Splendid (180 Santa Fe Avenue), prepare to be awed. This stunning bookstore in Barrio Norte was built in 1919 as a theater, and the bookshop retains its opulent Beaux-Arts décor. A red curtain hangs across the stage, where you can have a coffee, hunker down in the club chairs, and read for as long as you want. Head upstairs to take in the view from the balcony, where posh Argentines once watched tango performances and the country's first movies with sound.
PHOTO:
Courtesy of Azienda Speciale Palaexpo
This super sleek, all-white bookstore occupies the lower level of the Palazzo delle Esposizioni, one of Rome's largest exhibition spaces. At Bookàbar, you'll find all the art and design books you could ever want—especially those related to the current exhibits—spread out in three large rooms. The shop also sells the latest must-have art and design objects by leading brands.
PHOTO:
Luciano Mortula / Shutterstock
American expat Sylvia Beach originally opened Shakespeare and Company in 1919 and lent books to Hemingway when he couldn't afford to buy them. When James Joyce was banned from publishing Ulysses in English-speaking countries, Beach published it. The original bookshop/lending library closed during the German occupation, but George Whitman opened its current incarnation overlooking the Seine in 1951. This Parisian institution is just as active as ever, hosting many literary readings, workshops, and an annual festival that brings together some of the world's best contemporary writers.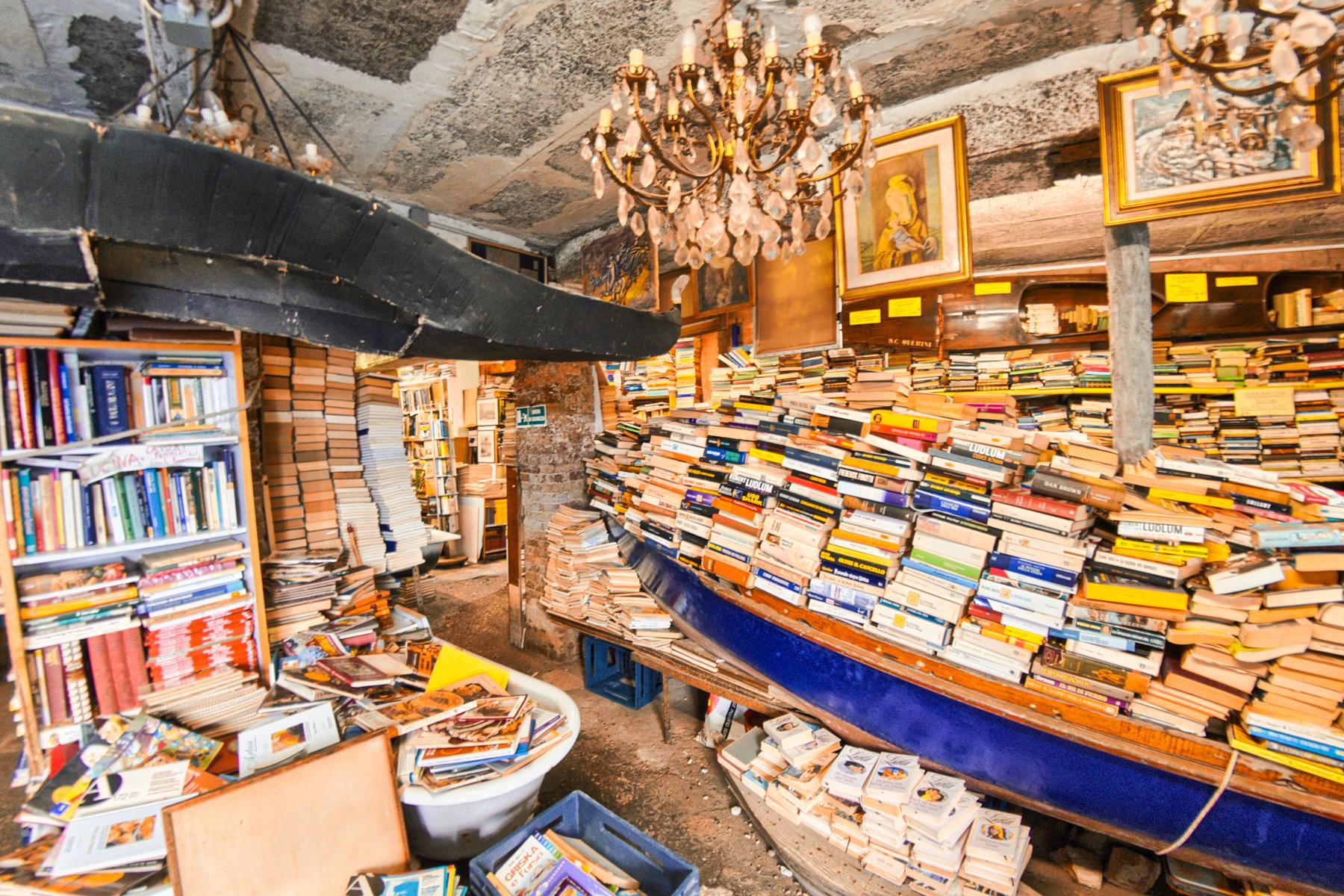 PHOTO:
CristinaMuraca / Shutterstock
Where in the world can you find a bookstore perched on a centuries-old canal? Venice, of course! With old stonewalls and books piled all over, the Libreria Acqua Alta (Calle Longa Santa Maria Formosa) has a back door opens right onto a canal. An old gondola piled high with books in the center of the shop nods to its maritime location. Grab one of the used books and watch the gondolas pass by while cats curl up at your feet.
PHOTO:
livraria-da-vila-10 by jingdianjiaju2 Attribution-ShareAlike License
The ultra sleek Livraria Da Vila in São Paulo is composed of many drool-worthy design elements. The most exciting is undoubtedly the series of pivoting bookshelves that function as doors. Lined in glass, the shelves are illuminated, so even at night passersby can take a peek at the books. The black and white interior is just as gorgeous, making this place a local favorite.
PHOTO:
Courtesy of Cook & Book
If the sleek black and red color scheme isn't enough to lure you into Cook & Book, just look up at the ceiling, where 800 books are suspended above your head. The store's whimsical attitude is announced as you enter, with the large comic book section front and center. A refurbished vintage Airstream stands as an invitation to travel, and the café features lights made of Campbell's soup cans. Don't miss the store's gastronomy section, designed as an ode to the Italian trattoria, complete with a Fiat 500.
PHOTO:
Courtesy of Plural Bookshop
Opened in 2010, this fun and whimsical bookshop has a coffee bar, making it a great place to hang out. Plural Bookshop's oversized steps create an ideal atmosphere for concerts, lectures, readings, and projections. The shop's ingenious design makes it feel much larger than its 1,800-square-foot footprint. Bratislava is only about an hour from Vienna, making it an easy side trip on a visit to Austria's capital.
The Last Bookstore opened in Downtown L.A. in 2005 despite the decline in print sales. Found in the Old Bank District, the 10,000-square-foot store is painstakingly organized by genre and subgenre, with a whole room full of science fiction and fantasy titles, a section of L.A.-centric literature, and more. To get to the crime and mystery section, you have to cross the threshold of a former vault.
PHOTO:
Courtesy of The Bookworm Beijing
Always growing and expanding, Bookworm has five locations in three Chinese cities. Its lovely Beijing location caters to the Anglophone expat community, with lectures, live music, and quiz nights in English. Every year, Bookworm hosts a literary festival that brings together contemporary writers from all over the world.
PHOTO:
Siraanamwong | Dreamstime.com
PHOTO:
Paris, librairie "Le Pont traversé" by Frédérique PANASSAC Attribution-NonCommercial-ShareAlike License
PHOTO:
Cafebrería El Péndulo
If you decided to cross a bookshop with a greenhouse, you might get something like Libreria El Pendulo. In this remarkable bookstore in Mexico City, trees hang over the shelves. The Polanco branch has a dramatic, curving staircase leading up to a mezzanine filled wall-to-wall with books. Sit down with a coffee and start reading.
PHOTO:
Courtesy of 10 Corso Como, Milan
Former Vogue editor Carla Sozzani opened 10 Corso Como in 1991, creating an aesthete's paradise in a former garage near Milan's stylish Brera neighborhood. The complex includes a bookshop, gallery, garden café, and concept store for fashion and design. The clean, minimalist bookshop has a strong emphasis on photography and fashion books.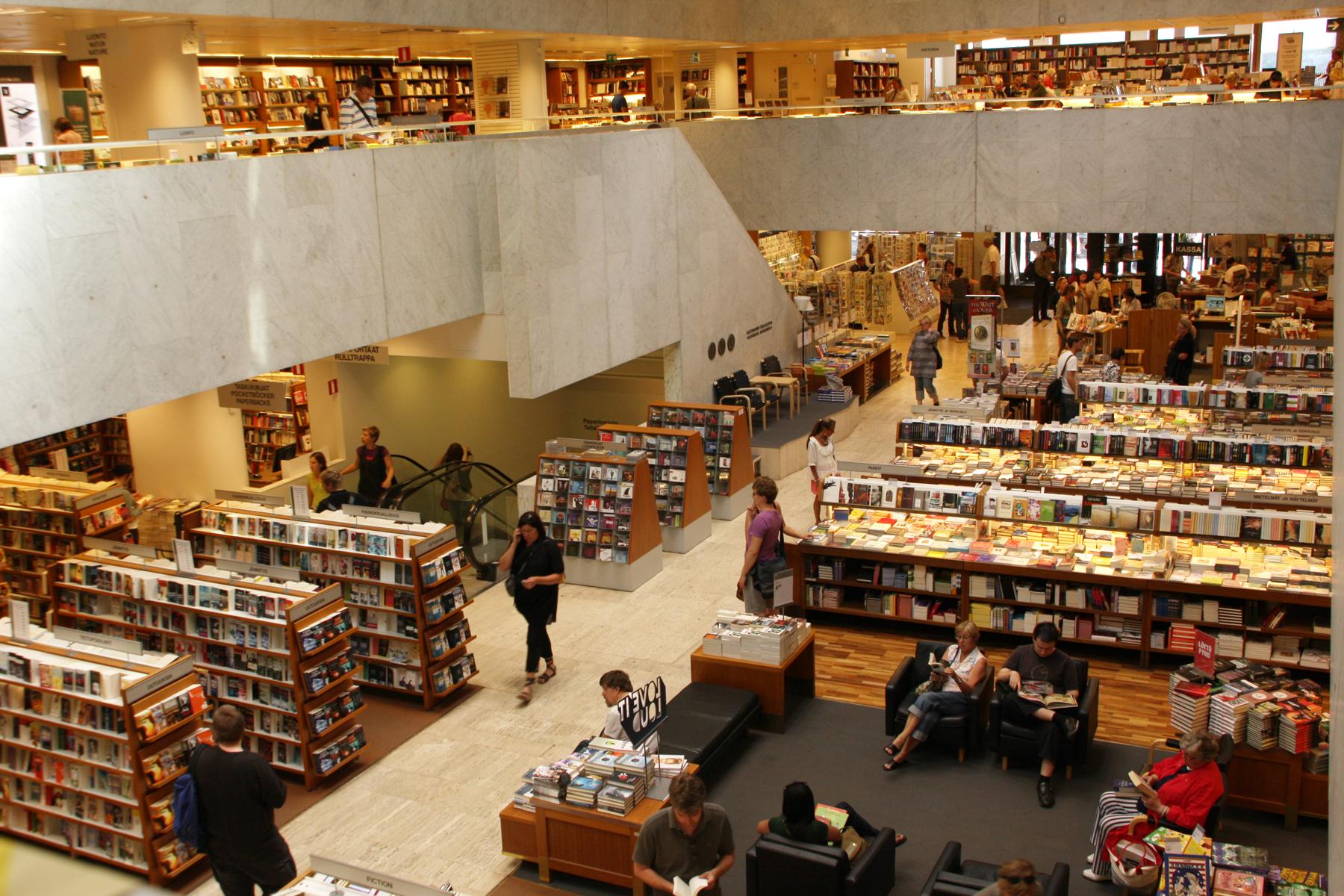 PHOTO:
Icefields | Dreamstime.com
Designed by Finnish architect Alvar Aalto—one of the most important members of the Scandinavian modernist movement—the Academic Bookstore's flagship location in central Helsinki is a modern masterpiece. Sunlight pours in through the glass skylights, illuminating the white marble and blond wood interior. The shop carries around 450,000 volumes, with a large selection of books in English and other foreign languages. Architecture and design buffs should check out the Designmuseo (Design Museum) nearby.
Bart's Books holds the distinction of being the largest independently owned outdoor bookstore in the United States, and the only one on this list. Richard Bartinsdale founded the store in 1964, when his book collection became too large to keep at home. He constructed bookcases along the sidewalk so passersby could peruse his collection, and placed coffee cans on the shelves, allowing people to pay by the honor system instead of at a cash register. Today there's a real register, but you can still buy 35-cent specials by dropping your coins in the coffee cans.
PHOTO:
Will Brady/Atlantis Books
Atlantis Books soaks up its charm from its surroundings on the picturesque Greek isle of Santorini. When two American students vacationing on Santorini couldn't find good books in English in the local bookstores, they decided to open their own shop. They built the bookshelves themselves and filled them with literature they love. Stop by for a pocket paperback or a rare first edition of Truman Capote's In Cold Blood. The shop hosts many events, from book readings to dance parties. The terrace overlooking the sea is also a great place to take in the sunset.
PHOTO:
FXEGS Javier Espuny / Shutterstock
Old-World splendor reigns at Livraria Lello e Irmão in Porto, opened in 1906. A majestic double helix staircase lined in scarlet forms the centerpiece of the Neo-Gothic shop. Leather-bound books rest on the wrap-around wooden shelves, which are carved with Portuguese literary figures. A stained glass skylight filters light down onto the café.
This article was originally published on March 25, 2017.