Nagel Photography/Shutterstock
Trips to the beach are standard fare for most summer travelers, but crowded stretches of sand can make vacations more of a pain than a pleasure. Some beaches offer a peaceful retreat from the hustle and bustle and allow visitors to escape the crowds at more popular destinations. From an isolated nature retreat nestled along Virgina's Outer Banks to a picturesque coastal village with towering seawalls in Washington, these beaches prove that bigger doesn't necessarily mean better—and that getting away doesn't need to be a headache. Here are our picks for America's best under-the-radar beaches.
Where: North Carolina
It doesn't get much more secluded than North Carolina's Carova Beach. Tucked away in the Outer Banks, the beach is only accessible by boat or with four-wheel drive, as the area does not have paved roads. Visitors can enjoy 11 miles of tranquil shoreline and hunt for shells on pristine stretches of sand. If you're lucky, you might catch a glimpse of wild mustangs; the horses roam freely by the ocean and through Carova's small residential neighborhoods.
Where to Stay: There are no hotels, motels, or condos in Carova, so visitors typically book vacation rental homes. Properties are rented on a weekly basis, but some last-minute reservations are accepted
Insider Tip: On a cloudy day, consider taking an excursion to nearby Corolla and Duck. The small beach towns boast upscale shopping and restaurants, and Corolla is home to a popular lighthouse that overlooks the ocean.
PLAN YOUR TRIP: Visit Fodor's The North Carolina Coast Travel Guide
Where: Maine
Rustic scenery and sprawling landscapes make Roque Bluffs one of the best little-known beach destinations. Visitors can explore 274 acres of coastal scenery, including a picturesque, half-mile pebbled beach. Take a dip in Simpson Pond, a popular watering hole, or hike along the beach's rocky cliffs. Nature lovers will enjoy the area's diverse wildlife, as the beach is home to a variety of birds and plant species.
Where to Stay: Roque Bluffs does not offer hotels or motels, and most visitors rent a cottage or vacation home for their stay. Sea Spray Cottages overlook Kennebec Bay and features spacious interiors and comfortable accommodations.
Insider Tip: Explore Simpson Pond and Englishman Bay by canoe or kayak. Visitors can paddle out and take in the panoramic scenery or cast their fishing lines during the spring and summer to catch trout.
PLAN YOUR TRIP: Visit Fodor's Maine Travel Guide
Where: California
For ultimate seclusion, take a trip to Enderts Beach. Hidden away in Redwood National Park, the beach features 37 miles of coastline surrounded by towering, 350-foot evergreen trees. Enderts is not the most photogenic beach; lost driftwood and tidal marshes create a decidedly rustic atmosphere. But dramatic coastlines and peaceful surroundings give the area an appeal all its own. Hike to the 500-foot overlook off Enderts Beach Trail for unparalleled views of the forest and ocean, or settle down near the coast with an afternoon picnic.
Where to Stay: For easy beach access, consider booking a room at a nearby hotel. The Best Western Northwoods Inn and Crescent Beach Motel offer reasonably priced rooms and oceanfront views.
PLAN YOUR TRIP: Visit Fodor's Redwood National Park Travel Guide
Nagel Photography/Shutterstock
Where: Florida
Only accessible by boat or plane, Dry Tortugas offers a peaceful getaway from the mainland's hustle and bustle. The park is located 70 miles off the shore of Key West, and consists of seven small islands and a sprawling coral reef. History buffs can explore Fort Jefferson, a nineteenth-century building that once held political prisoners. For epic snorkeling and diving, head to offshore coral heads. The colorful reefs are home to brain coral, swaying sea fans, and tropical fish and include sandy spots to rest and take in the sun.
Where to Stay: The best way to enjoy all that Dry Tortugas has to offer is by reserving an overnight camping spot. Visitors can explore the beaches at their leisure and take in the surroundings from dawn to dusk. But come prepared—there's no freshwater supply on the island, and you must carry off whatever you bring to the beach.
Insider Tip: Bird lovers will enjoy Dry Tortugas' extensive nesting sites. The park boasts nearly 300 species of birds and more than 100,000 nesting sooty terns. Make sure to stop by Bush Key during the winter months, as the site is closed to foot traffic during nesting season.
PLAN YOUR TRIP: Visit Fodor's The Florida Keys Travel Guide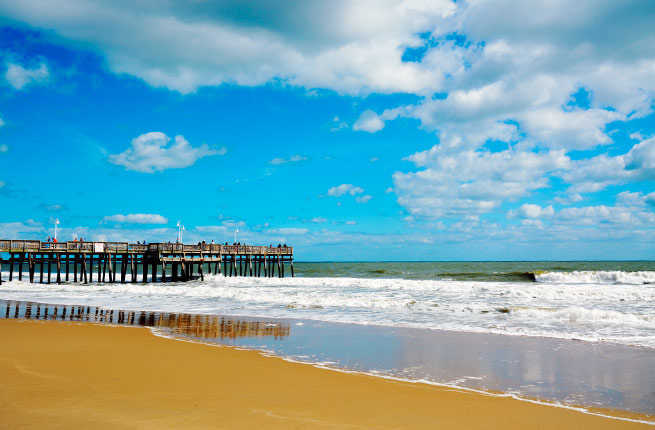 Alexandr Junek Imaging s.r.o./Shutterstock
Where: Virginia
Most beachgoers have heard of Virginia Beach, but few are familiar with its tiny neighbor to the south. Located 15 miles from the resort area, Sandbridge features pristine dunes and secluded beaches away from the Virginia Beach crowds. Visitors can explore the marshes and open waters of Back Bay National Wildlife Refuge or kayak and hike through False Cape State Park.
Where to Stay: Visitors won't find large resorts or hotels in Sandbridge, as larger properties are concentrated north of the beach. Consider renting a beach house or condo for cozy lodgings and easy access to the water.
Insider Tip: One of the best ways to explore Sandbridge and the surrounding area is by bike. Pedal through the neighboring wildlife refuge for up-close looks at native plants and animals, or take a day trip to the state park for picnicking and water sports.
PLAN YOUR TRIP: Visit Fodor's Virginia Travel Guide
Dave Allen Photography/Shutterstock
Where: South Carolina
Also known as Lowcountry's summer playground, Folly Beach offers a variety of water sports and attractions. Swimmers and surfers can hang ten at Folly's Washout, and visitors can take in ocean views from the beach's popular pier. The town is also home to delicious seafood, and beachgoers can enjoy the day's catch at restaurants overlooking the water.
Where to Stay: Folly Beach is home to larger hotels and small inns and villas. To be in the center of the action, book a room at Tides Folly Beach. For quaint rooms and secluded accommodations, consider staying at Beachside Boutique Inn.
PLAN YOUR TRIP: Visit Fodor's Charleston Travel Guide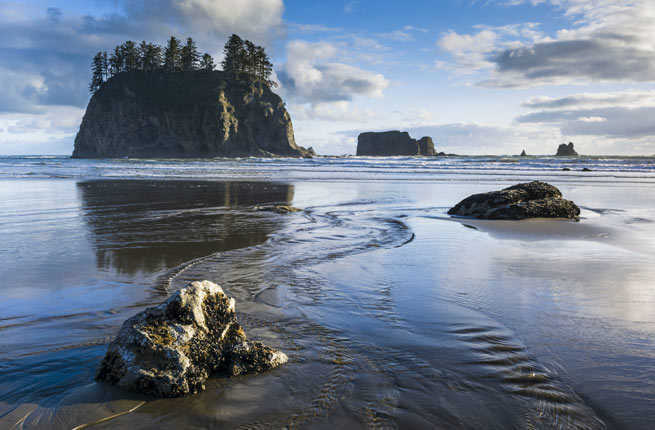 mlwphoto/Shutterstock
Where: Washington
Dramatic bluffs and emerald green headlands are just a few of the things you'll find at Washington's Second Beach. Second is one of a triumvirate of Olympic Coast gems, with First and Third Beaches nearby. Visitors can only access the beach via a hiking trail, but the journey is worth the effort. Beachgoers will catch a glimpse of offshore sea stacks through towering spruce trees and hear the waves crashing against the shore.
Where to Stay: Visitors can pitch a tent and camp at Second Beach, but a permit is required ahead of time. Lodging is also available at La Push, a tiny coastal village close to the beach. Quileute Oceanside Resort offers thirty-three oceanfront cabins decorated in an authentic Native American motif.
Insider Tip: Travel offshore to explore Quillayute Needles. The area features battered islets and picturesque sea stacks, and visitors can get an up-close look at thousands of native seabirds.
PLAN YOUR TRIP: Visit Fodor's Olympic National Park Travel Guide
Where: California
The active set gravitates toward California's Wildcat Beach. The area is best known for its hiking and biking trails, and visitors can only access the water by trekking 5 miles to the coast. On the way, beachgoers will come across peaceful stretches of cocoa sand and sparkling tide falls nestled among towering cliffs. Travel 1 mile farther south of the trailhead to take in the spectacular beauty of Alamere, one of the beach's most breathtaking falls.
Where to Stay: Most visitors at Wildcat Beach camp in Point Reyes National Seashore. Located in a meadow overlooking the shore, the campsite features secluded accommodations and breathtaking ocean views.
Insider Tip: Consider biking to Wildcat Beach. A 7-mile ride will put you near the main campground and allow you to take in the scenery at a rolling clip.
PLAN YOUR TRIP: Visit Fodor's The Bay Area Travel Guide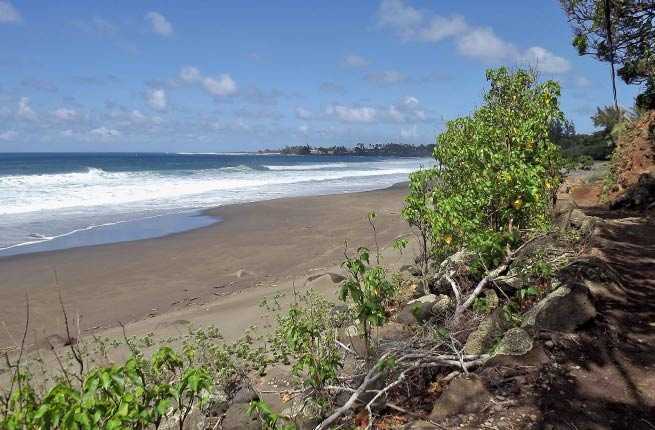 Harold Willome/Flickr [All Rights Reserved]
Where: Hawaii
Few beaches top Hawaii's Awahua in terms of sheer beauty and rich natural history. The isolated stretch of sand was originally a colony for lepers and is still less developed than the state's other islands. Visitors can reach the picturesque coastline via a hiking trail or take in breathtaking views of the cliffs and water from a public lookout next to the trailhead.
Where to Stay: Book a room in Molokai for comfortable amenities and oceanfront views. Aqua Hotel boasts modern accommodations and a lively restaurant and bar, while Castle Molokai Shores offers full kitchens and family-friendly facilities.
Insider Tip: Visitors can spend a day on Awahua's black sand beaches, but don't take a dip in the tide; the strong current makes the water too turbulent for swimming.
PLAN YOUR TRIP: Visit Fodor's Molokai Travel Guide
Paula Stephens/Shutterstock
Where: Georgia
Georgia's Cumberland Island has it all. The 18-mile beach features unspoiled marshes, dunes, and forests that are largely untouched by civilization or time. Beachgoers can stroll under dense canopies of live oaks or watch wild horses roam across pristine beaches. The public can only access the island via ferry, making it one of the state's most secluded getaways.
Where to Stay: For modern, affordable rooms close to St. Marys waterfront, consider staying at Cumberland Island Inn & Suites. The family-friendly hotel offers one- and two-night packages that include dinner and tickets for the Cumberland Island Ferry. Spencer House Inn boasts expansive shared balconies and furnishings that hearken back to an earlier era.
Insider Tip: Learn more about the area's history and surroundings on walks led by park service rangers. Summers are hot and humid, so make sure you come equipped with sunscreen and insect repellent.
PLAN YOUR TRIP: Visit Fodor's The Coastal Isles and the Okefenokee Travel Guide