DREIBELBIS+FAIRWEATHER
Ditch the broken-down windmills and decaying fake grass for a more thrilling golf experience. With moving obstacles, inventive themes, and other quirky touches, these mini golf courses located throughout the country stand out from the rest. The next time you're on vacation or looking for a new activity to spice up the weekend, be sure to visit one of the most unique mini golf courses in the U.S.
By Annie Bruce
Courtesy of Molten Mountain
WHERE: Myrtle Beach, South Carolina
Visitors at Molten Mountain are treated to volcanic eruptions every half hour as they move through the 18- or 36-hole course. The 18-hole air-conditioned course is located within the volcano itself, featuring caverns, mini volcanoes, and more. To add even more excitement to your game, use the Mischief Spinner, which adds a new complication to every hole, challenging players to hold the putter behind their back or swinging with their eyes closed.
PLAN YOUR TRIP: Visit Fodor's South Carolina Travel Guide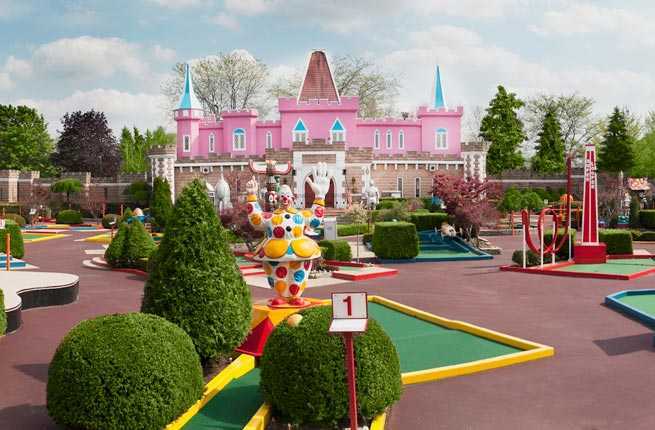 DREIBELBIS+FAIRWEATHER
WHERE: Lincolnshire, Illinois
Featuring 19 moving obstacles throughout its 18-hole course, Par-King has been dubbed by many as one of the most unusual golf courses in the world. The 75,000-square-foot complex holds a roller-coaster-like Super Looper hole, a 15-foot model of Chicago's Willis Tower with an elevator for your golf ball, and a Statue of Liberty. The original Par-King first opened in the 1950s in Morton Grove but moved to its current location in 1977, where it was able to double in size.
Insider Tip: All players must be at least 48 inches in height, due to the moving obstacle components of the course.
PLAN YOUR TRIP: Visit Fodor's Illinois Travel Guide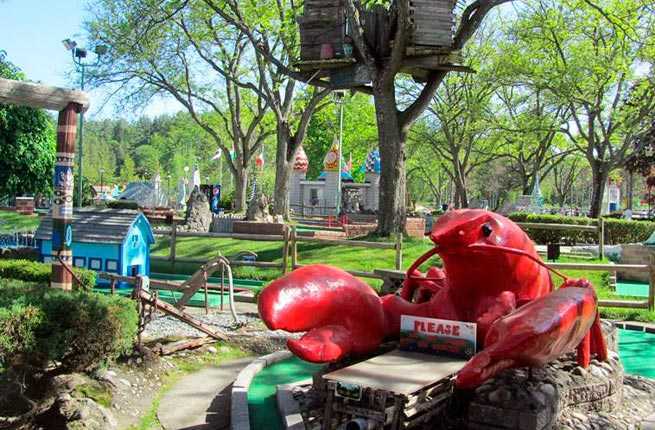 Courtesy of Around the World Golf
Around the World in 18 Holes
WHERE: Lake George, New York
Created by Harry Horn, the Around the World mini golf course features a giant sombrero, a massive Paul Bunyan, life-sized lobster, and a number of other items inspired by Horn's world travels and souvenirs. Located in upstate New York, you can enjoy batting cages and ice cream while you explore the course, which opened more than 50 years ago.
PLAN YOUR TRIP: Visit Fodor's The Adirondacks and Thousand Islands Travel Guide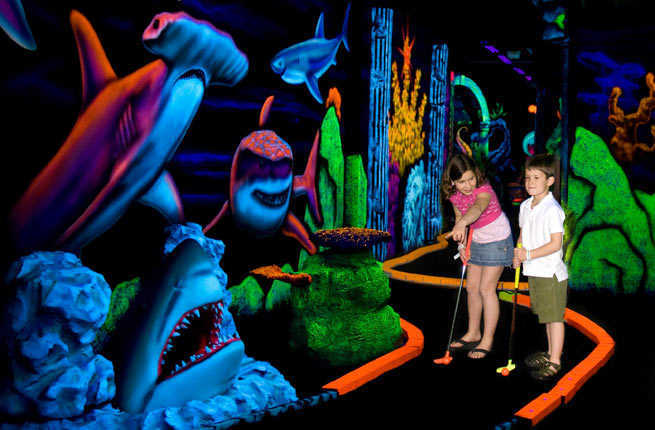 Courtesy of Wilderness Resort
WHERE: Wisconsin Dells, Wisconsin
Housed at Wilderness Resort locations, these three black-light mini golf courses offer plenty of fun for the whole family. All with 3-D elements (glasses provided), visitors can choose between the Wild Abyss Course (located in the wild West region of Wilderness Hotel), the Wild Buccaneer Course (also at the Wilderness Hotel), or the Big Fish course (located at Wilderness on the Lake).
PLAN YOUR TRIP: Visit Fodor's Wisconsin Travel Guide
Courtesy of Lexington Ice Center
WHERE: Lexington, Kentucky
Golf your way through the Old and New Testament at Lexington Ice Center's biblical-themed golf elements. With three courses each with 18 holes, visitors can see Mount Sinai, Jonah and the Whale, and the Garden of Eden as they make their way through the Old Testament-, New Testament-, and miracle-themed paths.
PLAN YOUR TRIP: Visit Fodor's Kentucky Travel Guide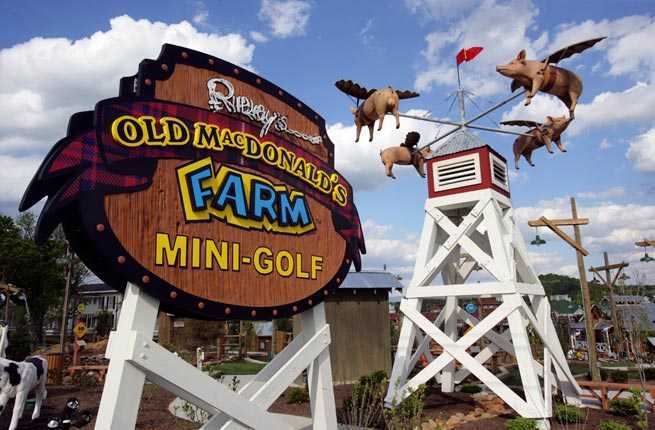 Charlie Brooks of Brooks Photography
Ripley's Believe it or Not! Mini Golf
WHERE: Gatlinburg and Sevierville, Tennessee
Open year-round (weather permitting), two unique courses make up the Ripley's Believe It or Not mini golf experience in Tennessee. First, try your luck at the Davy Crockett-themed park, with cartoon-like creatures and interactive displays, and then head over to nearby Sevierville to play an Old MacDonald's Farm-themed round, with plenty of pig decorations. Guests can sometimes win free games if they're able to successfully score a hole-in-one.
PLAN YOUR TRIP: Visit Fodor's Tennessee Travel Guide
Courtesy of Perils of the Lost Jungle
Perils of the Lost Jungle
WHERE: Herndon, Virginia
Perils of the Lost Jungle takes mini golf to another level with animatronics, smoke machines, and series of special effects. Inspired by the great adventure movies, this 18-hole outdoor course is part of Woody's Golf Range in Hemdon, Virginia.
PLAN YOUR TRIP: Visit Fodor's Virginia Travel Guide
Cesar Rubio
WHERE: San Francisco, California
San Francisco's first and only indoor mini golf course has already made a name for itself in the city, after being open for less than a year. At Urban Putt high-quality food and drink meet 14-holes of high-tech, San Francisco-inspired golf, creating a magical combination. Enjoy the Bar Bites menu at the downstairs bar and on the golf course, or sample Chef Dane Boryta's comfort food creations at UP @ Urban Putt, the second floor restaurant. The whole experience is located in a historic Victorian building, which previously served as a mortuary, that's been empty since 1999.
PLAN YOUR TRIP: Visit Fodor's San Francisco Travel Guide
Courtesy of The Walt Disney Co.
Disney World's Fantasia Gardens Mini Golf
WHERE: Orlando, Florida
Inspired by the Disney classic, Fantasia Gardens and Fairways Miniature Golf features two 18-hole courses, each with its own set of challenges. The "family-friendly adventure" is designed for younger golfers and is decorated with marching broomsticks, dancing ostriches, and hippos wearing tutus. The second course includes sand traps and a collection of additional tricks to make for a more difficult golfing experience, including par-3 and par-5 holes stretching from 63 to 109 feet in length.
PLAN YOUR TRIP: Visit Fodor's Orlando Travel Guide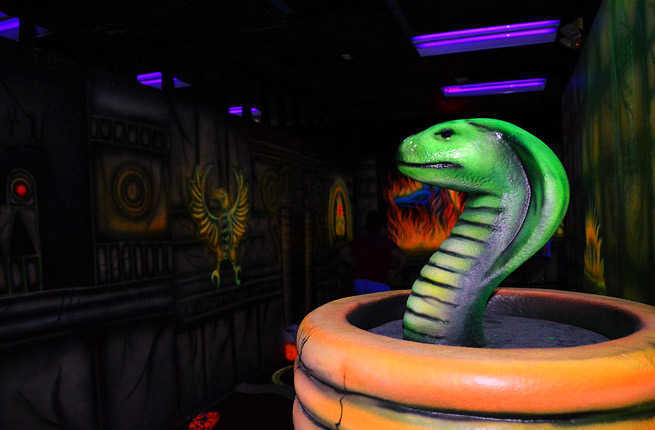 Courtesy of King Putt Entertainment Center
King Putt Entertainment Center
WHERE: Henderson, Nevada
In addition to laser tag, an arcade, and a pizza kitchen, the King Putt Entertainment Center in Henderson also holds the most advanced mini-golf course in the U.S. Located about 20 minutes from Las Vegas, the Egyptian-themed, 18-hole course incorporates sensors and interactive objects to enhance the black-light golf experience.
PLAN YOUR TRIP: Visit Fodor's Nevada Travel Guide