Courtesy of South Dakota Department of Tourism
An African safari may be on most people's travel bucket lists, but for wildlife viewings closer to home (and at a fraction of the cost), consider an American safari. Thanks to a handful of stateside safari parks, it's possible to see zebras and giraffes roaming vast grasslands from an open-air vehicle. For something less structured, consider a self-guided drive through South Dakota to view buffalo, or just pick a prime spot in the Great Smoky Mountains to observe elk in their natural habitat. Whether you're looking to spot bobcats, moose, or bighorn sheep on your own or with a guide, here's a look at some of the best American safaris.
By Christina Valhouli
Courtesy of Safari West
Although Sonoma is best known for its wineries, it's also home to Safari West, a 400-acre wildlife reservation. The goal here is conservation and propagation, and animals such as cheetahs, gazelle, wildebeest, and giraffes are allowed to roam freely. Visitors might also spot lemurs and flamingoes while on safari in an open-air vehicle. Spending the night in an elevated safari-style tent is also an option.
Insider Tip: Visit nearby Benziger Family Winery for a tractor-led tour of its biodynamic vineyards.
PLAN YOUR TRIP: Visit Fodor's Napa and Sonoma Travel Guide
Courtesy of Maine Office of Tourism
Maine has the second highest moose population in the US, second only to Alaska. There are about 70,000 moose in Maine, and the best time to see them is in the spring when they venture out to lick salt from the roads. To catch a glimpse of these giant creatures, sign up for a guided tour through either Maine Moose Watching Tours in Greenville or the New England Outdoor Center in Millinocket.
Insider Tip: Greenville is located on Moosehead Lake. At 40 miles long and 10 miles wide, it is Maine's largest lake.
PLAN YOUR TRIP: Visit Fodor's Maine Travel Guide
Courtesy of Yellowstone National Park Lodges
Lamar Valley is known as the "American Serengeti" thanks to the sheer number of wildlife residing here, including wolves, bison, elk, bighorn sheep, coyotes, and foxes. Xanterra's Parks & Resorts offers guided excursions at dusk, which is the best time to view animals, and a photo safari.
Insider Tip: When bison calves are born, they can stand on their feet right away, and as soon as two hours after birth, they can keep up with their mothers.
PLAN YOUR TRIP: Visit Fodor's Yellowstone National Park Travel Guide
Heidi Pinkerton
Northeastern Minnesota is the best place in the U.S. to see timberwolves­—the area contains all but about seventy-five timberwoves in the continental U.S. Head to the Boundary Waters Canoe Area Wilderness (BWCAW) or Voyageurs National Park for your best chance at wolf spotting. Located in northeast Minnesota's Superior National Forest, BWCAW spreads over 1.2 million acres and is filled with more than 1,000 lakes, rivers, and streams. Wolf spotters can also take a self-guided tour of Voyageurs National Park, which can only be reached via motorboat or canoe.
Insider Tip: Moose are also common here and are sometimes spotted taking a dip in a lake.
PLAN YOUR TRIP: Visit Fodor's Minnesota Travel Guide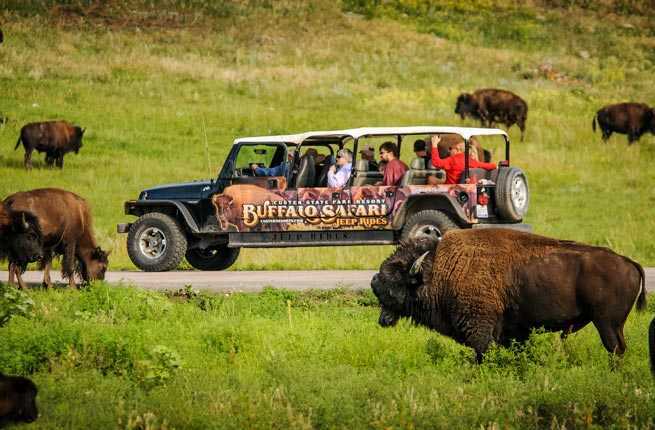 Courtesy of South Dakota Department of Tourism
Head to Custer State Park to view the abundance of wildlife, including buffalo, pronghorns, and elk that live in the park's 71,000 acres. Guests can do a guided tour in an open-air jeep, or there's a self-drive 18-mile Wildlife Loop Road. Look out for prairie dogs, too.
Insider Tip: The American buffalo can run up to 40 miles per hour.
PLAN YOUR TRIP: Visit Fodor's Mt. Rushmore and the Black Hills Travel Guide
Daniel Dietrich/Point Reyes Safaris
The Point Reyes National Seashore stretches for 80 miles along California's coast and is home to tule elk, badgers, and long-tailed weasels. But for many people the star attraction is the American bobcat. Point Reyes Safaris offers full- and half-day tours of the park. Most guests simply want to see and photograph the elusive bobcat, but lucky visitors have also spotted coyotes hunting rodents and may even catch a glimpse of a mountain lion.
Insider Tip: The independent and territorial bobcat is the most common wildcat in North America.
PLAN YOUR TRIP: Visit Fodor's Bay Area Travel Guide
George Johnson
Safari Wilderness Ranch opened in 2012 and is an easy drive from Orlando. The park covers 260 acres, and guests can hop in a canopied safari vehicle to cross wetlands and grasslands. The animals roaming here include zebra, kudu, springbok, and water buffalo. The ranch is also home to ring-tailed lemurs, and for an additional fee, visitors can help feed them (they're partial to grapes).
Insider Tip: For a twist on the experience, the ranch also offers a camel safari.
PLAN YOUR TRIP: Visit Fodor's Orlando Travel Guide
Courtesy of Catalina Island Chamber of Commerce
Although bison are most commonly found in the Great Plains of the U.S., they can also be seen on Catalina Island. Although not native to the area, they were left on Catalina Island after the 1924 filming of The Vanishing American. Visitors can hop on jeep tours or bio-fuelled Hummers to the island's interior where bison are often spotted. The Catalina Island Conservancy, Catalina Adventure Tours, and the Santa Catalina Island Company all offer bison-spotting tours.
Insider Tip: Although some of the bison have been sent to South Dakota, the herd on Catalina Island has an estimated population between 150 and 200.
PLAN YOUR TRIP: Visit Fodor's Orange County and Catalina Island Travel Guide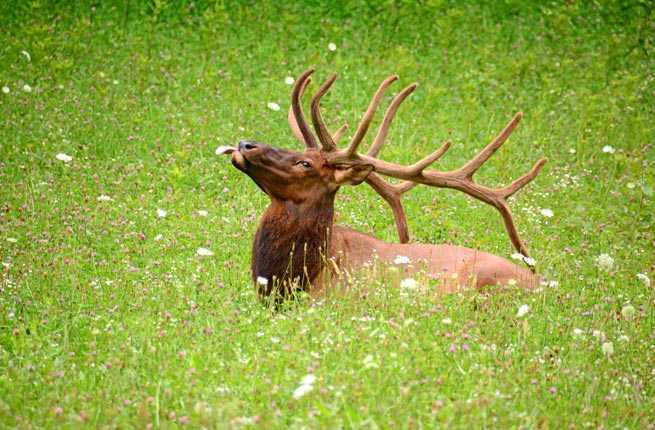 Sam Hobbs – Friends of the Smokies
For a chance to see elk in their native environment, head to the Cataloochee Valley in Great Smoky Mountains National Park in North Carolina, where more than 140 elk live. The best times to spot the animals are at sunrise or sunset. Enjoy elk spotting on hiking and biking trails in the park or (from a safe distance) with a picnic or a thermos full of coffee.
Insider Tip: March is when most elk shed their antlers, which are then eaten by rodents or other animals.
PLAN YOUR TRIP: Visit Fodor's Great Smoky Mountains Travel Guide
Kurt F. Johnson
Grand Teton National Park is a prime spot for viewing elk, moose, long-horned sheep, wolves, bald eagles, and more. One of the best ways to take it all in is to sign up for a photo safari with the LEED-certified Hotel Terra. The hotel's in-house naturalist, Kurt Johnson, leads guests on a photo safari while educating them about the area's animals, plants, and terrain.
Insider Tip: Hotel Terra's rooftop spa allows guests to custom blend their own spa products at the Salt of the Earth's Blend Bar.
PLAN YOUR TRIP: Visit Fodor's Grand Teton National Park Travel Guide