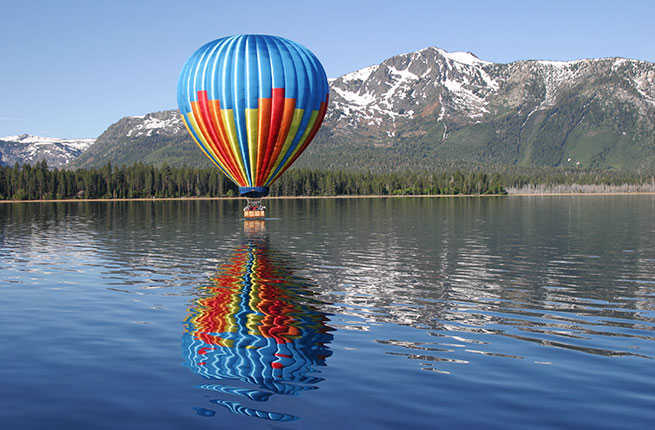 Lake Tahoe Balloons
Everyone has a bucket list, but do you have a basket list? These woven wicker vessels will carry you to the highest heights to see landscapes from awe-inspiring angles. From hovering over waterfalls and deserts, to splashing down on rivers, these 10 amazing hot air balloon rides are sure to change your perspective.
By Zachary Laks
Steve Bower / Shutterstock
WHERE: Albuquerque
Albuquerque is famous for its annual International Balloon Fiesta, which brings hundreds of hot air balloons together for an incredible sight, but you don't have to wait until next October to take part in the aerial fun. Rainbow Ryders operates hot air balloon tours along the Rio Grande almost 300 days a year. Guided by FAA-certified pilots, the balloons move using wind currents and shift directions by changing altitudes. With baskets that can fit up to 12, bring a group along to party in the cool air of the desert morning.
PLAN YOUR TRIP: Visit Fodor's Albuquerque Travel Guide
Kris Hansen
Balloons Over New England
WHERE: Quechee, VT
Float above the rolling hills and evergreens of central Vermont as you level with the clouds. Offering views of several national parks and preserves, Balloons Over New England organizes hot air balloon tours seven days a week, weather permitting. Hover over the scenic Lake Pinneo at altitudes so low you can watch birds chasing their breakfasts. You'll soar over the Quechee Gorge for a great view of the white water creek and picturesque bridge.
PLAN YOUR TRIP: Visit Fodor's Vermont Travel Guide
Courtesy of Napa Valley Balloons, Inc.
WHERE: Napa Valley, CA
Discover the symmetry and wonder of the vineyards of northern California's wine country with the guides of Napa Valley Balloons. For the ultimate day in wine country, choose one of the company's day packages, which can include biking through Napa Valley, a day of guided wine tasting, and a fine dining offer with local acclaimed eatery Etoile.
PLAN YOUR TRIP: Visit Fodor's Napa and Sonoma Travel Guide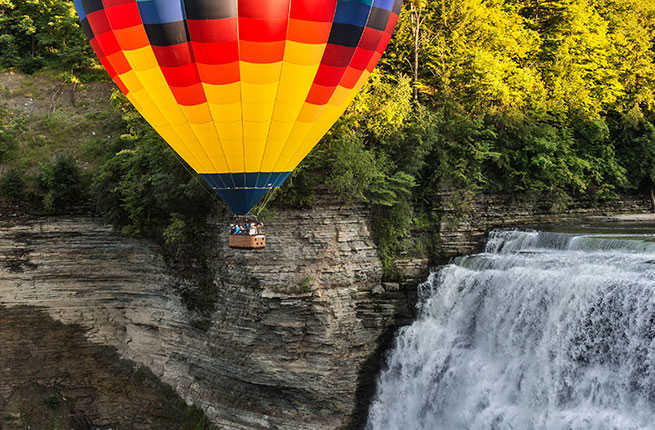 Jim Vallee
WHERE: Castile, NY
Rise above Letchworth State Park for prime views of its 20 waterfalls and impressive gorges that reach up to 600 feet. Balloons Over Letchworth operates hot air balloon tours from April through October, with September and October noted as favorite months for the vibrant foliage. Known to many as "The Grand Canyon of the East," the natural rock formations and beautifully built bridges make for an unforgettable experience.
PLAN YOUR TRIP: Visit Fodor's New York Travel Guide
Arizona Balloon Safaris
WHERE: Cave Creek, AZ
Just outside of Phoenix, Arizona Balloon Safaris offers hot air balloon rides through the Sonoran Desert. Floating down to tree-level, the unique sunrise tour offers passengers the chance to see jackrabbits, roadrunners, and coyotes among the cacti. The balloons can rise to a dizzying 5,000 feet off the ground, where, on clear days, you can see north to Flagstaff and beyond. The flight becomes a first-class experience as the guides provide muffins, eggs, fresh fruit, orange juice, and bottled water upon landing.
PLAN YOUR TRIP: Visit Fodor's Phoenix Travel Guide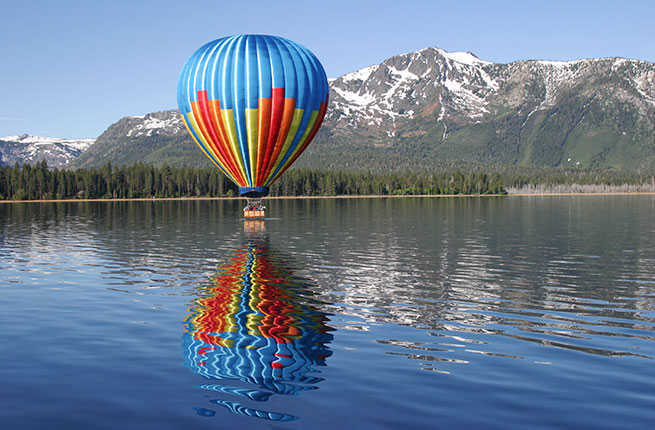 Lake Tahoe Balloons
WHERE: Lake Tahoe, CA
Majestic Lake Tahoe, the largest alpine lake in North America, straddles the border of California and Nevada. Lake Tahoe Balloons operates a hot air balloon tour through the highlights of the crystal-clear lake each morning at sunrise. Hover over the shimmering blue Emerald Bay before gliding south to the much tinier, lesser-known Fallen Leaf Lake. With the right visibility, the peaks of Yosemite and coastal foothills come into view while you're high in the sky.
PLAN YOUR TRIP: Visit Fodor's Lake Tahoe Travel Guide
Kim Raciborski
Lake Geneva Balloon Company
WHERE: Lake Geneva, WI
A popular resort destination for Chicago and Milwaukee residents, Lake Geneva is named after its fresh water lake that spans about 8 square miles of southeastern Wisconsin. Located on the northern tip of the lake, the Lake Geneva Balloon Company takes adventurers above the treetops for expansive views of the lake and the many fine homes built lakeside. Pass by Big Foot Park, named for Chief Big Foot, where you can wave to swimmers and fishers just feet away, and float over the estates of the Wrigleys and the Schwinns before settling in for a smooth landing, all before breakfast.
PLAN YOUR TRIP: Visit Fodor's Lake Geneva Travel Guide
Mike Haverkate
WHERE: Newberg, OR
Catch a ride on a hot air balloon with Vista Balloon, just 40 minutes south of downtown Portland. Willamette Valley comes to life below, as expert guides show the history of the land through close encounters with the elevation, pointing out signs of once-existing lakes and vegetation. Lucky riders get the thrill of a "splash and dash" on the Willamette River, as the balloon descends inches from the stream momentarily. Each ride concludes with brunch and a mimosa toast.
PLAN YOUR TRIP: Visit Fodor's Portland Travel Guide
Courtesy of Grand Adventure Balloon Tours
Grand Adventure Balloon Tours
WHERE: Winter Park, CO
When you're suspended almost two miles in the air above the Rocky Mountains, the unmatched silence is only broken by an occasional blast of propane into the balloon. Grand Adventure Balloon Tours launches colorful dirigibles in the heart of the Rocky Mountains, about an hour and a half from Denver and Boulder. See snow-covered mountains up to 100 miles away as you coast along the Fraser River, and seek out the occasional bear from the comfort and safety of the balloon's basket. The evergreens get so close you can actually reach out to feel the pine needles!
PLAN YOUR TRIP: Visit Fodor's Rocky Mountain National Park Travel Guide
Phyllis Barnard
Asheville Hot Air Balloons
WHERE: Asheville, NC
The Great Smoky Mountains are the perfect backdrop for the tours provided by Asheville Hot Air Balloons. With launching sites shifting each day according to weather and wind currents, each flight is unique. Capture the immense beauty of the morning haze lifting along the green mountainside from the sky. As you travel among the birds, the crisp air and the cool breeze makes for a calming ride.
PLAN YOUR TRIP: Visit Fodor's Asheville Travel Guide