Courtesy of Calistoga Inn Restaurant & Brewery
Wine-focused tourism is nothing new, but these days, travelers with a taste for barley and hops are increasingly seeking out "beercations." From popular festivals to ale trails to one-of-a-kind spa packages, beer is inspiring the kind of travel adventures that were once reserved for oenophiles; now, a new trend is popping up: brewery sleepovers. We've rounded up 10 suds-loving spots around the country where you can raise a glass—and then rest your head. —Kelly DiNardo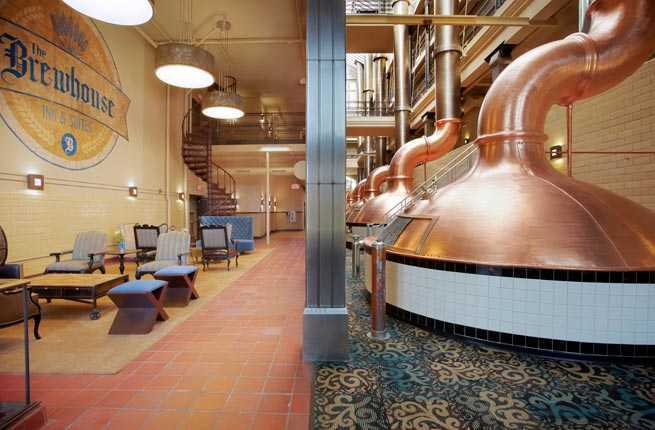 Courtesy of Visit Milwaukee
WHERE: Milwaukee, WI
In the land of beer and brats, the Pabst Blue Ribbon Factory was reborn as The Brewhouse Inn & Suites in 2013. The once-shuttered plant celebrates its history with visual flourishes, from the front desk made of 1,500 Milwaukee–based beer bottles to the gigantic copper kettles hanging in front of a restored, stained-glass window depicting King Gambrinus, the patron saint of beer, in the five-story atrium. All 90 guestrooms, built around the old brew tanks, include headboards and tables made from wood salvaged during the renovations. Next door, the former mill has been turned into Jackson's Blue Ribbon Pub, which serves Wisconsin fare like fried cheese curds and, of course, PBR on tap.
PLAN YOUR TRIP: Visit Fodor's Milwaukee Guide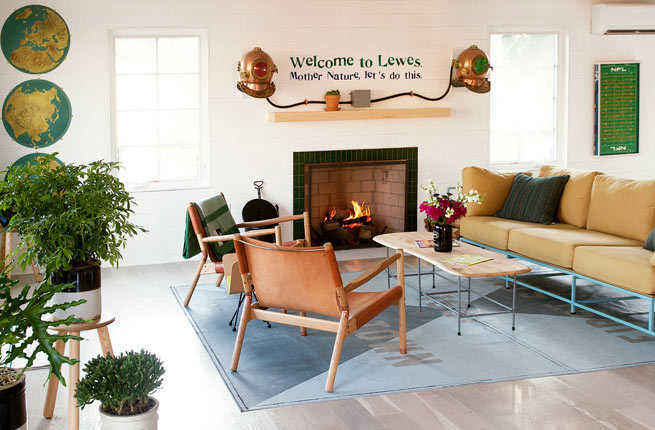 Courtesy of Dogfish Inn
WHERE: Lewes, Delaware
While not actually located in a brewery, the Dogfish Inn, a restored 16-room motel turned beer–themed hotel from the folks at Dogfish Head does make visiting the nearby craft brewery much easier. Nestled along a canal in the historic town of Lewes (pronounced "Lewis"), near a beautiful state park, the property offers bikes for guests to use along the coastal trails, outdoor showers for post-beach rinses, and a "Cowboy Cauldron" for oyster roasts. They didn't forget the beer: The All-INNclusive package includes a private, behind-the-scenes tour of the brewery, a VIP tasting and lunch at the company's brewpub.
PLAN YOUR TRIP: Visit Fodor's Lewes Guide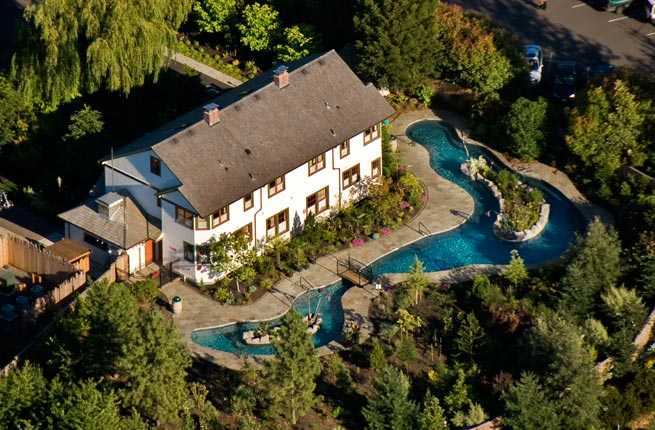 Courtesy of McMenamins
WHERE: Troutdale, Oregon
Craft-brewing pioneers and brothers Mike and Brian McMenamin opened their first Oregon pub in 1974. Now, their beer-centric empire includes restaurants, music venues and hotels throughout the Pacific Northwest. Twenty minutes outside of Portland, McMenamins Edgefield has it all: more than 100 guestrooms, a brewery, winery, distillery, spa, and even an outdoor music venue that's featured Stevie Wonder and Adele. The former farm turned resort also has several restaurants, a movie theater and two three-par golf courses.
PLAN YOUR TRIP: Visit Fodor's Columbia Gorge and Mt. Hood Area Guide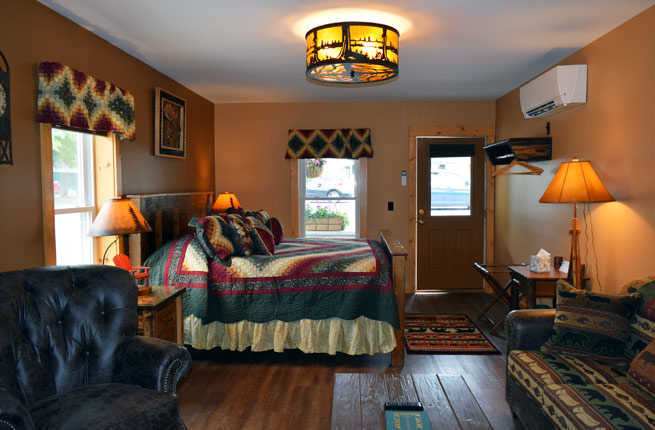 Courtesy of Woodstock Inn & Brewery
WHERE: North Woodstock, New Hampshire
The Woodstock Inn Station & Brewery, located near Dartmouth College and the White Mountain National Forest, is home to a restaurant, several brewpubs and an on-site brewery. The 40 guestrooms are spread throughout six buildings in downtown North Woodstock, six directly above the brewery. Daily brewery tours are available, but the Brewer's Weekends offer a more immersive experience, during which guests learn how to mash, boil, ferment, and keg beer before a multicourse beer-pairing dinner.
PLAN YOUR TRIP: Visit Fodor's White Mountains Guide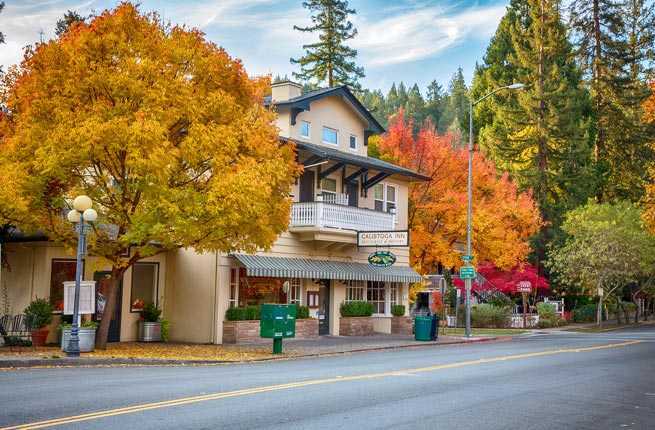 Courtesy of Calistoga Inn Restaurant & Brewery
Calistoga Inn Restaurant & Brewery
WHERE: Calistoga, California
This 18-room, European-style hotel (think shared bathrooms) in the heart of Napa wine country added a small brewery in 1987. At that point the Calistoga Inn & Brewery became the first spot in Napa County to brew beer commercially since Prohibition ended. Four regular brews—an American wheat ale, Czech-style Pilsner, a red ale and porter—and seasonal offerings are on tap at the property's two pubs. Brewery tours are available with the inn's brewmaster on weekdays.
PLAN YOUR TRIP: Visit Fodor's Napa and Sonoma Guide
Courtesy of Oskar Blues Brewery
WHERE: Hendersonville, North Carolina
At the edge of Dupont State Forest, about eight miles from the North Carolina branch of Oskar Blues Brewery, the company behind the canned craft beer opened a beer-and-mountain-biking retreat. Known as Oskar Blues REEB Ranch, the farm pays homage to REEB Cycles, Oskar Blues' handmade bike company based in Colorado. The 145-acre ranch, a former cattle farm, features a bike park, beer garden, campsites, a rentable apartment in the barn, and a 1940s-era log cabin at the base of a 43-foot waterfall.
PLAN YOUR TRIP: Visit Fodor's North Carolina Mountains Guide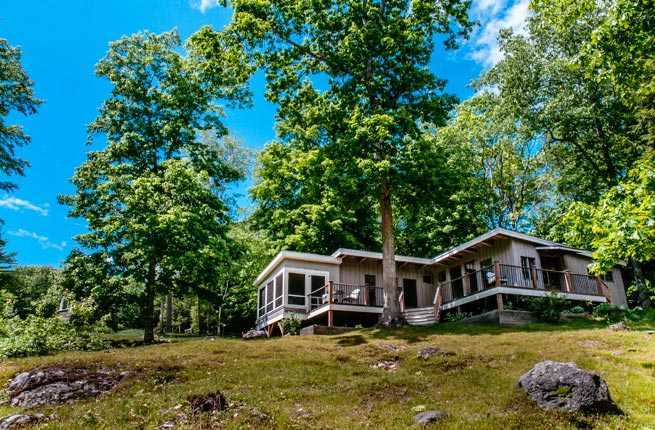 Andrew Foster
Oxbow Brewing Company Farmhouse
WHERE: Newcastle, Maine
About a year ago, Oxbow Brewing Company started renting a three-bedroom, one-bath farmhouse that sits on a hill overlooking the barn-turned-brewery and tasting room. The farmhouse, nestled in a wooded, 18-acre plot of land in Newcastle, Maine, not far from the coast, can sleep nine, and guests receive a gift certificate to the tasting room. Oxbow brews Belgian-style beers with local ingredients, and the tasting room typically has six on draft that can be enjoyed with meats, cheeses, and pickles from local farmers.
PLAN YOUR TRIP: Visit Fodor's Maine Guide
Courtesy of Trapp Family Lodge
WHERE: Stowe, Vermont
The von Trapp family, made famous by The Sound of Music, bought the property in 1942 and started renting rooms when they were on tour. Today, the Trapp Family Lodge has expanded to a 2,500-acre mountain resort with a restaurant, deli, wine cellar, fitness center, meeting rooms, and, most important, a 30,000-square-foot brewery. The lagers and pilsners are available on-site and in several restaurants throughout Vermont, Massachusetts, and New Hampshire.
PLAN YOUR TRIP: Visit Fodor's Stowe Guide
Courtesy of Rogue Ales & Spirits
WHERE: Newport, Oregon
Known for handcrafted ales and a tongue-in-cheek approach, Rogue established its headquarters in the Oregon coastal town of Newport, where its brewery, distillery, and public house ring the historic bay, a working waterfront. Above the public house sits the company's Bed 'n Beer, where three fully furnished one- and two-bedroom apartments are available for rent. You get all the expected amenities, and you'll be just minutes from Brewers on the Bay, Rogue's two-story tasting room that features the full line of Rogue brews and exclusive pub-only "nanobrews."
PLAN YOUR TRIP: Visit Fodor's Newport Guide
Courtesy of Fredericksburg Brewing Company
Fredericksburg Brewing Company
WHERE: Fredericksburg, Texas
The oldest brewpub in Texas, Fredericksburg Brewing Company includes a 12-room, boarding-style inn with rooms directly above the restaurant. Each guest is given a sampler of four of the lagers and ales brewed on-site to enjoy in the restaurant, which features Texas staples like chicken-fried steak and traditional German fare like schnitzel, or the adjoining biergarten.
PLAN YOUR TRIP: Visit Fodor's Fredericksburg Guide