Courtesy of The Resort at Paws Up
Deck the halls with boughs of holly—or better yet, take a break this year and let somebody else do the work. The Christmas season brings out the best in hotel resorts around the country, as festive décor enhances warm, welcoming environments. This year, pack up the family and celebrate the holidays in the charm and comfort of one of the ten best Christmas-season resorts in the U.S. With gigantic Christmas trees, light shows, and even slides made of ice, a stay at one of these resorts guarantees a very merry Christmas indeed! —Zachary Laks
Courtesy of Hershey Entertainment & Resorts
WHERE: Hershey, Pennsylvania
Melted chocolate meets melted hearts with the Hotel Hershey's sweet holiday salute. Hershey's candy mecca completely transforms for the holiday season: Start with a stroll down Hersheypark's Christmas Candylane, where two million LED lights set the high-end amusement park aglow. Though the landmark roller-coasters are closed for the season, the park has more than 30 year-round rides for families and kids. Hershey's Sweet Lights attraction brings visitors on a cruise through a dazzling exhibit of illuminations and sculptures. A favorite among families, the breakfast or lunch with Santa pairs quality cuisine with exclusive one-on-one time with the jolly, red-suited fellow.
PLAN YOUR TRIP: Visit Fodor's Hershey Travel Guide
Courtesy of Vail Resorts
WHERE: Vail, Colorado
Straight out of a winter-wonderland postcard, the Keystone Resort offers a mountainside Christmas experience with multiple options for fine, rustic lodging. The ample skiing on its three mountain peaks is the main attraction, though Keystone touts a host of winterized family-friendly activities. A thrill for kids of all ages, snow-tubing at Adventure Point proposes a state-of-the-art conveyor lift that transports riders and their tubes up to the top of a large hilltop course. The seven on-site restaurants range from casual dining and buffets to fine dining at mountaintop lodge Alpenglow Stube; for those staying through the holiday, special Christmas Day meals are featured at the Ski Tip Lodge and Bighorn Bistro & Bar.
PLAN YOUR TRIP: Visit Fodor's Vail Valley Travel Guide
Courtesy of Mohonk Mountain House
WHERE: New Paltz, New York
The stately and exclusive Mohonk Mountain House decks the halls in grand style each Christmas, providing an ideal getaway for families and couples. From late November through early January, the historic compound is adorned with wreaths, garlands, and astonishing gingerbread creations that add a festive touch to the retreat. A stay in one of Mohonk's 259 guestrooms is nearly all-inclusive (alcohol and spa treatments are exempt), including an impressive array of wintertime activities like ice skating, cross-country skiing, and snow tubing. Work up an appetite, as afternoon tea and cookies, a three-course dinner, and breakfast buffet are standard highlights with each night's stay.
PLAN YOUR TRIP: Visit Fodor's New Paltz Travel Guide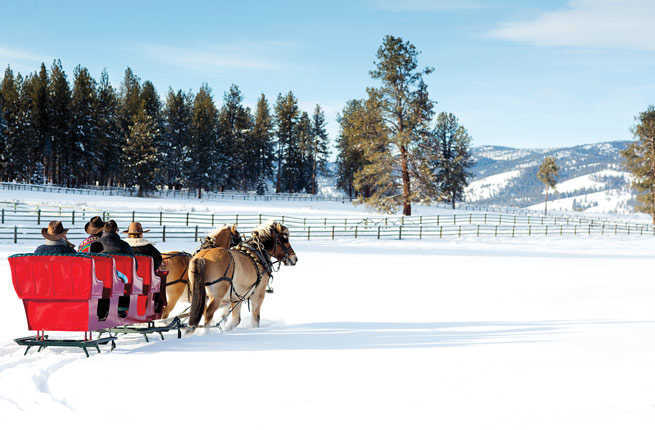 Courtesy of The Resort at Paws Up
WHERE: Greenough, Montana
Situated on an authentic working cattle ranch in western Montana, destination luxury retreat The Resort at Paws Up brings refined Christmas flair to the countryside each December with its "Storybook Christmas." The resort's comprehensive Christmas Package offers families five nights of accommodations in one of their private luxury lodges, all meals and snacks (and nonalcoholic drinks), as well as a personal visit from Santa. Plus, get a fine-dining experience on Christmas Eve, and a custom-decorated Christmas tree in your lodge. Take advantage of the horse-drawn sleigh ride to explore the snowy countryside as you sip eggnog under the clear Montana skies.
PLAN YOUR TRIP: Visit Fodor's Montana Travel Guide
Courtesy of Fairmont Scottsdale Princess Resort
Fairmont Scottsdale Princess Resort
WHERE: Scottsdale, Arizona
Though the desert setting makes it highly improbable that you'll see a white Christmas, the Fairmont Scottsdale Princess Resort makes a valiant effort at instilling the holiday spirit. Crafted from 67,000 lights that sparkle amidst the palm trees, the Princess's four-story Christmas tree welcomes guests with flickering lights timed to holiday songs. The Arizona resort also invites guests to ice-skate in pleasant temps, alongside cacti and lighted trees. Special holiday dinners are on offer at the resort's fine-dining restaurants, including Bourbon Steak, La Hacienda, and Ironwood American Kitchen, while the perfect nightcap awaits via the resort's winter cocktail list, served fireside at The Plaza Bar.
PLAN YOUR TRIP: Visit Fodor's Phoenix, Scottsdale, and Tempe Travel Guide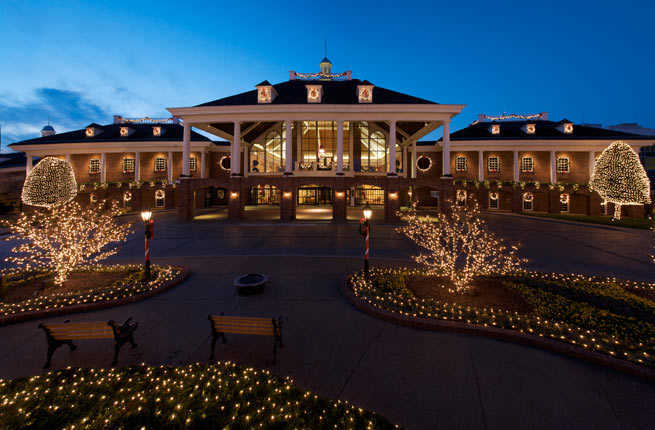 Dan Ham Photography
WHERE: Nashville, Tennessee
It would appear as though the Gaylord Opryland Resort spends the whole year preparing for their Christmas festivities, as this 2,882-room resort undergoes a complete transformation come December. More than two million holiday lights cover the compound for their annual festival, A Country Christmas. The immersive Ice! attraction is a must for all families, with a chilled indoor park that features four frozen slides, dozens of ice sculptures, and a walk-through narrative of "''Twas the Night Before Christmas." Be sure to check out the Parade of Trees self-guided walk, showcasing celebrity-crafted Christmas trees (from the likes of Zac Brown Band, Sara Evans, and Martina McBride), all to be auctioned off for favorite charities.
PLAN YOUR TRIP: Visit Fodor's Nashville Travel Guide
Courtesy of Wentworth Mansion
WHERE: Charleston, South Carolina
Known as The Holy City, Charleston brings out the best in yuletide joy with its Southern charm. The Wentworth Mansion, completed in 1886 by wealthy cotton merchant Francis Silas Rodgers, has been retrofitted into a luxury hotel, and kept in pristine condition with its classic old-world style. The 24,000-square-foot, four-floor estate brings a classic touch to Christmas each year with evergreen highlights and an illuminated Christmas tree. For a truly transporting Christmas experience, head to the estate's restaurant, Circa 1886, for the popular Dickens Dinner, where a local historian and actor retells A Christmas Carol while guests enjoy a four-course meal inspired by the novella.
PLAN YOUR TRIP: Visit Fodor's Charleston Travel Guide
Courtesy of MGM Resorts International
WHERE: Las Vegas, Nevada
The Bellagio Las Vegas, on the main Strip of Sin City, is a palatial resort, outfitted in luxury. The desert destination takes on a wintry spell this time of year with the resort's lush indoor botanical garden. Look for a dazzling Christmas tree, flying reindeer, enormous ornamental balls dangling from the glass dome roof, and an incredible display of polar bears made completely of flowers. The jumping fountains pounce up through the poinsettias, adding a flourish of wet fun to the proceedings.
PLAN YOUR TRIP: Visit Fodor's Las Vegas Travel Guide
Courtesy of The Plaza, New York City
WHERE: New York, New York
Perched on a corner of Central Park, The Plaza is an iconic New York City landmark that dates back to 1907. Boasting 282 plush guestrooms, the luxury hotel exudes holiday spirit with sophisticated style. Enormous wreaths greet guests before entering the lobby, with a floor-to-ceiling tree as its centerpiece. The hotel offers a special holiday Christmas Spectacular Experience that includes a hotel suite and premium tickets to the Radio City Christmas Spectacular. And for families looking for a whimsical, out-of-the-ordinary Christmas, The Plaza touts the exclusive Eloise at The Plaza Suite, designed with great flair by Betsey Johnson. This special suite brings Kay Thompson's beloved children's series about Eloise's adventures at The Plaza to life, complete with Eloise dolls, an Eloise robe, and many other themed goodies.
PLAN YOUR TRIP: Visit Fodor's New York City Travel Guide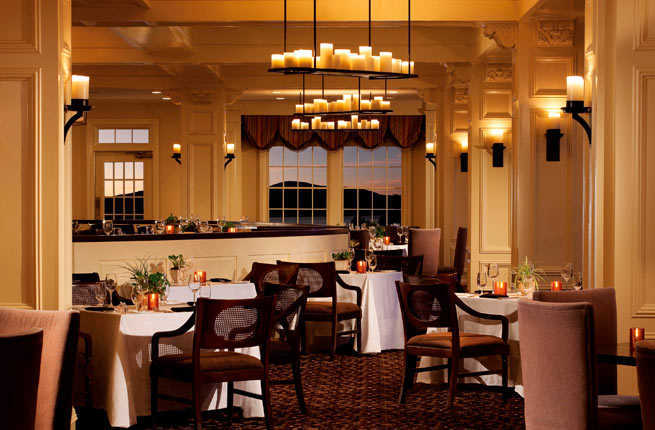 Courtesy of Ocean Properties, Ltd.
WHERE: Lake George, New York
The scenic landscapes of Lake George in upstate New York provide an ideal backdrop for Christmas at The Sagamore Resort. Since 1883, The Sagamore has stood as a luxury retreat that specializes in accommodating families. Adorned with garlands, ribbons, and evergreen trimming, The Sagamore proposes a picture-perfect Christmas setting. Book a special Christmas package for a two- to three-night stay, which includes a resort credit, breakfast, and a special Christmas dinner. Plus, look out for special Christmas menus and surprises at the on-site Mr. Brown's, a gastropub that becomes a lively hot spot each night.
PLAN YOUR TRIP: Visit Fodor's Lake George Travel Guide