(c) Sagearts | Dreamstime.com
Year after year, every state in the nation celebrates its local commerce, culture, and cuisine at state fairs, where indulgent foods are offered alongside thrill rides and competitions. Don't make the mistake of thinking these are small affairs; more than 170 years after the first state fair in Syrcause, New York, going to one remains an annual tradition for millions of Americans. From Texas to Wisconsin, and North Carolina to Oklahoma, here's where you'll find the 10 biggest and best state fairs in the U.S.
by Zachary Laks
Gunnar Rathbun / Shutterstock
Texas State Fair
WHERE: Dallas
When: September 26–October 19, 2014
Over 2.6 million people descended on Dallas last year for the annual Big Tex, the country's largest state fair. Everything is bigger in Texas and this state fair goes to great lengths to showcase the Lone Star State's unique flair. As its signature skyline marker, the Texas Star Ferris Wheel offers expansive views as it rises above the food stalls and grandstands at a towering 212 feet. The state's musicians, magicians, and animal wranglers bring their best to the fest and put on roughly 100 live performances every day. Look out for the Big Tex Choice Awards, which honor the very finest in fried dining. From Fried Thanksgiving Dinner to fried peaches and cream, the Texas State Fair proves everything is worthy of a deep fryer.
Insider Tip: For the ultimate Texas experience, visit on one of the two football Saturdays this year, September 27th (for the Prairie View A&M v. Grambling State University game) and October 11th (for the University of Texas v. University of Oklahoma game). A football ticket includes fair admission on game day.
PLAN YOUR TRIP: Visit Fodor's Dallas Guide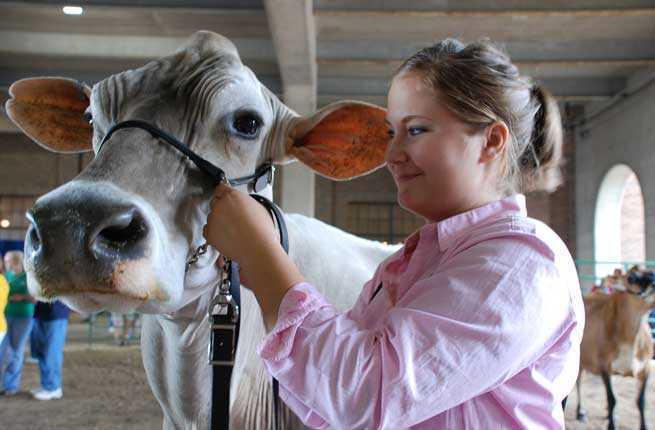 Minnesota State Fair
Minnesota State Fair
WHERE: St. Paul
When: August 21–September 1, 2014
Whether you come to compete or just to eat, the Minnesota State Fair has plenty to offer. The competitions define the fair's culture, as judging goes beyond standard livestock to include rulings on Christmas trees, bees and honey, flowers, and much more. Seek out the famous butter sculpture, crafted each year to resemble the year's Princess Kay of the Milky Way, a young woman crowned each year as the official ambassador for the Minnesota dairy industry. The Giant Sing Along offers one of the country's biggest group chorales with attendee-voted music selections.
Insider Tip: Each day at 2 p.m., a parade marches through the fest. This is your chance to see Princess Kay of the Milky Way and compare her to her buttery likeness.
PLAN YOUR TRIP: Visit Fodor's St. Paul Guide
Jillian Danielson
Arizona State Fair
WHERE: Phoenix
When: October 10–November 2, 2014
Agriculture and the arts come together on the fairgrounds of Encanto Village outside of Phoenix for the annual Arizona State Fair. A staple of the fair, frybread (a deep-fried plate of dough) is served from many stalls, each with its own spin on the Arizona classic. If you're up for trying more varieties of deep-fried dough, check out the famous red velvet funnel cake. The Thunderbird Model Railroad Club sets up a miniature train track that runs more than 1,200 feet. Watch as the motorized locomotives speed around the scaled town, then head over to a different kind of race at the Great American Duck Races, where Mallards zoom along the water.
Insider Tip: There's free, less congested parking at the State Capitol with a free shuttle to the entrance of the fair.
PLAN YOUR TRIP: Visit Fodor's Phoenix Guide
Courtesy of Iowa State Fair
Iowa State Fair
WHERE: Des Moines
When: August 7–17, 2014
The butter sculptures never seem to melt at the Iowa State Fair, known for the famous Butter Cow, as well as pop-culture butter sculptures (past favorites include Harry Potter and Neil Armstrong). The food at the Iowa State Fair is king, as vendors push the limits of flavor with items like chicken fried bacon; chocolate covered cookies 'n cream on-a-stick; and nitrogen-frozen ice cream. Iowans love the Big Boar Contest, the parade of supersized swine that compete for largest in show. The events continue with fun-spirited competitions for titles such as Mr. Legs, Ladies' Chicken Calling, and Ladies' Husband Calling.
Insider Tip: No visit to the Iowa State Fair is complete without indulging in the fried butter. Be sure to split it with at least two other people, as its richness has been known to overwhelm even the most zealous of fairgoers.
PLAN YOUR TRIP: Visit Fodor's Des Moines Guide
(c) Sagearts | Dreamstime.com
Wisconsin State Fair
WHERE: West Allis
When: July 31–August 10, 2014
Just outside of Milwaukee you'll find the grounds of the Wisconsin State Fair, home of the original cream puff. Sold at the fair since 1924, these decadent cream-filled pastries are so popular, they now sell them through an exclusive drive-thru lane (though you have to place your order 24 hours in advance). Finalists this year for The Sporkies, the awards that crown fun foods at the fair, include a peanut butter bacon bison burger; a Granny Smith caramel apple shake; and deep-fried maple bacon cookie dough. With gluten-free food listings, the Wisconsin State Fair goes above and beyond to create a unique culinary experience for everyone.
Insider Tip: Download the Wisconsin State Fair app on your smart phone for real-time updates on events and various deals.
PLAN YOUR TRIP: Visit Fodor's Milwaukee Guide
Indianapolis: Courtesy of Indiana State Fair
Indiana State Fair
WHERE: Indianapolis
When: August 1–17, 2014
The Indiana State Fair features incredible headlining attractions that change daily at its grandstand. Starting with a hot air balloon launch on the first day, the fair also hosts monster truck demonstrations, extreme biking, harness racing, and a demolition derby. This year sees one of the best line-ups of musical acts in the country, with Lynyrd Skynyrd, Robin Thicke, Phillip Phillips, and Pitbull all slated to perform. The first annual Indiana Beer and Wine Exhibition brings alcohol back to the fair for the first time since 1946, with an area set up with wine and beer from local establishments.
Insider Tip: Download the Indiana State Fair app to get the latest information about what's happening around the grounds.
PLAN YOUR TRIP: Visit Fodor's Indianapolis Guide
North Carolina State Fair
WHERE: Raleigh
When: October 16–26, 2014
Experience all the highlights of the Tar Heel State in one spot with the annual North Carolina State Fair. Showcasing the best in agriculture, the fair also features the best southern cuisine. The opportunity to milk a cow, cuddle baby chicks, and pet a goat are fun diversions as you pace yourself for your next meal. When hunger strikes, try the deep-fried Kool-Aid, one of the newest trends at the fair, along with deep-fried brownies. Each day at the fair is punctuated with a dazzling fireworks display, signifying when it's time to go home and digest.
Insider Tip: Order your ride tickets online before you go to save time and avoid long lines.
PLAN YOUR TRIP: Visit Fodor's Raleigh Guide
(c) Aeronaut88 | Dreamstime.com
Ohio State Fair
WHERE: Columbus
When: July 23–August 3, 2014
The Buckeye State knows how to host a fair in great style. The Ohio State Fair's exhibitions and events blend contemporary interests with classic state fair staples. The LEGO Train Club display is a marvel of engineering with thousands of the colorful building blocks forming a model-sized village, complete with motorized trains. Bring the kids to the Monster Mural where artistic ambition rules, as all are encouraged to paint on the large wall. Look for the Columbus All-Breed Dog Agility competition, where man's best friend is put through challenging courses of agility, all seeking to become top dog.
Insider Tip: The Pork Rib-Off competition honors the best ribs, pulled pork, and barbecue sauce in Ohio. The best part is after the judges have sampled the food, you are welcome to try it as well—for free!
PLAN YOUR TRIP: Visit Fodor's Columbus Guide
Courtesy of Oklahoma State Fair
Oklahoma State Fair
WHERE: Oklahoma City
When: September 11–21, 2014
Everything is more than just OK at the Oklahoma State Fair, where physical feats from arm wrestling to needlepoint are determinants of character. The 6th Annual Oklahoma State Fair Arm Wrestling Classic features men and women who go mano-a-mano in one of the oldest strength battles. For something more low-key, the Butterfly Boarding House is home to thousands of winged beauties. Get the chance to walk through the AGtropolis for an up-close encounter with nature's most beautiful creatures. The Barnyard Birthing Center houses and cares for pregnant animals and offers visitors the opportunity to see a live birth.
Insider Tip: Stop by Clydesdale Alley to meet the mystical Express Clydesdales, show horses that are famous for their distinct black and white fur.
PLAN YOUR TRIP: Visit Fodor's Oklahoma City Guide
Photo courtesy the Great New York State Fair/Mike Okoniewski
Great New York State Fair
WHERE: Syracuse
When: August 21–September 1, 2014
In the heart of upstate New York, the Great New York State Fair balances the urban modernity of the Big Apple with the commerce and agriculture of the rest of the state. This year, look for top musical acts Carrie Underwood and Jason Derulo, who are set to grace the main stage. Seek out the New York Wine & Cheese Seminars in the cool air-conditioning for the opportunity to sample varieties of local wine and cheese. For those seeking cute critters, head over to the baby rabbit and cavy exhibit, where newborns are on display.
Insider Tip: Tuesday, August 26 is Beef Day. Join in the fun as grill masters compete to cook the perfect burger before a live cattle show.
PLAN YOUR TRIP: Visit Fodor's Syracuse Guide