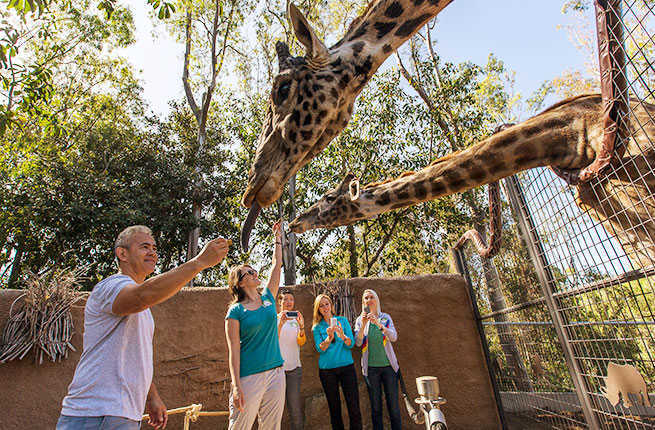 San Diego Zoo Global
Who says you need to go on safari to have an adventure with the animal kingdom? Save the plane fare and instead face the world's most exotic creatures without leaving the country. These ten zoos deliver local wildlife experiences where endangered species are nurtured, ferocious predators are kept within feet of the public, and a renaissance of education in conservation and science is incorporated throughout, promising fun for the whole family. From Chicago to San Diego to Miami, these are America's best zoos.
By Zachary Laks
Courtesy of the Memphis Zoo
WHERE: Memphis, Tennessee
A favorite family destination for Memphis' Overton Park, the Memphis Zoo excels at giving visitors an inside look at the life and care of the 3,500-plus animals it houses. A daily comprehensive schedule keeps visitors on task, highlighting a multitude of animal feeding times, intimate animal discussions, and stage shows intended to awe and educate visitors. The zoo's new jellyfish exhibit is a must-see, as some of the ocean's most mystical creatures are joined by an octopus and pot-bellied sea horses in dazzling tank displays.
PLAN YOUR TRIP: Visit Fodor's Memphis Travel Guide
St. Louis Zoo
WHERE: St. Louis, Missouri
A top attraction in St. Louis' sprawling Forest Park, the St. Louis Zoo is home to more than 600 species and covers 90 acres of the 1,371-acre park. St. Louis Zoo stands out for its commitment to sustainable preservation of animals and natural, humane exhibits. Visitors will be flocking to the zoo this summer to meet 2.5-year-old Kali, an 850-pound male polar bear introduced to the zoo in June. Look for Kali as he swims, plays with his chew toys, and explores his new $16 million, 40,000-square-foot environment—twice as big as the previous polar bear exhibit.
PLAN YOUR TRIP: Visit Fodor's St. Louis Travel Guide
Lincoln Park Zoo
WHERE: Chicago, Illinois
Located near Lake Michigan in Chicago's Lincoln Park, the Lincoln Park Zoo is one of the country's only free-admission zoos. Open 365 days a year, the zoo is gearing up for a busy summer season with the recent acquisition of two African lions: 20-month-old sisters Zalika and Kamali. The 1,100 animals from about 200 species fill out the compact 35 acres of prime city land. Expect to see rare animals like Japanese macaques (Old World monkeys), red pandas, and Eastern black rhinoceros, along with zoo favorites such as giraffes, zebras, and a hall of reptiles. The zoo focuses much of its efforts on conservation and science, partnering with organizations around the globe such as the Jane Goodall Institute and the Pan African Sanctuary Alliance to study and protect animals and their natural habitats.
PLAN YOUR TRIP: Visit Fodor's Chicago Travel Guide
Houston Zoo/Stephanie Adams
WHERE: Houston, Texas
Noted for its more than 6,000 animals of more than 900 species, the Houston Zoo's expansive collection of wildlife attracts almost two million visitors annually. The zoo goes beyond animal habitats and education with an emphasis on fun for the whole family, with attractions such as the Wildlife Carousel and the Kathrine McGovern Water Play Park, a 13,500-square-foot water-filled fun zone. Houston Zoo recently welcomed gorillas back after a decade without the furry creatures, unveiling a new facility for seven western lowland gorillas to play and explore.
PLAN YOUR TRIP: Visit Fodor's Houston and Galveston Travel Guide
Cincinnati Zoo/Cassandre Crawford
WHERE: Cincinnati, Ohio
Gear up for a day filled with animal encounters like you've never experienced before at the remarkably accessible Cincinnati Zoo. Scheduled throughout the day, Cincinnati Zoo hosts dozens of animal demonstrations and talks, as well as choice opportunities to feed giraffes, watch elephants bathe, and witness first-hand the grace of the cheetah's bolt. As the second oldest zoo in the country (opened in 1875, second to the Philadelphia Zoo in 1874), the zoo has a long history of animal conservation and animal awareness initiatives, including Project Saving Species, a fund that channels money throughout the world to projects dedicated to animal welfare. The zoo's most exciting new development, the eight-acre Africa exhibit, is nearly completed and will showcase zebras, gazelles, impala, and the king attraction, the African lions.
PLAN YOUR TRIP: Visit Fodor's Cincinnati Travel Guide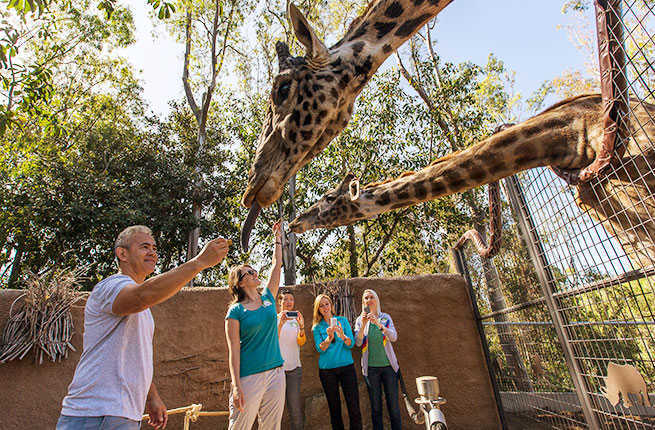 San Diego Zoo Global
WHERE: San Diego, California
A zoo renowned for its 3,700 animals of more than 650 species and subspecies, San Diego Zoo is a must for any visit to Southern California. It is also part of San Diego Zoo Global, the largest zoological membership association in the world, with more than a half million members. Three giant pandas, including three-year-old cub Xiao Liwu, reside here,providing a rare sight for visitors. For the best view of the park, head to the Skyfari® Aerial Tram to glide over animal habitats and scope out your next move.
PLAN YOUR TRIP: Visit Fodor's San Diego Travel Guide
Ron Magill
WHERE: Miami, Florida
Enter the tropics by foot at Zoo Miami. With 3,000 animals on site and a property that extends for 750 acres, more than a day is needed to fully appreciate Zoo Miami's 100-plus exhibits. For one of the rarest encounters of all, Zoo Miami offers visitors the opportunity to touch and feed Jaunpur and Suru, two male Indian Rhinos, for $3.50. To cover the most ground at the zoo, consider the zoo's Safari Tram Tour ($5.95), where experts shed light on the zoo's creatures.
PLAN YOUR TRIP: Visit Fodor's Miami Travel Guide
Denver Zoo
WHERE: Denver, Colorado
A visit to the Denver Zoo is a delight for children of all ages, as close encounters with many of the world's creatures become a reality. Upon entering the zoo, head straight to the ten-acre Toyota Elephant Passage, where Asian elephants, greater one-horned rhinoceroses, and clouded leopards graze and socialize among a natural setting, with pools that total 1,100,000 gallons of water. The zoo knows its audience and has created six pre-planned itineraries for families that include insightful facts and games that can be enjoyed by the whole family.
PLAN YOUR TRIP: Visit Fodor's Denver Travel Guide
WHERE: Philadelphia, Pennsylvania
What started as the first zoo in the country, Philadelphia Zoo remains a top refuge for the 1,500 animals that live on the 42-acre complex. Home to many endangered species including Amur leopards, Sumatran orangutans, and a Chinese alligator, the zoo demonstrates great responsibility in ensuring the livelihood of each endangered species. Pay a visit to the park's oldest inhabitants at the Aldabra giant tortoise exhibit, where Bubba has been slowly working his way around the habitat since 1947!
PLAN YOUR TRIP: Visit Fodor's Philadelphia Travel Guide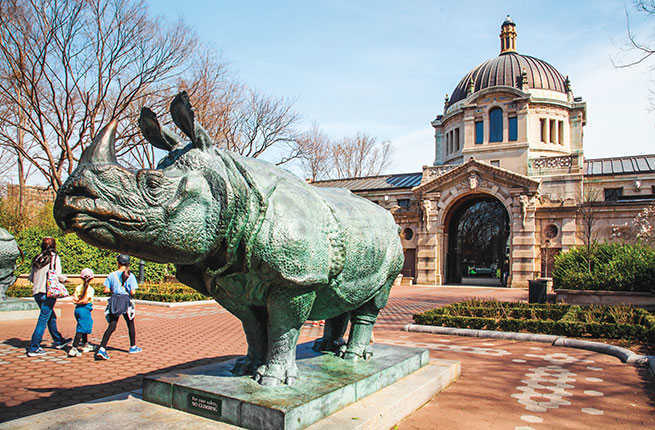 littleny / Shutterstock
WHERE: The Bronx, New York
Located at the top of New York City and stretching for 265 acres, the Bronx Zoo ranks as the one of the largest metropolitan zoos in the world. It's a wonder to behold the more than 6,000 animals of 650 species that call the zoo home. Highlights among the many zoo exhibits and activities include a 4D movie experience ($5), where short films come to life with real snowflakes and fun bursts of mist timed with the movies. When it comes to the animals, the zoo's snow leopards and lions command attention, while the quieter, more peaceful Butterfly Garden ($5) provides a welcome encounter with nature's works of art.
PLAN YOUR TRIP: Visit Fodor's New York City Travel Guide