Punjammies
Whether they are new moms just learning that flight attendants have an utter disregard for that sacred "don't wake a sleeping baby" rule or rediscovering their passion for travel as empty nesters, the moms in your life deserve a little show of appreciation this Mother's Day. Skip the overpriced flowers (she'd hate to see you waste your money) and instead celebrate mom with some travel-oriented gifts that say Go, Mom, Go!— Jacinta O'Halloran
She's put her snow boots away and now Mom's ready to make the latte-to-cold-brew transition. Hook a mom up with some quality, easy-to-make, cold brewed coffee with Alkemy Brewlab's cold brew kit. Premium specialty coffee beans are carefully roasted, ground, and packed in filter bags so mom just needs to add water; each kit comes with two coffee filters good for about four cups. Unlike bulky brewing equipment, the Cold Brew Coffee kit is highly portable, making it a perfect choice for campground, beach, and roadtrip brewing.
Get it: Alkemy Coffee Kit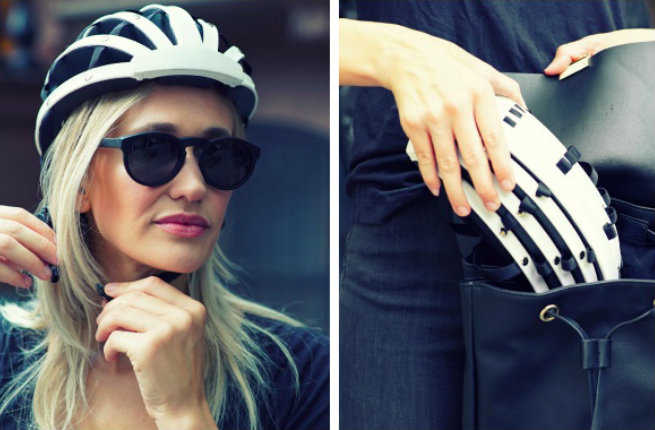 Let's face it: you wouldn't still have a head on your shoulders if it weren't for mom's gentle nudges/incessant nagging to wear a helmet. Well, now that mom has discovered Citi Bikes, she might understand just how bulky, awkward, sweaty, and not that cool helmets are. Most bike helmets, that is. The Fend bicycle helmet exceeds safety standards, has a resilient joint system to allow for maximum breathability and portability, and it folds to one third of its size so mom can fold, stash, and store it in her bag until she needs it. Oh, and it's cool, too. No need to nag mom to wear this.
Get it: Fend Helmet
Shoes that are both comfortable and cute are the holy grail for all travelers and most of us end up packing shoes that compromise on one or the other. But, there are shoes that tick both boxes. Off the Beaten Track shoes are designed specifically with the traveler in mind and their Trave Lite athleisure collection has sporty sneaker and sandal styles that are lightweight. Set mom off on the right foot for her next trip with the Khora sneaker's perforated leather design, lightweight sport bottom, and sleek athletic profile.
Get it: Khora sneakers
Mom devoted years of her life (and last weekend) to cleaning up after you, so the least you can do is ensure she has clean—and safe—water on the go. The LifeStraw Go 2-stage water filtration bottle cleans 99.9% of waterborne parasites and bacteria (including E-Coli) from water sources, and the activated carbon capsule reduces chlorine, bad tastes, and odors for up to 26 gallons. This is especially useful in countries where water quality can be an issue, but it also comes in handy when camping and hiking.
Make mom proud: For each LifeStraw you purchase, one school child in a developing community receives safe drinking water for an entire school year.
Get it: LifeStraw
Hey, it's happy hour somewhere! Remind mom of beachy family vacations gone by (or to come) with Mouth's Mother Pucker Margarita Kit. It includes Greenbar Craft Distillery's Fruitlab Organic Orange Liqueur, a smooth Blanco Tequila made by Tequila Arette, and a set of Stemless Wine Glasses made by Govino so she can take the party to go.
Bonus: If you're feeling flush with mom-love and cash this Mother's Day, you may want to pair this gift set with a tickets to Isla Mujeres (meaning "Island of Women") where you can grab hammocks on the beach and toast moms everywhere with margaritas somebody else made.
Get it: Mouth Margarita Kit
Get mom ready for a summer filled with outdoor concerts, days at the beach, hiking in the woods, picnics in the park, far flung travels, and lounging on the sideline at her kids'/grandkids' soccer or lacrosse games with a highly portable and practical pocket blanket. Matador's compact blanket is water repellent and puncture resistant and it folds up to easily fit in a pocket or handbag. It also features corner weights that help keep the blanket in position and sand pockets for improved performance in breezy conditions. Available in green or red.
Get it: Matador Pocket Blanket
Maybe mom likes to shop up a storm when she travels or maybe she likes to have the option to take day trips when she's abroad. Either way, she'll appreciate an ultra lightweight but solid bag (with a lifetime guarantee!) that folds up into an integrated zip pouch and can be stashed in her regular bag until she needs to shop or hop … or both.
Bonus: More room for gifts for you!
Get it: The North Face Flyweight Duffel
Take mom's travel photography to the next level by creating unique and beautiful mosaic grids printed on quality paper, wood, magnets, or metal, and ready for display. Social Print Studio has made it really easy to create multiple prints from one photo: just upload your/her photo, and they'll split it into an even grid, print it on the material of your choice, ship it to mom, and make you look like a genius.
Get it: Social Print Studio Mosaic
Ethically Made Loungewear
You can never go wrong with loungewear for mom. But you really can't go wrong when that loungewear is comfy, stylish, and it gives back. Punjammies lounge pants are made by women in India who are at the highest risk of or survivors of human trafficking. These soft, drapey pants are available in a variety of styles and lengths. Every purchase invests in job-creation and skills-training to empower even more women who are working to forge a new life for themselves and their children.
Tip: if you're worried your gift won't make it in time for Mother's Day, Sudara sells e-gift cards so mom can pick her own style.
Get it: Full-length Punjammies
John Robshaw's prints and techniques are inspired by his travels and experiences everywhere from China, India, and Thailand, to Cambodia, Zimbabwe, and Bolivia. The resulting textiles are rich in pattern, color, and inspiration and make beautiful gifts. Robshaw's tassel-trimmed Alabat towel is inspired by a trip to Mindanao, in the Philippines, where traditional weaving techniques have been preserved. Add a trashy beach read if you really want to remind mom why you're her favorite!
Get it: Alabat Beach Towel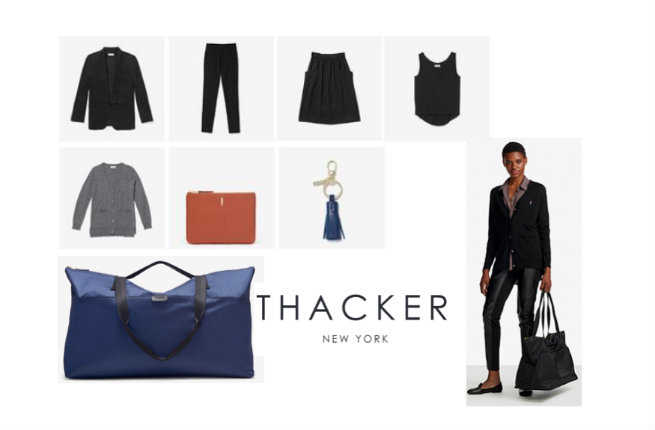 Has mom been wanting to get in on the capsule-wardrobe trend? Maybe she'd appreciate a travel-focused capsule, with some foundational clothing pieces, accessories, and a solid, carry-on bag. Thacker's basic eight-piece wardrobe kit includes no-fuss travel essentials—a blazer, pants or leggings, a skirt, a top, and a cardigan—and a large pouch and keyfob, all packed into Thacker's sleek-and-chic (and light and waterproof) Marfa weekender bag. Thacker wardrobe kits are available in six-, eight-, ten-, and twelve-piece sets and all include classic clothing pieces and accessories that mix, match, and travel effortlessly.
Get it: Thacker Wardrobe kits
Moms often have to sacrifice style (and lumbar health) for those Mary-Poppins-style magic carpet bags, weighed down with everything she needs—superhero costumes, EpiPens, crayons, LEGO pieces, wine bottles—to respond to anything life throws at her. Sure, she can fit more in that minivan of bags, but what she really needs are a few totes at hand for her lunch, her groceries, her emergencies, and her travels.
Get it: Every Mother Counts Tote